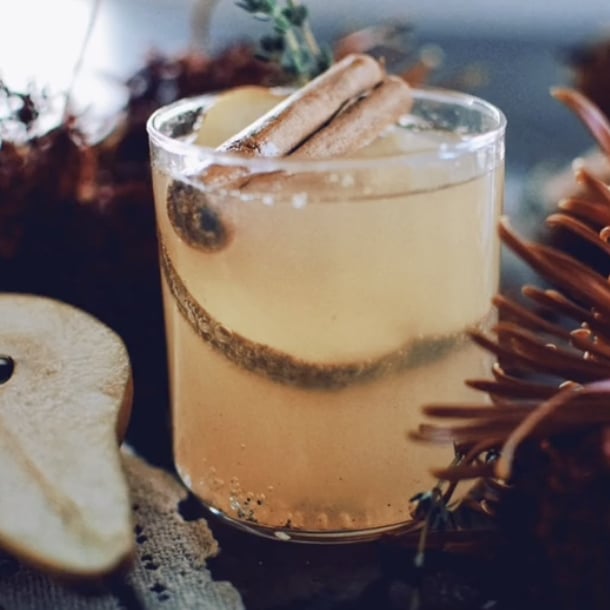 To make the holidays extrafestive — and, depending on how you're celebrating, more tolerable — a cocktail (or four) is needed. And there's no better place to find some amazing holiday cocktail recipes to keep spirits bright than TikTok. Whether your mixing skills are at a bartender level or you just want to try something new to set the mood for the holiday season, TikTok has a recipe for you. Sip on some holiday rum nog between family Zoom calls or a pumpkin pancake cocktail to celebrate socially distanced holiday activities. Whatever you're craving, you can whip it up in no time. Try one, two, or three (the more the merrier) of these bar-menu-worthy drinks at home this season.
01
Cranberry Margarita
Margaritas are a holiday necessity, especially this year. Shake up your usual recipe with a fresh cranberry twist.
Ingredients: rosemary, sugar, tequila, and cranberries.
02
Honeycrisp Apple Spritz
Try this Honeycrisp apple spritz for a sweet drink you'll want to sip on in front of the fire all night long.
Ingredients: cinnamon, caramel, brown sugar, vodka, apple cider, cinnamon stick, and Prosecco.
03
Christmas Punch
While there won't be any parties to host this year that could showcase this sparkling Christmas punch, celebrate yourself (or housemates) with a batch that will last you through the holiday season.
Ingredients: cranberry juice, sparkling wine, ginger ale, cider vinegar, rum, oranges, and cranberries.
04
Ginger Pear Sparkler
A fresh pear sparkler is the perfect drink to lighten your spirits on any snow day.
Ingredients: cinnamon, sugar, pear nectar, bourbon, ginger beer, pear, thyme, and cinnamon stick.
05
Fall Sangria
If easy is at the top of your wish list this holiday season, look no further than this fall sangria recipe for a smooth and simple drink experience.
Ingredients: apples, oranges, cinnamon stick, brown sugar, orange liqueur, red wine, and sparkling water.
06
3-Ingredient Tequila Sour
This quick tequila sour is ideal for anyone who wants a drink without all the calories. At only 144 calories per serving, there will still be room for milk and cookies at the end of the night.
Ingredients: lemon, tequila blanco, and simple syrup.
07
Caramel Apple Butterscotch Cocktail
Calling all butterscotch-lovers! For a festive end to any night, substitute this sweet cocktail for dessert. It's as good, if not better, than it sounds.
Ingredients: vodka, butterscotch schnapps, spiced rum, apple cider, vanilla coffee creamer, and caramel.
08
Espresso Martini
Everyone could use a pick-me-up, so now is the time to try a coffee-based cocktail to get a buzz while checking off your holiday to-do list from home.
Ingredients: coffee liqueur and fresh coffee.
09
Panettone Brandy Alexander
If panettone isn't your go-to sweet bread for the holiday season, you've been missing out. But not to worry, if you haven't already fallen in love with panettone, this drink will make you.
Ingredients: brandy, panettone cream, chocolate liqueur, and a plum Kit Kat.
10
Cranberry Bourbon Mule
For a more sophisticated cocktail that's sure to impress at small gatherings, whip up this cranberry bourbon mule recipe.
Ingredients: cranberry thyme syrup, orange bitters, bourbon, orange juice, ginger beer, and thyme.
11
Widow's Walk
Nothing screams falling leaves and cozy sweaters like a widow's walk. Try this whiskey-based cocktail that features notes of vanilla and lemon.
Ingredients: whiskey, Luxardo, vanilla cane sugar, fresh lemon, and black walnut bitters.
12
Apple Cider CBD Cocktail
This cocktail is a close second to the fresh apple cider that usually dominates the fall season! Relax to the familiar taste of the spiced apple drink with a whiskey addition and some CBD for those who really need to relax.
Ingredients: apple whiskey, spiced apple cider, maple syrup, lemon, fresh apples, cinnamon stick, and CBD (optional).
13
Jack Daniel's Cranberry Tea
Tea is a holiday must, but whiskey and tea is a holiday need (especially in 2020). Try this tea with a twist for a new favorite wintertime cocktail.
Ingredients: Jack Daniel's Tennessee Apple, cranberry cocktail, sweet tea, cinnamon stick, and fresh cranberries.
14
Pumpkin Pancake Cocktail
Don't just wake up for pancakes and presents, wake up for a pumpkin pancake cocktail to open your gifts with!
Ingredients: bourbon, half-and-half, maple syrup, pumpkin spice, bitters, mini pancakes, and strawberries.
15
Spiced Pear Martini
Pear vodka is going to be the MVP of everyone's holidays in this spiced pear martini.
Ingredients: pear vodka, amaretto, spiced simple syrup, lemon juice, cinnamon, and sugar.
16
Holiday Rum Nog
I think Santa would approve of this new take on classic eggnog to wash down his cookies.
Ingredients: rum, cinnamon simple syrup, half-and-half, Angostura bitters, egg white, and cinnamon.
17
CBD Mocktail
Avoiding alcohol this holiday season? Don't fret, because this CBD mocktail has all the fixings of an amazing drink minus the booze. The CBD will have you relaxed and ready for anything the winter will throw your way.
Ingredients: rosemary, blueberry rosemary syrup, lemon juice, egg white, and Bimble Blueberry Lemon Ginger Chill Sparkling Drink.