This Is How All Your Favorite Food Stars Cook With Bacon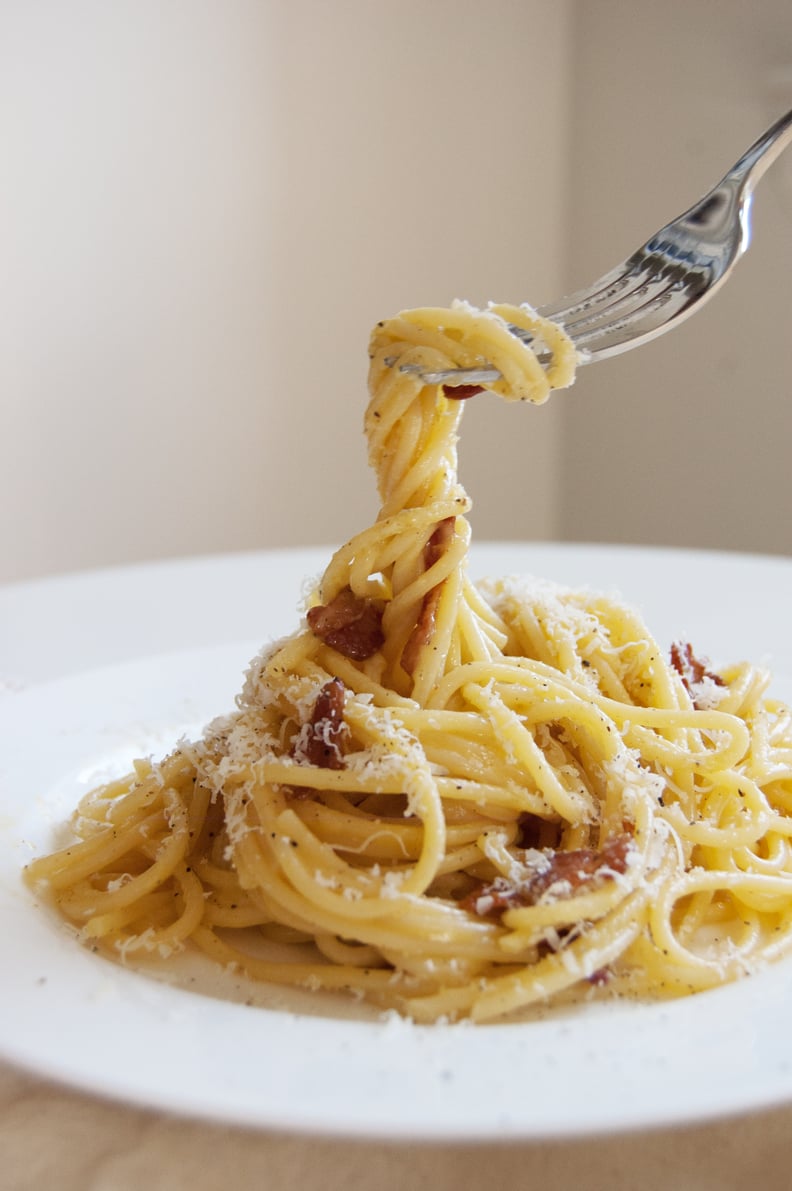 POPSUGAR Photography | Erin Cullum
POPSUGAR Photography | Erin Cullum
Bacon isn't just for breakfast, and these recipes prove it. If you've got a package of bacon in your fridge waiting to be cooked, try using it for one of these popular recipes from some of your favorite famous food stars, like Ina Garten and Chrissy Teigen. From pasta to potatoes and especially salads, bacon makes everything infinitely better.
Tyler Florence: Spaghetti Carbonara
Every Italian would most likely agree that the best way to cook with bacon is to make carbonara pasta, and Tyler Florence's spaghetti carbonara is a five-star recipe to try. You can use cubed bacon or pancetta, but the most important thing is to save all the rendered fat in the skillet — that salty flavor seasons the pasta and contributes to the silky sauce.
Chrissy Teigen: Creamy Scalloped Potatoes
If you've long followed Chrissy Teigen on Instagram, you know that one of her favorite dishes of all time is her mom's scalloped potatoes. You'll find the recipe on page 94 of Chrissy's cookbook, Cravings, alongside her testament: "This creamy creation, which my mom has been making my entire life, puts me into a state of instant euphoria, and you can't go a single bite without a bacon or ham bomb."
Trisha Yearwood: Broccoli Salad
One of Trisha Yearwood's best cooking tips is to add bacon to essentially everything, including salads. You're still getting your greens, but bites of crunchy bacon throughout the salad add a nice contrast in texture and flavor. Trisha's broccoli salad is sweet and salty with a creamy dressing made by mixing mayo and apple cider vinegar.
Ina Garten: Beef Bourguignon
Ina Garten's beef bourguignon is an elegant French version of beef stew. It's layered with bold flavors like cognac, beef broth, thyme, and, most importantly, bacon. Served over mashed potatoes or grilled sourdough rubbed with garlic, this is a comforting classic that will become a dinner staple during Fall and Winter.
Sunny Anderson: Brussels Sprouts With Bacon
Sunny Anderson's pan-roasted brussels sprouts with bacon will convert even the most determined brussels-haters. Brussels sprouts are a veggie you'll see at Fall farmers markets all season long, so you'll want to experiment with ways to cook them. Sunny cooks the bacon until crispy before adding the brussels sprouts and allowing them to get completely coated in the flavorful fat.
Bobby Flay: Shrimp and Grits
The king of Southwestern flavors, Bobby Flay, has the perfect shrimp and grits recipe for anyone who's never made the Southern classic before. It's a foolproof recipe, with all the good stuff and no fuss, like stone-ground grits, sharp cheddar cheese, lemon juice, plenty of butter, and crispy chopped bacon.
Rachael Ray: Bacon-Wrapped Asparagus
Vegetables taste better wrapped in bacon, and Rachael Ray's bacon-wrapped asparagus is an appetizer you can pull together in a cinch for any occasion. Rachael uses trimmed asparagus spears, olive oil, pepper, bacon, and scallions for this picturesque dish that you can either grill or roast in the oven.