How to Make Homemade Fruit Shrub For Cocktails
How to Make Your Own Fruit Shrub For At-Home Summer Cocktails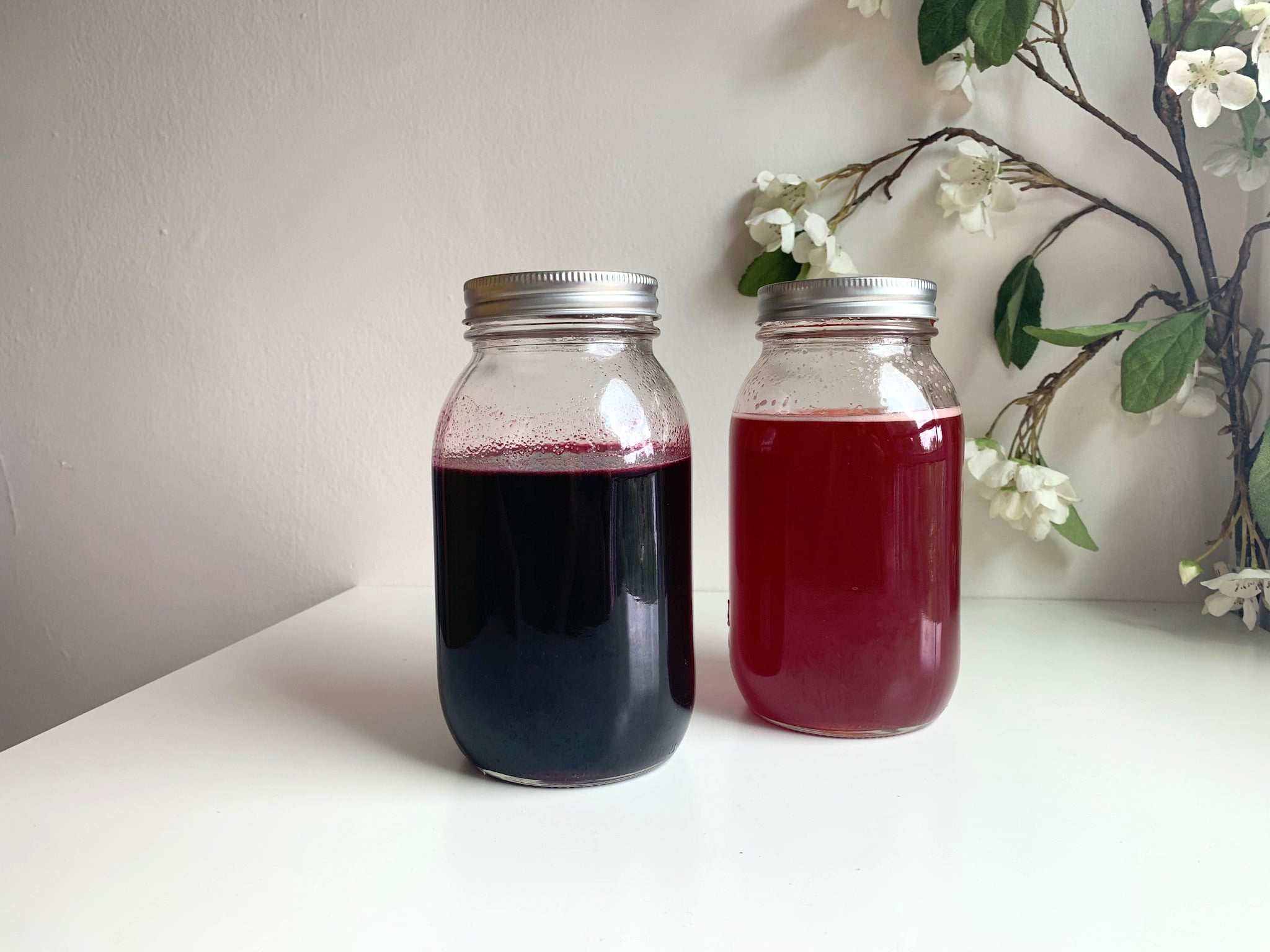 I recently learned how to make a shrub, and the name alone was enough to get me interested! A shrub, also known as a drinking vinegar, is a fruity, vinegary syrup that can be used in cocktails or in seltzer to make tangy flavored sodas. The taste is equal parts sour and sweet and deliciously refreshing in a summer drink to sip outside.
Using only three ingredients, the process takes four days and is as easy as adding ingredients to a jar on your counter. Once the shrub is finished, experiment with it in cocktails using about an ounce per drink or in sodas with a one part shrub to around five parts soda. You can even use it while cooking in place of vinegar, balsamic, lemon juice, or other acids. Try it in a salad dressing or a marinade!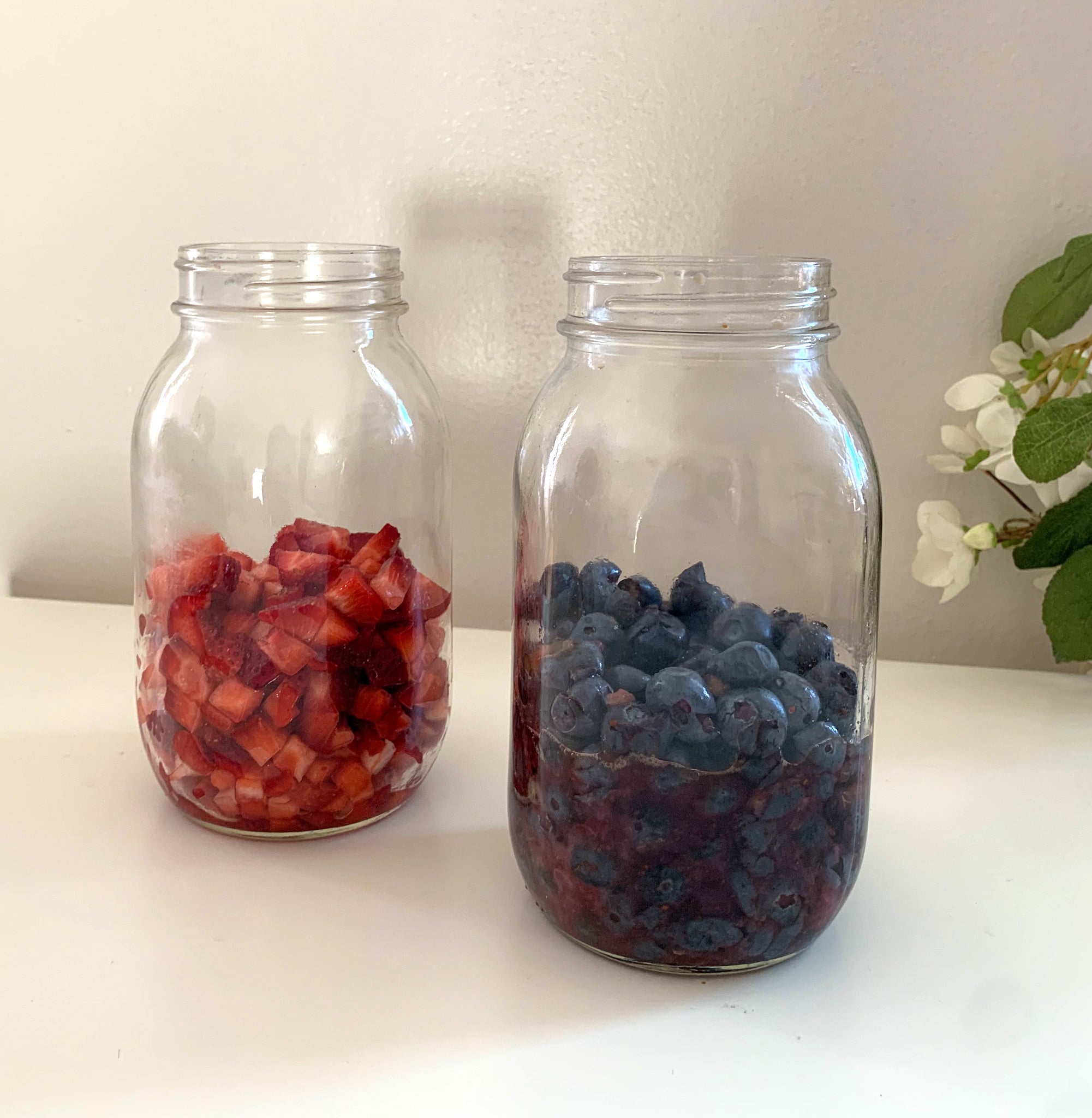 The recipe is one part fruit, one part sugar, and one part vinegar, so there's countless combinations to experiment with. I've only tried strawberry and blueberry so far, but next, I'm going to try raspberries, blackberries, and hopefully peaches.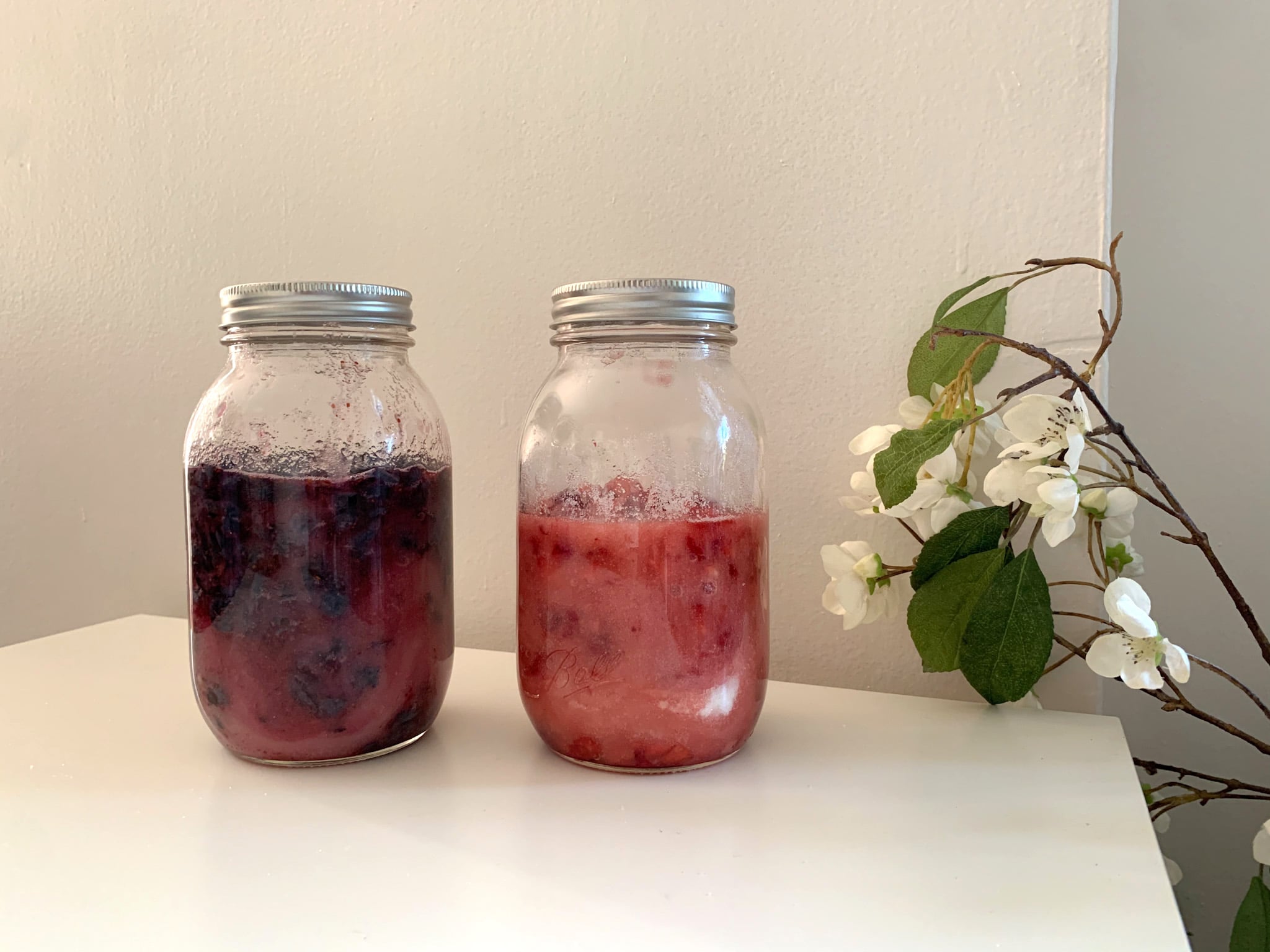 Allowing the jar to sit at room temperature in your kitchen lets the fruit ferment.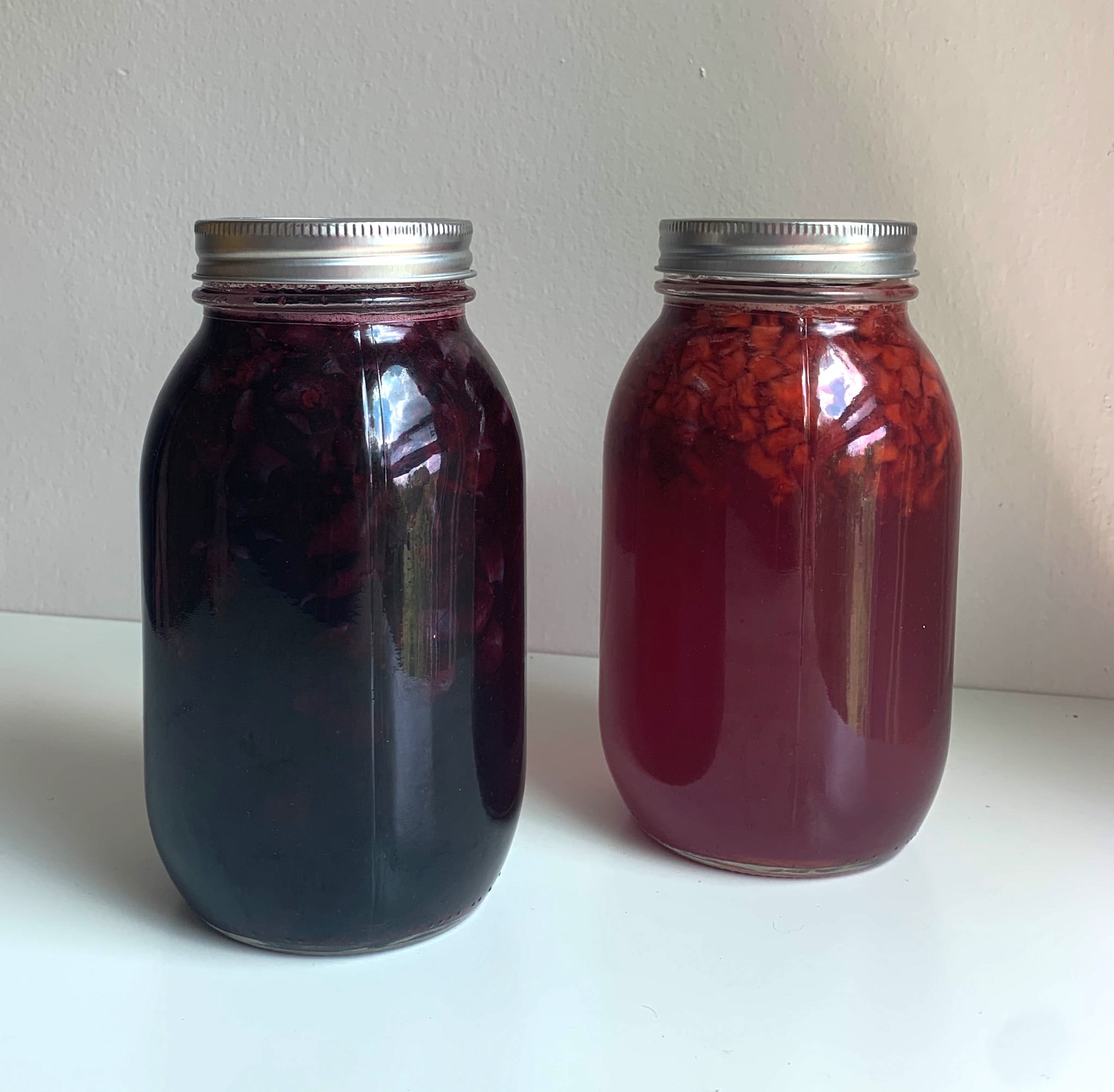 After you strain the fruit out, you're left with a beautiful, vibrant syrup that will add a pop of color and flavor to whatever you add it to.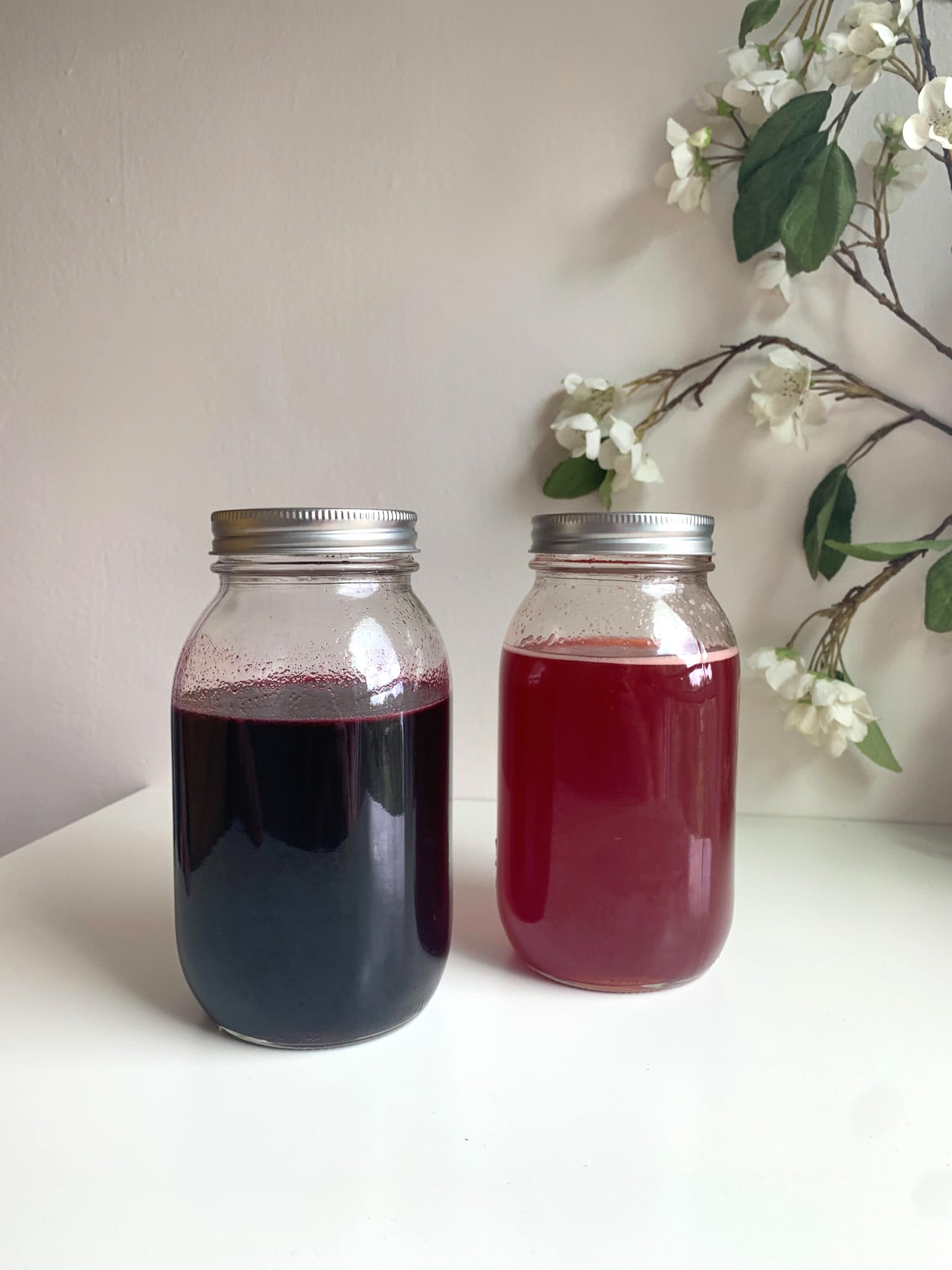 Keep your shrub in the fridge once you've made it, where it will keep for a few months — if you don't use it all before then!
Strawberry and Blueberry Fruit Shrub
Original Recipe by Vivian Whitney
Notes
The base recipe for a drinking vinegar is one part fruit, one part sugar, and one part vinegar. What type of those ingredients you use is up to you. Experiment with different fruits, sugars, and vinegars — and even different ratios if you want — to find what flavor and taste work best for you. Think about what fruits and vinegars will compliment each other or what kind of fruit combinations would work and go from there.
Ingredients
2 cups strawberries
2 cups blueberries
4 cups sugar
2 cups white vinegar
2 cups apple cider vinegar
Directions
Add 2 cups of strawberries and 2 cups of sugar to a closable jar. Stir or shake to mix.
Repeat step 1 with blueberries.
Leave the jars in a shady spot in your kitchen for 3 days. Mix the jars occasionally.
After 3 days, add 1 cup of white vinegar and 1 cup of apple cider vinegar to each jar.
Leave the jars in a shady spot in your kitchen for 1 day.
After 1 day, strain the fruit out of the syrup. Store the syrup in a close container in your fridge and enjoy!
Information
Category

Drinks

Yield

3 cups of syrup per jar

Total Time

3 days, 23 hours, 59 minutes, 59 seconds