Banana Coconut Latte With Whipped Coffee Recipe With Photos
Jillian Harris's Banana Coconut Latte With Whipped Coffee Is Basically a Tropical Milkshake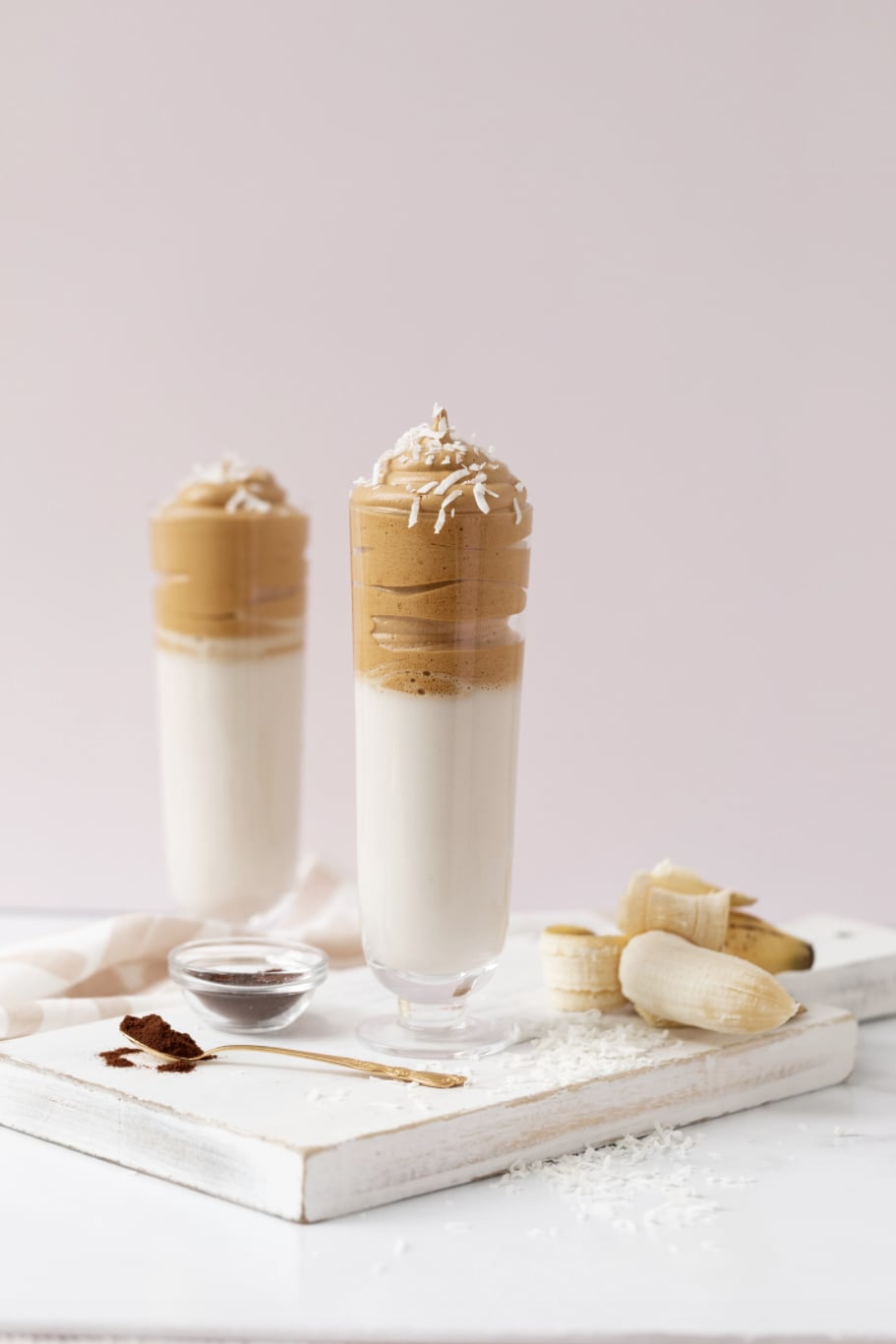 Jillian Harris just put a new spin on the whipped-coffee trend that we're already obsessed with. Rather than settle for the traditional dalgona coffee that's been making the rounds on social media, the former Bachelorette star and popular lifestyle blogger took it to a whole other level by adding banana and coconut. Her banana coconut latte with whipped coffee is really simple to throw together but feels like a more substantial treat than regular dalgona coffee, which is just coffee, milk, and sugar.
Jillian's base is a banana coconut latte made with ripe banana and coconut milk, along with sweetener and soy milk. It will have a really rich flavor from the coconut milk and almost taste like a milkshake, which we're totally on board with! Jillian also has instructions for a variety of ways to make your drink, whether you want it iced, hot, or whipped, so you can customize it to fit your specific likes. You'll find all the instructions when you keep reading. Enjoy!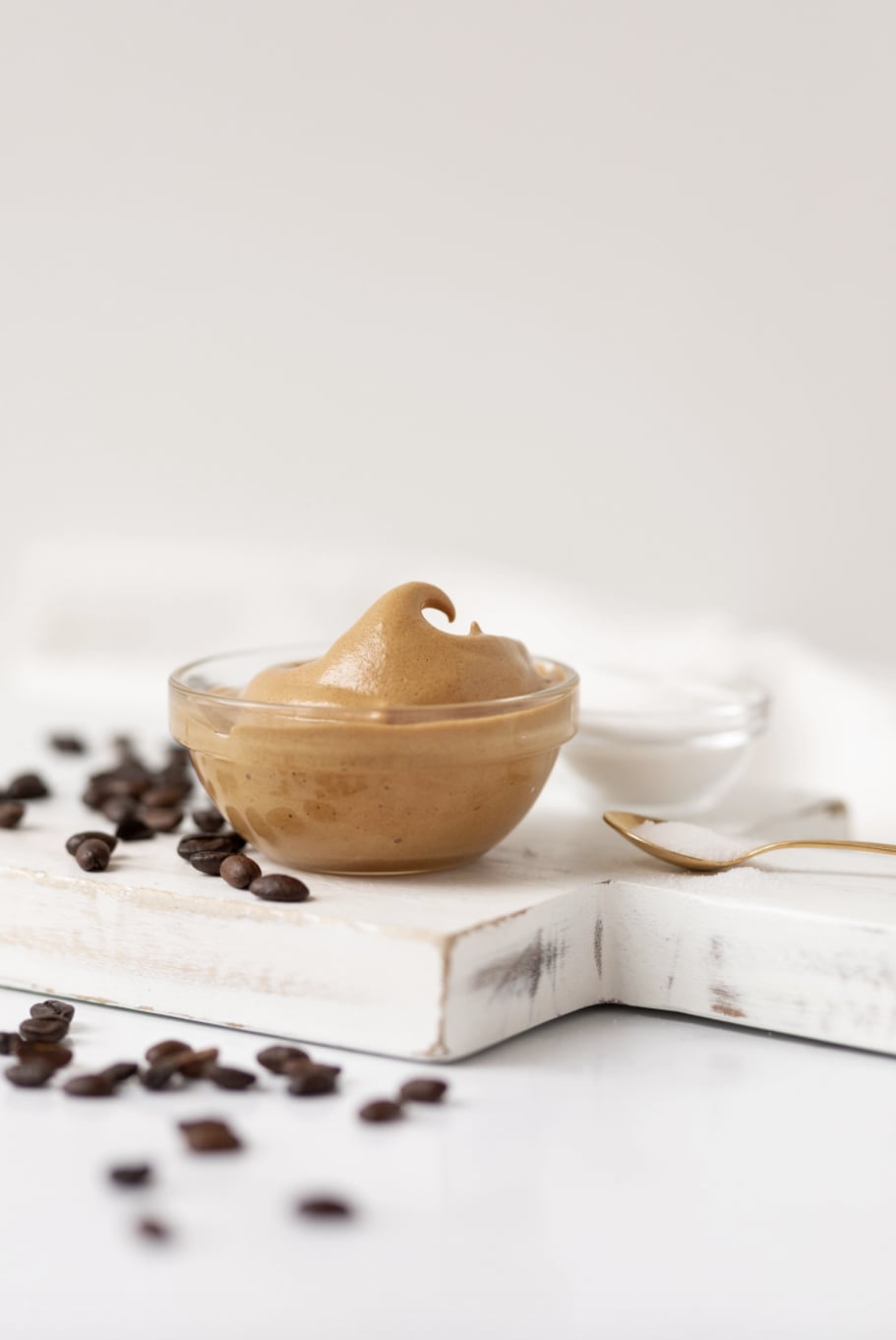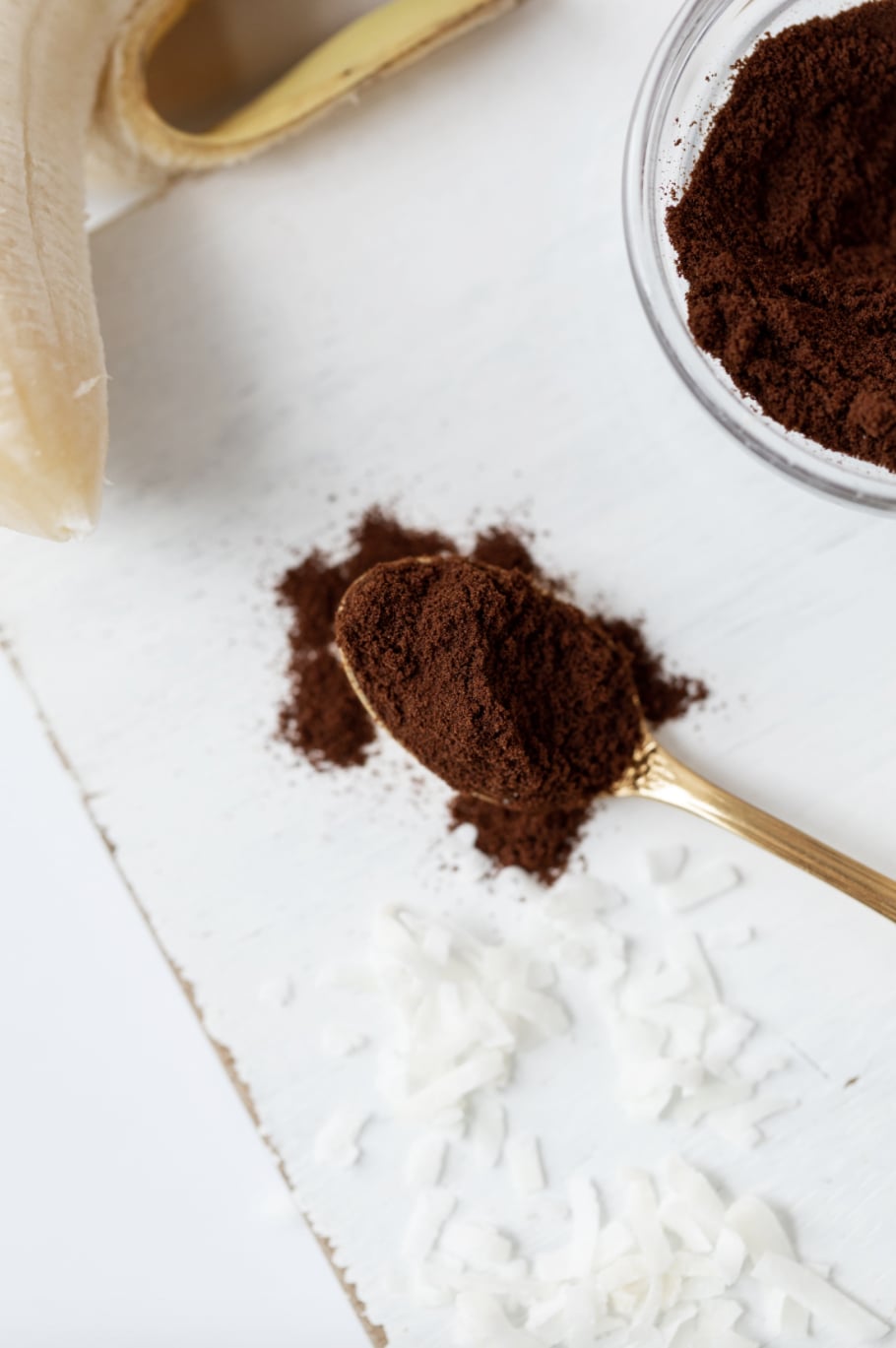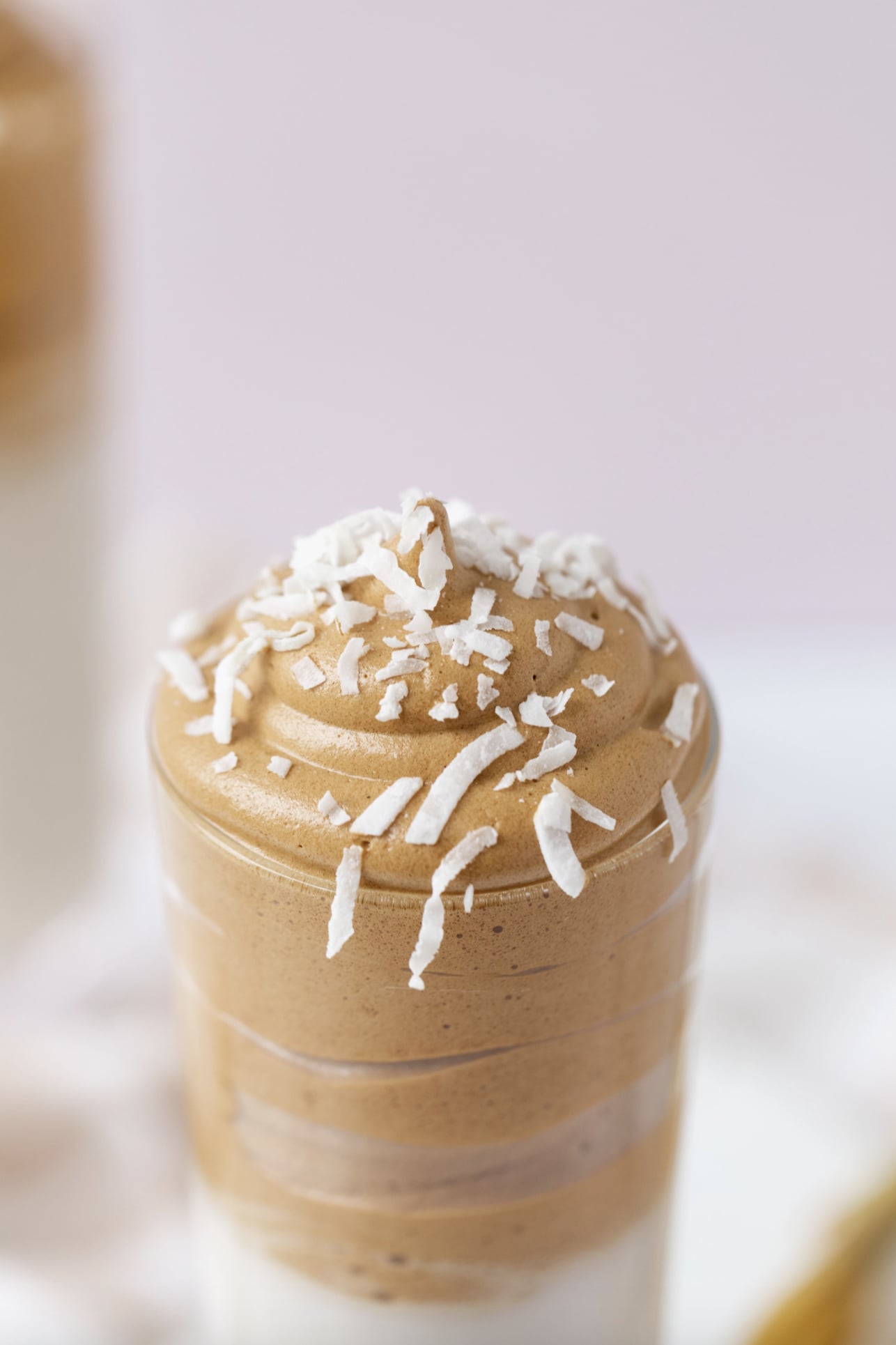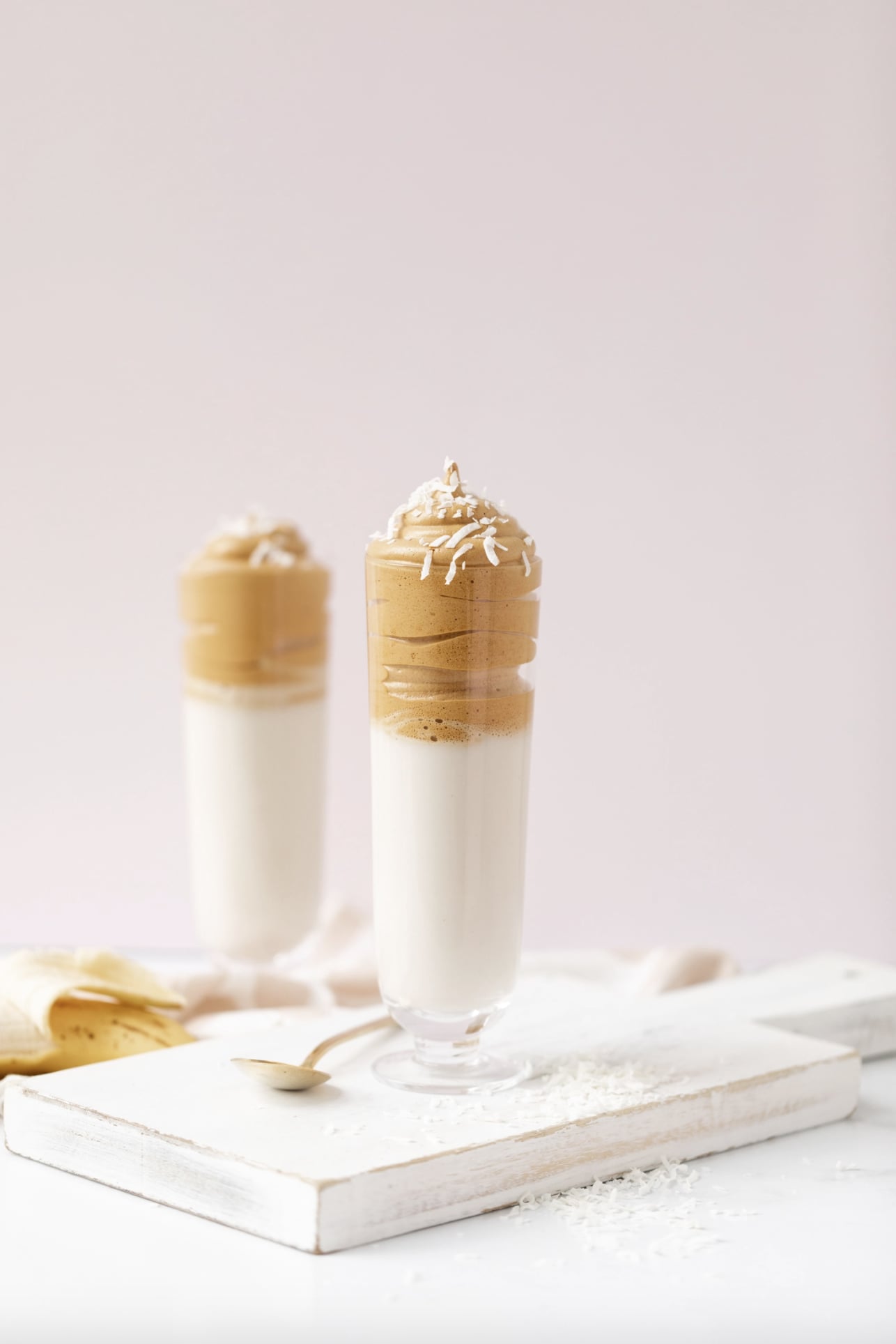 Banana Coconut Latte With Whipped Coffee
Jillian Harris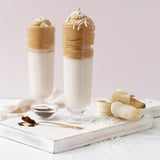 Ingredients
Banana Coconut Puree
1 can full-fat high-quality coconut milk (400ml)
1 medium ripe banana
2 1/2 tablespoons white sugar
1 cup soy milk or nondairy milk of choice
Whipped Coffee
4 tablespoons Instant Coffee mix — DO NOT use regular coffee grounds
4 tablespoons boiling water
4 tablespoons sugar
Directions
Make Banana Coconut Puree
In a high-speed blender, add whole can of coconut milk, banana, and sugar. Blend on high for 3 minutes or until completely smooth and creamy. Ensure the fat from the coconut milk hasn't separated from the rest of the mixture.
Transfer to airtight jar or container and refrigerate until ready to use (prepare in advance up to 3 days).
For a Hot Latte
Add 5 tablespoons banana-coconut puree to 1 cup oat milk and whisk to combine.
Heat over medium-low heat until warmed through, and then transfer to high speed blender and blend on high for 3-4 minutes until frothy.
Pour into a tall mug, reserving the foam until the very end. Top with whipped coffee and enjoy!
For an Iced Coffee
In a small bowl, add 5 tablespoons of banana-coconut puree and 1 cup oat milk, whisk to combine.
Pour into a tall glass, add 3-4 ice cubes and top with whipped coffee and enjoy!
For Whipped Coffee
Mix all ingredients with a hand mixer or a stand mixer on high speed until light and fluffy — approximately 8 minutes.
Place on top of banana coconut milk mixture!
Information
Category

Drinks

Prep Time

5 minutes

Cook Time

5 minutes

Total Time

9 minutes, 59 seconds