This Oven Will Actually Make You Fall in Love With Cooking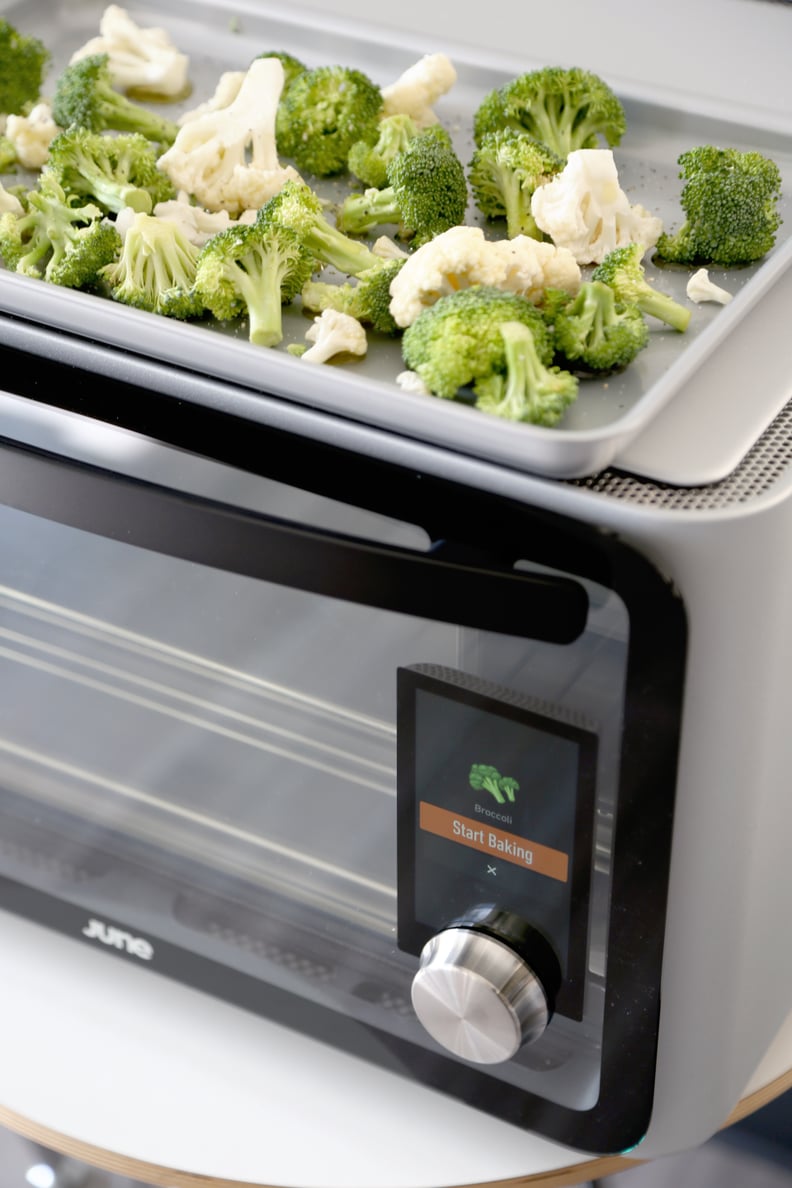 POPSUGAR Photography / Anna Monette Roberts
POPSUGAR Photography | Anna Monette Roberts
We know $1,500 is steep, really steep for a smart oven — it's about as much as a new laptop, after all — so could the June Oven possibly be worth every penny of its exorbitant price? I can confidently say yes. After thoroughly testing many foods in this "intelligent convection oven," I admittedly can't imagine life without one. In fact, I'm downright tempted to buy myself one for home. I bust this thing out every chance I can, because it makes cooking feel exhilarating and fun.
Some critics may say it takes the skill out of cooking and offers too much automation, but I disagree. The June Oven permits you to become a perfectionist. It teaches you the importance of temperature, timing, and a watchful eye. The technology is damn near immaculate, setting you up for nothing but successful outcomes. With each delicious creation I make, I become even more curious to discover what else can I try in the June Oven. Similar to the Instant Pot, it's one of those appliances that inspires you to cook more while simultaneously making your life way, way easier. So what are all the shiny features (aka reasons) you might want to set yourself up on a trial run? Take a look . . .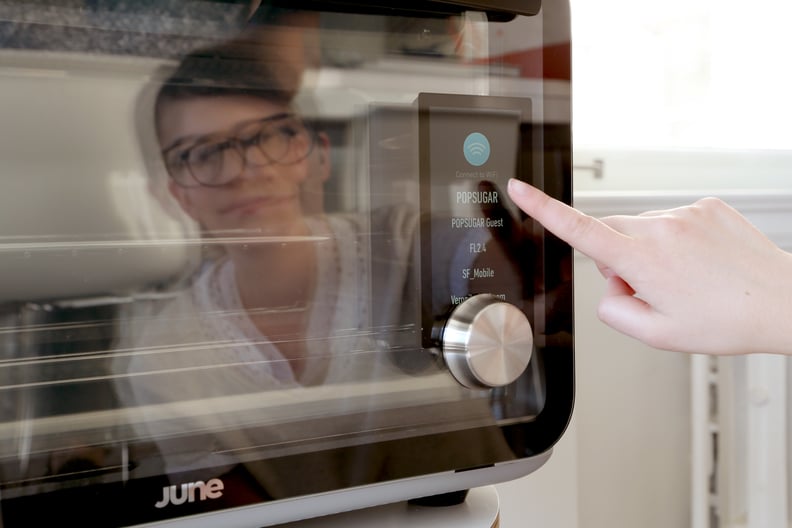 The setup and user experience couldn't be easier.
Setting up and using the June Oven is about as easy and intuitive as an iPhone. You just plug in, download the app, and go! Within five minutes, we had the oven connected to the WiFi, synced to my phone, and preheated. No trouble or struggle. The touchscreen control panel is thoughtfully organized and has beautiful, high-res graphics. You'll "ooh" and "ahh" with every tap.
Also worth noting, the oven does not heat up the kitchen. Even when on full blast, the top and sides of the oven are cool to touch.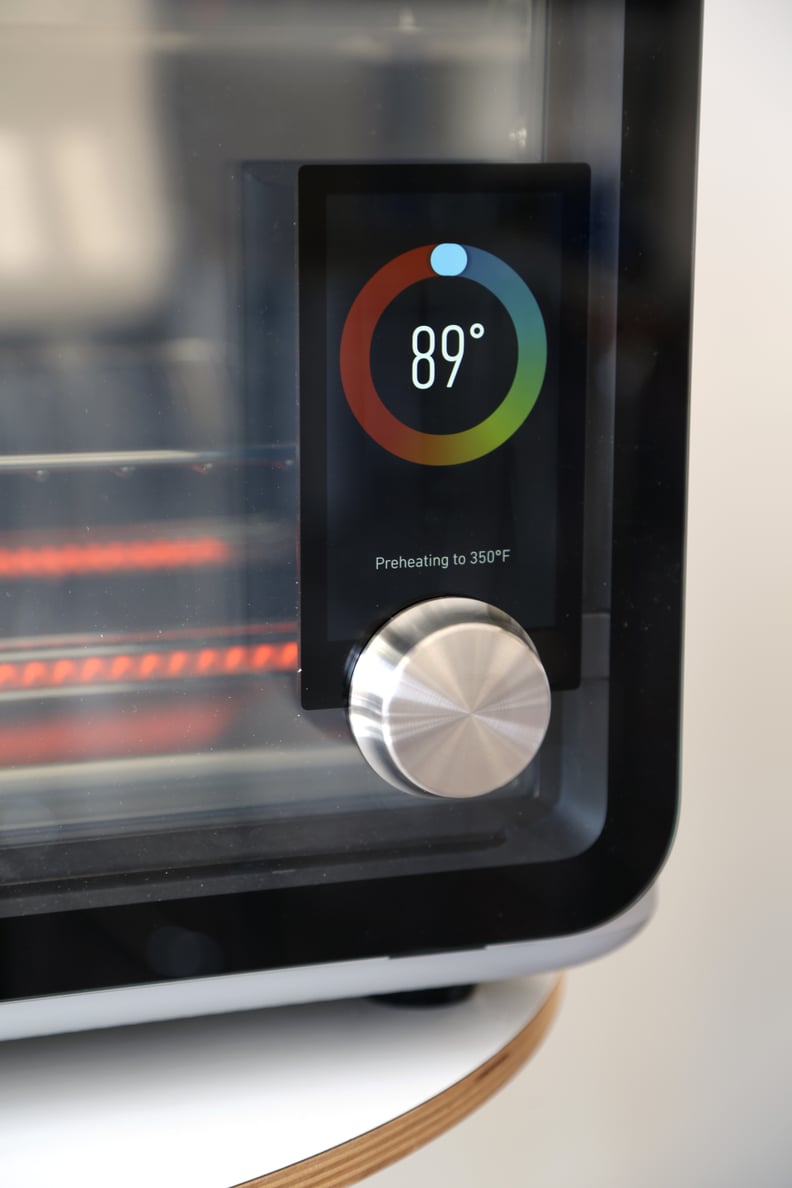 There are other cool features to discover.
Beyond using the touchscreen, there's a knob you can use to navigate the settings and adjust temperature and cook time. There's also a scale on top of the oven, so you can weigh your ingredients with ease.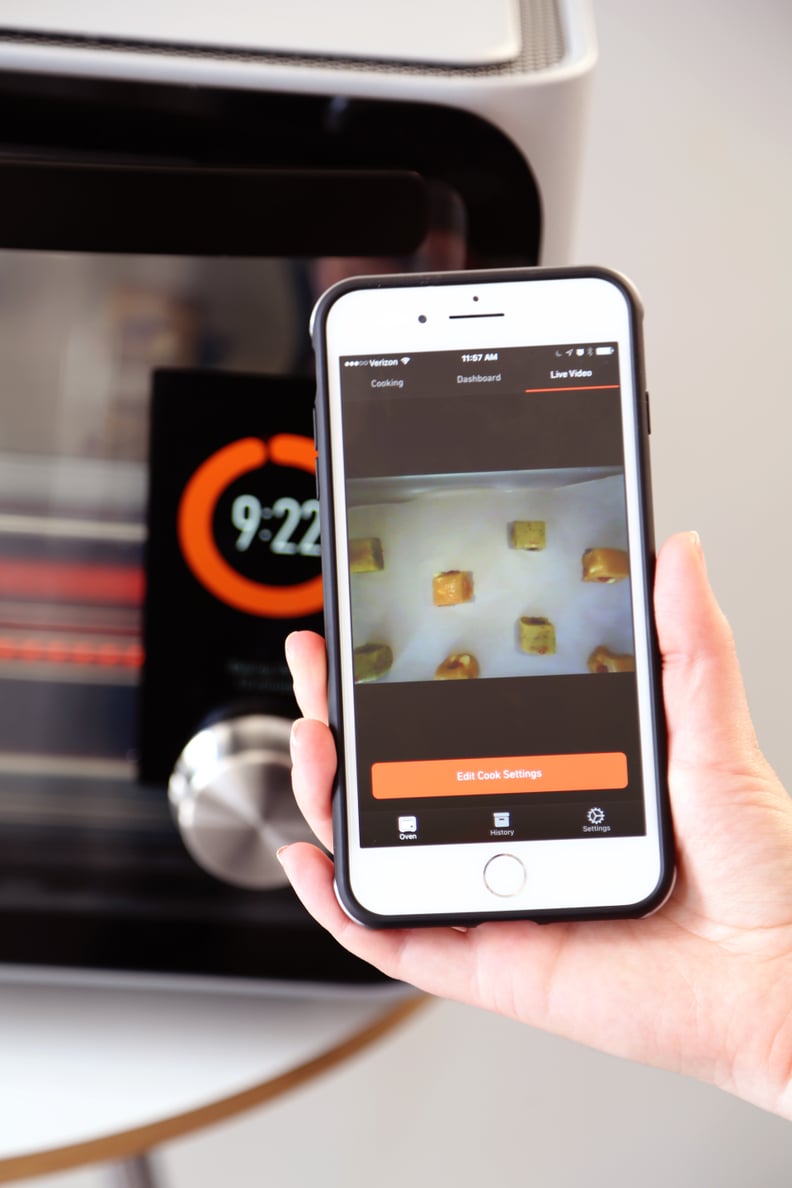 The app and overhead camera are sweet.
The app and oven are perfectly synced and will tell you the exact temperature inside the oven as well as cook time left. You'll never have to open the oven door again to check if things are ready, because there's an overhead camera that records the goings-on. You can watch the food cook in real time on your app, which, I'll be real honest, is a game changer. As a bonus, the app keeps a history of your past 30 cook times/temperatures (along with the corresponding videos), so you can remember how long it took to bake that batch of cookies, etc., for next time.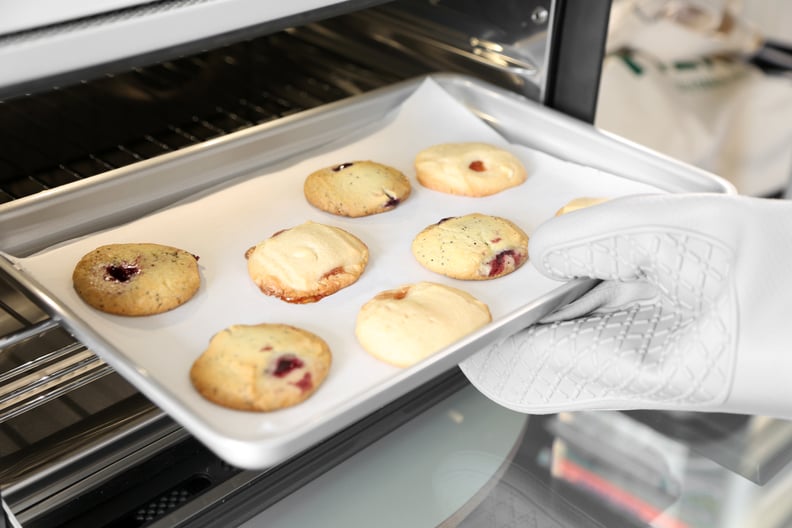 Theres's a convection setting.
Yes, this smart oven comes with a convection setting for cookies and other baked goods, so they bake up evenly. However, even without the convection settings, there aren't any cold spots in this oven. Everything cooks evenly and precisely. When the cook time ends, the oven (and your app) sing a nice, relaxing tune and the heat automatically turns off.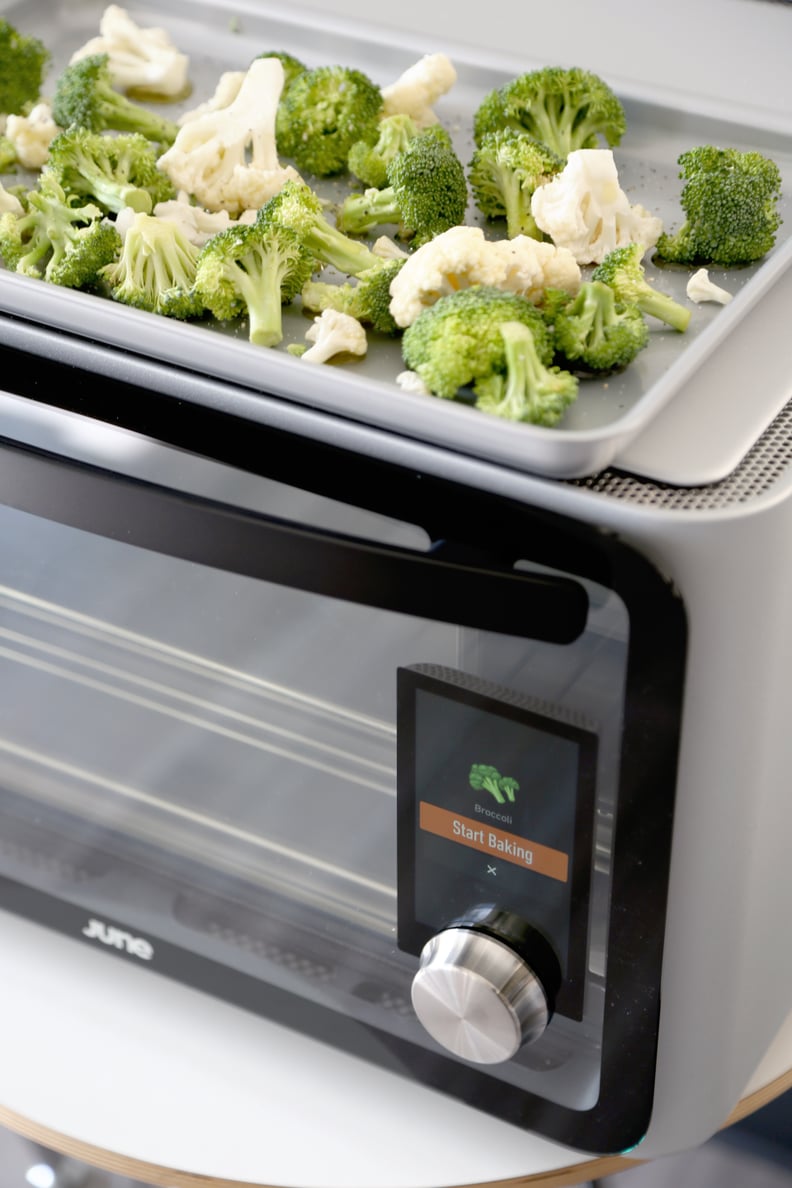 The oven presets are abundant.
You can choose from many oven presets, which range from vegetables to poultry (including a six-pound chicken) to steak to cookies. June Oven's team has perfected the temperatures and times required. Thanks to AI, if you place a sheet tray full of food that the oven recognizes, it will automatically detect the preset and ask you if you'd like to start baking. FYI, you cannot adjust the temperature or time of any oven presets.
Roasted Broccoli
I was amazed by the caramelized, crunchy results of the roasted broccoli. It's almost like kale chips.
Take a look at the time-lapse.
Here's the overhead camera in action!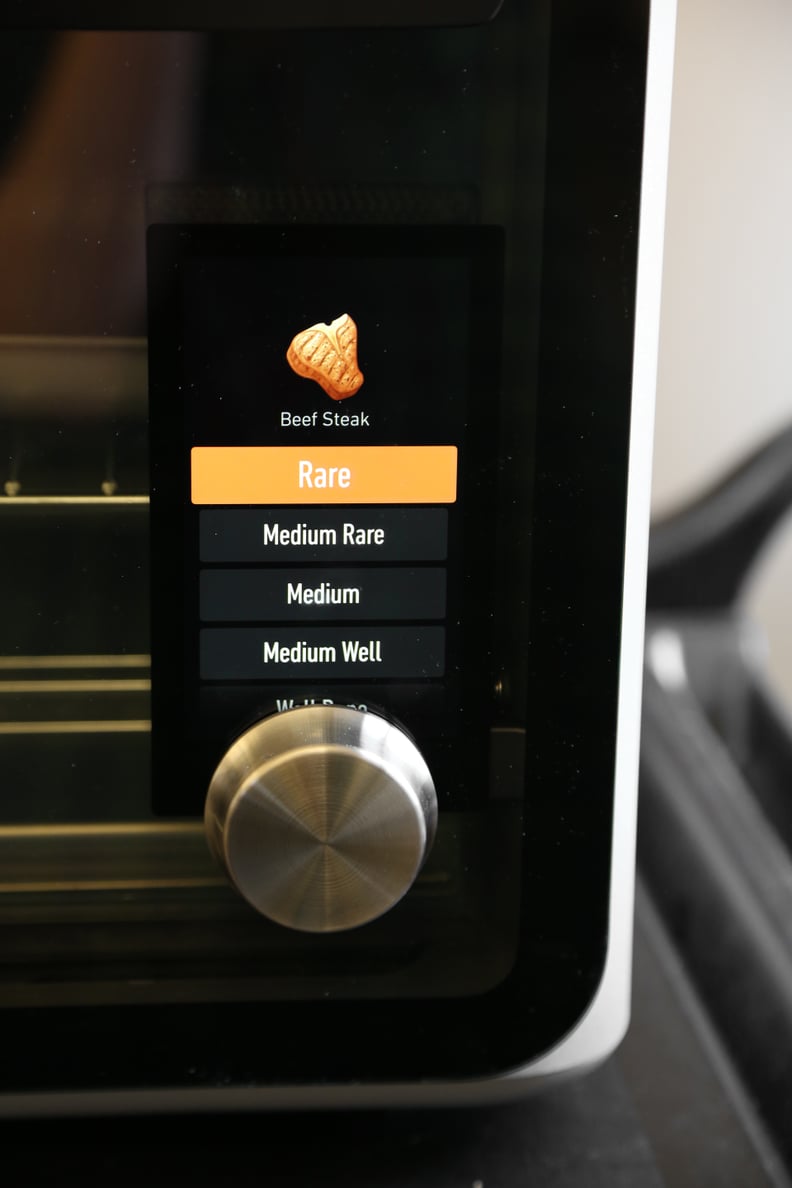 Perfect the art of meat.
Meat, poultry, and fish (like salmon and shrimp) all have presets. The steak feature so far is my favorite, because you can simply choose the degree of doneness.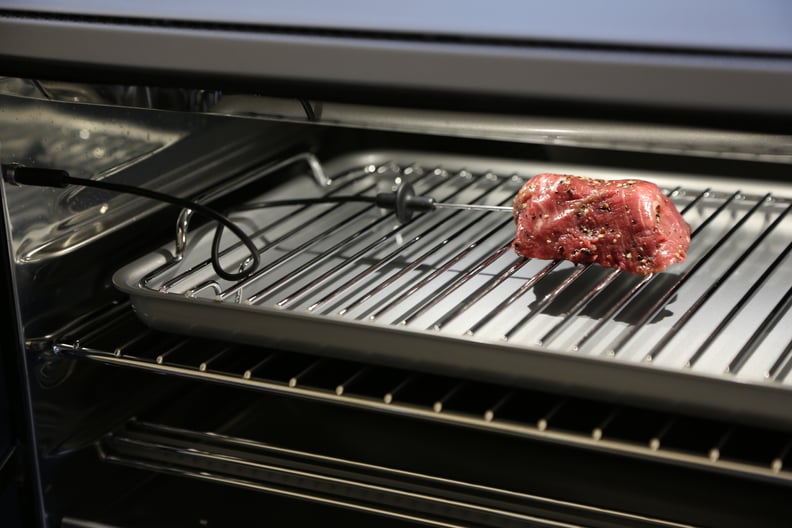 How the probe thermometer works.
The oven comes with a nonstick, rimmed sheet tray; cooling rack; and probe thermometer, so you won't need to hassle with any additional accessories. The probe thermometer, when positioned directly in the center of the meat and plugged into the oven, monitors the internal temperature of the meat and adjusts the cook time if necessary.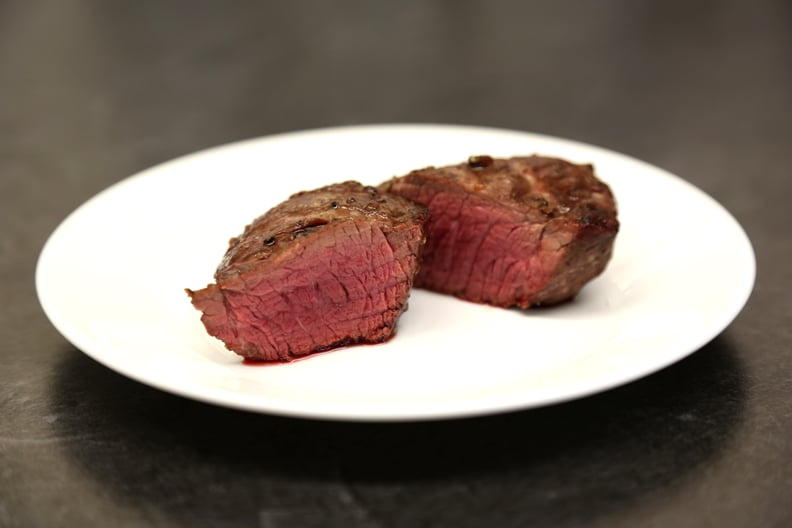 Hello medium rare.
You know that hesitation you always feel when you slice meat open? That'll be a thing of the past. You'll wonder why you ever did the guessing game with meat.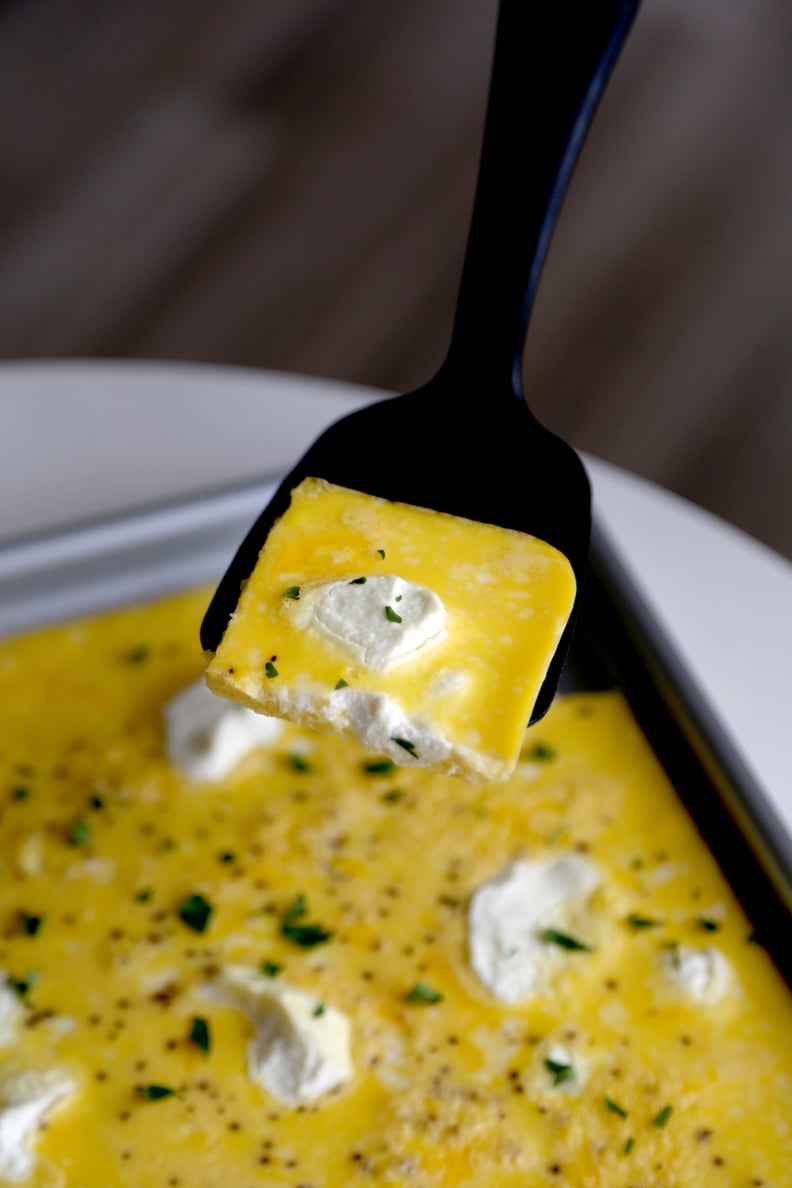 You can even cook eggs.
We tried the latest sheet pan eggs hack, and the eggs cooked up quickly with no brown spots and slid off the pan easily.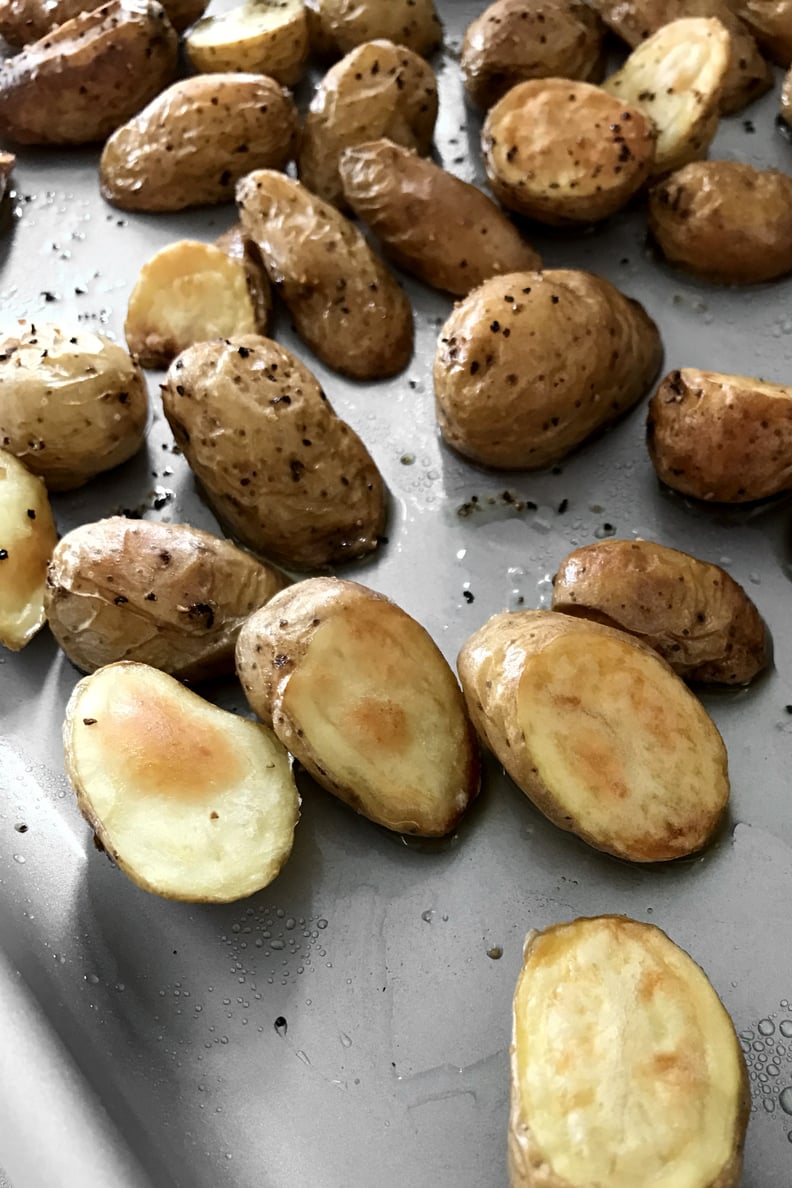 You can't go wrong . . .
Simple things like roasted potatoes, toast, and broiled vegetables turn out flawlessly. I've baked, roasted, and toasted at least a dozen items thus far and still feel like I have so much more to explore. Next on my list: fish fillets and cake (not together, of course).
Yes, the June Oven has revolutionized baking for me. I hope the hardware lasts years and even decades. The company does say it rolls out updates to its software, including new presets, so I can't imagine I'll ever grow tired of the endless options or the magnificent cooking results.