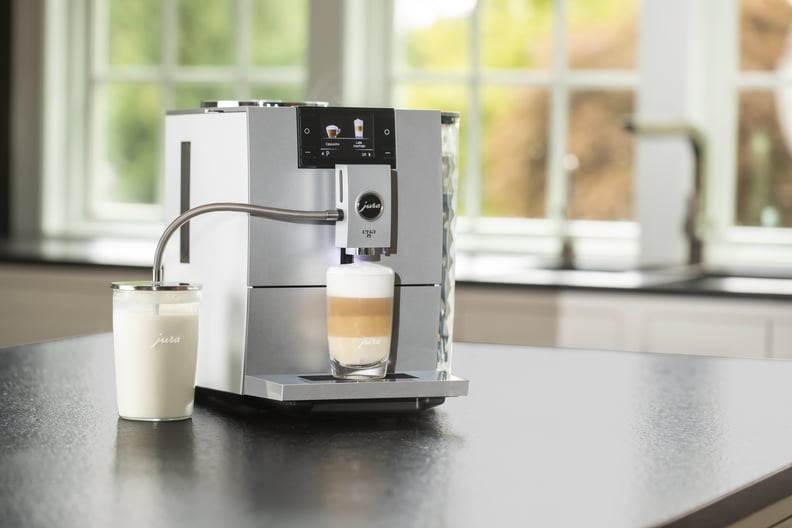 williams-sonoma.com
As POPSUGAR editors, we independently select and write about stuff we love and think you'll like too. If you buy a product we have recommended, we may receive affiliate commission, which in turn supports our work.
For the past several years, I've been using an old-school percolator for my morning coffee. It may be primitive, but it makes a good cup of hot coffee, which, after years of lukewarm cups from my Keurig, was the only thing I was after. But I eventually grew tired of its quirks. For example, if I didn't use a combination of paper filters and course ground coffee, and then let the coffee settle for a good 20 minutes before pouring, I'd end up with a cup full of grinds. Then there were all of the parts that had to be taken apart and washed daily. I was just ready for something easier. I had no particular direction when I started researching coffee makers and was initially overwhelmed by the plethora of options that are out there. In the end, I wound up testing close to a dozen different machines before giving Jura's ENA 8 ($1,900) a permanent home on my kitchen counter.
Let's start by addressing the elephant in the room: at a cool $1,899, this coffee maker is very, very expensive, but hear me out. I was going to my local coffee shop, on average, five days a week for either a cappuccino, seasonal latte, or whatever sugary specialty drink was calling my name. At $4 a cup, I was spending $20 a week. That's $1,040 a year IF I only ordered one cup a day. And, as you may already know, some days are harder than others and require more than one cup of coffee.
Can you get a great coffee maker for less? Absolutely. I also tried and happened to love Ninja's Specialty Coffee Maker, which you can pick up for just $160. It allows you to make a single cup of your favorite coffee or an entire carafe on those harder mornings, and its built-in milk frother makes it easy to give your basic cup of coffee a little something extra if that's what you're feeling. Or, if you prefer the convenience of pods and capsules, then you can pick up Nespresso's Vertuo Next with Aeroccino 3 Frother for $210. When it comes to their capsules, Nespresso offers so many flavor options that your mornings will be anything but mundane, and thanks to its ultraslim design, it hardly takes up any precious counter space. But if you want to treat yourself to something truly special, then Jura's professional looking ENA 8, which also boasts a compact design, is the way to go.
No matter what you crave in the mornings, this machine gives you 10 different drink options from regular coffee or espresso to cappuccinos or latte macchiatos. And if you have kids, you can even add a little frothed milk to their hot cocoa for an extra special treat, and all at the push of a button. Sound simple? It couldn't be more so. Once you set up your machine, choose your favorite whole bean or ground coffee. I love Black Rifle Coffee's AK47 Espresso blend, which I have set up for automatic, monthly delivery. If you use ground coffee, you'll have to put a scoop in the powder chute before each cup. You'll just want to make sure that the coffee isn't ground too finely, as very fine coffee could block the system. But if you opt for whole beans, then you can pour your beans into the grinder, and the machine will use what it needs for each cup. Any beans left in the grinder will stay fresh, and you can refill as needed. Once you've added your favorite coffee, select your drink of choice on the machine's TFT color display screen. After you've chosen your drink (I love a good flat white), just push the button and let the ENA 8 work its magic. You can even program the volume, strength, and temperature of your coffee to ensure that it comes out exactly the way you like it.
And if you're like me and have never been quite sure exactly when or how to clean your coffee pot, you'll never have to think about that again with the Jura. The ENA 8 tells you exactly when your machine needs attention. It alerts you when you have to refill the water tank, empty the drip tray or the grinds container, change the filter, and walks you step by step through cleaning the milk system and the machine itself. And there you go. I told you it was simple. So whether you're you're looking to step up your barista skills or just make your mornings easier, then go ahead and order the ENA 8. It's a splurge, but it's one that you definitely won't regret.
Here Is the Jura in Action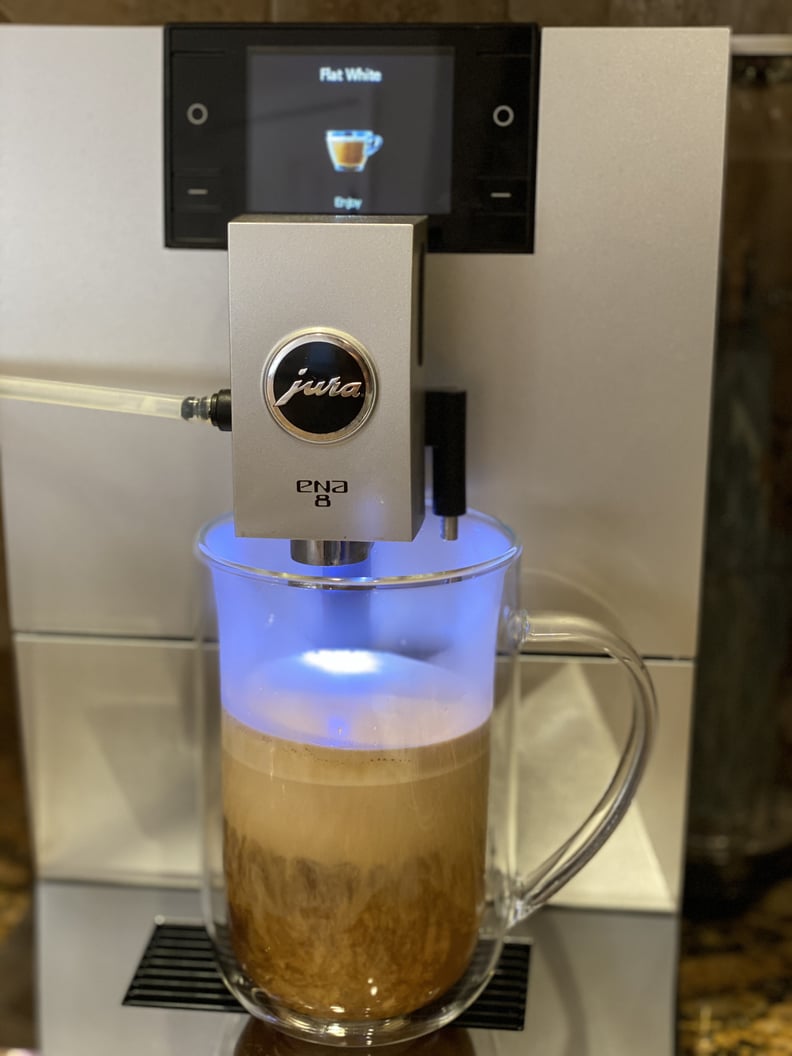 Can We Talk About How Amazing This Cup of Coffee Looks?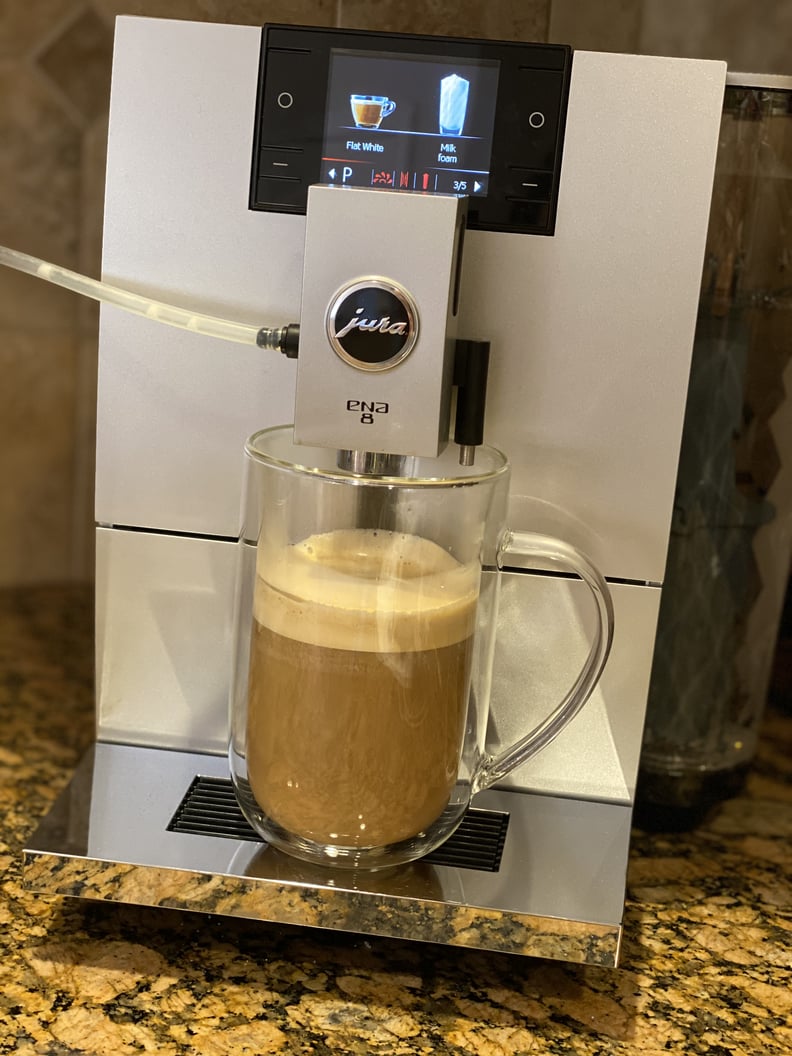 You Get a Perfect Flat White in Seconds!