There's something about popping open a crisp can of LaCroix that just screams "happy hour." Not only is it a surprisingly flavorful, satisfying, and bubbly beverage on its own, but it also makes the perfect ingredient for a DIY cocktail. Because LaCroix's flavors are already so great (can we get a round of applause for the limoncello, please?), you don't need to add much besides your favorite liquor to turn them into a hard drink that goes down easy.
Just wait until you see the creative LaCroix cocktail recipes that the internet has mixed up. We've rounded up some of the best from Instagram, TikTok, and food bloggers, so you have a menu to peruse right at your fingertips. Whether you fancy yourself a budding mixologist or you want something that's ready to drink by 5:01 p.m., there's a glorious LaCroix cocktail or mocktail here for you. That's right: for the sober curious among us, these recipes are so well-rounded, that you don't even need alcohol to enjoy them.
Grab a few cases of your fave LaCroix flavors, roll up your bar cart, and prepare to crave these drinks for the foreseeable future. Keep scrolling to see 14 delicious LaCroix cocktails, ahead.
01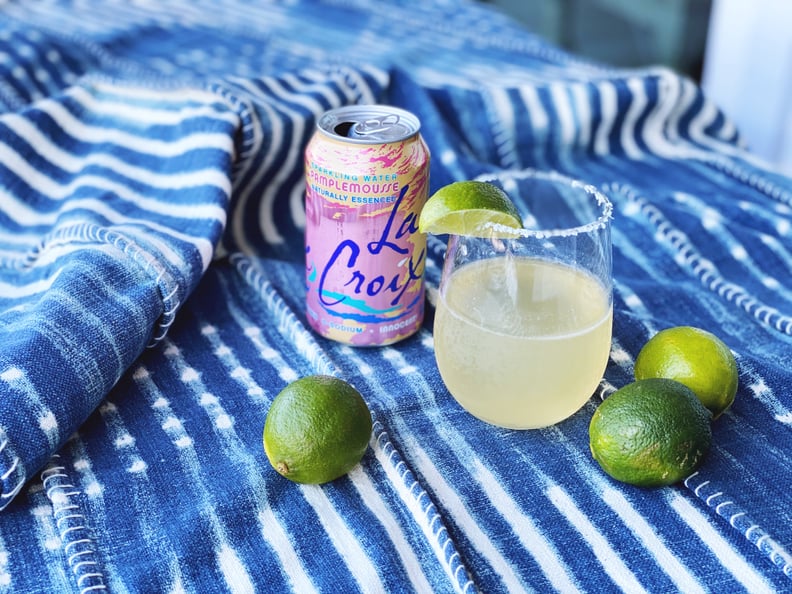 LaCroix Paloma
This LaCroix paloma goes down smooth and is super easy to whip up. All you need is grapefruit (aka pamplemousse) LaCroix, tequila, lime juice, and Grand Mariner.
02
Blood Orange Mint LaCroix Mocktail
Squeeze colorful blood orange into a glass with mint, ice, and grapefruit LaCroix, then top with a blood orange slice, and you've got yourself an easy but beautiful mocktail. Optionally, stir in your clear alcohol of choice.
03
Peach-Pear Whiskey Soda
Two-ingredient cocktails can seem too good to be true, but not this one. With a peach-pear-flavored LaCroix, a simple whiskey soda gets taken to the next level.
04
Hibiscus Rose Spritz
Get your hands on some pretty pink rose gin (which is typically infused with rose petals, BTW) and make this gorgeous LaCroix cocktail using a can of the hibiscus-flavored sparkling water. Has a backyard happy hour ever felt fancier?
05
LaCroix Tangerine Smash
Have a few tangerines — and a tangerine LaCroix — handy? Grab some of your TikTok-approved fancy ice and mix together this tangerine smash cocktail. This TikToker uses vodka, but you can swap for another clear liquor or omit it for an easy mocktail.

06
Vodka, Lime, and Grapefruit LaCroix Cocktail
Your vodka of choice, plus a grapefruit-flavored LaCroix, and a squeeze of lime makes one of the easiest and most refreshing cocktails ever. If you'd like it a little sweeter, simply add a bit of sugar, honey, or agave.
07
Watermelon Gin Cucumber Smash
Muddle cucumber and watermelon in a shaker, add gin and ice, shake for 10 seconds, splash in some watermelon LaCroix, and it's good to go!
08
LaCroix Vodka Cranberry Lemonade Mocktail
This mocktail is a twist on a vodka cranberry lemonade and is fancy enough to quench any happy-hour craving. If you'd like to make it hard, vodka is a perfect fit.
09
Limoncello, Moscato, and Tequila
Balance out the intense sweetness of Moscato with a little LaCroix and tequila. Top with whatever fruit you have in the fridge. Not a tequila fan? Great news: Gin also works here.
10
Lemon Coconut LaCroix Cocktail
Want to whip up something special and sweet? Add lemon juice, vanilla extract, coconut milk, ice, and limoncello LaCroix to a glass with ice, and top with Pinnacle Whipped vodka to enjoy an all-new flavor combination.
11
Limoncello Spritz
If you haven't tried LaCroix's limoncello flavor, it's a must — and feels like a flavorful drink on its own. But if you want to jazz it up (and make it alcoholic) you can add actual limoncello and a fresh lemon wedge.
12
Penicillin Cocktail
If you're a fan of classic cocktails, try this LaCroix version of the penicillin, which typically has just Scotch, lemon, and ginger-honey syrup. This recipe tops off the mix with sparkly plain LaCroix to take it from cozy to refreshing.
13
Pear Elderflower Collins
Gin, pear juice, and elderflower liqueur make this LaCroix cocktail feel oh-so fancy. It uses that brand's plain "Pure" flavor, but you could add your flavor of choice to add even more fruitiness. Might we suggest peach-pear?
14
Jam Jar LaCroix Cocktail
TikTok's jam drink first hit the internet last summer, and it's become a hit for a reason. Not only is it a great two-ingredient mocktail (or three-ingredient cocktail), but it's also the perfect way to use up the bits left inside of the jam jar when you've eaten it all up.