How to Make TikTok's Jam-and-Sparkling-Water Drink
I Tested TikTok's "Jam Water" Mocktail Recipe, and It's Surprisingly Delicious
TikTok has convinced us to combine hash browns with ice cream and turn Bic Macs into tacos, but the platform's jam-and-sparkling-water drink might be one of its most interesting creations. The mocktail recipe prompts aspiring at-home mixologists to combine the seltzer water of their choice with a spoonful of jam or jelly. (Yes, the same jam that lives beside the jar of peanut butter in your pantry.) Feeling adventurous, I decided to taste test the controversial combination for myself.
The drink first became popular in May 2022 when Kat Chao, who goes by katchaomeow on TikTok, replicated the original recipe, invented by TikTok user jocelyn.mp4, using raspberry lychee preserves and a can of lime LaCroix. "This combo sounds like a dream, so let's try it," Chao told the camera, before mixing up a drink that looked way better than it sounded. In a later video, Chao added a splash of vodka to the drink, resulting in an easy cocktail that only took seconds to make. Having done my research, I felt pretty confident as I stepped into the kitchen.
The recipe is simple: one can of sparkling water and a scoop of jam. The flavor combinations here are infinite, but if it's your first time trying the drink, I highly recommend sticking with your favorites, whether that's blackberry-flavored seltzer and strawberry jelly, orange sparkling water and peach preserves, or pineapple seltzer and grape jelly. For my taste test, I raided the pantry and came up with an interesting combo: cherry-blossom LaCroix and blueberry-strawberry preserves.
Resisting the urge to pop the spoonful of jam directly in my mouth, I got to work, adding the jelly to a mason jar filled with ice. Seeing a glob of jam in my drink wasn't exactly appetizing at first. Still, I pressed forward and poured the sparkling water into the jar. After stirring the drink — the ice definitely helped break down the jelly — it started to take on a twilight shade of pink that immediately evoked a warm summer sunset. Promising.
My main concern going in was the jelly, but it added a subtle hint of sweetness that instantly turned the mixer into a refreshing summer mocktail. The cherry-blossom flavor was a little overpowering at first, but once I got the jam-to-LaCroix ratio just right, the drink was surprisingly tasty. Taking the experiment a step further, I added a squeeze of lemon juice, which made the "jam water" tart, sweet, and 10 times more delicious. A few sprigs of mint or a splash of vodka could also go a long way here.
Was it worth using up a perfectly good spoonful of jam that could have been transformed into a batch of peanut-butter-and-jelly cookies? Debatable. But if you're looking for an easy-to-make yet visually impressive drink to serve your friends at your next summer BBQ or pool party, this might be your new go-to.
Check out how Chao mixes her "jam drinks" here, and see exactly how to make the refreshing mocktail for yourself ahead.
TikTok's Jam and Sparkling Water Drink
TikTok user @katchaomeow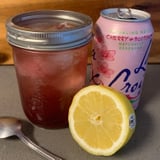 Ingredients
1 heaping tablespoon of your jam of choice
1 can sparkling water
Ice cubes (optional)
Squeeze of lemon (optional)
Directions
Fill a glass with ice.
Add a heaping spoonful of your favorite jam.
Crack open a can of sparkling water and pour it over the jam.
For a cocktail, use hard seltzer instead of sparkling water or add a splash of vodka to the drink.
Using a spoon or straw, stir the jam until it has fully dissolved into the sparkling water. Enjoy!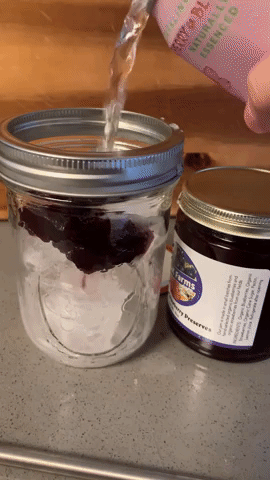 Information
Category

Drinks, Soda

Yield

1 drink

Total Time

59 seconds