How to Make Lizzo's Nature's Oatmeal Recipe | TikTok
Lizzo Gives "Nature's Cereal" a Cozy Winter Refresh: "It's Literally So Good"
Hot oatmeal is a winter breakfast staple, and Lizzo is here to prove that the classic cold-weather dish doesn't have to be boring. "So let me tell y'all about my new food fixation. I'm going to call this 'Nature's Oatmeal,'" the "About Damn Time" singer said in a TikTok voiceover on Jan. 23 as she prepared her breakfast: a winter-themed take on the viral "Nature's Cereal" recipe from 2021.
"It's literally so good, and it's kind of chilly outside, so imma eat this until I'm back to my coconut-water ways."
"There's no flavor in [the coconut yogurt]. I kind of like it flavorless, and I add flax and chia," she said as she added spoonfuls of yogurt to a bowl. "[Next,] you put that in the fridge, and when it gets nice and gelatinous, you take it out and you add, literally, the trifecta of berries." Lizzo's ideal fruit trio includes blackberries, blueberries, and pomegranate seeds, a callback to the original "Nature's Cereal" recipe. After folding the fruit into the yogurt mixture, Lizzo topped her breakfast bowl with banana slices, cinnamon, and a generous drizzle of honey.
In the caption, Lizzo added, "IF I SEE ONE COMMENT SAYING ITS A PARFAIT I WILL VALIDATE YOU." Sure enough, commenters did compare the chia pudding–esque meal to a parfait. Some followers even suggested tasty ways to customize the breakfast. "[Caramelize] that banana in some coconut oil for another [flavorful] layer. So good!" one user wrote. Other commenters suggested topping the bowl with spicy honey, granola for crunch, walnuts, raspberries, hemp seeds, and more.
"Look at that," Lizzo said over a clip of herself eating the "oatmeal." "It's literally so good, and it's kind of chilly outside, so imma eat this until I'm back to my coconut-water ways." While warmer weather is ideal for eating "Nature's Cereal," it's nice to know that there's a sweet — and highly customizable — alternative for the chillier months.
Ahead, read how to make Lizzo's full "Nature's Oatmeal" recipe at home, and see more unique breakfast recipes here.
Nature's Oatmeal
TikTok user lizzo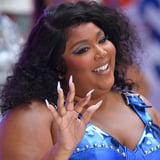 Ingredients
1/2 cup coconut yogurt
1 tablespoon flax seeds
1 tablespoon chia seeds
Blueberries
Blackberries
Pomegranate seeds
1/2 banana
Honey (to taste)
Cinnamon (to taste)
Directions
Begin by adding about 1/2 cup of coconut yogurt to a bowl.
Add the flax seeds and chia seeds to the yogurt.
Stir until well combined.
Allow the yogurt mixture to set in the fridge until gelatinous, anywhere from 30 to 90 minutes.
Next, add about 1/4 cup each of blueberries, blackberries, and pomegranate seeds to the yogurt mixture.
Fold in the fruit.
Top the yogurt bowl with half of a sliced banana.
Add a drizzle of honey and a sprinkle of cinnamon to taste. Enjoy!
Information
Category

Breakfast/Brunch

Yield

1 serving

Prep Time

10 minutes

Cook Time

60 minutes

Total Time

1 hour, 9 minutes, 59 seconds