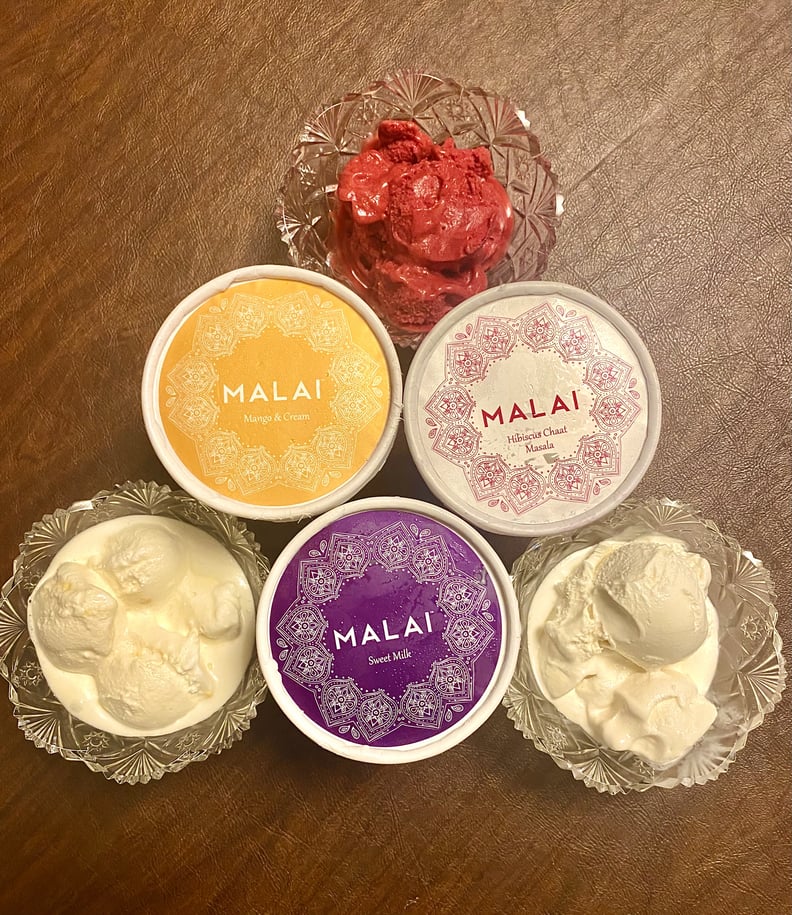 POPSUGAR Photography | Anvita Reddy
POPSUGAR Photography | Anvita Reddy
As POPSUGAR editors, we independently select and write about stuff we love and think you'll like too. If you buy a product we have recommended, we may receive affiliate commission, which in turn supports our work.
Ice cream is by far my all-time favorite dessert. It's creamy yet perfectly refreshing. Every bite of that sweet treat is like a cozy hug that comforts me through all my binge-watching adventures. Ice cream is one of the most versatile desserts with a vast selection of flavors — it's honestly the best. If you're in the mood for something simple like chocolate or vanilla or want to be adventurous and try something new, there's always an ice cream flavor made for you. As an Indian-American, I was ecstatic to discover Brooklyn-based artisanal ice cream shop Malai on Goldbelly. Founder Pooja Bavishi took inspiration from her childhood and traditional Indian recipes to create one-of-a-kind, incredibly decadent Indian-inspired flavors. I never thought the complexity of Indian spices and flavors would work with ice cream, but Malai knocks it out of the park.
Malai teamed up with Kalamata's Kitchen, a platform that teaches kids about diversity and culture through food, to create the ultimate ice cream pack that takes your taste buds on an adventure to flavor town. The Kalamata Kitchen's Adventure Ice Cream Pack takes inspiration from Kalamata's Kitchen co-founder Sarah Thomas's childhood incorporating South Indian-based flavors and recipes. It includes four lovely flavors: Mango and Cream, Sweet Milk, Hibiscus Chaat Masala Sorbet, and Carrot Halwa.
I got to try out three different flavors from the Kalamata Kitchen's Adventure Ice Cream Pack, and I fell in love. The dairy-based pints were perfectly rich and creamy without feeling too heavy. The vegan sorbet is flavorful and so refreshing. The flavors might be unique to the average ice cream connoisseur. However, as a South Indian, it instantly transported me to the subcontinent — my home away from home. With each bite, all I could think about were two things: my foodie adventures in India and spending time with family and friends, and "damn, this is so freaking good." Each flavor is distinct from the other yet familiar. The flavors complement each other while targeting different tastes and palates. Whether you want something fruity and tangy, sweet and creamy, or a combination of it all, the Kalamata Kitchen's Adventure Ice Cream Pack has it all. Keep reading for my in-depth review on the flavors I got to try.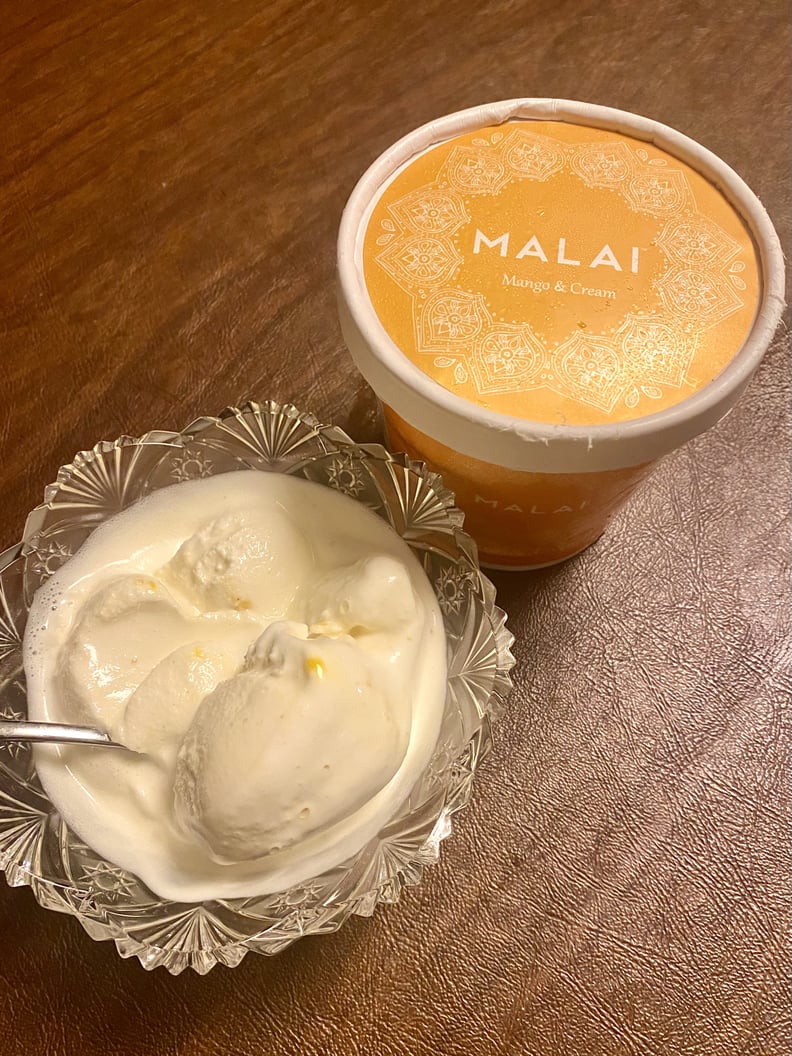 Kalamata Kitchen's Adventure Ice Cream Pack: Mango and Cream
The Mango and Cream ice cream from the Kalamata Kitchen's Adventure Ice Cream Pack ($89) tastes like a mango milkshake, more specifically a mango lassi. It's sweet and fruity, rich and creamy, with little bits of mango incorporated into each bite. The texture of this pint is almost like a sorbet-ice cream blend. If you love mangos, you'll absolutely adore this. This flavor is something that everyone can enjoy, it's dependable and a classic. It's delish and a safe bet!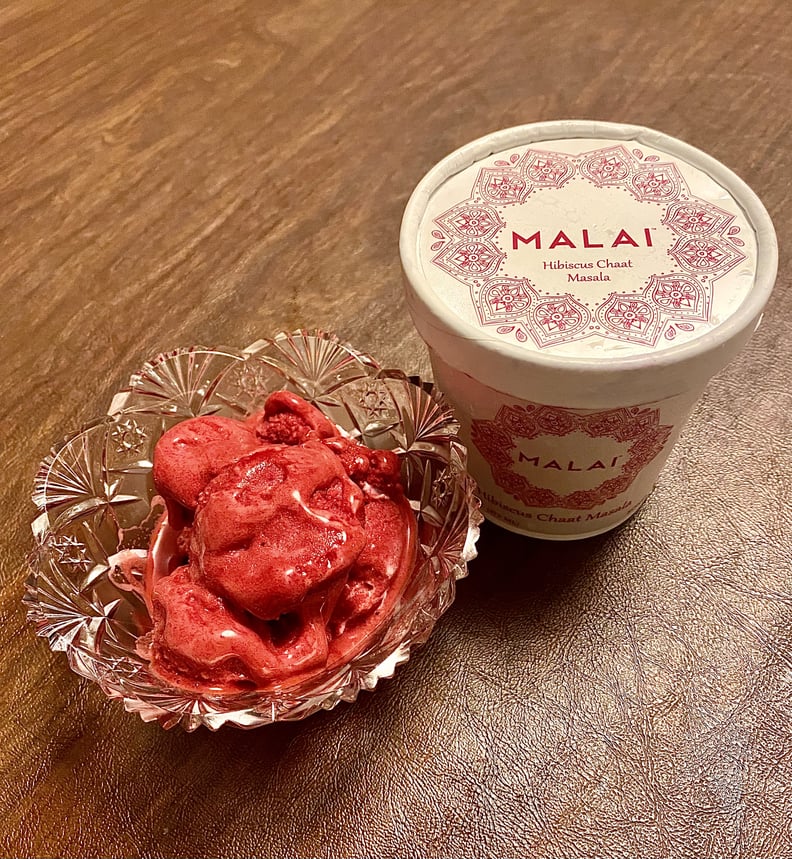 Kalamata Kitchen's Adventure Ice Cream Pack: Hibiscus Chaat Masala Sorbet
I was really excited to try the Hibiscus Chaat Masala Sorbet from the Kalamata Kitchen's Adventure Ice Cream Pack ($89). It combines my two favorite flavors: hibiscus and chaat masala! It's an unexpected pairing, but after taking one bite of this sorbet, I don't think I can ever go back! It's packed with a bunch of flavors for a uniquely refreshing yet delish experience. It reminds me of an Indian post-meal candy called Fatafat, which combines sweet, tangy, tart, and more. On the first bite, you get a mouthful of fruity and floral flavor from the hibiscus. Then it quickly transitions into a tangy and tart flavor from the chaat masala. It's sort of like a backward Sour Patch Kid, and it keeps you wanting more with every bite. This one is truly a one-of-a-kind flavor. If you want to experience sweet, tangy, sour, fruity, tart all in one bite, you'll love this.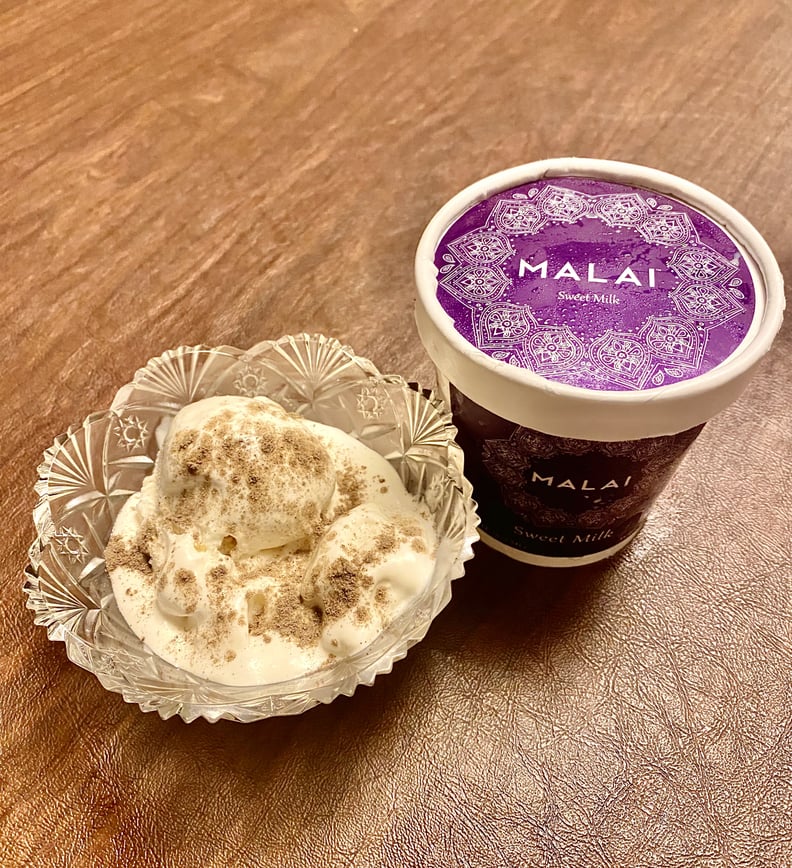 Kalamata Kitchen's Adventure Ice Cream Pack: Sweet Milk
The Sweet Milk pint is an unexpected favorite of mine. This simple yet decadent flavor from the Kalamata Kitchen's Adventure Ice Cream Pack ($89) is creamy and has the perfect amount of sweetness. By itself, it tastes exactly like an Indian dessert called kulfi. If you want to add a kick to it, I highly recommend adding a dash of the Spicewalla cardamom. It tastes exactly like a South Indian dessert called paal payasam, which roughly translates to milk pudding. The cardamom adds a distinct layer of sweet yet tart and peppery/smoky flavor to the sweet milk. If you like sweet, creamy flavors but want to try something new, something with an unexpected kick, I highly recommend this.