Good Humor Strawberry Shortcake Bars Copycat Recipe
This Copycat Good Humor Strawberry Shortcake Bar Recipe Tastes Like Pure Nostalgia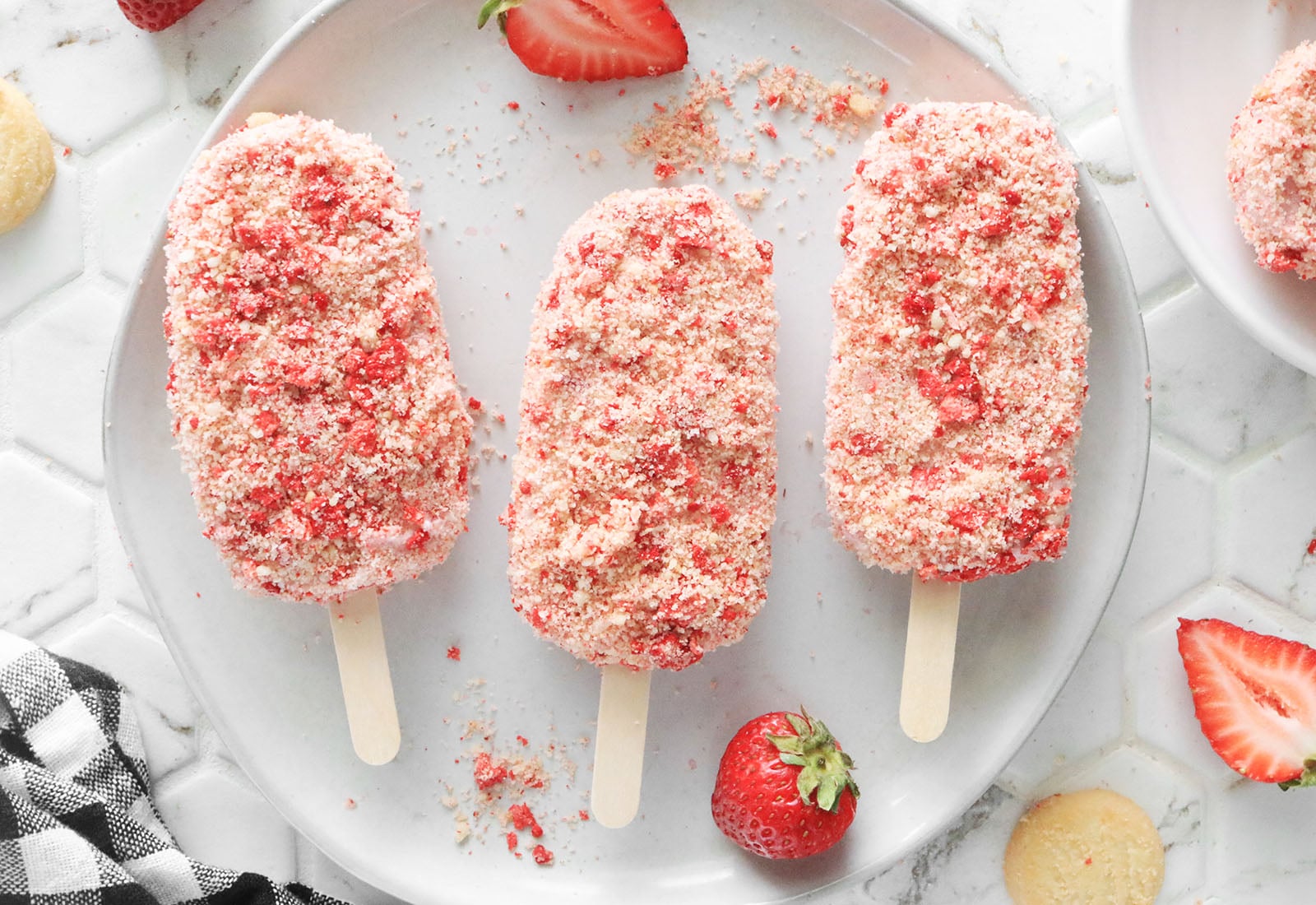 If you grew up eating Good Humor Strawberry Shortcake Bars, you're in for a real treat. With the following recipe — and just four ingredients — it's possible to make the bars from scratch! Simply blend your favorite vanilla ice cream with pureed strawberries, then pour the mixture into an ice-pop mold. Once frozen, coat the bars in shortbread cookie crumbs and crushed freeze-dried strawberries. The result is a delicious dessert that tastes as sweet as it looks.
The best part? You can customize the bars to suit your dietary preferences. For example, if you don't eat dairy, use a plant-based vanilla ice cream (in fact, I used vanilla oat milk ice cream for this batch), or if you're on a gluten-free diet, replace the shortbread cookies with your favorite gluten-free vanilla or sugar cookies.
It's worth noting that these copycat strawberry shortcake bars don't have the iconic strawberry center. Instead, there are chunks of real strawberries dispersed throughout each bar — which is just as tasty, to be honest. Besides, this method makes the bars easier to make, so you can't go wrong with that.
Ready to stroll down memory lane? Read on to learn how to make homemade strawberry shortcake bars, aka your new favorite frozen treat.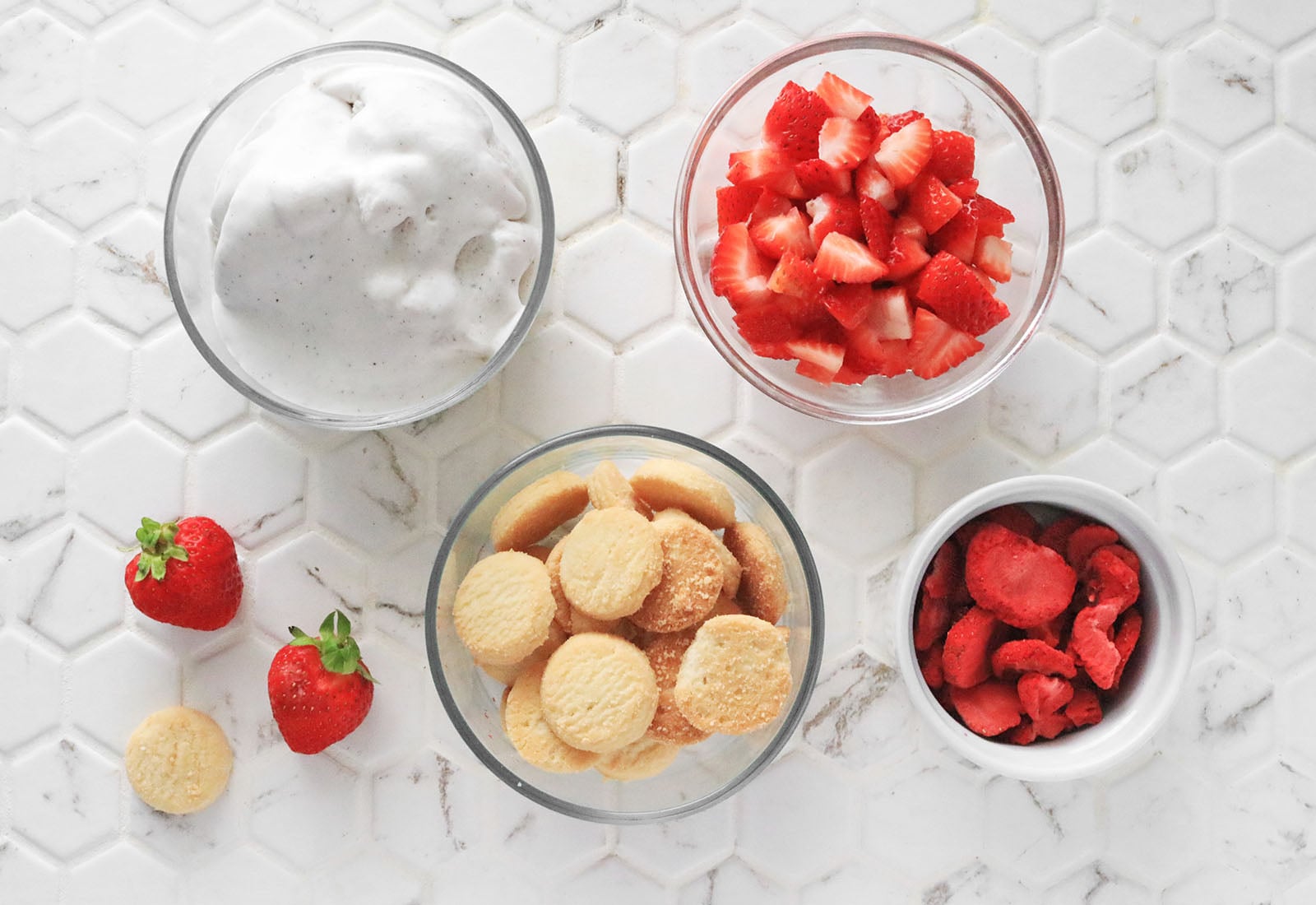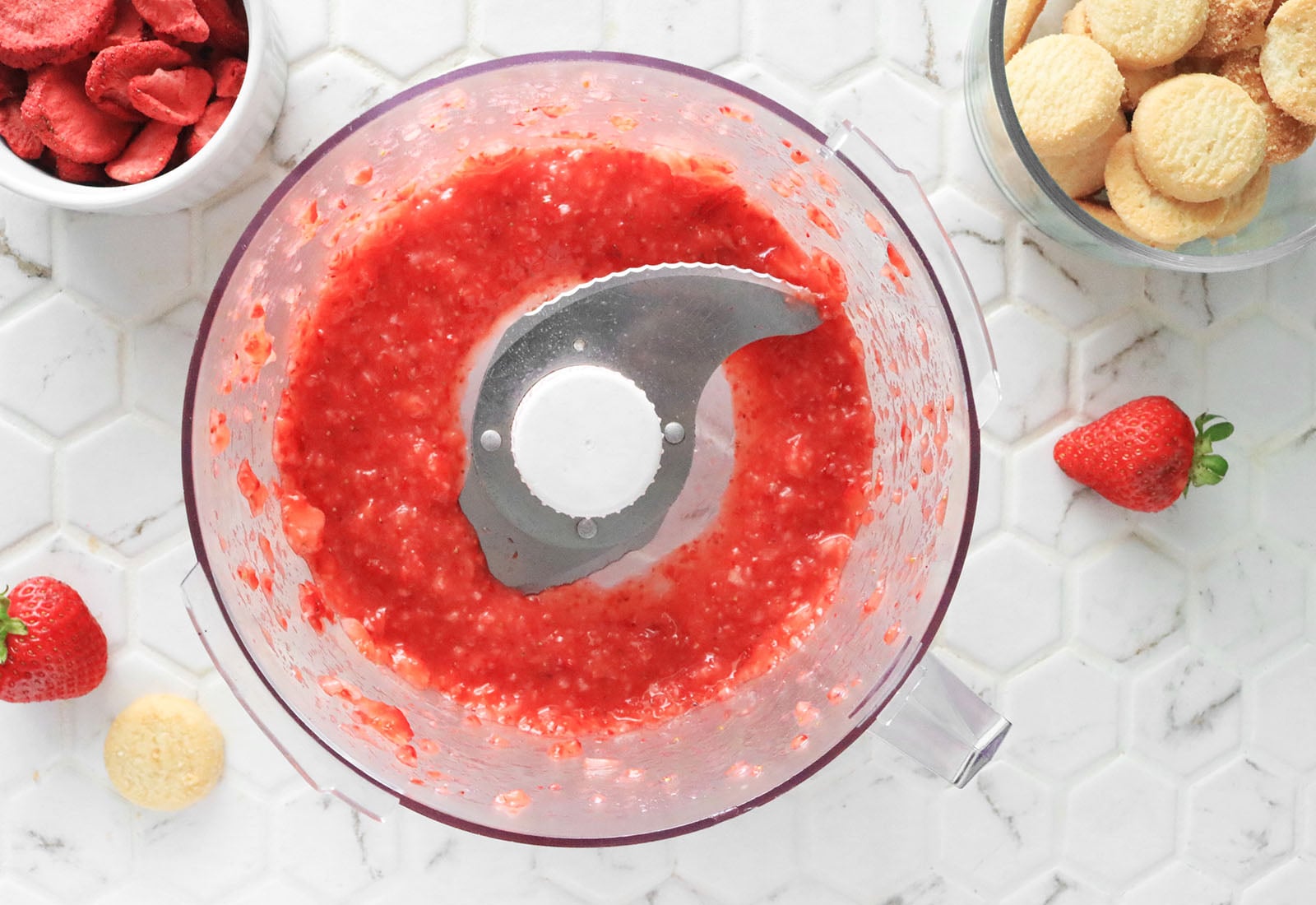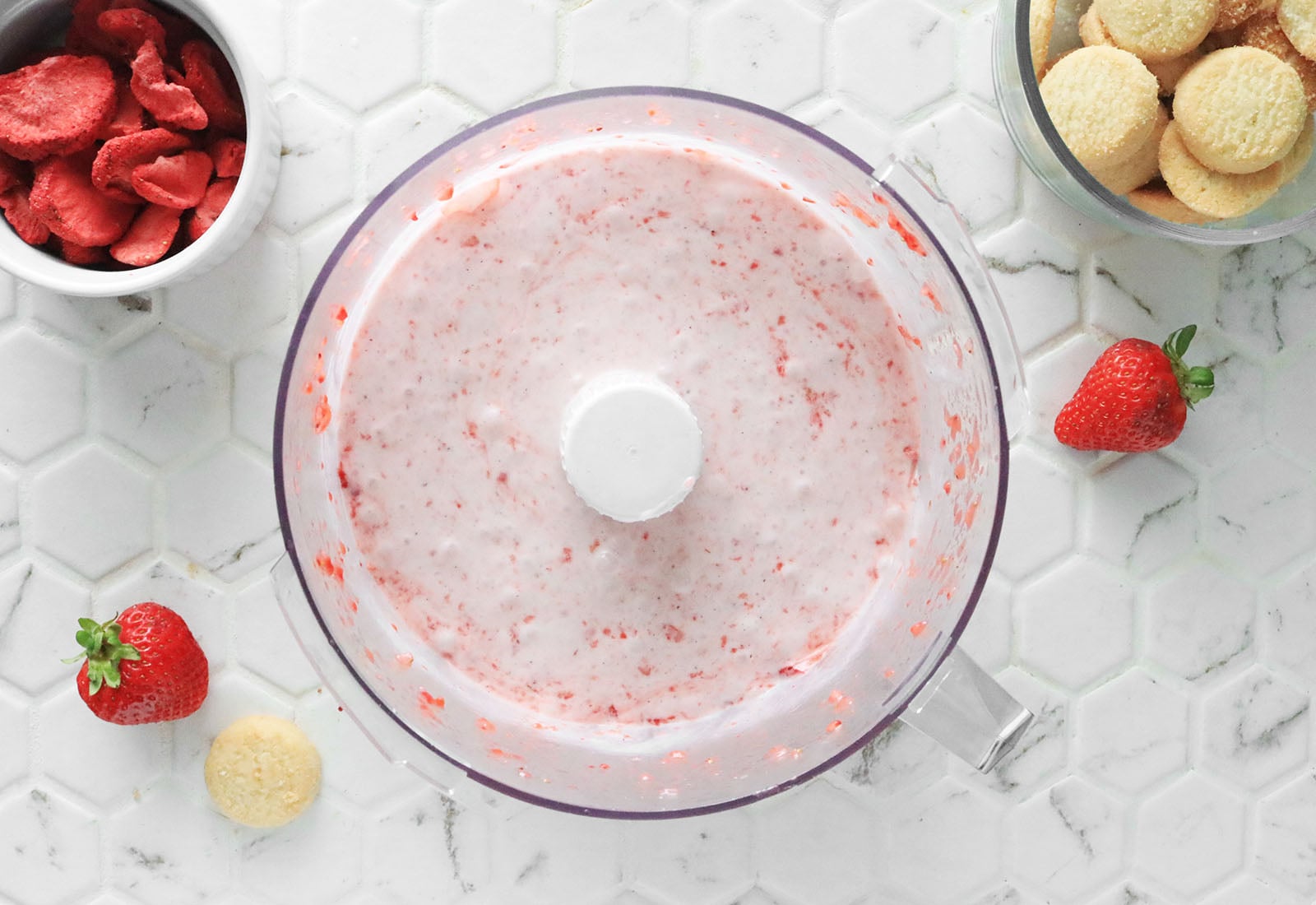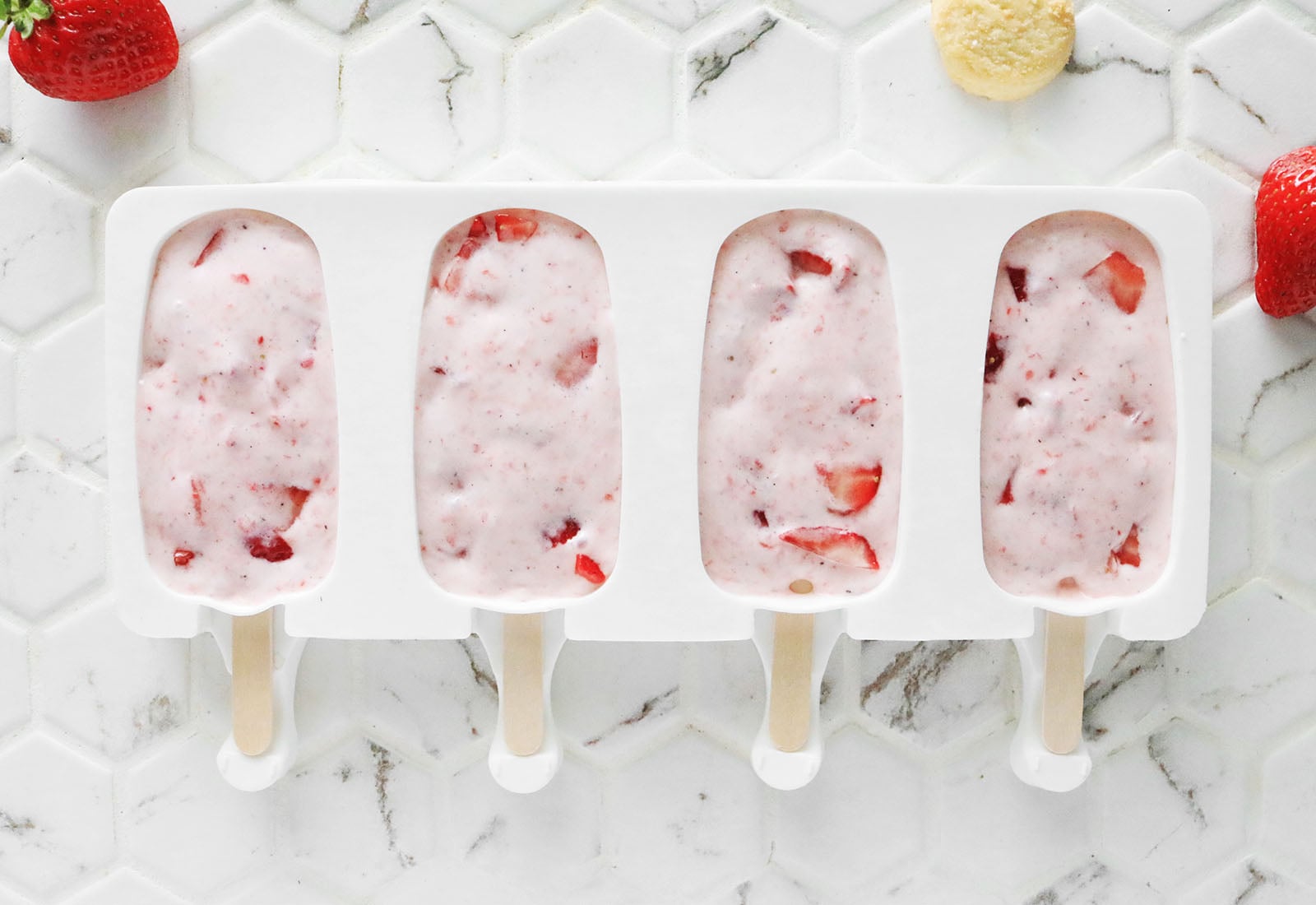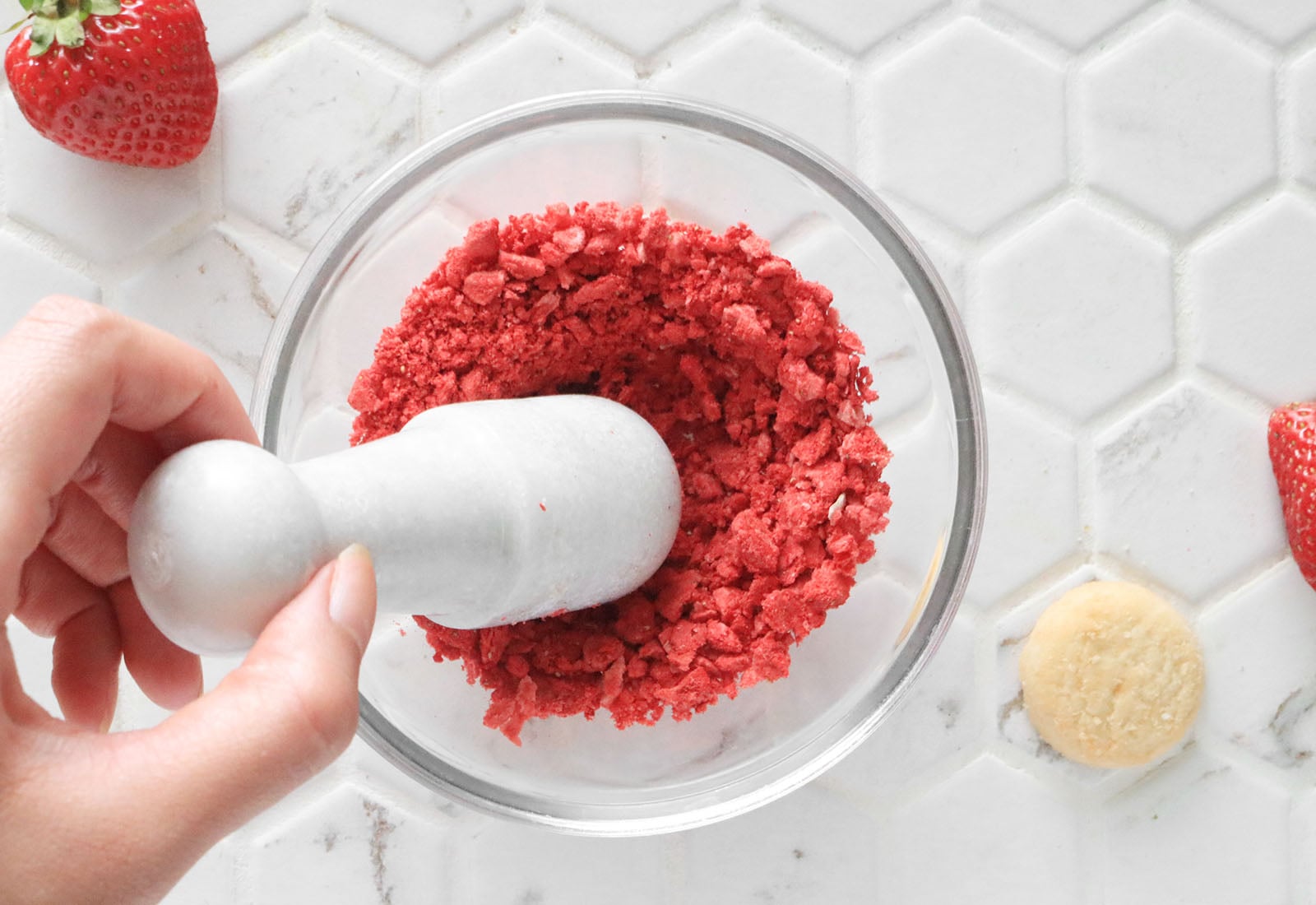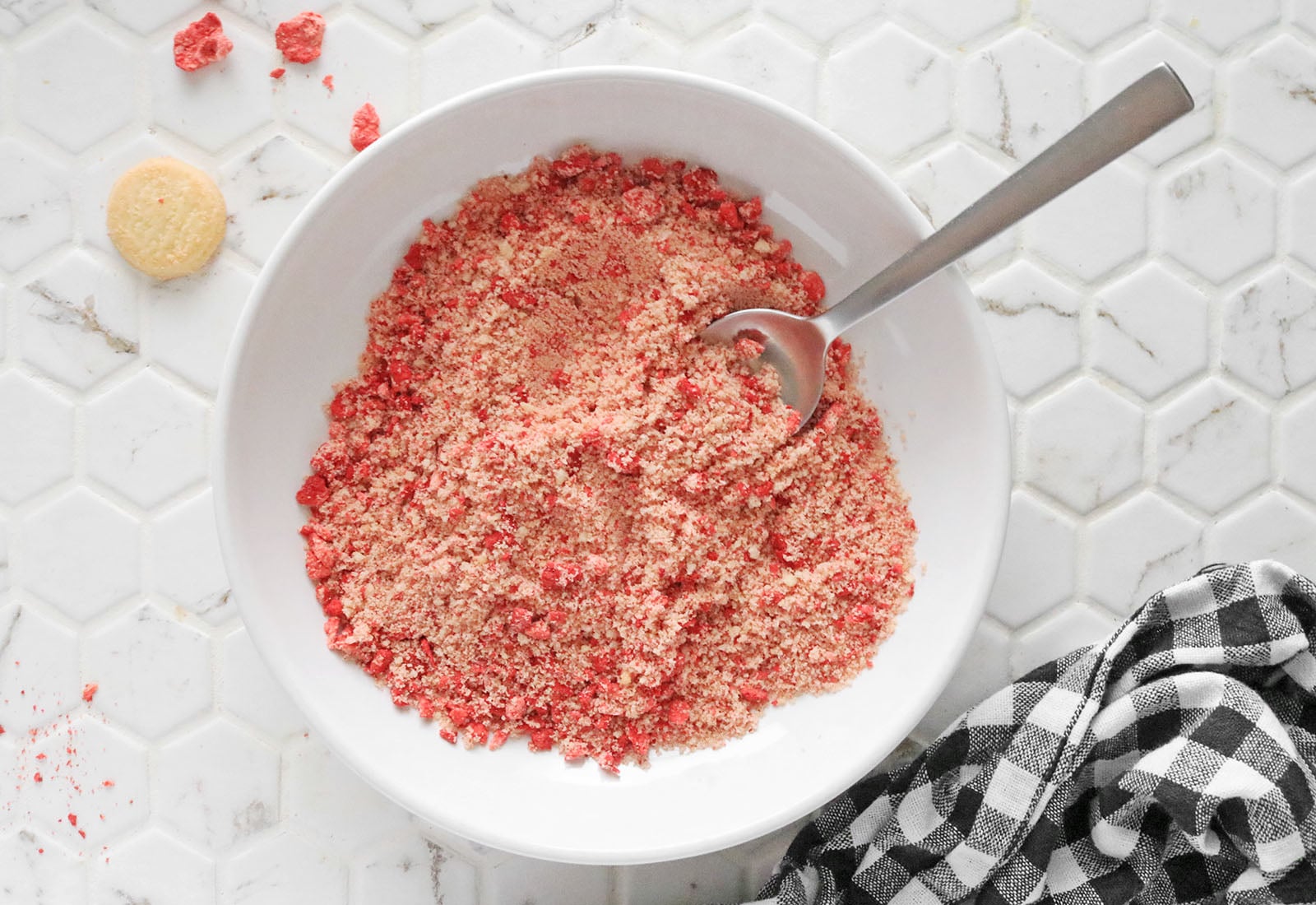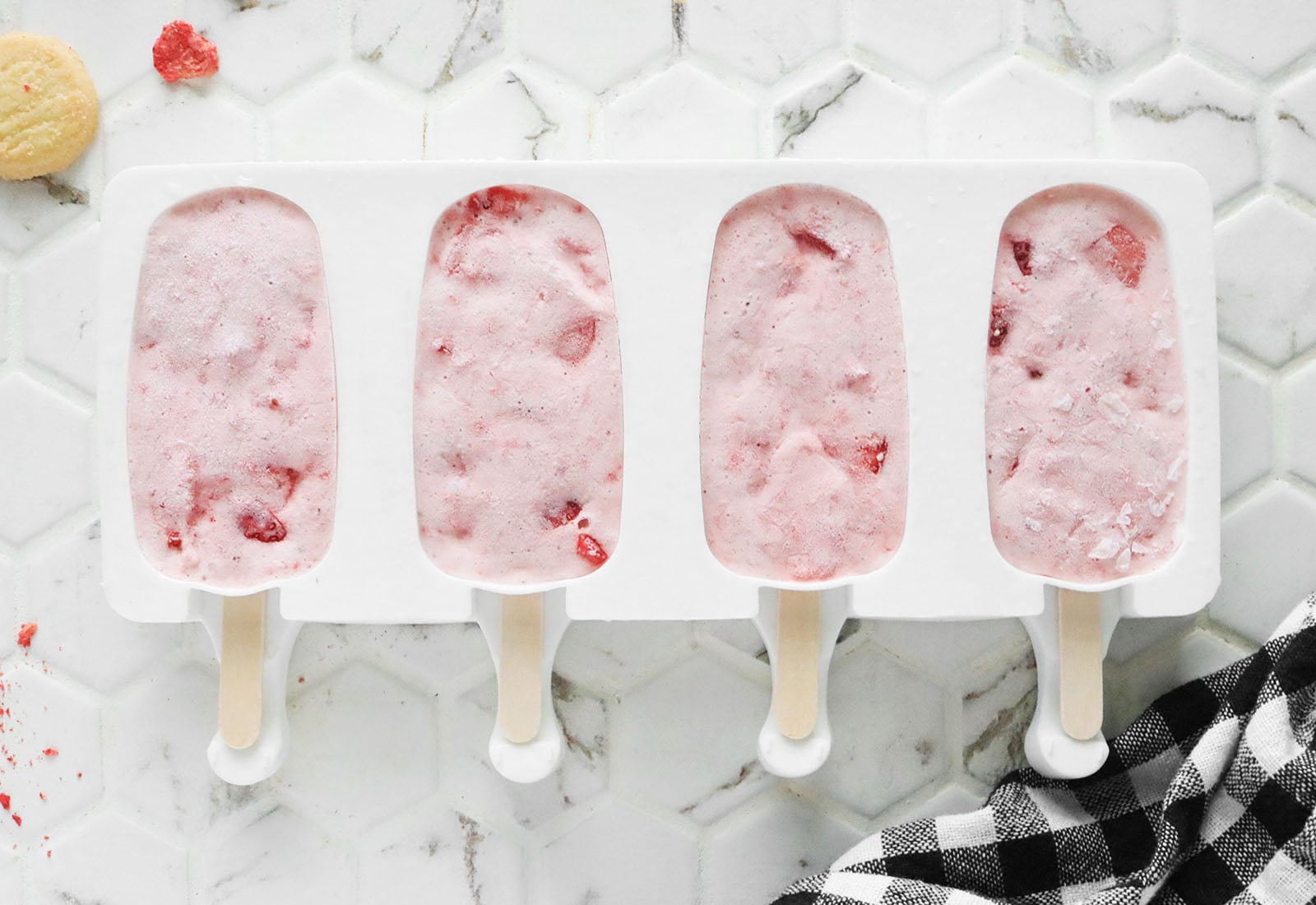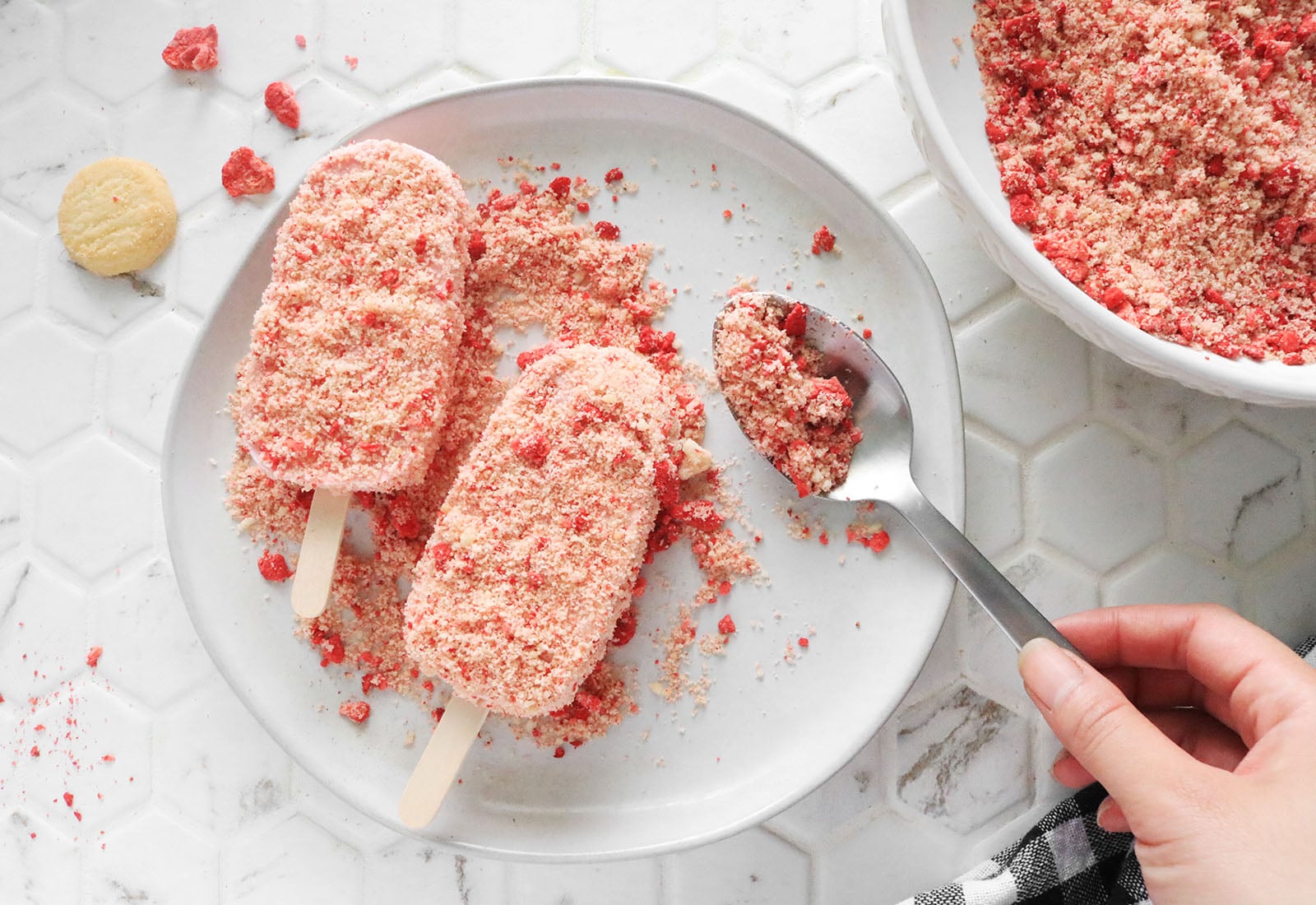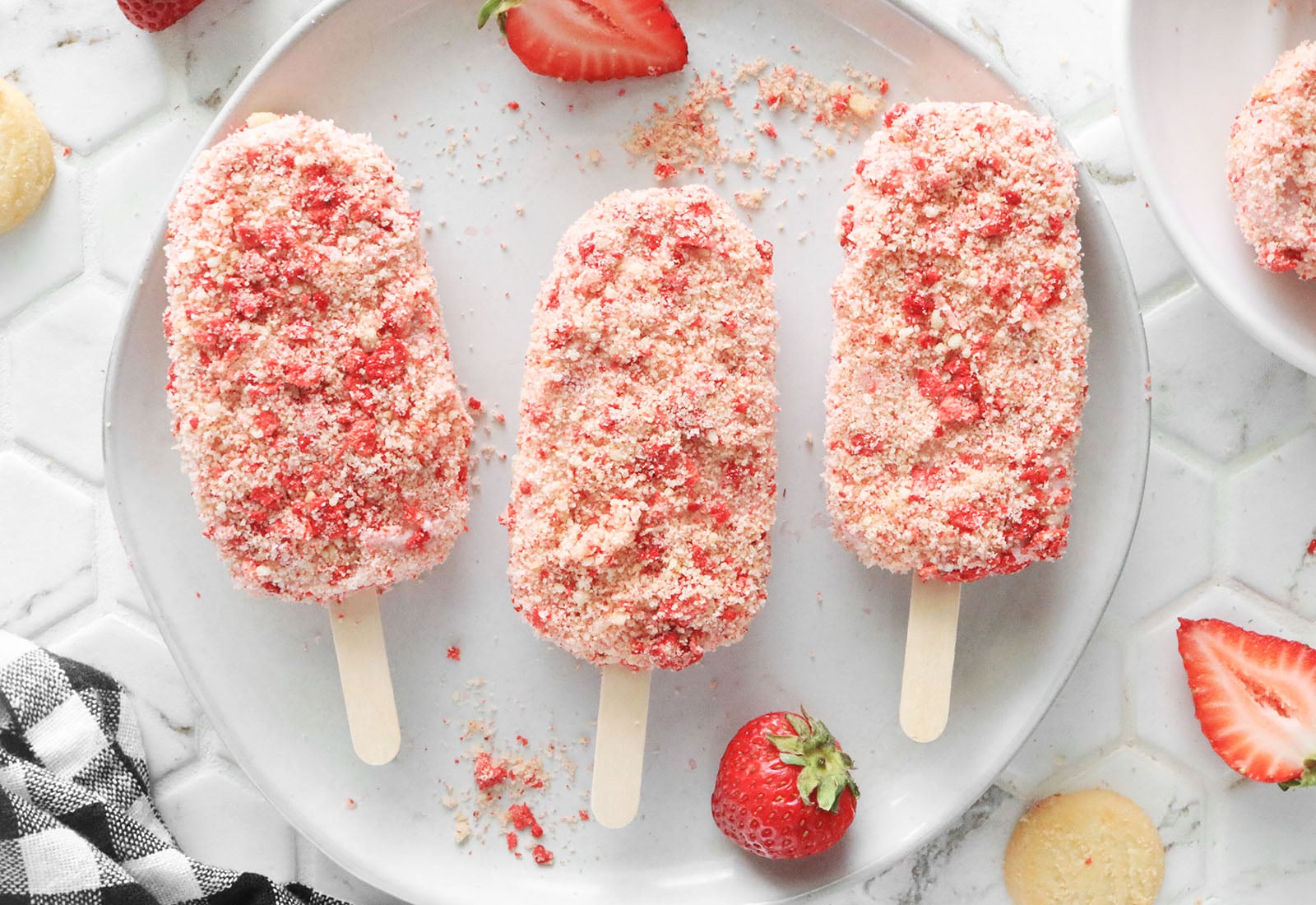 Good Humor Strawberry Shortcake Bars Copycat Recipe
Original Recipe by Kirsten Nunez
Notes
In addition to the recipe ingredients, you'll need an ice-pop mold and popsicle sticks. Also, feel free to use ice cream and cookies that suit your dietary preferences. For example, you can use any vanilla cookie, like golden Oreos, in place of shortbread cookies. If you want to save time, you can replace the vanilla ice cream and fresh strawberries with a pint of strawberry ice cream. You'll likely have leftover shortbread-strawberry crumbs, which can be stored in an airtight container to be used for future bars, or use them as a topping for ice cream, yogurt, or frosted cupcakes.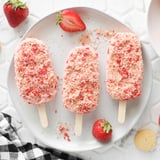 Ingredients
1 pint vanilla ice cream, softened and almost melted
1 1/2 cups strawberries, hulled and diced
1 cup freeze-dried strawberries
1 cup shortbread (or vanilla) cookies
Directions
In a food processor or blender, process 1 cup strawberries until pureed. Set aside the remaining 1/2 cup.
Add the softened ice cream. Blend until fully combined with the strawberries.
Pour the mixture into the ice-pop mold.
Add the remaining strawberry chunks to each cavity, then add the popsicle sticks.
Loosely cover the mold, and freeze until solid, about 4-6 hours, or overnight.
Just before removing the bars from the freezer, add the shortbread cookies to a food processor, and crush into crumbs.
In a separate bowl, pulverize the freeze-dried strawberries with a pestle or other heavy utensil. You can also add them to a sealed plastic baggie, then roll a rolling pin on top.
In a bowl, combine the shortbread cookie crumbs and crushed freeze-dried strawberries.
Remove the bars from the freezer. Let them thaw slightly, about 5-7 minutes, or until they develop a thin creamy layer.
Spoon a bit of the shortbread mixture onto a separate plate. Dip a bar into the mixture to coat. You can also spoon the crumbs directly onto the bar. I recommend doing this apart from the original bowl of crumbs to avoid adding moisture to the mixture, otherwise you'll be unable to save any leftover crumbs.
Repeat with the remaining bars. Return them to the freezer for 10-30 minutes, or until refrozen.
Remove from the freezer, and enjoy!
Information
Category

Desserts, Ice cream

Yield

6 bars

Total Time

14 minutes, 59 seconds