The "Mariah Menu" by Mariah Carey Is Coming to McDonald's, With Free Daily Deals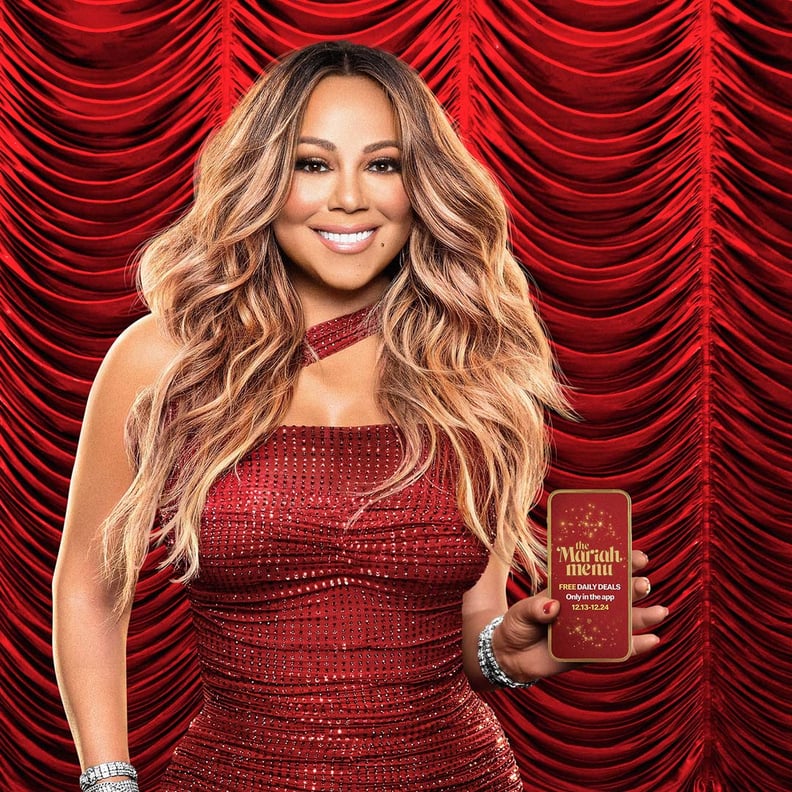 Photo Courtesy of McDonald's
Photo Courtesy of McDonald's
All Mariah Carey wants for Christmas is . . . for you to try her new McDonald's menu items. Yup, the "All I Want For Christmas Is You" singer is a long-time McDonald's fan, and in honor of the holiday season, Mariah is partnering with the food chain to give everyone a taste of her favorite McDonald's menu items for free (practically). Starting Dec. 13, the infamous "Mariah Menu" will run for 12 days, offering free cheeseburgers, sweets, breakfast goodies, and more with a $1 purchase of any item on the McDonald's app — what a deal. On the day of the Mariah Menu's release, you can score a free Big Mac, along with other classic McDonald's menu items, like the McChicken, Hotcakes, Sausage McMuffin with Egg, and Chocolate Chip Cookies, on each item's corresponding day. The items will also include festive packaging from the pop icon herself, making it feel like a holiday gift from Mariah to you.
"Some of my favorite memories with my kids are our family trips to McDonald's, and of course, each of us has our go-to order. Mine is the Cheeseburger, and I get it with extra pickles," Mariah said in a press release from the brand. "Bringing together some of our favorite food from McDonald's with my all-time favorite season is a holiday wish come true."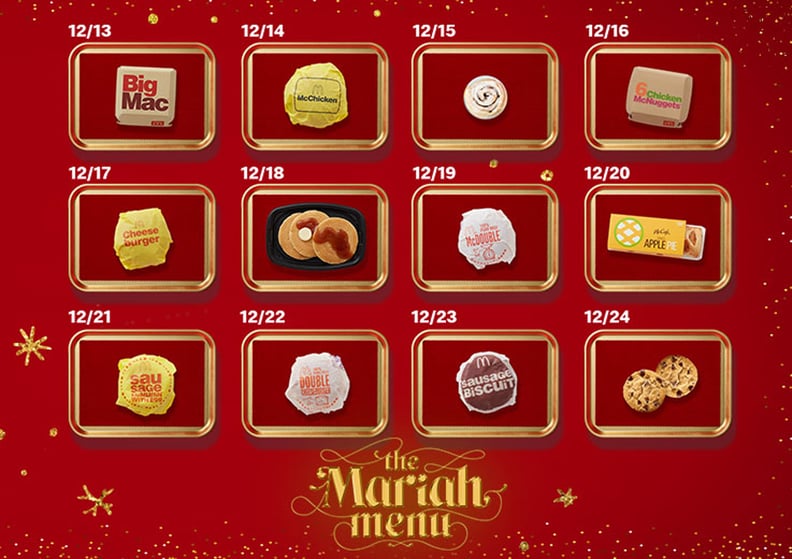 The collaboration comes as an elevated part of the McDonald's "Famous Orders" program, which gives celebs the freedom to create their own limited-edition menu items for customers to taste and try. You may be familiar with J Balvin's, BTS's, and Saweetie's past McDonald's collabs (they're all over TikTok if you missed them), which appeared in 50 restaurants across the United States.
For more Mariah Menu updates, deals, and details, download the McDonald's app. To access its Daily Deals, visit the Deals section and add the deliciousness to your order. Trust us, you and these free deals belong together.