McDonald's Saweetie Meal Review
I Tried One of Saweetie's McDonald's Meal Remixes, and It's Honestly a Game Changer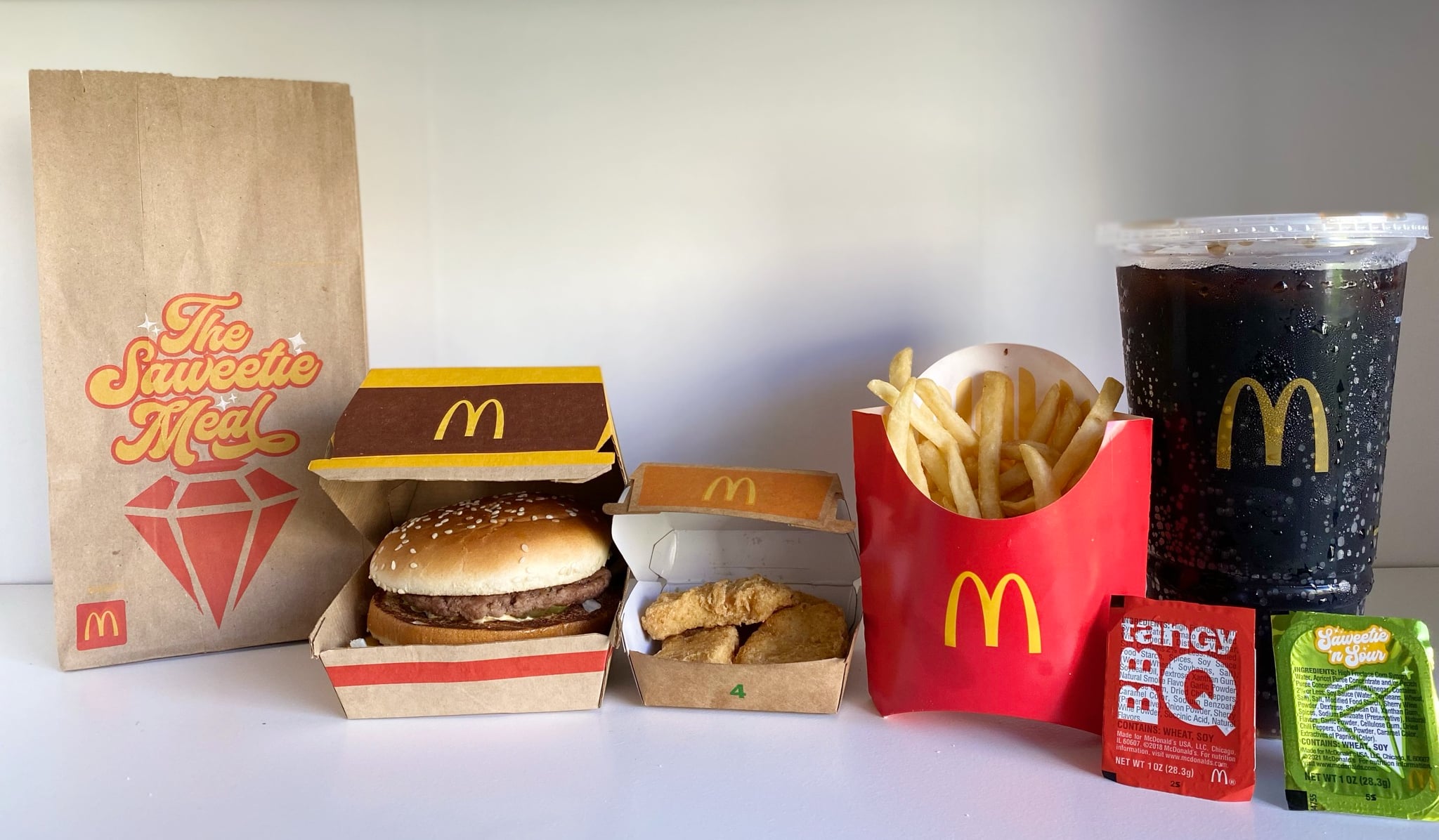 The Saweetie Meal is the latest entry in McDonald's "Famous Orders" program, which launched last year. You might have tried the chain's previous collaborations with Travis Scott, J Balvin, and BTS. Now, it's the "Icy Girl's" turn, and she's already made her mark. "I feel like an honor is an understatement," she told POPSUGAR in a previous interview. "The fact that I'm the first woman to have the collaboration just means everything to me."
The Saweetie meal includes a Big Mac, a four-piece Chicken McNuggets, medium french fries, and a medium Sprite. It also comes with Tangy BBQ Sauce and Saweetie 'N Sour Sauce. Keep in mind that you can customize your drink and sauces if you please. As the California native says in her campaign video, "As long as you're doing you, you're doing the Saweetie Meal."
The beloved fast-food chain didn't hold back with marketing — the Saweetie Meal is all over TikTok and Instagram. Aside from the packaging, one of the main appeals is the star's "remixed meals," which are three creative ways the rapper arranges and eats her McDonald's menu favorites. Supposedly, she switches it up by either layering nuggets on top of a bed of fries, replacing her burger patty with chicken nuggets, or putting fries on her burger — I committed to testing the latter.
When I arrived at McDonald's to pick up my order, it was waiting in a fun branded paper bag that said "The Saweetie Meal" in the company's famous red-and-yellow coloring. After grabbing my order, I quickly got to work on my remixed Big Mac. First, I took the top bun off of my burger before grabbing a handful of fries to layer on top of the burger patty. Then, I drizzled Saweetie 'N Sour Sauce on top before replacing the top of the bun and taking an uncomfortably huge bite.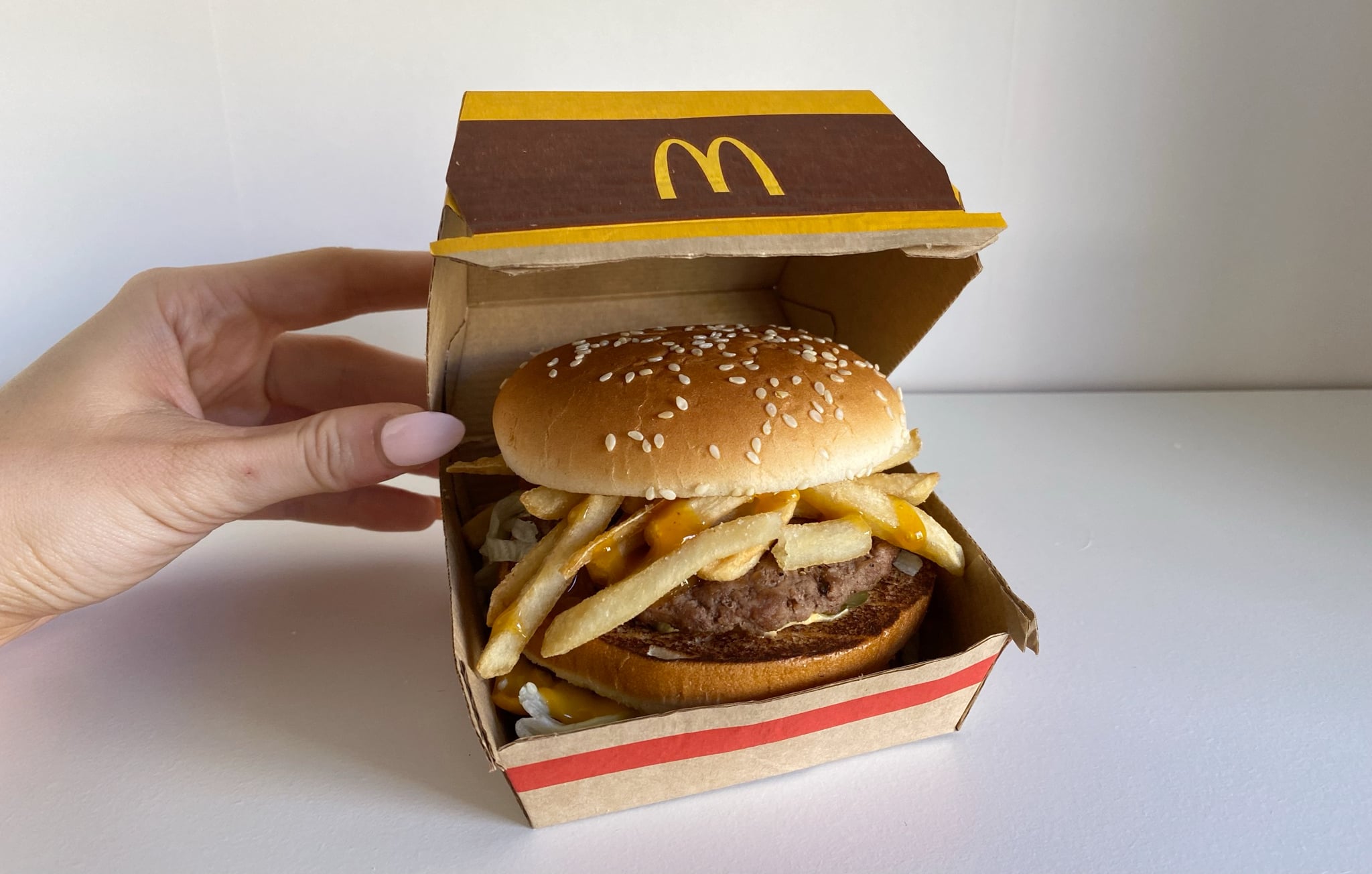 The verdict? Putting fries on my burger wasn't mind-blowing, but the Saweetie 'N Sour Sauce was a surprisingly delicious addition that I'd recommend to any foodie looking to change things up with a little sweetness. However, I'm not entirely convinced that Saweetie actually concocts new ways to eat her McDonald's. After all, does she really want to risk her food getting cold? Despite this, it's still a fun idea, and I have zero regrets — I even discovered a newfound appreciation for Sweet and Sour on my Big Mac! But I'm unsure if it was actually worth the effort to change up the arrangement of my food.
Would I order it again? Yes! The meal costs the same as it would à la carte (prices vary based on your location, though), so it's a win-win situation if you're a Saweetie fan with a big appetite. Overall, for me, it was the unexpected little details like the branded paper bag and sauce that made the experience exciting. But no matter which part tempts you, I suggest you place an order ASAP. After all, it's not every day that you can get a Saweetie-branded McDonald's meal — and that's pretty special in itself.