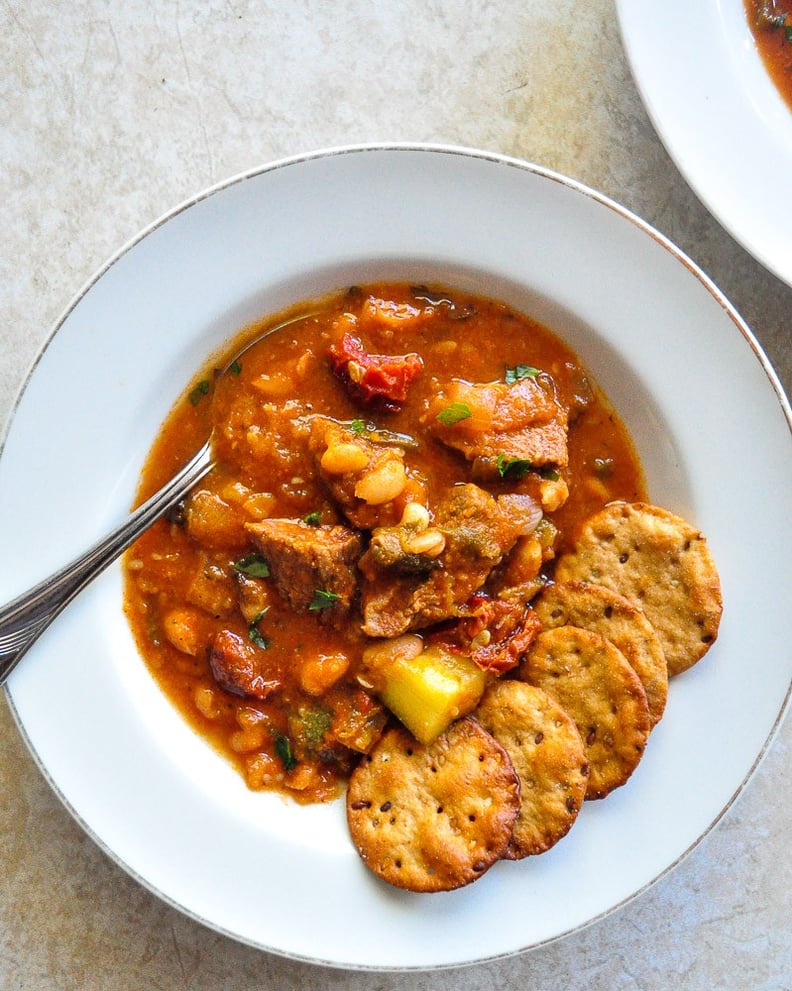 POPSUGAR Photography | Hajar Larbah
POPSUGAR Photography | Hajar Larbah
Instant Pots are a lifesaver in the kitchen when you're having the busiest of days. Sometimes, though, you have a little extra time in the kitchen to experiment. My favorite creation is a traditional North African dish with cannellini beans cooked in a spiced tomato sauce with chunks of meat, typically lamb. It's hearty, filling, and perfect for the weather coming up. This is one of those dishes where the quality of your ingredients is key because there are not too many components in the recipe. There is lots of beauty in its simplicity. If you're looking to try something new, get your Instant Pot out and let's start cooking!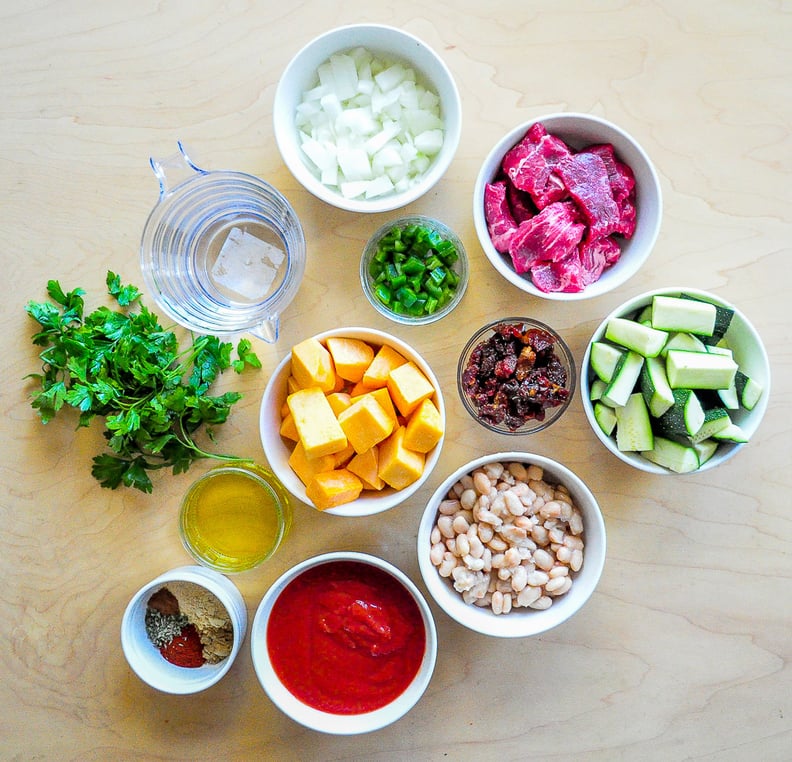 Gather all your ingredients.
Here's what you will need:
1 pound beef
1 1/2 cup pumpkin cubed
1 cup zucchini cubed
1 white onion diced
1/4 cup sun-dried tomatoes
1 jalapeño diced
1 15.5 oz can cannellini beans
1 15.5 oz can tomato sauce
2 cups water
2 tablespoons olive oil
1/4 cup parsley chopped
1 teaspoon cumin
1 teaspoon oregano
1 teaspoon ginger
1/2 teaspoon cinnamon
1 teaspoon paprika
1 teaspoon garlic powder
salt and pepper to taste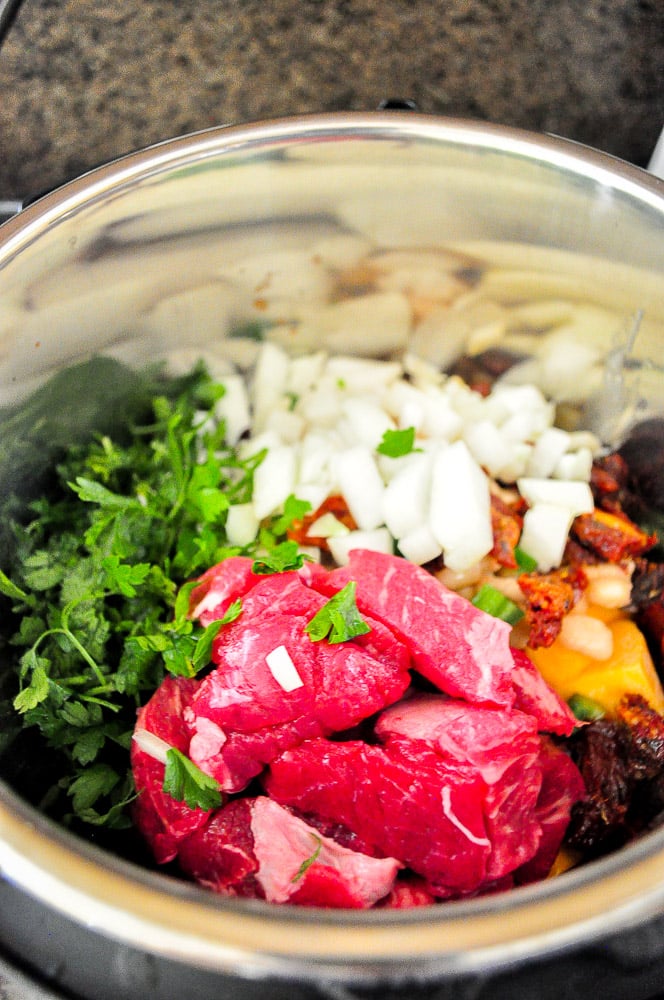 Combine all your ingredients in the Instant Pot.
Toss all your ingredients into the Instant Pot, in no particular order. Give it a good stir to fully incorporate.
Turn your Instant Pot to pressure cook and start.
Plug your Instant Pot in and select pressure cook. Set the pressure to high and timer for seven minutes. Place the lid on and seal, making sure the ventilation knob is sealed, too. Once the time is up, switch the knob to ventilate and allow the Instant Pot to depressurize before removing the lid.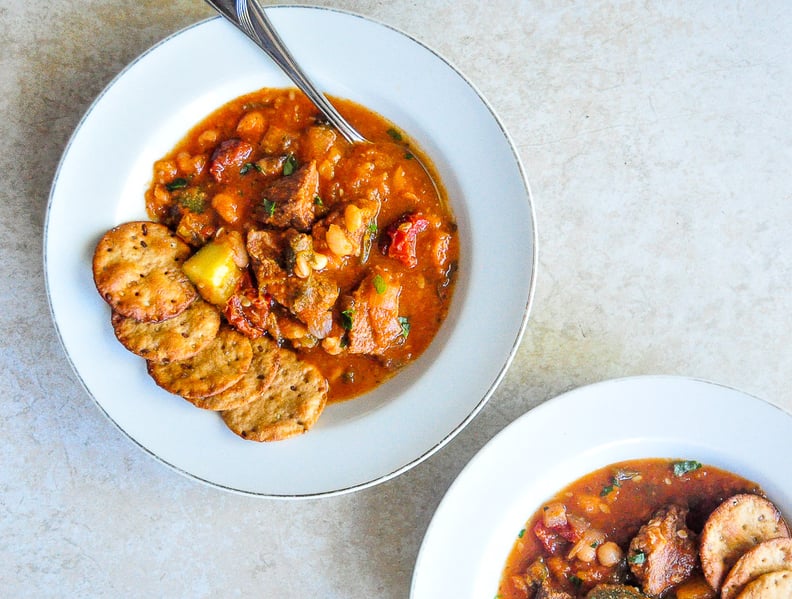 Serve in a wide bowl with sliced bread or crackers.
Once all the steam is released, take off the lid and stir the stew together. Using a ladle, serve into a wide bowl. It goes great on top of rice or with bread on the side.