I Tried the Egg, Peanut Butter, and Honey Toast From Poosh
So, I Tried That Weird Poosh Toast With Peanut Butter, Eggs, and Honey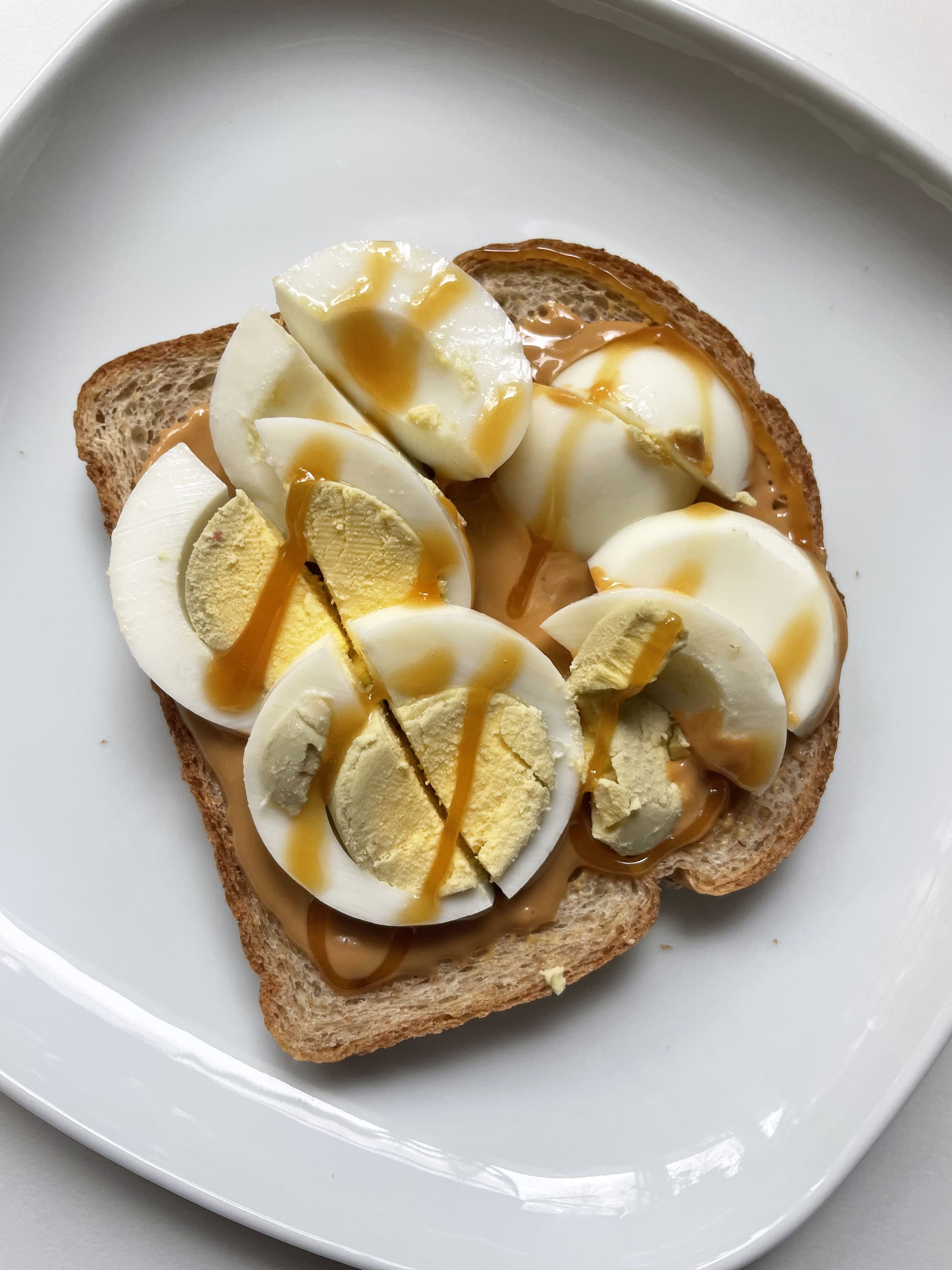 Image Source: POPSUGAR Photography / Lauren Mazzo
There are plenty of unexpected food combinations that are generally regarded as totally normal by our society: chicken and waffles, ice cream and french fries, bacon and donuts. Hard-boiled eggs, peanut butter, and honey, however, is not one of them.
That's the unique combo behind an interesting toast recipe shared on Kourtney Kardashian's lifestyle website, Poosh, which has recently inspired some TikToks. The recipe was included in a list of "5 Simple Recipes For a Busy Morning" and lives under the unassuming name "Loaded Peanut Butter Toast." The fact that it's loaded with hard-boiled eggs, though, is what's really giving people pause — myself included.
To make the toast, you simply toast bread, top it with "a generous amount of peanut butter" and a chopped hard-boiled egg, and then drizzle with honey (if you'd like). If you have hard-boiled eggs handy, it takes about one minute total to make — a simple recipe perfect for a busy morning, indeed.
What Does Peanut-Butter-and-Egg Toast Taste Like?
I tried it, and I'll be honest: it was great. As TikTok user @becca.kemper says, "It somehow works." Granted, I am a peanut-butter fiend and will eat (and enjoy) just about anything you put in front of me, but I thought this weird combination was actually pretty delicious. The toast was a tad sweet from the honey and a tad salty/savory from the egg, and the mix of textures was actually satisfying. I can see how you might be doubtful about the sliminess of the egg white, but trust me, it's not even a worry.
When I made the toast, I used multigrain bread, organic smooth peanut butter, a single hard-boiled egg, and manuka honey. That said, I think you could probably use any slight variation on the ingredients, and it'll turn out well. If anything, my only regret was not toasting the bread more; between the egg and peanut butter, the toast is pretty heavy, so it will buckle if your bread isn't hefty or toasted firmly enough. TikTok commenters also recommended flaky salt or chili flakes, and honestly, I'm bummed I saw their suggestions after I tried this recipe.
Is Peanut-Butter-and-Egg Toast Healthy?
As far as nutrition goes, this is a solid breakfast, lunch, snack, whatever. The peanut butter provides eight grams of protein and 16 grams of satiating fat (per two-tablespoon serving), the bread (as long as you choose whole wheat or grain) provides heart- and gut-healthy fiber, and the egg adds another six grams of protein and five grams of fat, according to the United States Department of Agriculture. (To really make the most of this recipe nutrition wise, choose a bread with whole grains and peanut butter with minimal ingredients, as many have added oil and sugar.)
The only way this could get better, nutritionally, is if it incorporated some fruit and vegetables for even more micronutrients and fiber. Again, this might sound strange, but I think sliced strawberries could be a weirdly good addition. Or maybe avocado? After all, since we're talking about odd food combinations, apparently avocado and peanut butter go well together, too.