How to Make Bella Hadid's Go-To Salad From TikTok
Bella Hadid's Favorite Salad Requires Only 5 Main Ingredients
Image Source: Getty / Samir Hussein
Turns out viral recipes run in the family. On Sunday, Bella Hadid shared how to make her "number one salad" on TikTok, and her video has already amassed over two million views on the platform. With minimal ingredients and preparation involved, the model's recipe is easy to throw together, not to mention full of fresh veggies and a delicious combination of flavors.
The salad consists of just five main ingredients — arugula, cucumbers, red peppers, parmesan cheese, and avocado — chopped and tossed together, then topped off with lemon, salt, pepper, olive oil, and balsamic glaze. While Hadid eyeballs the measurements herself and substitutions are certainly welcome, the model says the balsamic glaze is a "non-negotiable." She adds, "It's a must I swear."
Hadid has shared cooking videos and recipes for dishes like chicken shawarma and macaroni and cheese in the past, though none have incited quite the reaction her salad has. Ahead, eat like Hadid and learn exactly how to make her famous salad. If arugula and parm don't speak to you, try another viral salad recipe, like Jennifer Aniston's bulgur salad or Baked by Melissa's famous green goddess version.
@babybella777

My #1 salad to make . I botched the ending of this video because I had to finish the rest of dinner+ running late . —->(not pictured -your favorite olive oil added at the end with the balsamic glaze(non-negotiable it's a must I swear) and then mixed together.Avocado becomes part of the dressing so it's creamy and yummy. Add more lemon 🍋 if you like

♬ Melody (1983 Club Vinyl Mix) - Plustwo
Bella Hadid's Salad
Bella Hadid via TikTok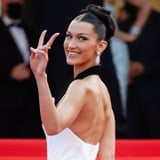 Ingredients
Arugula
Cucumbers
Red bell peppers
Crumbled parmesan cheese
Avocado
Juice of a lemon
Salt and pepper to taste
Balsamic glaze
Olive oil
Directions
Dice the cucumbers, red peppers, and avocado, and add to a bowl with arugula and crumbled parmesan.
Add the juice from a lemon, salt and pepper to taste, balsamic glaze, and olive oil on top for the dressing.
Toss everything together, and dig in!
Information
Category

Salads, Main Dishes