Check Out Rihanna's Easy Mac and Cheese Recipe
Mac a Rih's, Anyone? The Singer's Iconic Pasta Recipe Features an Interesting Mix of Ingredients
As Rihanna once said sang, "You know I got the sauce, you know I'm saucy," and we couldn't help but wonder, was she referring to herself or her macaroni and cheese recipe? The singer shared her recipe with Esquireback in 2014, but it has recently reemerged thanks to TikTok, giving fans a taste of her cooking skills. It was quickly noticed that she adds a bit more to her pasta than just cheese, and while the ingredients might seem a little interesting, they work together to create a dish like no other.
Rihanna's secret to her iconic recipe includes three standout ingredients: ketchup, mustard, and pepper sauce. Thanks to these saucy additions, it's not quite the same as the typical mac and cheese you might be used to — but as she has proven time and time again, Rihanna knows what's up. Complete with veggies for a bit of crunch and pepper sauce for a dash of heat, this pasta recipe is sure to make you want to take a bow. Feeling bold enough to try Mac a Rih's? Check out the full recipe ahead.
Rihanna's Mac and Cheese Recipe
Rihanna via Esquire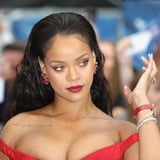 Ingredients
450 g. small elbow macaroni
Salt (to cook macaroni)
1 medium white onion, grated
1 red bell pepper, julienned
6 spring onions, sliced
¼ cup yellow mustard
¼ cup ketchup
1 ½ tbsps. Eaton's Jamaican Scotch Bonnet Pepper Sauce
900 g. Colby Jack cheese, shredded
1 cup water
Directions
Follow the directions on the package and boil your pasta noodles al dente.
Drain noodles in a colander. Leave a little of the water back in the pot, maybe a quarter cup or so.
Place noodles back in the pot and return it to the stove.
On a low flame, add the onion, bell peppers, and half the spring onions and mix together.
Once combined, add the mustard, ketchup, and pepper sauce and mix together.
Add the cheese and stir continuously.
Top with remaining spring onions and serve immediately.
Information
Category

Main Dishes

Yield

4-6

Prep Time

20 minutes

Cook Time

15 minutes

Total Time

34 minutes, 59 seconds