Sourdough Starter Discard Pancakes | Recipe
The Secret to These Homemade Blueberry-Chocolate Chip Pancakes? Sourdough Starter!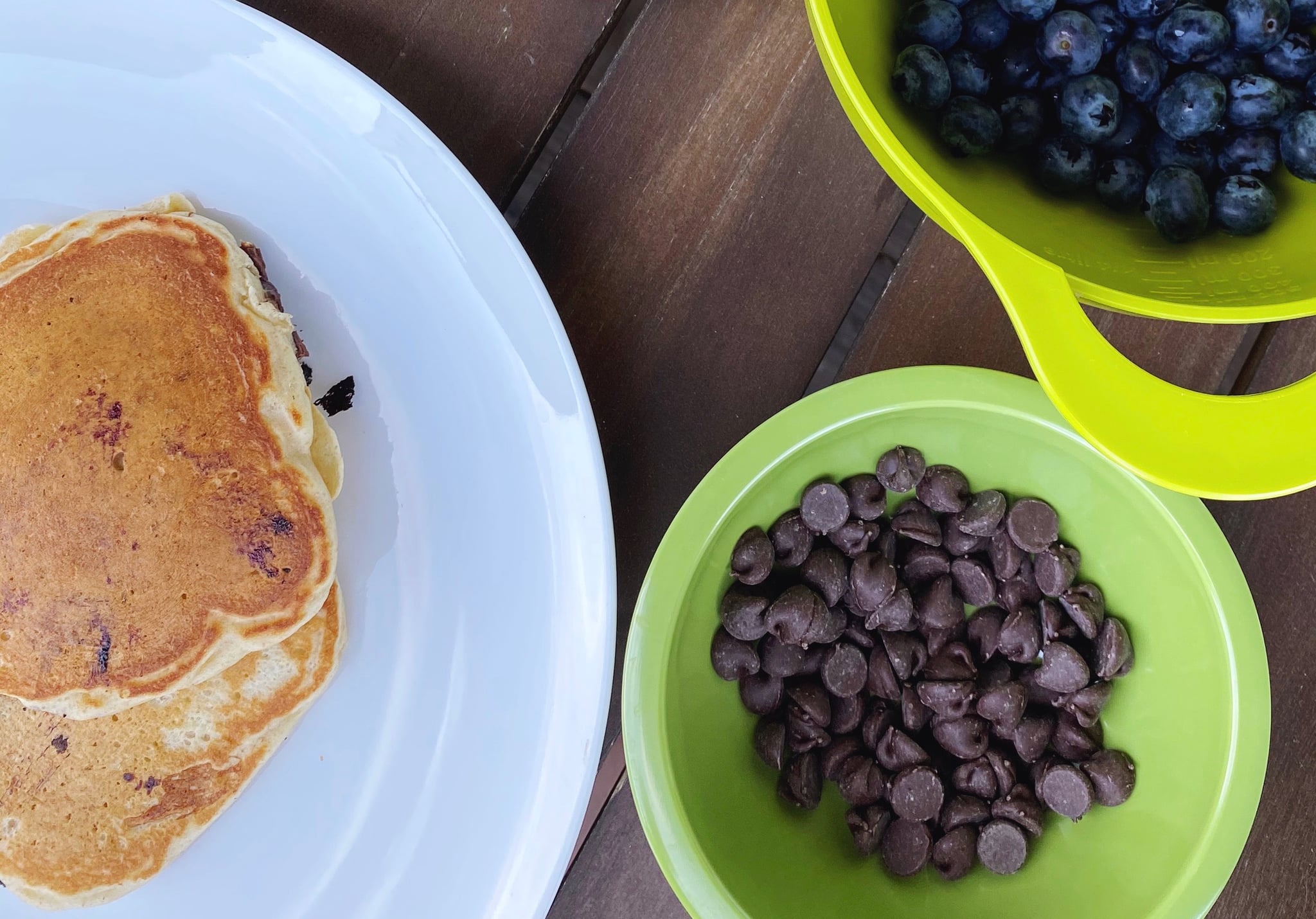 When I first began making a sourdough starter from scratch, one thing that bothered me was the concept of "discarding" half of the flour and water mixture at least once, sometimes twice a day. Luckily, I learned that once your sourdough starter has matured a little, you can keep the discard in a container in your fridge and use it in other recipes. I've since made flatbread, crackers, and cookies with my sourdough starter discard, but these fluffy pancakes have been my favorite so far.
The batter is easy to whip up the night before, and then you just leave it out, covered, overnight so that they are quick to finish up on the griddle in the morning. If you don't want to wait, you can just mix all the ingredients in a large bowl and leave it out covered for 30 minutes before cooking. I used whole wheat sourdough starter discard with all-purpose flour, so mine had a hint of a wheat flavor and weren't really "sour" (which was a good thing in my opinion).
You can make these plain, but I dropped in blueberries and chocolate chips (and even a combo of both in some!) on top of the pancake after pouring batter on the griddle and before flipping. I also made a small amount of homemade whipped cream to top them off (recipe for that is also below).
Get the recipe ahead and step up your breakfast game!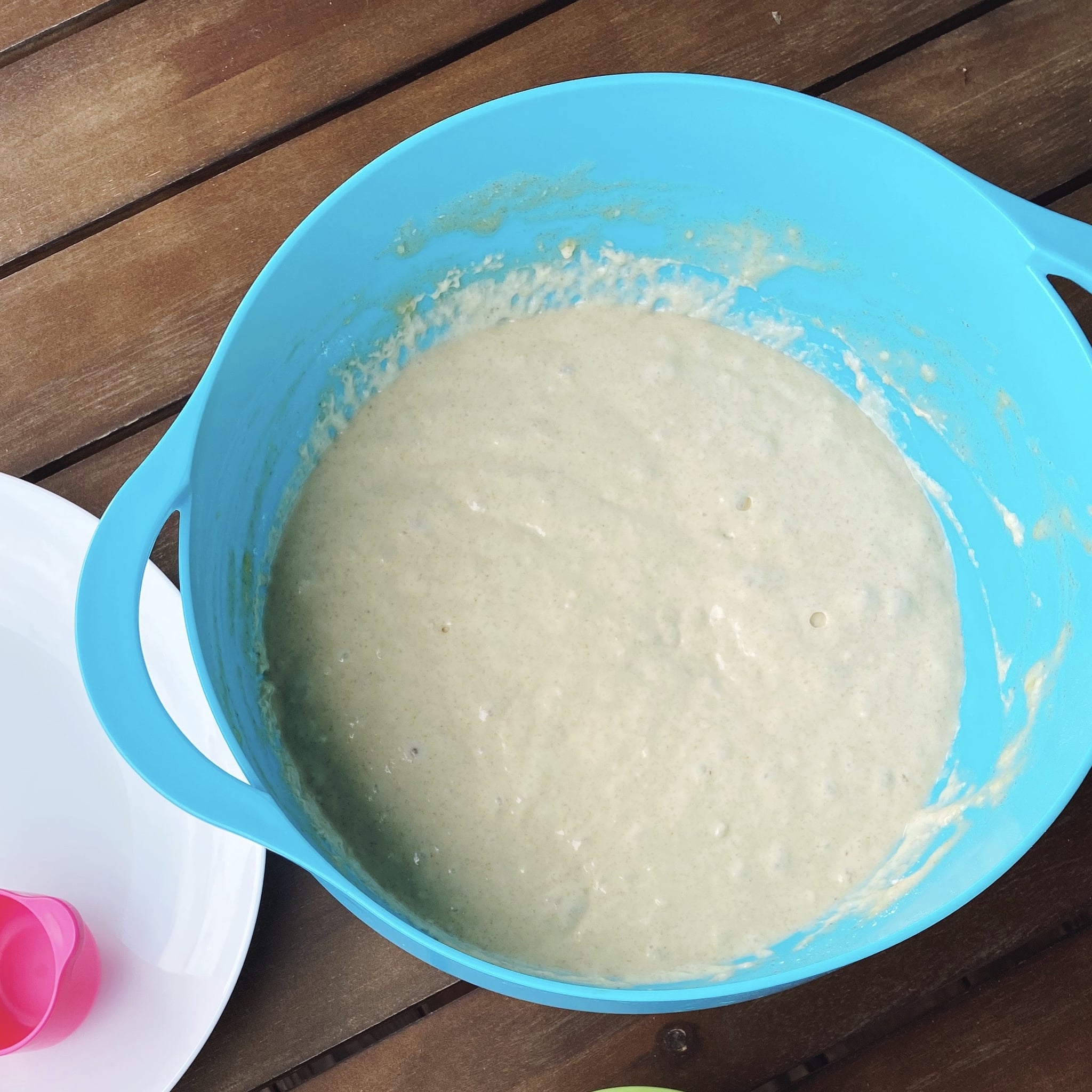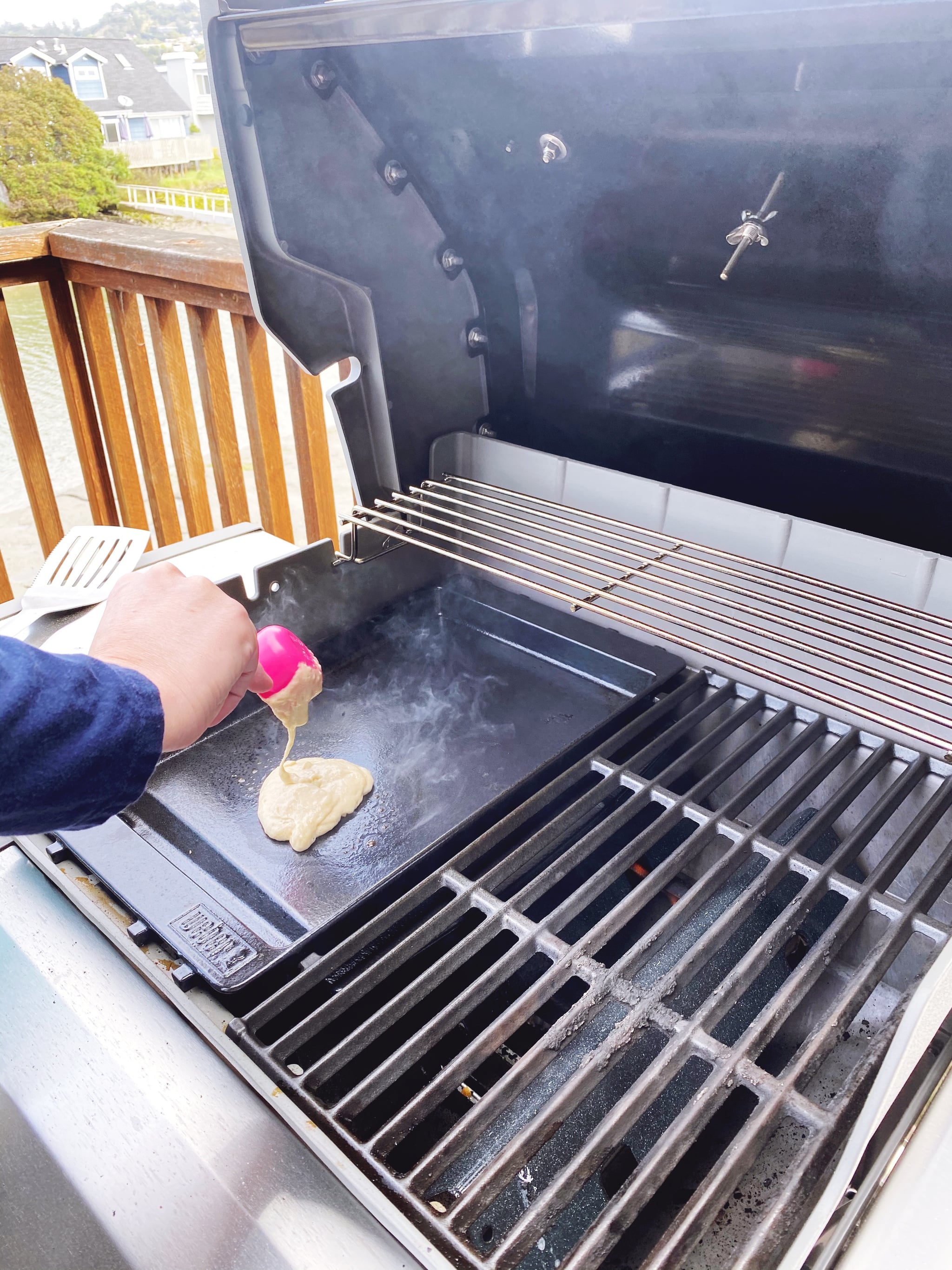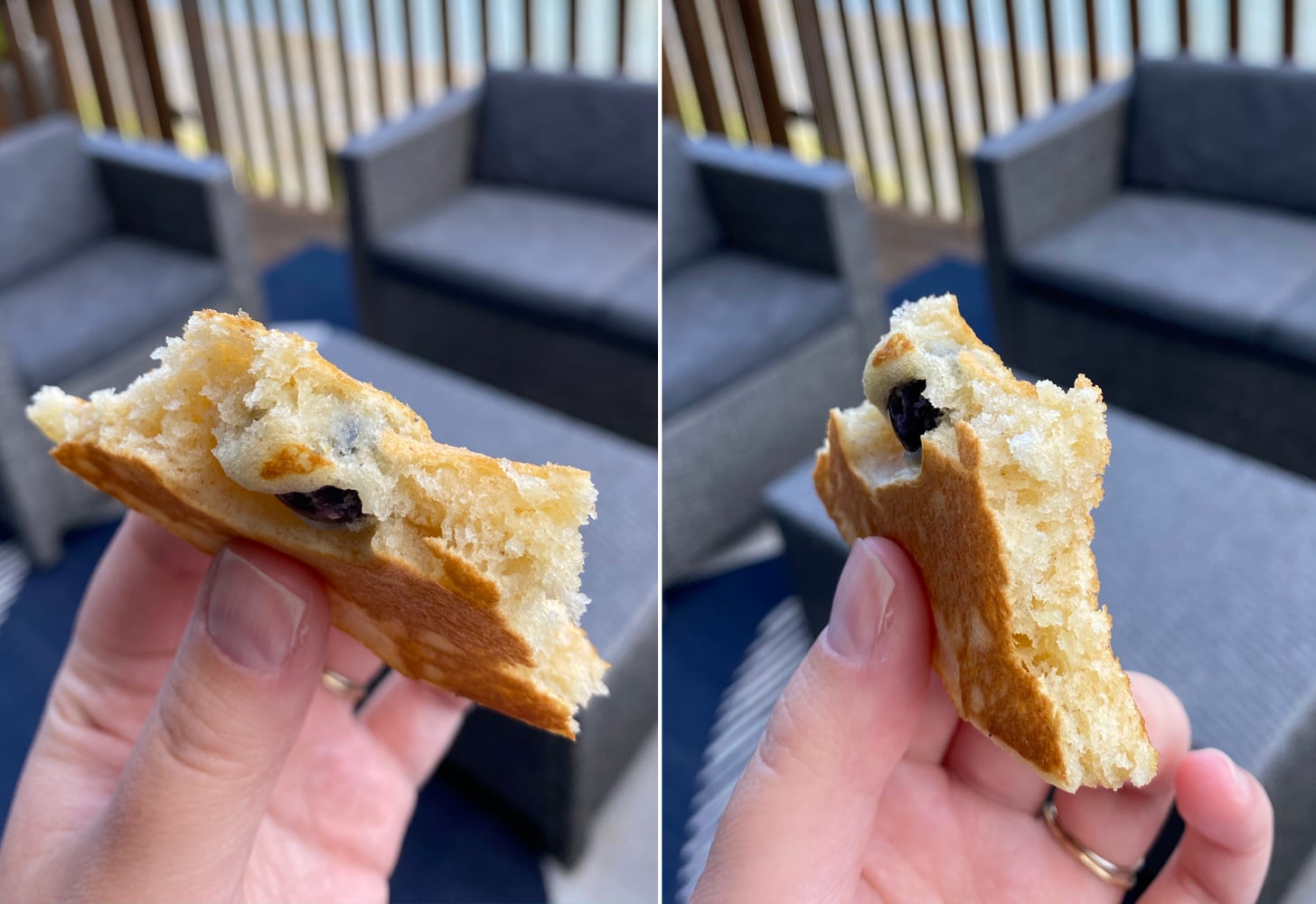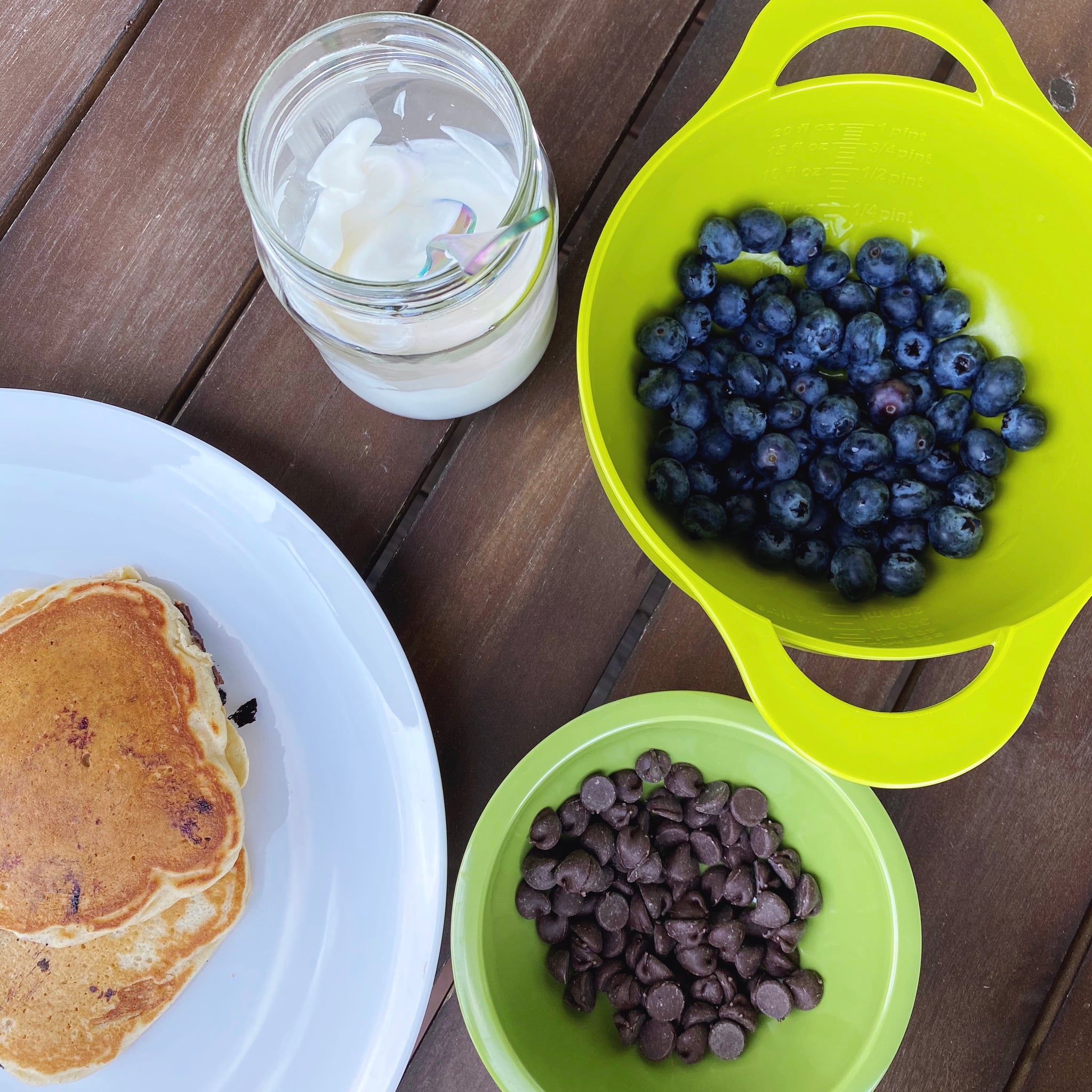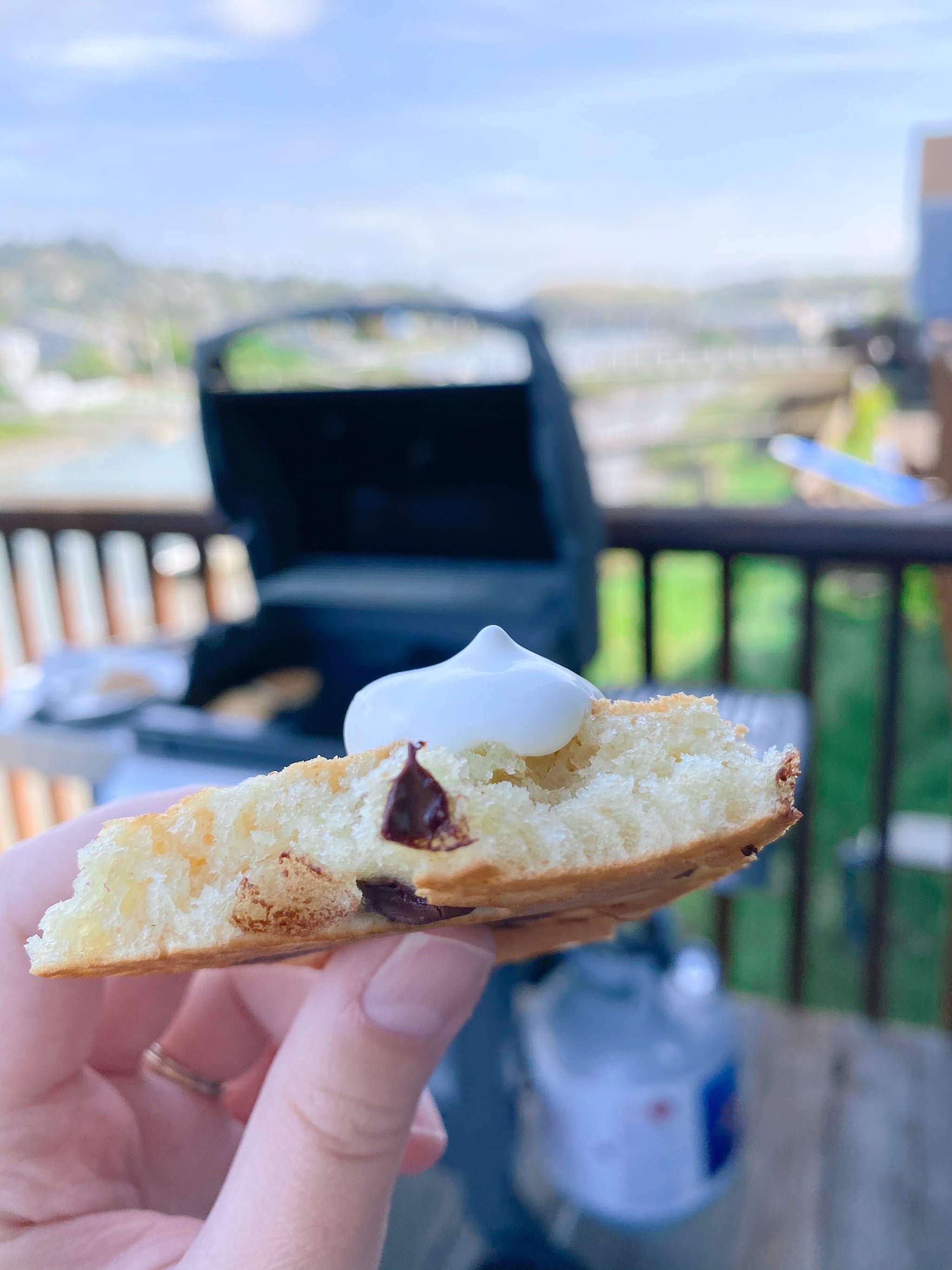 Notes
If you don't want to do overnight fermentation, you can just mix all the ingredients in a large bowl and leave it out covered for 30 minutes before cooking.
You can also use the same batter for waffles (it makes four).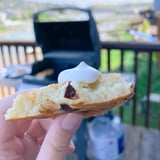 Ingredients
Overnight Batter Ingredients
3/4 cup (200 grams) sourdough starter discard (stirred down)
1 cup milk
2 large eggs (lightly beaten)
3 tablespoons sugar
1 teaspoon vanilla extract
4 tablespoons butter (melted)
2 cups all-purpose flour
Additional Batter Ingredients to Add Just Before Cooking
1 teaspoon baking soda
1 teaspoon baking powder
1 teaspoon salt
Optional Toppings
Blueberries
Chocolate chips
Whipped Cream
4 tablespoons heavy whipping cream
1 spoonful of powdered sugar
Directions
For the pancakes: In a large mixing bowl, whisk together the sourdough starter, eggs, milk, sugar, vanilla extract, melted butter, and flour until well combined. Cover and let it rest at room temperature overnight or up to 12 hours.
Right before you're going to cook the pancakes, add the baking soda, baking powder, and salt to the batter, stir, and cover the bowl. Let the batter rest while the griddle is preheating.
Preheat a griddle until it's extremely hot. (If you're using a griddle on a grill, you'll need to adjust the temperature so it's not too hot, otherwise you'll burn the outside and have raw batter on the inside.) Lightly grease the griddle and pour 1/4 cup of batter in a round shape on the griddle. If you're using toppings like chocolate chips or blueberries, sprinkle them on top at this point. Cook until the bottom is golden brown and bubbles are covering the top of the pancake. Flip and cook until the pancake is cooked through and golden brown on each side (about 3 minutes per side).
For the whipped cream: In a small mason jar, stir the cold whipping cream and powdered sugar together to incorporate. Use a handheld milk frother to whip the mixture for a minute or so until there are stiff peaks.
Information
Category

Breakfast/Brunch, Pancakes/Waffles

Cuisine

North American

Yield

12 pancakes
Image Source: POPSUGAR Photography / Tara Block