Where to Buy Thanksgiving Meals to Go | 2021
Don't Want to Cook? Here's Where You Can Buy Thanksgiving Meals to Go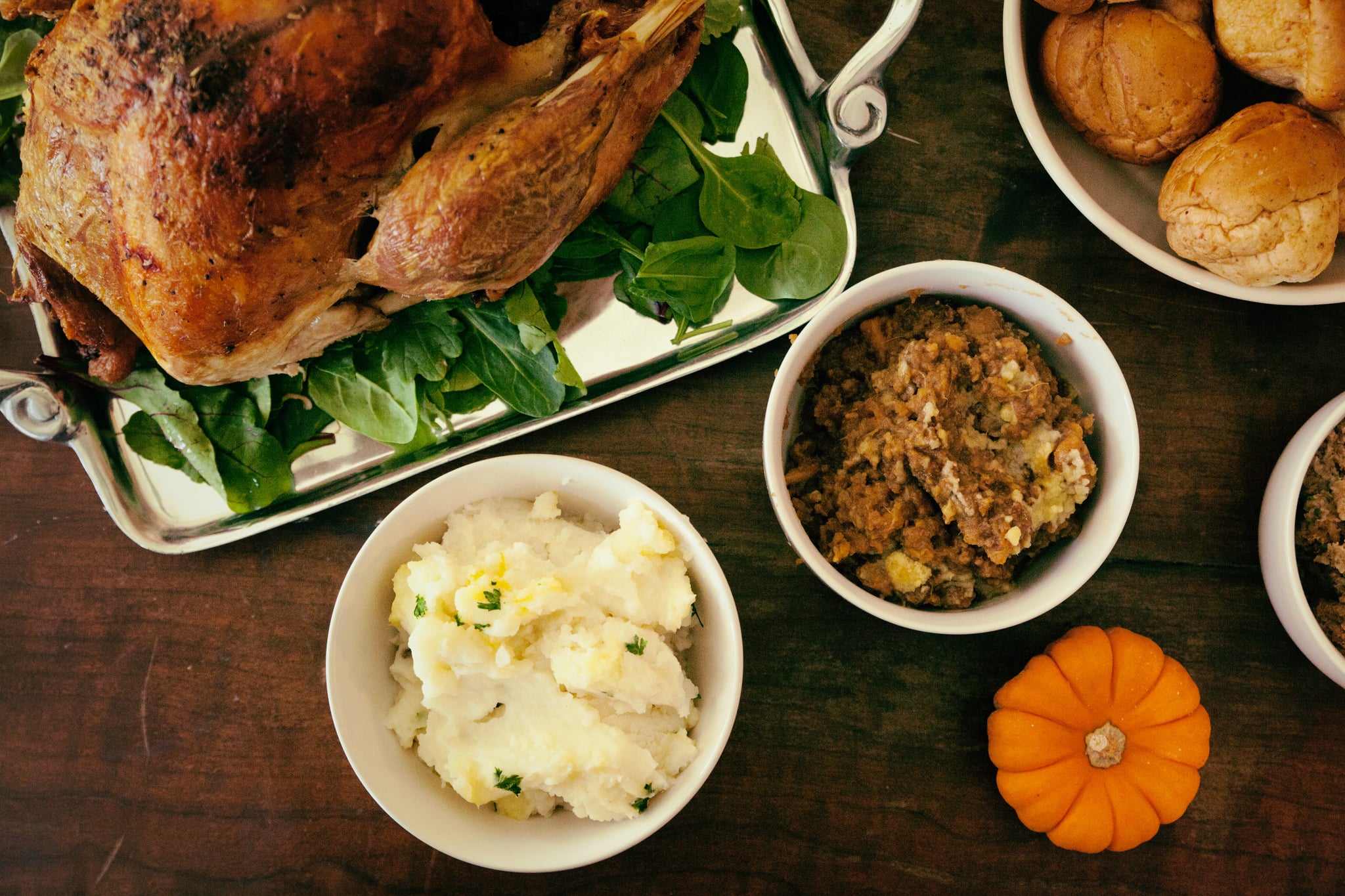 There's nothing better than a classic Thanksgiving meal — the turkey, the sides, the pies! But sometimes there's nothing worse than preparing the feast — the thawing, the marathon cooking, the days-long preparations, the frantic grocery trips, and more.
While flexing your culinary skills can be fun for the big day, sometimes it's just not in the cards. To the rescue: a variety of restaurants, grocers, and more that offer full Thanksgiving meals to go. If you're interested in making the holiday as easy as (pumpkin) pie, take a look.
Bob Evans

The country-living chain offers a typically cozy Thanksgiving meal — its Farmhouse Feast is a complete family meal with slow-roasted turkey or hickory-smoked ham, farmhouse sides, pie, freshly baked rolls, and more. Meals are packed cold, so you'll just need to reheat. Options start at $60.
Boston Market

Count on the fast-casual eatery known for its rotisserie chicken to offer a range of Thanksgiving dinner options — its Heat & Serve Thanksgiving Dinner family meals offer a whole roasted turkey or roasted turkey breast, and even ham or prime rib options, along with stuffing, gravy, dinner rolls, apple or pumpkin pie, and more. You can pick up the food or get it delivered to your door, but be sure to allow about two hours of reheating time.
Buca di Beppo

Want a little Italian flair with your turkey this year? Buca di Beppo offers a traditional Thanksgiving feast to go that features sliced white-meat turkey, homestyle gravy, roasted garlic mashed potatoes, spicy Italian sausage stuffing, green beans, cranberry sauce, and pumpkin pie. And you can add Buca's classic Italian dishes to your order as well. Feasts are prepared either cold or hot. It's now accepting preorders.
Cracker Barrel

The folksy restaurant is known for its comfort food, so it's no surprise Cracker Barrel locations will offer takeout Thanksgiving family meals that can feed anywhere from four to 10 people. The fully prepared Thanksgiving dinners — which include turkey breast, dressing, gravy, cranberry relish, sweet potato casserole, rolls, and pumpkin and pecan pies — come chilled and ready to heat and serve in two hours or less.
Costco

The membership-only warehouse-style retailer offers a gourmet meal from frozen-food giant Schwan's — a Thanksgiving meal of turkey breast, roasted potatoes, roasted sweet potatoes, green beans, corn, and biscuits, plus apple and pumpkin pies with vanilla ice cream. Everything cooks from frozen, so no need to allow for any thawing time.
Harry & David
The gourmet retailer known for its gift baskets has a variety of Thanksgiving food available to be delivered to your door. For $230, its gourmet turkey feast comes with a 10-pound, ready-to-heat, oven-roasted turkey and sides like apple sausage stuffing, brown-sugar sweet potatoes, creamy brussels sprouts with bacon, and pumpkin cheesecake. Plenty of other holiday and à la carte options are available as well on the Thanksgiving menu.
Maggiano's Little Italy

Pasta usually isn't a Thanksgiving staple for most families, which is why in years past, the chefs at Maggiano's have whipped up a Thanksgiving feast featuring turkey and all the trimmings. No word yet on whether the Italian chain is offering Thanksgiving dinner this year, but keep an eye on the Maggiano's website for the special menu — which is typically available for dine-in or takeout.
Popeyes

The Louisiana fast chain isn't just about that famous fried-chicken sandwich, it also offers up a (frozen) Cajun-style turkey every Thanksgiving — a bird that's hand-rubbed with "zesty Louisiana-style seasonings." Restaurants are taking preorders now for turkeys — which need to be thawed before eating — along with sides like mashed potatoes, biscuits, and mac and cheese.
Whole Foods

You can not only pick up ingredients to cook your Thanksgiving meal from scratch at Whole Foods, you also can reserve and pick up a prepared holiday meal for in-store pickup. All you need to do is reheat (sounds easier than picking up the ingredients!). Online ordering begins Oct. 29.
Bonus: HelloFresh

Somewhere on the line between getting your Thanksgiving meal to go and making it all yourself is a subscription meal service like HelloFresh, which will you send a whole turkey (it takes four days to thaw), plus the ingredients to make mashed potatoes, stuffing, cranberry sauce, dessert, and more. You can choose between two entrées — traditional whole roast turkey for eight to 10 guests or peppercorn-crusted beef tenderloin for four to six. The meal costs between $17 and $19 a person.