Chef Shota's Oxtail With Spring Onions Recipe With Photo
Exclusive: Try Top Chef Star Shota Nakajima's Oxtail Recipe For Dinner Tonight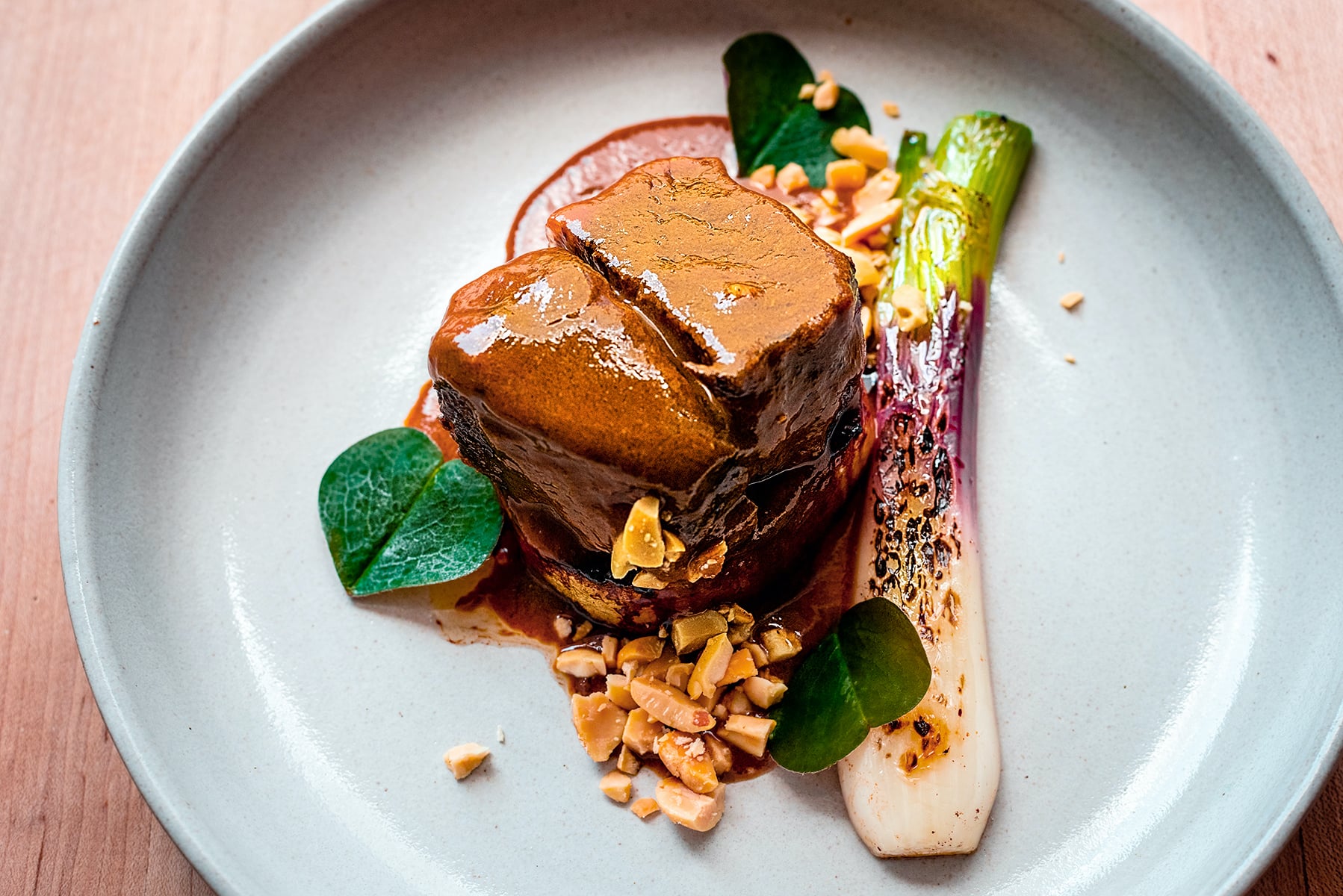 Just five days after the grand opening of the soon-to-be karaage hotspot of Seattle, COVID-19 forced Chef Shota Nakajima to close the doors of his new restaurant, Taku. This would be a challenging feat for any chef or restaurateur to overcome, but fortunately for Chef Shota, culinary excellence is in his blood. "Both my grandfathers on both sides worked in the restaurant industry in Japan," he told POPSUGAR. "I've been working in restaurants since high school."
As the son of a pastry-chef mother and a restaurant-mogul father, Chef Shota grew up in kitchens across Seattle and Japan — and not just any kitchens. His father's family own the Michelin-star restaurant Hyotei in Kyoto, Japan, and Chef Shota is keen on continuing that legacy while trailblazing his own. At only 18 years old, he moved back to Japan from Seattle to formally train in Japanese cuisine, and he's been unstoppable ever since. His latest culinary endeavor is season 18 of Top Chef. "When I had the opportunity to compete on Top Chef, I said, 'Why not?'" Chef Shota recalled. That enthusiastic ambition is precisely why he's already been featured in Seattle Met's 100 Best Restaurants in the City and is a three-time James Beard Award semifinalist so early in his career.
Chef Shota's food, which he describes as "Seattle-influenced Japanese cuisine," stands at the forefront of the vibrant foodie community of the Pacific Northwest, and for good reason. He's managed to find a masterful balance between culture and technique, Seattle and Japan, and it plays a huge role in his style and use of ingredients. "Seattle's Asian American and Pacific Islander culture has really influenced the food scene here," Chef Shota explained. "So I still get to take that Japanese respect for ingredients, but then put my own spin on it. I get to work with a lot of new ingredients, different chefs, and styles."
Chef Shota's newest restaurant, Taku, located in the Capitol Hill neighborhood of Seattle, highlights his diverse influences, as it features a simplified menu with comfort food inspired by his mother's home cooking. When it comes to making his food more palatable for American taste buds, Chef Shota admitted, "It's a challenge every day. But my job is to host people and make sure they have a good time. Finding that balance has helped me find my own style." It's a style of cooking that tells a uniquely Asian American story, and it's one everyone should have a taste of, even outside of Seattle.
To share even more of his talents with the world, Chef Shota created an exclusive recipe for POPSUGAR readers to try at home. To learn how to make oxtail with spring onions courtesy of Chef Shota himself, keep reading!
Oxtail With Spring Onions
Chef Shota Nakajima
Ingredients
For the Oxtail Braise:
4 oxtails
1 liter stock
3 tablespoons S&B curry powder
For the Curry Sauce:
1/2 onion, peeled and quartered
1 bell pepper, halved
2 cloves garlic
2 tablespoons S&B curry powder
3 tablespoons flour
5 cups stock (from oxtail braise)
3 bay leaves
3 tablespoons soy sauce
2 tablespoons worcestershire sauce
5 grams dark chocolate
1 ounce apple, grated
1 ounce banana, smashed
Salt to taste
For the Sides:
2 spring onions, pan seared
1 tablespoon roasted and salted peanuts
Directions
For the Oxtail Braise:
Place cooking oil in a pressure cooker at medium high. Sear all sides of the oxtail. Once seared, lower the temperature, add the curry powder into the oil part of the pan, and let the aroma steep.
Add the stock and pressure-cook for one hour at medium, turn off the heat, and let rest at room temperature until pressure is gone.
Set the oxtail aside, being careful not to break, and save the stock for the curry sauce.
For the Curry Sauce:
In a large heavy-bottom pot set to high heat, add cooking oil, the quartered onion, and the halved bell pepper. Add a pinch of salt. Roast and lightly char the outside. Turn the heat down, toast the curry powder in oil, then add the flour. Stir lightly.
Add the oxtail stock and the rest of the curry-sauce ingredients. Cook down about 20 percent at medium-low heat.
Place all sauce ingredients in a blender and blend till smooth. Don't overfill your blender; blend in two batches if it's too full.
For the Sides/Plating:
Sear the spring onion in a pan with salt and olive oil at medium high to get a nice char.
Crush the peanuts.
Set the oxtail on the plate, top with curry sauce, and garnish with crushed peanuts. Place spring onion next to oxtail and enjoy!
Information
Category

Main Dishes

Cuisine

Japanese

Yield

4 servings

Total Time

1 hour, 59 minutes, 59 seconds
Image Source: Photo Courtesy of Bella Petro