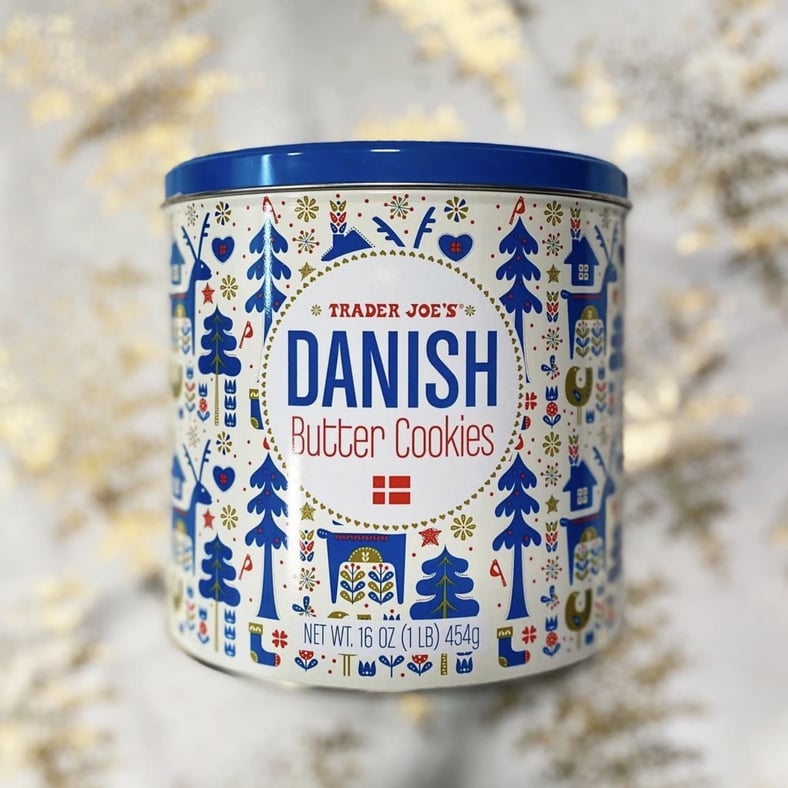 Santa didn't get a belly "like a bowl full of jelly" from eating mediocre Christmas cookies. Sure, he likes anything with sugar, but I guarantee he would be extra happy on Christmas Eve if you left out a plate of Trader Joe's delicious cookies (meaning he'd eat every crumb instead of taking just one bite). Trader Joe's already has tons of festive holiday products, so it's no surprise that their cookie selection is fantastic. And we're not talking just your regular chocolate chip here (although those are a classic choice, don't get me wrong). The beloved grocery chain has mini peppermint meringues, gingerbread cookies that hang from your mug of hot cocoa, dark chocolate mint stars, and so many more unique and delightful options. Keep reading to see 16 of our favorite TJ's holiday cookies, and get ready to buy Santa a bigger plate!
Dark Chocolate Mint Stars
Chocolate shortbread combined with cool mint will make these Dark Chocolate Mint Stars your new favorite. Choose from regular size stars or mini, depending on how much cookie you're craving.
Danish Butter Cookies
These sweet Danish Butter Cookies come in five unique shapes, each made with the same delightful butter and sugar combination.
Dark Chocolate Covered Peppermint Cremes
If you like a creamy mint flavor, then you'll love these Dark Chocolate Peppermint Cremes, which are covered in chocolate and topped with crushed candy peppermint.
Mini Peppermint Meringues
Light and fluffy as a cloud, these Mini Peppermint Meringues are made with whipped egg whites and sweetened with cane sugar and peppermint candy. Eat by themselves or toss a few in your hot cocoa!
Mini Gingerbread People
These smiling Mini Gingerbread People are made with molasses, cinnamon, allspice, and ginger, then covered in white fudge icing on their backs. Yum!
Candy Cane Joe-Joe's
They may look like Oreo's at first glance, but these Candy Cane Joe-Joe's are totally unique. Two cocoa-flavored wafers are joined together with a creamy vanilla middle that's sprinkled with crushed peppermint candy.
Dark Chocolate Covered Peppermint Joe-Joe's
Step your peppermint obsession up a notch with these Dark Chocolate Covered Peppermint Joe-Joe's, which are dipped in chocolate and covered with chunky peppermint pieces.
Cookie Mug Hangers
Fill a glass of milk or hot cocoa, then hang these adorable Cookie Mug Hangers off the side of your cup! These delicious spiced cookies have notches in the middle, designed to perfectly hang off the rim of a glass or mug, so you'll always have your treat handy.
Decked Out Tree Cookies
Trim your Christmas tree while eating these Decked Out Tree Cookies, which are just as pretty as they are delicious. The tree-shaped shortbread cookies are topped with milk chocolate, drizzled with white chocolate, and covered in red and white sprinkles.
Peppermint Chocolate Chunk Cookie Mix
Filled with peppermint chunks and chocolate chips, this Peppermint Chocolate Chunk Cookie Mix hits the spot every time. Simply mix with one stick of butter and one large egg, then bake for 15 minutes.
Chocolate Peppermint Loaf and Baking Mix
Yes, you can make cookies out of the Chocolate Peppermint Loaf and Baking Mix! Instagram user @thelavenderkitch said to mix together one box of this mix with two eggs and 1/3 cup oil. Then, roll into one-inch balls and bake for about 12 minutes. Top with Christmas sprinkles for extra fun.
Pfeffernüsse Cookie Mix
The German-inspired Pfeffernüsse Cookie Mix is the perfect winter treat. Each box contains one pouch with cookie mix and one pouch with powdered sugar. Simply combine the cookie mix with an egg and a stick of butter, then bake. Afterward, top with as much powdered sugar as your heart desires and enjoy.
Gingerbread Sandwich Cookies
Think ice-cream sandwich, but with gingerbread cookies and creamy icing in between. These Gingerbread Sandwich Cookies are sure to go fast, so be sure to grab a few boxes during your next TJ's run.
Ginger Snowball Cookies
These buttery cookies are stuffed with ginger and rolled in powdered sugar to look like snowballs. They're light, packed with flavor, and irresistible!
Holiday Ornaments Cookie Kit
Yes, you have to decorate these yourself, but that's half the fun! The kit includes eight delicious cookies, icing, and cute candy sprinkles for the final touches.
Stroopwafel Dutch Waffle Cookies
The Stroopwafel Dutch Waffle Cookies contain gooey caramel in between two super thin waffle pieces. Dip in your morning coffee for added sweetness or enjoy on their own. For a real treat, add them to your Trader Joe's cookie charcuterie board.