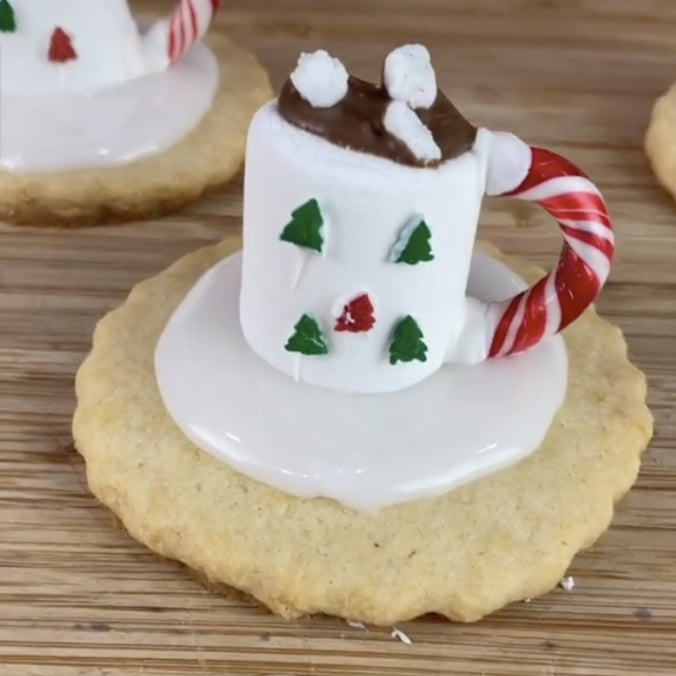 Baking Christmas cookies is such a fun way to celebrate the holidays. Just put on some Christmas music, light the tree, and bust out those baking ingredients. And, really, nothing beats the taste of sugar, especially when you can enjoy eating it with a loved one. But what we love most about holiday cookies is that there are so many to choose from. From gingerbread cookies to snow globe cookies and sprinkle cookies, we could bake for days. And some of the best recipes we've made lately have come from TikTok! The social media app is full of fun holiday-cookie-themed videos that show you how to make different treats in a few easy steps. Keep reading to see some of our favorites, but be warned: you definitely won't be able to stop at just one, so get ready for lots of cookie baking in your future.
Christmas Tree and Star Cookies
These cute cookies only take 10 minutes to bake, so you can spend more time getting creative with your decorations. With trees, stars, and more, there's a good variety of styles here.
Melted Snowperson Cookies
Even though melted snowpeople are a sad sight, these melted snowpeople cookies are adorable! We can't help but smile looking at them.
Cocoa Mug Christmas Cookies
This cookie incorporates another great holiday snack: hot chocolate! These cocoa mug cookies could *not* be cuter.
Reindeer Gingerbread Cookies
Switch up your gingerbread cookies by making them into reindeer. Let Rudolph lead the way.
Pecan Snowball Cookies
These cookies look just like mini snowballs, which means we'll be popping multiple in our mouths at once.
Cranberry Orange Shortbread Cookies
While chocolate cookies will always be my personal favorite, these fruity Christmas cookies are a great addition to the dessert table. With this recipe, you'll make a dough roll, then cut into slices as big or small as you want.
Chocolate Chip Cookies
We can't forget about the OG cookie: chocolate chip! This recipe includes both milk and dark chocolate, so leave these out with milk for Santa on Christmas Eve and you'll be sure to get presents instead of coal.
The Nightmare Before Christmas Cookies
Mix in some spooky fun with these Nightmare Before Christmas cookies. This cookie is easy to make and combines two of the best kinds, Oreos and Pillsbury sugar cookies.
Snow Globe Cookies
Celebrate winter and all things cozy with these unique snow globe cookies. You can get as creative as you'd like with your design.
Christmas M&M Chocolate Cake-Mix Cookies
Combine two delicious desserts — cake and candy-filled cookies — to make these Christmas cookies. And with only five ingredients, these are easy to make.
Red Velvet Cookies
These beautiful red velvet cookies are topped with a Hershey's Hug, so you know you'll get a warm Christmas feeling when digging in.
Christmas Pillsbury Sugar and Chocolate-Chip Cookie
We're bringing back the Pillsbury cookies we can't get enough of and adding Santa's favorite, chocolate chip, for a combination cookie. All you need to do is put the Pillsbury cookie on top. Our mouths are already watering!
Candy Cane Sugar Cookies
Add candy canes into your sugar cookies for an extra Christmas-y feel. Top off with peppermint frosting, then you're good to go.
Peppermint Sheep Cookies
If you want to try something a little different from gingerbread people, try peppermint sheep! These couldn't possibly be "baa-d" (sorry, had to).
Christmas Ornament Cookies
Before you enjoy eating a Christmas cookie, why not hang it on the tree as a decoration? Poke a hole in the dough and stick some Christmas-colored string through for an ornament you can eat.
Spiced Ginger Molasses Cookies
You can enjoy several Christmas flavors in these cookies! After baking, add white icing and Christmas sprinkles for extra fun.
Soft Batch Christmas Sprinkle Cookies
Sprinkles are one of the most fun ingredients, and this recipe is full of them! With all this red and green, there's no way you won't be able to feel the holiday spirit.
Mini Pie Crisp Cookies
If you're baking cookies but also craving pie, this recipe is for you. Christmas desserts don't get better than this.
Egg Nog Cookies
If you're someone who loves eggnog, you have to enjoy these cookies with a cold glass of the holiday beverage.
Chocolate-Frosted Christmas Cookies Topped With Candy Canes
Chocolate and candy canes in the same cookie? Yes, please.
Gingerbread Cookies
Christmas isn't Christmas without some gingerbread. You can make a gingerbread person or another fun Christmas shape with this dough recipe.
Cinnamon Swirl Cookies
Fastest Christmas cookie ever? Perhaps. But even if it's not, we're on board because they look so good.
Peanut Butter Blossoms
These cookies always pop up during the holidays, and we're so glad because they are insanely delicious.