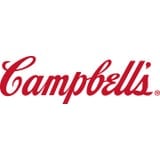 We teamed up with Campbell's® to give you easy ways to spice up every meal.
Recipe developer Lindsey Baruch created this Indian-inspired Chana Masala using a blend of spices, mixed with a creamy dollop of Greek yogurt to bring a truly tasty meal to life. And the essential ingredient to bring all the flavors to the forefront? Campbell's® Tomato Soup as the base.
Indian-Inspired Chana Masala
Lindsey Baruch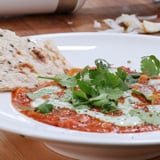 Ingredients
1 can chickpeas, drained and rinsed (1/2 in the masala, 1/4 in the air fryer)
1 Tbsp. olive oil
1/2 yellow onion, diced
2 garlic cloves, minced
1/2 tsp. mustard seeds
1/2 tsp. ginger powder (fresh works too)
1/2 tsp. cumin
1/4 tsp. turmeric
1/4 tsp. coriander
1/2 tsp. garam masala
1 can (10.75 ounces) of Campbell's® Tomato Soup
1 cup Greek yogurt
Juice of 2 limes
1 bundle cilantro
Salt and sugar to taste
Directions
Preheat your air fryer to 400 degrees.
Make a flavorful base for the tomato soup by using a pan on the stove to heat up mustard seeds until they pop.
Next add and saute onion, garlic, ginger and add all your spices to bloom.
Add a little over half of the chickpeas to the stew and add them in the air fryer to the others. Season the air fryer chickpeas with a pinch of salt, pepper, and cumin. Add in for about 15-20 minutes until crispy. Set aside.
Stir your masala with the chickpeas until the spices are all combined and add your Campbell's® Tomato Soup. Let simmer.
In the meantime, blend your yogurt, lime juice, cilantro, salt, and pepper to make your sauce. Adjust with water to thin out.
Serve the masala in a bowl, top with your yogurt, and crispy chickpeas.
Information
Category

Main Dishes

Cuisine

Indian
Image Source: Lindsey Baruch