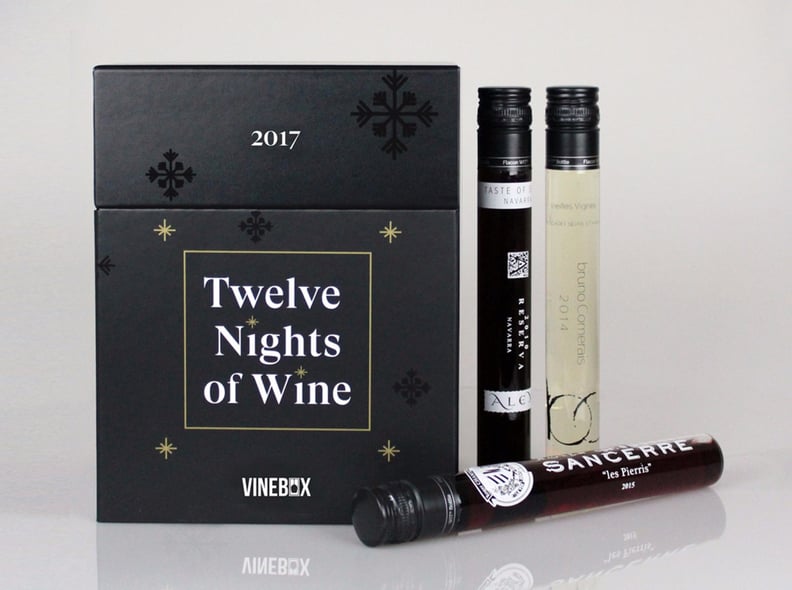 Vinebox
Vinebox
I'm already a huge fan of Vinebox, a wine-by-the-glass subscription service that serves up vino in cool single-serve vials. So when I found out that the company is bringing back its "Twelve Nights of Wine" calendar again in 2017, I immediately hopped online to preorder my own. The glass-a-night advent calendar was so popular last year that it completely sold out within four weeks, and it's easy to see why.
Advent calendars are easily the best part of the holiday season. Free sh*t simply for waking up in the morning? Count me in, man. As a kid, I lived for the chocolate-filled advent calendars, giving me an excuse to have at least a tiny bit of dessert every day even when my parents were trying to teach me restraint. (An effort that clearly didn't work, considering that I write about cheesecake for a living now.) But now that I'm an adult, there's only one type of calendar that'll do as I count down to Christmas: the kind that's filled with booze.
Anyway, this is a great option for wine-lovers who can't get their hands on Aldi's popular, UK-exclusive advent calendar. The selection of 12 specially curated wines runs for $129 and comes in a special holiday box. Because of its popularity in 2016, Vinebox is offering the calendar on preorder starting Oct. 1 — which means you can set yourself up for a Winter of wine very soon.