The Cheesecake Factory Celebration Cheesecake
The Cheesecake Factory's New Menu Item Is Like a Birthday Party in Your Mouth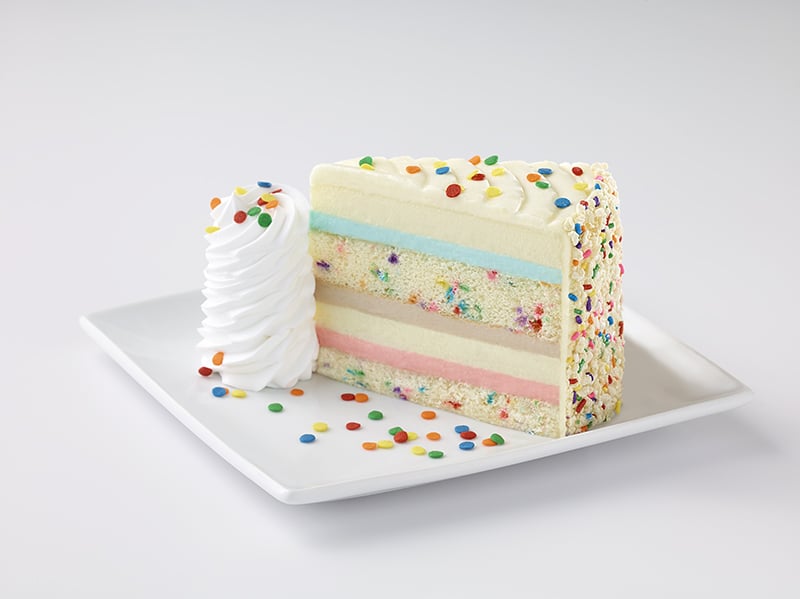 The days of having to decide between cheesecake and Funfetti cake are officially in the rear view, because The Cheesecake Factory has just announced a new menu item that checks all the boxes: Celebration Cheesecake. The new cake is, quite literally, a party in your mouth — it was created specifically to celebrate National Cheesecake Day!
A press release from the popular chain eatery describes the new addition as "layers of original cheesecake, vanilla cake, strawberry, chocolate, and vanilla mousse topped with cream cheese frosting and finished with brightly colored confetti." So if you're imagining all the goodness of Neapolitan ice cream, childhood Funfetti birthday cakes, and traditional cheesecake all in one . . . you're spot-on, friend!
This new, colorful cheesecake is set to debut in time for The Cheesecake Factory's two-day National Cheesecake Day celebration on July 30 and 31. And as if a Funfetti-inspired cake wasn't enough goodness, you'll be able to get a slice of the honorary dessert at half price during this celebration. Count us in for this party! We'd offer to bring confetti, but it seems like The Cheesecake Factory has that covered.