Here's Why Mexicans Eat Posole on Noche Buena (Christmas Eve)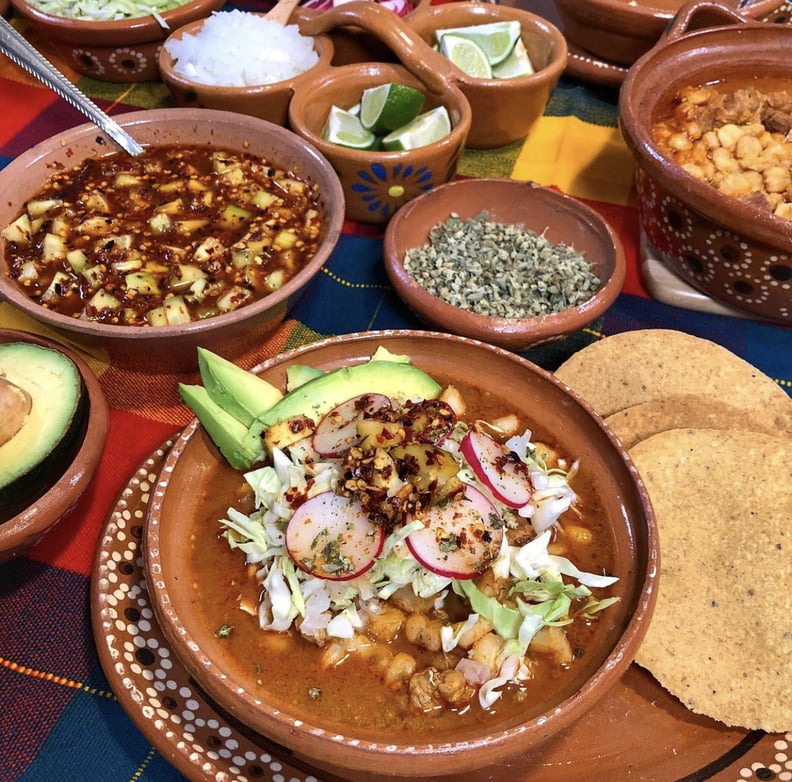 Karen Delgado
Karen Delgado
Growing up, I used to look forward to celebrating Noche Buena with my Catholic Latinx family. It allowed me to spend time with my primas but it was also the time of year my tías would pull out all the stops cooking comida that could only be anticipated during the holidays. I've always been a foodie and the gathering around our traditional foods is what makes our culture so beautiful. Our affinity for food helps us express our love for one another, even if our parents or family weren't and aren't emotionally available to do so. The food has always bonded, healed, and made amends for us as we navigate toxic familismo and gather to celebrate la vida.
When it comes to the holiday season and significant cultural holidays like Noche Buena, there are customary culinary dishes that connect us to our roots and bring back childhood nostalgia. One of those popular dishes is posole. Posole and menudo are two dishes that depict forgotten stories from the hands of our beloved ancestors who cooked with intention and soul. Posole is a dish that translates our affectionate connection to madre tierra through its incorporated use of radish, cabbage, and sacred hominy corn, as told by elders before us through spoonfuls of hearty stew.
Posole can be cooked in three variations of blanco (white), verde (green) y rojo (red). Red posole is the most common and probably the signature style found across many parts of México. In my family, we enjoy both green and red posole. Historically, posole has its origins deriving from MesoAmerican ancient culture as a pre-colonial ritual dish. Through Spanish colonial influence, posole then became popularly associated with pork as its protein of choice. Today, posole is enjoyed with pork or chicken on dinner tables of Mexican families in México and in the states the night before Christmas. "Pozole feels like home. Every single spoonful," says Kat Novoa, a queer Mexican-American health and wellness advocate and owner of Babes of Wellness. "I think it's important to move away from the narratives that our cultural foods are unhealthy and stop demonizing them. Our foods are rich in flavor and essential nutrients that are needed, especially during the colder winter months."
Novoa shares how she decolonizes nutrition and health through her role as a gym owner and mental health advocate. "This happens by shifting our mindset around our foods and becoming informed about the nutritional density there is in our foods," she adds "In a bowl of pozole, it can have upward to 40g of protein, 20g of carbs, and 12g of fat in just under 400 calories. Our ancestors survived off of these meals and were very intentional when creating them. So, we should revere them as sacred, nutritional, and delicious."
How is Posole Traditionally Made and Prepared?
Every family will have their own spin when it comes to their immediate family's recipe. That's because different regions of México proudly weave the influence of their state's traditions into cultural dishes. Aside from those particulars, there is a standard traditional recipe for posole. The star of the show is hominy. The primary ingredient in posole is the large kernel of white hominy that gives the texture and taste that keeps you satisfied. Going back for seconds just to eat the hominy was something I would eagerly await after everyone received a decent serving of the sought-after corn.
Posole is easy to prepare but isn't a quick dish to cook. The delicacy of allowing the stew to simmer for at least a couple of hours is integral in its traditional process. "I do remember my abuelita starting bright and early with the making of the pozole while [us] kids ran around," shares Novoa. In order to get the pork cooked fully and the hominy tender, this meal is at least an hour and a half to two-hour process from prep to serving time. Hence, its early day commencement.
Traditionally, the meat used for this delicious dish has been pork, but it's become modernized to mix with chicken as a protein of choice. "Everybody puts their personal touch, like my grandma, she used to make it with purple corn. My mom uses red chile ancho instead of guajillo and I do like to make mine with chicken instead of pork," Mexican Food Blogger and YouTuber Karen Delgado of Mi Cocina Rápida shares. Aside from the debatable choice of meat, you absolutely must incorporate chile (chili) and garlic in order to perfect the recipe.
Posole became a starring dish enjoyed during Las Posadas (Spanish religious festivals). Las Posadas were performed in México to celebrate Noche Buena as a way to commemorate Mexican Indigenous gastronomy, which was unwillingly blended with Spanish colonized religion and the inquisition. Posole has always seemed to be a ceremonial dish per its Aztec beginnings of using this stew as an ofrenda (offering) to the gods in Nahua pantheism. Every time posole is made, it is seen as a symbolic ofrenda to our ancient cosmology and a way to honor Mexican Indigenous culture through ritual, and a form of active ancestral veneration.
"Since I can remember, pozole has been one of my family's favorite dishes. Actually, it's my mom's specialty . . . It has always been part of the menu on all special occasions, such as birthdays, anniversaries, reunions, and of course, the holidays…" says Delgado. Bringing all the ingredients together is the incorporation of chile, which is what provides the colorful aesthetics of this pastime favorite and adds spice. "I love the richness of the tomatillos," Novoa says about green posole. "It feels like I am literally drinking a bowl of green salsa. It feels tangier and less heavy on my stomach than the red pozole."
What Is Traditionally Served with Posole?
What makes posole so beautiful? Of course, it's history, but also all of its garnishes. When you think of a soup or stew you definitely don't associate them with toppings with the exception of cheese or onions. But Mexican posole is all about the toppings, and its pragmatic use of resourcefulness through the incorporation of veggies like cabbage, onion, and radish, which are stapled toppings typically served. Some also serve with avocado on top.
As you make your way down the kitchen line, grab some tostadas to help you enjoy your bowl of posole. Tostadas or sometimes tortilla chips basically substitute utensils when scarfing down the hominy and broth. You always want to accompany your meal with tostadas to give it that authentic touch.
What is the Significance Behind Having Posole on Noche Buena and/or Christmas Day?
Noche Buena marks the impending birth of Jesus in Christianity, which is a principle ideology of Catholicism. Translating to "good night," it's a Spanish term for Christmas Eve. Many Latinx households gather and celebrate this holiday the day before Christmas. Occasionally, you'll come across those who celebrate on Christmas day instead of Noche Buena. Aside from religious context, the affinity for food matches the values of religious servitude around this time of year. Posole is made in giant batches and if you're going to make posole, you're going to make a huge pot of it in order to guarantee next-day foodie festivities.
Mostly, posole is enjoyed on Christmas Day as part of leftovers from Christmas Eve (Noche Buena) and is better known in Latinx culture as el recalentado (a full day of reheating food) event. Infamously, it's a day where we observe countless rounds of delicious leftovers. "I grew up celebrating Noche Buena, it was one of the best and biggest celebrations in my family," says Delgado. "Noche Buena is very much about family, [the] happiness of togetherness, gratefulness, and of course, lots of food." Not only is posole a way to welcome our living ancestors, but it's a time to honor and spend with our ancestors.
"The smell of the pozole, the laughs, and the energy make us feel like they're still with us and we're dining with them and our ancestors," Novoa says. Even if you're not Catholic, Christian, or religious, indulging in savory posole on Noche Buena is a way of recreating the significance of our cultural foods, customs and reclaiming Indigenous gastronomy that many Mexicans are ancestrally spiritually connected to.
Delgado is a proud Mexican Latina living in Los Angeles, California whose cooking is very much inspired by her grandmother and mother, especially when it comes to making their infamous family recipe of posole. Here's her easy homemade recipe that you can try this holiday season!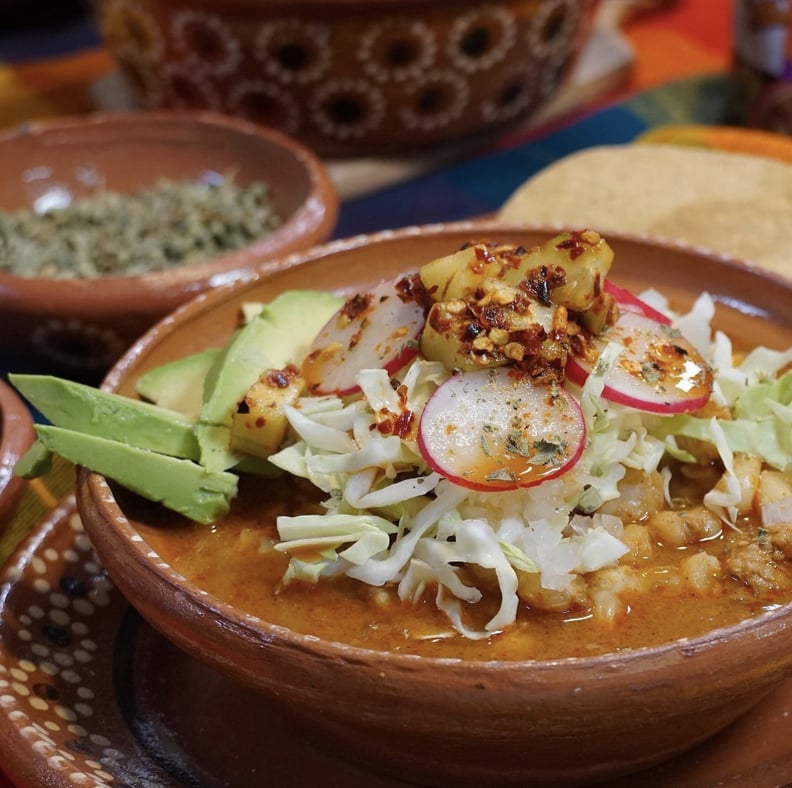 Chicken Posole Recipe:
Yield: 12 people
Prep Time: 15 minutes
Cook Time: 1 hour 15 minutes
Total Time: 1 hour 30 minutes
Ingredients:
4 pounds chicken pieces, I usually use chicken breast (bone-in)
1 can of hominy, drained and rinsed
1 large white onion, cut in half
10 garlic cloves
2 bay leaves
Water (about 10 cups)
Salt to taste
8 guajillo peppers
2 teaspoons Mexican oregano
Garnishes:
Cabbage shredded
Radishes sliced thin
Onion, diced
Oregano
Crushed red pepper
Lime wedges
Tostadas
Avocado
Instructions:
1. Place the chicken, 1/2 the onion, 5 garlic cloves, and bay leaves in a large pot. Cover with water. Add 1-2 teaspoons of salt or chicken bouillon. Bring to a boil. Reduce to a simmer. Cook chicken for about 45 minutes. Skim foam and excess fat from the top of the surface of the stock.
2. Remove the stems and seeds form the guajillos. Place in a pot covered with water. Add the remaining onion and five garlic cloves. Bring to a boil, reduce heat and simmer for 8-10 minutes. Let cool slightly.
3. After 45 minutes, remove the onion, garlic and bay leaves from the broth that the chicken cooked in. Shred or chop the cooked chicken meat and add it back to the pot. Turn heat on broth to the lowest setting.
4. In a blender, put the the guajillo peppers, onion and garlic with 2 cups of the warm chicken broth. Season with salt. Blend until smooth.
5. Strain the red sauce through a sieve and pour into the chicken broth. Stir well to combine. Add hominy, and season with oregano, cumin and salt to taste. Cook for another 25-30 minutes. Serve with garnishes. ¡A comer!