For some people, shoes are more than a basic wardrobe necessity. They can be essential to self-expression, with shoe-lovers amassing huge collections that take up every inch of their closet space. For others, they're just something to wear on your feet. Whether you fit into the latter category or the former, we all need somewhere to store our shoes, and their odd shapes and sizes can make that tricky. Thankfully, there's Ikea! From footwear-specific storage to storage solutions you may not have considered before, these are our favorite Ikea pieces for storing shoes.
01
Hemnes Shoe Cabinet
The Hemnes shoe cabinet ($99) is the perfect piece of furniture because it looks way nicer than something that simply stores shoes, and its narrow design means it fits perfectly into your hallway. Each drawer fits at least two pairs of (adult-size) shoes, so you can keep your favorite pairs close to the door and off the floor. Upgrade yours with DIY leather pulls.
02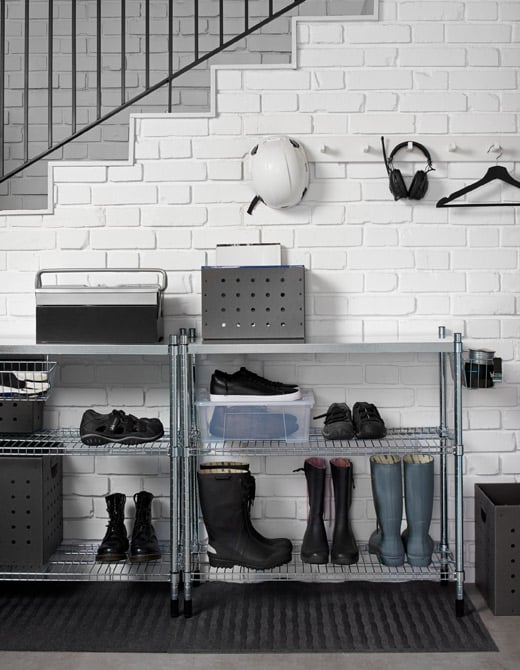 Omar Shelf Unit
Your mudroom, basement, and garage also need good options for shoe storage, and the Omar shelf unit ($30) is perfect for rain boots, Winter shoes, and athletic shoes that often get dirty and wet. The adjustable shelves mean you can adapt it to fit your needs, and the galvanized steel can be wiped down easily.
03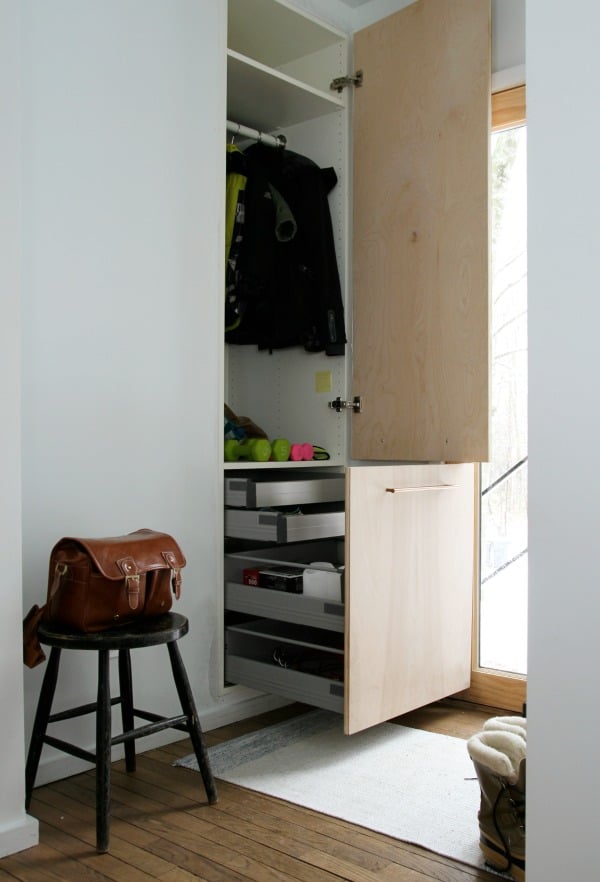 Pax Wardrobe
Ikea's go-to closet organization system is the Pax wardrobe ($255), with many variations and ways to customize it to fit almost any room in your home. If you have a large entryway, this wardrobe can make great built-in entryway closets, but it is also great for bedrooms. The drawers on the bottom are perfect for keeping shoes organized.
04
Brusali Shoe Cabinet
Really up your shoe storage game with the Brusali shoe cabinet ($70). It's taller than the Hemnes and has more features to accommodate high heels, flats, and boots. The thin shelf at the top is great for keeping keys, phone chargers, and other small essentials that you can grab as you run out the door.
05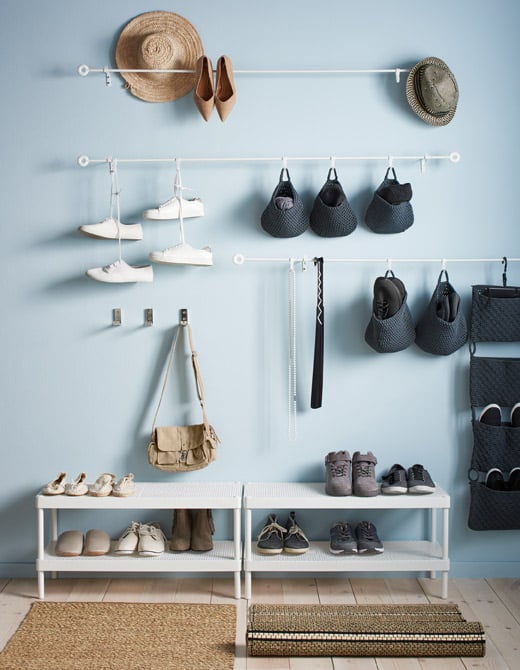 Mackäpar Shoe Rack
The Mackäpar shoe rack ($17) is the ultimate minimalist solution to your shoe storage needs. It's equally at home in a closet or on display in the entryway, and you can fit two together if you need more storage space. Bonus: try the Nordrana hanging storage ($20) and Irja curtain rods ($2) for even more options for your sneakers and heels.
06
Algot Shelving
Have an awkward space in your home? Turn it into shoe storage with Algot shelves ($6). You can create your own storage and shelving system that's the perfect height for all of the shoes you own, and install as many or as few as you need for your shoe collection. It's a great way to display them as decor, too!
07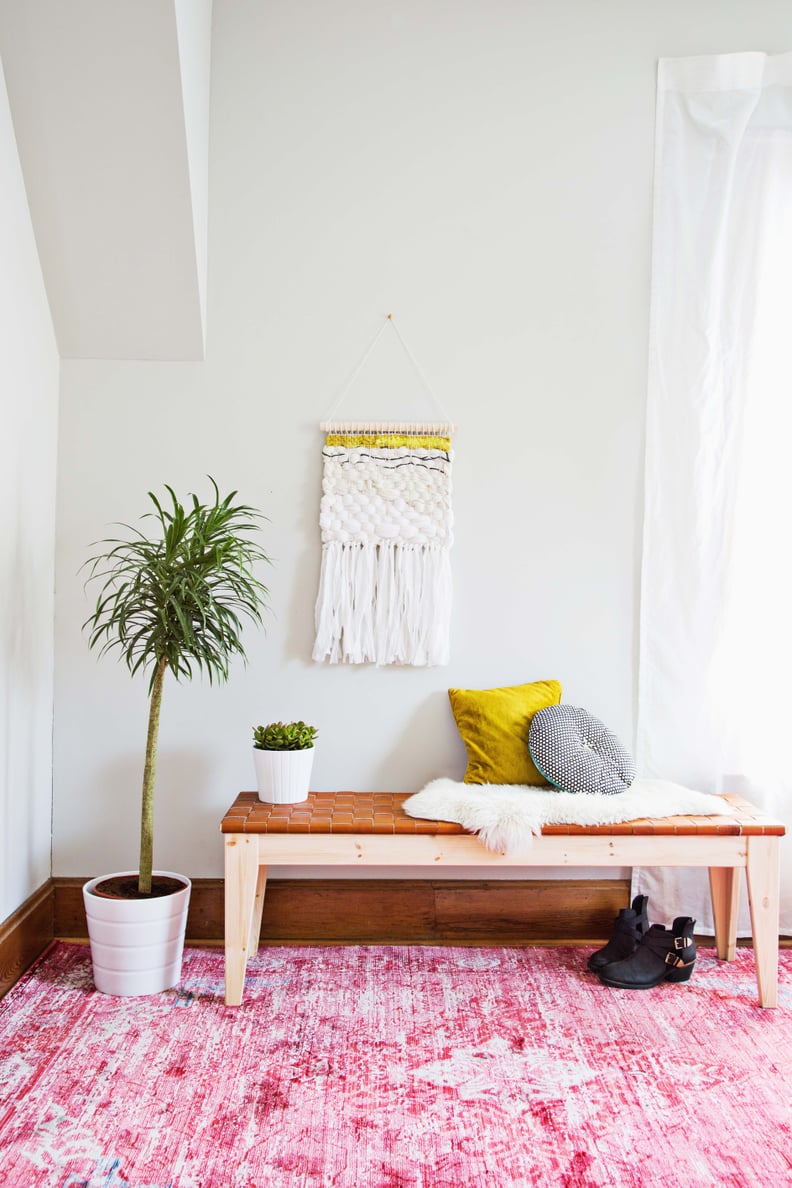 Bjursta Bench
If you're a bit more of a free spirit than a lover of organization, a Bjursta bench ($99) can be the perfect way to keep shoes out of the way but easily within reach. Line up all of your most-used shoes under the bench to keep them loosely organized.
08
Billy Bookcase
Whoever said bookcases were just for books has never seen the Billy bookcase ($298) in action. For those with really big shoe collections or with many family members and lots of seasonal shoes, you can store dozens of pairs in this bookcase. The glass panel doors keep your shoes protected and make it easy to find the pair you're looking for.
09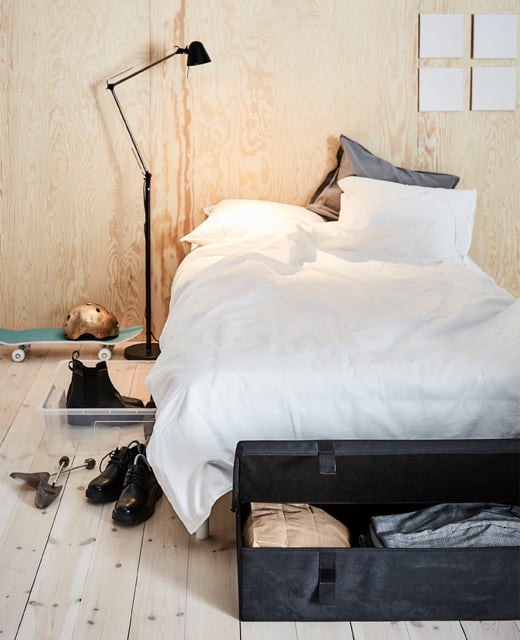 Samla Box
You don't need all of your shoes all year round, and seasonal shoes can take up valuable storage space during the off-season. Keep them well protected and out of sight in Samla boxes ($2), which can be stored under the bed, in the closet, or anywhere else you keep off-season items.

10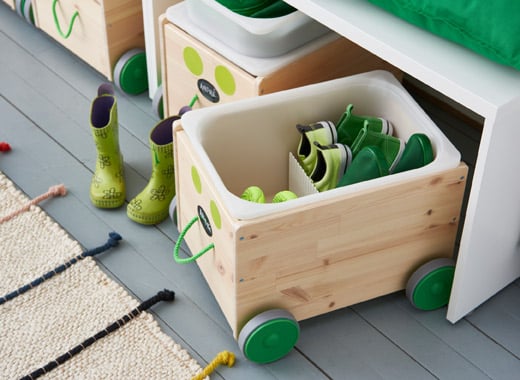 Flisat Storage
Kids need shoe storage, too! Get creative and think outside of the (storage) box and use toy storage for shoes as well. The Flisat toy storage with castors ($30) keeps shoes hidden and organized but easily accessible for children. Each one fits several pairs and is a fun alternative to boring storage containers.