The Oval Office has been updated to reflect the new administration's tenets and priorities. Just before Joe Biden's presidential inauguration on Jan. 20, White House staff worked swiftly to refresh the renowned office space with symbolic artwork, new decor, and the notable removal of former president Donald Trump's infamous Diet Coke button. "This Oval is an Oval for Day One," Deputy Director of Oval Office Operations Ashley Williams told The Washington Post.
The redesigned room features some familiar mainstays and decor used during prior presidencies, but many lesser-known busts and sculptures have also been included to honor more contemporary activists and leaders. "It was important for President Biden to walk into an Oval that looked like America and started to show the landscape of who he is going to be as president," Williams said. Take a closer look at the new Oval Office, and learn more about the thinking that went into its transformation, ahead.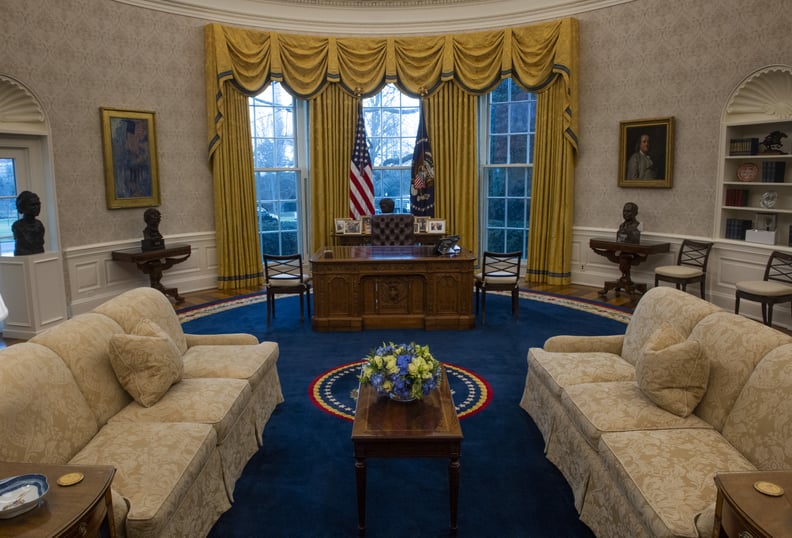 President Biden's Redesigned Oval Office
The redecorated Oval Office now includes new artwork, busts, printed wallpaper, and a dark blue rug featuring the Great Seal, which was last used during Bill Clinton's presidency. A few things remain unchanged from the prior administration, including the gold curtains, couches, and, of course, the Resolute Desk.
President Biden's Redesigned Oval Office
Biden's windows are adorned with the flag of the United States and one with the presidential seal. (Trump previously included flags representing each branch of the military.) Biden also added a portrait of Benjamin Franklin, completed by Joseph Siffred Duplessis in 1785. The painting is reportedly meant to symbolize Biden's trust in science. In the bookshelf beside the painting, a moon rock on loan from NASA is displayed to represent American ambition and ingenuity.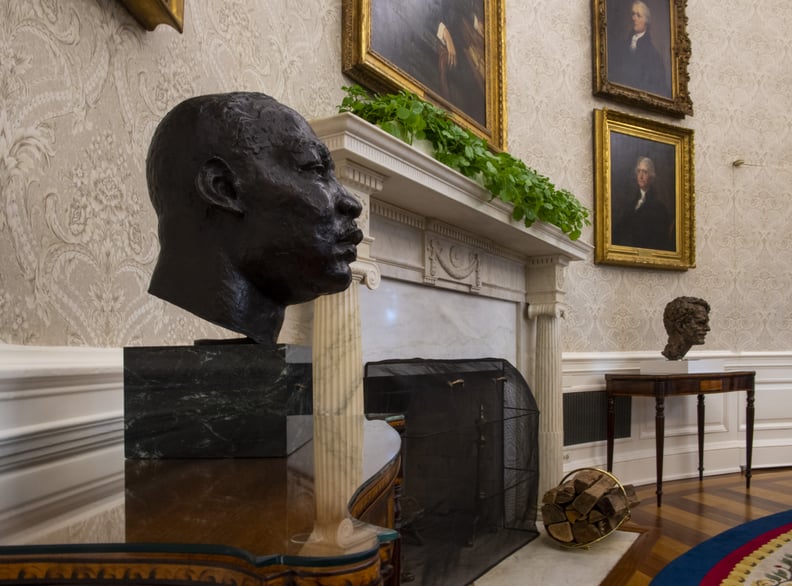 Busts of Martin Luther King Jr. and Robert F. Kennedy
A bust of Martin Luther King Jr. and one of Robert F. Kennedy sit on either side of the fireplace.
Bust of Martin Luther King Jr.
Trump's Oval Office had also displayed the bust of the civil rights leader, in addition to a bust of Winston Churchill, which has been retired.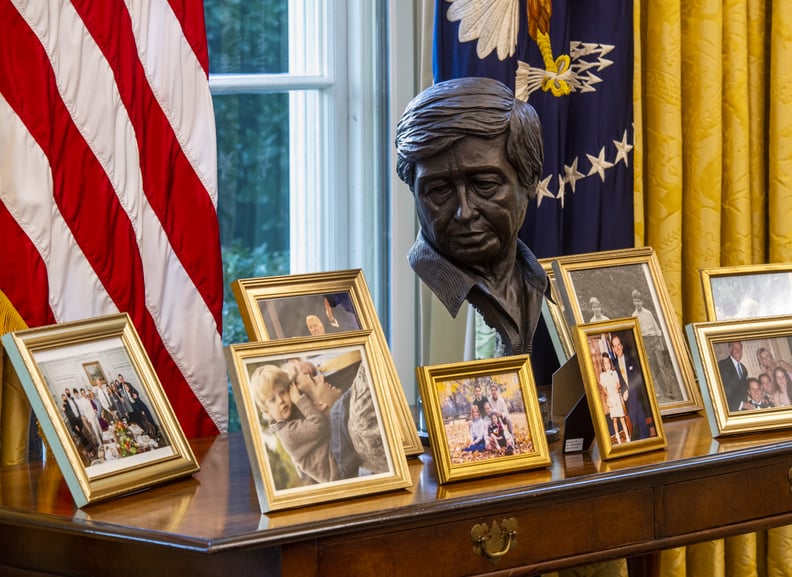 Bust of Cesar Chavez
A bust of labor organizer and activist Cesar Chavez is placed on a credenza displaying Biden's family photos. Chavez's granddaughter, Julie Chavez Rodriguez, was just appointed by Biden to lead the Office of Intergovernmental Affairs.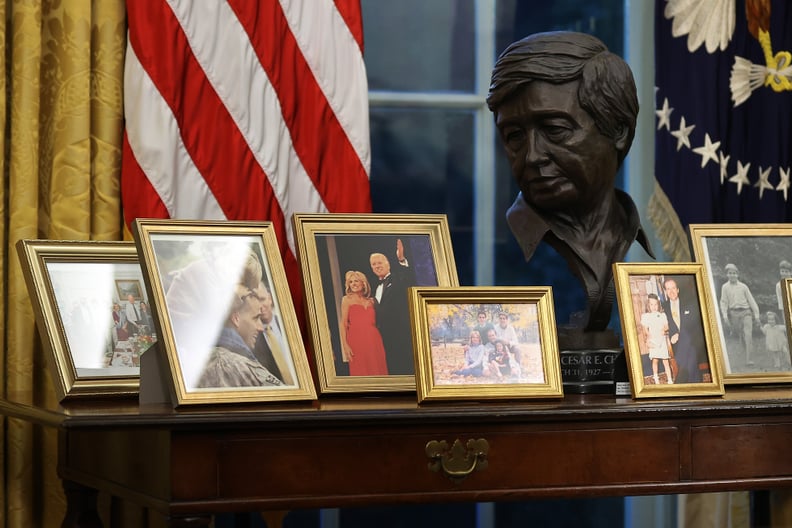 Bust of Cesar Chavez
Chavez's son, Paul Chavez, was touched by the bust. "We're happy that the bust is there," he told CNN. "It really speaks to the contributions and importance of the work of our community. Immigrants have given and continue to give to this country, even in the toughest of times."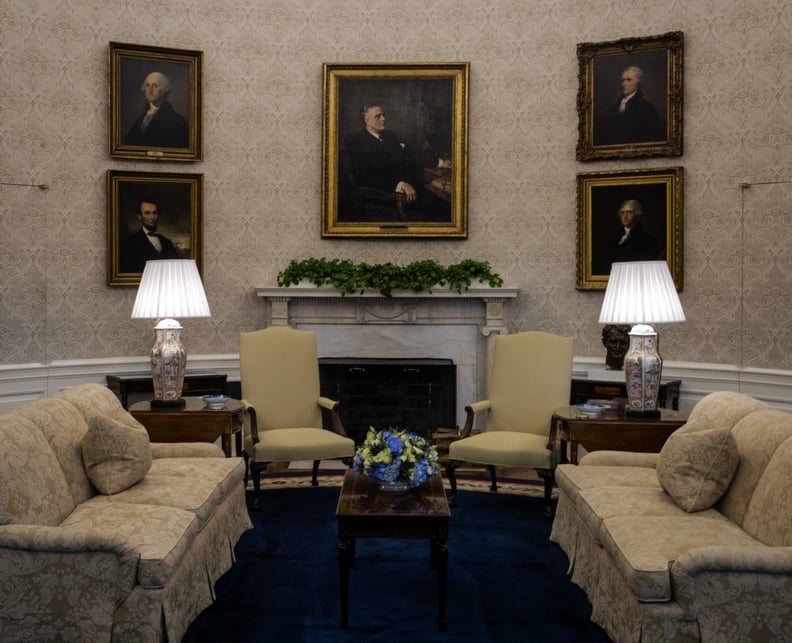 Paintings of Former Presidents and Founding Fathers
The conversation area is backdropped by portraits of George Washington, Alexander Hamilton, Thomas Jefferson, Abraham Lincoln, and, in the center, Franklin D. Roosevelt. The decision to pair the paintings of political enemies Jefferson and Hamilton was a deliberate one meant to symbolize how differing opinions are "essential to democracy."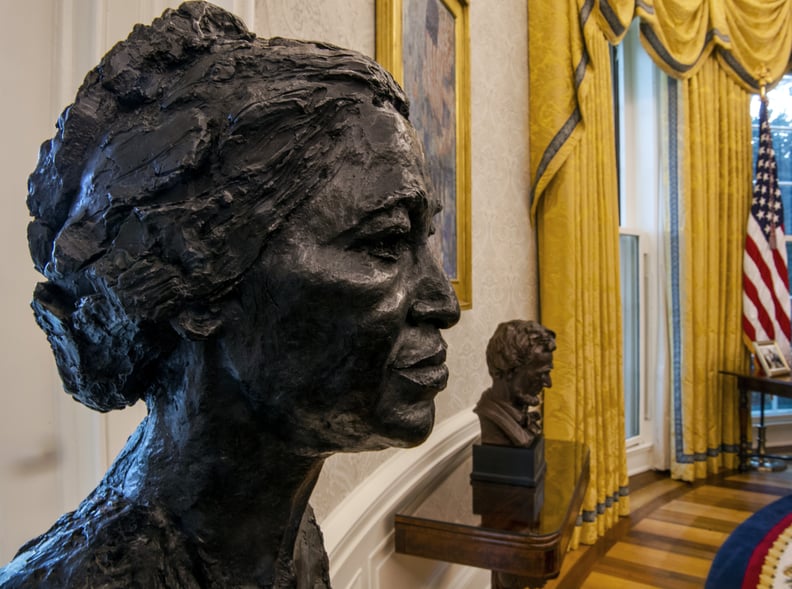 Busts of Rosa Parks and Abraham Lincoln
Busts of Rosa Parks and Abraham Lincoln sit on either side of Childe Hassam's 1917 painting Avenue in the Rain. Though not pictured, busts of Eleanor Roosevelt and Civil War-era orator Daniel Webster also adorn the room.
On the selection of busts, Dorothy Moss of the National Portrait Gallery told Artnet News, "While we can't speak to why the president selected these works, I think his choice of figures such as Robert F. Kennedy and Rosa Parks reflect the commitment his administration has made to racial equity, nonviolent protest, and resilience in the face of adversity."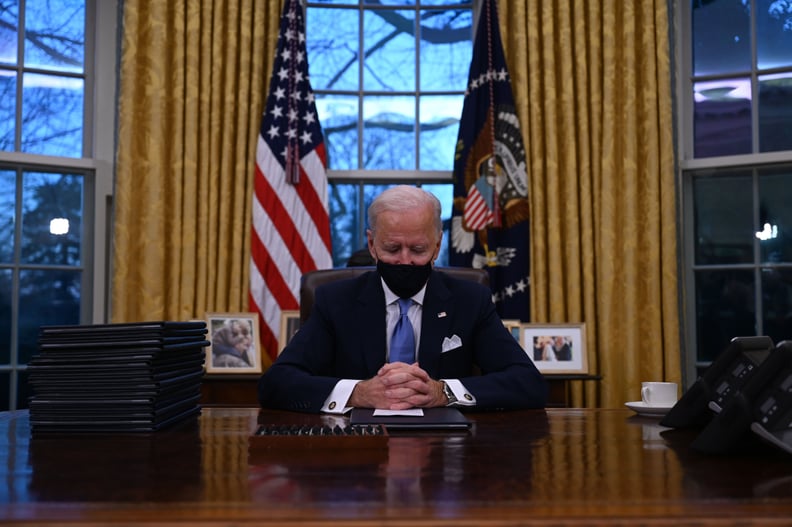 Biden Seated at the Resolute Desk