After Very Little Deliberation, We Give Simone Biles's Beautiful Home a 10/10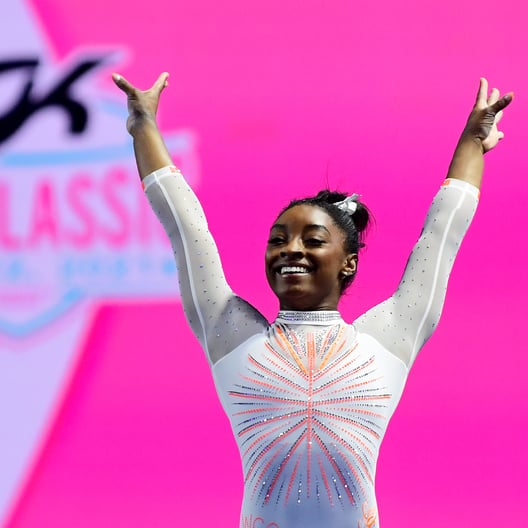 Simone Biles is an insanely talented gymnast, and one thing we think she should constantly do backflips over? Her house! The 24-year-old Olympic athlete, who just won her seventh national title (while rocking floating eyeliner, no less!), has been showing off her impressive digs on Instagram. It includes a new in-ground pool — which is luxury-hotel-level gorgeous, if you ask us — and we're officially pinning it to our dream board. While the house's exterior has a contemporary finish, the inside features arched entryways, a stone fireplace, chic chandeliers, large plush couches, and more. In other words, we'd be more than happy to go hang out for an evening (just let us know, Simone!). But you don't have to take our word for it — keep reading to step inside Simone's gorgeous home.
Picture Sliding Glass Doors
These sliding glass doors are so huge, they're almost the length and width of the wall! They allow tons of natural light to seep in and give Simone and her pups easy access to the outdoor area.
In-Ground Pool
Simone gave followers a sneak peek of her in-ground pool when it was being installed, and we can only imagine the fun backyard pool parties she's going to have.
Wicker Egg Chair
This oversize, egg-shaped chair is the perfect chill spot to take a break from swimming in her gorgeous pool, eat a snack, or enjoy a book.
Mounted Shoe Rack
This mounted shoe rack is organizing goals. Simone can easily arrange and pick out a pair of shoes without digging through her closet and making a mess.
Personalized Artwork
In this room, Simone has a big art piece honoring her last name, "Biles."
Chic Chandeliers
In her kitchen, Simone paired the crisp white cabinets with chic chandeliers for a hint of glam. These light fixtures are perfect if you're looking to keep your kitchen appearance minimalist but still wanting an accent that makes a statement.
Contemporary Exterior
The exterior of Simone's house gleams a modern contemporary finish and, honestly, looks like a page out of a magazine.
Brick Facade
The outdoor brick facade gives her home a warm glow and, as if her backyard needed it, makes the outdoor hangout space even more inviting.
Arched Entryways
Simone's beautiful home boasts several arched entryways like these two here, adding a fun dimension and decorative look to each room.
Solid-Surface Tub
Finding time for self-care isn't hard with a solid-surface tub like Simone's. Although this photo doesn't give a view of the full thing, it looks like a freestanding tub. The wood caddy is ideal for books, candles, a glass of wine, or anything else she might need!
Plush Couches
In this room, Simone has huge, plush, heather-gray couches complemented by vibrant red pillows for an overall comfy look.
Stone Fireplace
We couldn't picture a cozier place to snuggle up on a cold day than by this cream-colored stone fireplace.
Nautical Pool Tiles
The pool is complete! It features nautical ceramic pool tiles for a serene finish and gives the backyard a pop of contrast against her natural landscaping.
Massive Pool Deck
Simone's backyard features a huge deck that's perfect for soaking up the sun. It even includes what appears to be an iron canopy in the back.
Adult Swing Set
How fun does this table and swing set look?! It's perfect for outdoor dining and entertaining.
Adult Swing Set, Part 2
You can see the full set from this angle. It's just such a cool backyard piece.