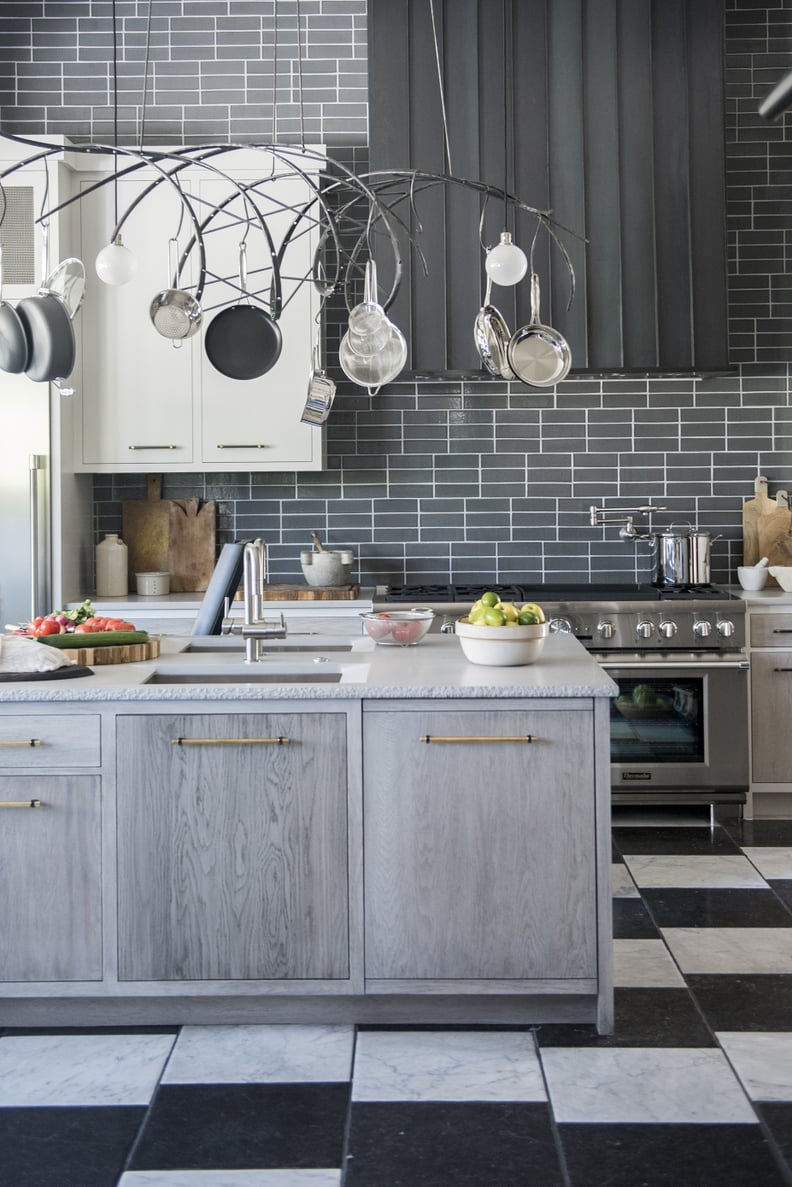 POPSUGAR Photography | Julia Sperling
POPSUGAR Photography | Julia Sperling
Like a lot of people, I've had those all-consuming day-dream fantasies of remodeling a home. My hair would magically become as long and luxurious as Joanna Gaines' and my perfectly manicured nails would easily point out my ideal cabinet fixtures. Of course, day dreams are rarely rooted in reality, and after having gutted our kitchen, I can tell you it's better and worse than what you've imagined.
How ever long you think it's going to take, you're wrong.
So, so wrong. When I think back on our initial deadline, I'm ashamed to admit that I felt impatient at my husband's four-month estimate. It was unfathomable to think that it would take that long; it's now been almost two years and we are still putting trim up. Everything takes a long time, and when you're doing a renovation yourself, you have to think of each task in terms of time or money: either I will pay someone to do this, or I will find the time to do it myself. Which brings me to my second point of a DIY renovation.
It's really hard to find good help.
There are some tasks, unless you want to watch hours of YouTube videos to learn a new trade, that you just need to hire someone to do. While my husband felt comfortable doing all the demo work with his father, messing with electricity made him a lot more apprehensive. Since our renovation is such small potatoes for a lot of trade laborers, we had a really hard time getting people to commit. Hiring a contractor would have mitigated this struggle, but then becomes an issue of money.
DIY saves a ridiculous amount of money.
Gutting our kitchen has cost us around $20,000, which thankfully has been spread out over the course of the two years. Had we gone the traditional route with a contractor, it would have been easier and we would have been finished a long time ago, but my architect husband estimates that it would have cost around $60,000. Considering that $40,000 difference is only slightly less than the median income in the United States, I think our decision to take our time with it was wise.
While a long renovation can be chaotic, it can also give you a lot of time to plan.
If we had used a contractor, we would have been tasked with making decisions in a very short time window. Two years ago I would have designed the now classic all-white kitchen. I'm so grateful that I didn't because a few months after we started our little project we found out that we were expecting our first baby. Now, with our navy cabinets, you can barely see the peanut butter handprints. Our needs changed and our DIY kitchen needed to change with us.
Eventually, you will need to step away from Pinterest.
I've logged a lot of hours on Pinterest, making dream boards for every type of home remodel, and it's a useful tool. Designing a kitchen takes a lot of imagination and it's hard to visualize the final outcome. That's why it's so nice to be able to see what other people have done, both as inspiration and as nope-spiration. However, eventually you need to make a decision, as you can't live in the world of Pinterest forever. Hopefully it helped you identify your underlying likes, such as you've pinned 30 pictures of open shelving — maybe you really should consider doing that.
Not everything that you like will be right for you.
I love the idea of a large island with stools all around it as a breakfast area or for when we actually have people over and everyone seems to magically gravitate towards the kitchen. However, we live in a 1,500-square-foot narrow brownstone in the city, and there was no way we were going to squeeze in an island that size. It's important to isolate your priorities and your limitations that you're saddled with.
Your priorities will become very apparent, and you might not always agree with your partner.
I got amazingly lucky in that my husband and I have very similar tastes: we both appreciate natural wood and all things stone, we easily chose our color scheme, and picking finishes was easy. The few time we disagreed, it was reasonably settled by letting whoever cared the most win. I can see how people who have disagreeing tastes might run into some serious trouble here. Each of you should make a list of the five things that matter the most to you in a kitchen. When you compare your answers, you'll see commonalities and where you can begin to prioritize. Renovations are stressful enough and not worth sending anyone to therapy over.
The rest of your house will feel the effects of the renovation.
If you've already moved into your house, chances are you've amassed more dishes than you know what to do with and your pantry is filled with tons of half-empty boxes. When doing a DIY reno, there will be swaths of time where you'll be out of a kitchen and all of those little things will need a place to go in the meantime. Our dining room table was rendered unusable for close to two weeks; this meant eating take-out in front of the TV, and even though that has its charms, it also felt really strange. The reno put our whole house out of whack and it was really stressful.
Renovating the kitchen elevated our whole house.
I'm a firm believer that the kitchen is the heart of the home. It's where we plan and make our family meals, where friends gather, and where years from now I hope my son will sit and talk about his day as he has his after-school snack. Now that our kitchen is 99-percent finished, I have a strong desire to maintain the rest of my home. No one wants to walk out of an immaculate kitchen only to find a shabby house. Our place should feel like a connected unit, and this requires me to take better care of the rest of it. Since our renovation began, we've painted the whole house the same color as the kitchen, we bought a new dining table, and our living room has been reworked. When we moved into our house three years ago, it felt disjointed. Now, with our kitchen modernized and the other rooms given minor facelifts too, our house is now a home, and that's worth the time and headache of a DIY.