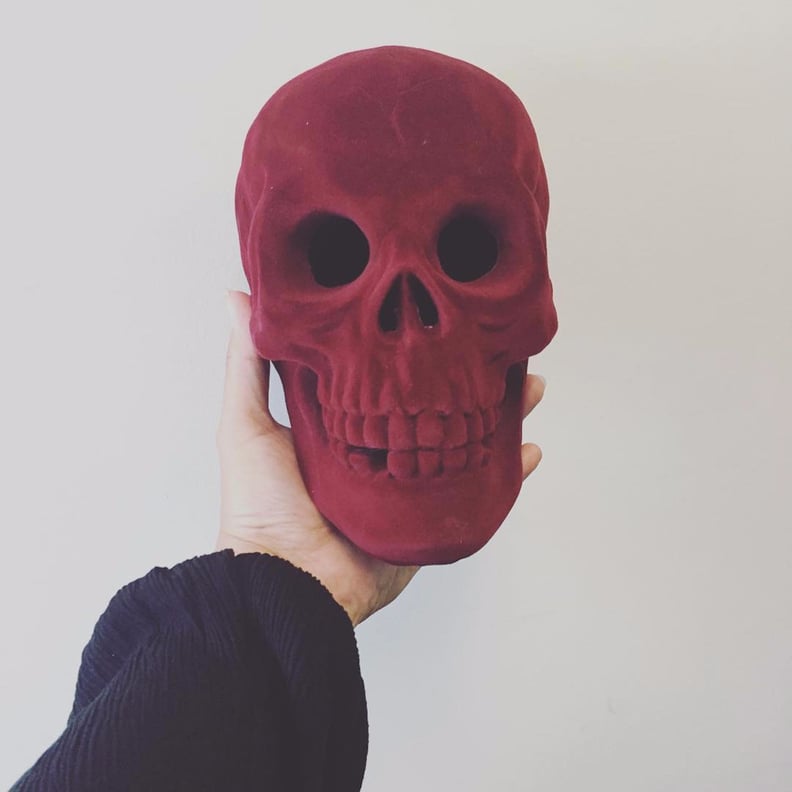 Whenever we're in need of some good ol' home decor inspo, we usually creep through the #TargetStyle Instagram hashtag, which is ripe with picture-perfect examples of how real people style their coolest Target finds. Our latest scroll through the hashtag revealed a supertrendy Halloween item that's totally causing a shopping frenzy: velvet-covered skulls. They're to die for (oops, I couldn't resist a lame pun attempt), and now that we've laid eyes on these beauties, they're all we can think about.
Skulls have definitely been having a moment this Halloween, as the skeletal remains have inspired a wealth of Instagram-worthy home decor items including terrariums and succulent planters. And velvet has also spent some time in the home-decor spotlight as of late, proving that the soft, fuzzy material goes way beyond dresses and skirts. Combining these into one cool decoration makes for a trendy double-whammy that can decorate your home all year long, not just during the Halloween season.
Target's velvet skulls come in both black and maroon, but it looks like these spooky shelf-toppers are only available in stores and are nowhere to be found on Target.com. If you don't live near a Target, Michael's is selling a spot-on replica online for less than $9 — what a steal!
Need some additional convincing that this is the raddest Halloween decor item of the year? Read on for a glimpse at 11 home decor fanatics who've excitedly shared their velvet skulls on Instagram, and then keep scrolling to buy one for yourself online.
Behold, the red velvet skull in all its spooky glory.
OK, how perfect is this tablescape?
They're definitely the trendiest skull merch of them all.
They make the perfect doorstep decor addition.
We're getting all the gothy vibes from this pretty setup.
People are having a pretty hard time resisting the temptation to buy them.
Velvet skull + dark-colored pumpkins = a Halloween coffee table from the heavens.
Are your books lonely? A velvet skull is just what they're missing!
Actually squealing because this is so pretty . . .
A velvet skull sitting atop a cobweb cake stand is about as Halloween as it gets.