The Bachelor Ben Higgins's Fantasy Suite
I Stayed in The Bachelor Fantasy Suite, and This Is What Happened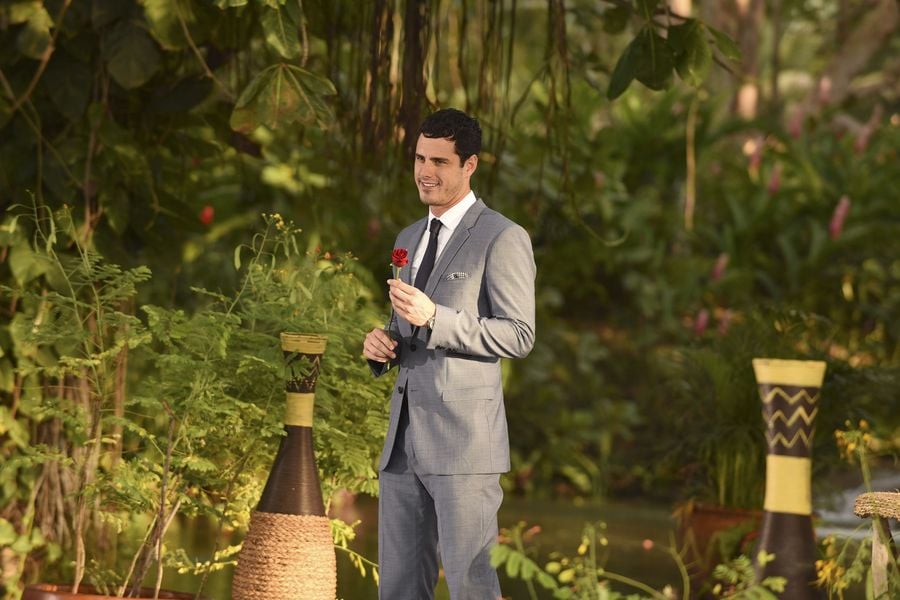 Update:
Ben Higgins and Lauren Bushnell have broken off their engagement.
Original post:
Ben Higgins found his happy ending when he proposed to Lauren Bushnell in Jamaica during The Bachelor's season finale last year. Pretty dreamy, right? While many people hesitate to buy into the show's authenticity, I couldn't help but wonder about this season in particular since Ben seems like such a great catch (honestly, if I was single, I would have seriously considered auditioning). So, in order to get the full Bachelor experience and feel what it's really like to fall in love at such an accelerated rate, I traveled to Jamaica with a group of reporters to relive some of the show's magic. While it would have been far more romantic (and probably a little cheesy) to bring my boyfriend, I decided to go the completely opposite direction and invite my mom.
In addition to being put up in a private villa at the stunning Sandals Ochi Beach Resort (the same one that finalists JoJo, Lauren, and Caila stayed at), I was also taken around the tropical island to the exact locations where some of the "I love yous" were exchanged. I flew by helicopter (the same one Ben had at his disposal) to YS Falls, the dreamy spot where JoJo put her feelings on the line; River Bumpkin Farm, where Ben did some of his serious thinking; and Rio Chico, the breathtaking proposal location. What I learned from visiting all of these places — and in serious style, no less — is a weird, unsettling, and funny thought:
I would have fallen in love with just about anyone here, too.
Add the endless amount of Champagne that is constantly being served, two personal butlers that come with your villa, and being treated like royalty, and forever seems like no big thing.
But the true icing on the cake (or final rose in the bouquet?) came when I was invited to stay in one of Ben's actual fantasy suites, the "Love Nest" he shared with JoJo. While my mom and I shared hilarious glances of "Yep, they definitely, probably had sex right there," I also realized that being this cut off from reality is the key to this show. Personal butlers aside, the bathtub was drawn every night with fresh flower petals, more Champagne was an arm's length away, chocolates were sitting on the bed, towels were transformed into little animals, romantic music was playing in the background, a private pool and hot tub had mood lighting, and a note from the butlers read "One Love." And this happened every. single. night. While the story would definitely be different if my boyfriend had been there, my mom and I did what any self-respecting mother-daughter duo would do: we ate all of the chocolate, drank all of the Champagne, and watched Teen Mom on the TV until we both fell asleep. (Side note: this is also pretty close to an ideal night with my boyfriend.)
The fantasy suite was undoubtedly amazing, but for two people looking to fall in love, it's also extremely high-pressure. You're being given the full honeymoon treatment after having just met a few weeks ago, and the unspoken context of the fantasy suites has to make things awkward. Forget about bills, jobs, and voicemails waiting for you at home — even your friends slip your mind. When everything is taken care of, all you're left with is just this person to stare at and make out with. "I would fall in love with a tree, to be honest," one reporter told me before we left Jamaica. "Yep, I felt like Scott Disick the entire time," another one said. So while the entire experience was unforgettable, if I had been single and actually applied to be on the show, I probably would either be heartbroken or I would be engaged to someone who didn't know I existed last Summer. Is the latter a romantic thought? Totally. But is it real? Only time could tell. For now, I'm just thankful I had my mom to eat chocolate and drink Champagne with.