Harry Potter Halloween Wedding
These Harry Potter Halloween Wedding Photos Are Riddikulus-ly Amazing
Leave it to a Ravenclaw to pull off one of the most methodically planned Harry Potter weddings we've ever seen. On Oct. 27, several well-dressed witches and wizards gathered at Chase Court in Baltimore to celebrate the marriage of Meghan Kotlanger and Travis Griffin, two self-proclaimed "gryffindorks" whose Harry Potter-themed Halloween wedding was something straight out of the Mirror of Erised. After five months of planning and crafting, this happy couple pulled out all the stops, giving 65 of their closest muggle friends and family a glimpse into the wizarding world.
The couple, who met on MySpace in 2008, became engaged in November 2016 and immediately took on a two-year endeavor to plan a wedding that would make Minerva McGonagall proud. Travis Griffin is (no surprise) a Gryffindor, while Meghan is a Ravenclaw, which came in handy when she was putting together all 48 pages of their wedding production book. What started out as a quick Pinterest search of wedding ideas for the bride-to-be quickly transformed into a handcrafted Harry Potter paradise. "We made a Monster Book of Monsters (a four-week endeavor), a PVC pipe photo booth, a hollowed-out Half Blood Prince book to hold the rings, all of the signage, a mandrake, a dragon egg, flying keys, a dementor, chicken wire ghosts, silhouette lanterns . . . and even a smoking pensieve," Meghan told POPSUGAR.
"We're both October babies and love everything Halloween. We also know that Oct. 1 is the start of Harry Potter season, so we knew it had to be a Hallowedding to represent everything we love about October," Meghan said. She added that her main goal in planning the wedding was to make it "feel less like a wedding with Harry Potter incorporated and more like Harry Potter with a wedding incorporated." And it certainly looks like this Ravenclaw succeeded if these enchanting wedding pics are anything to go by.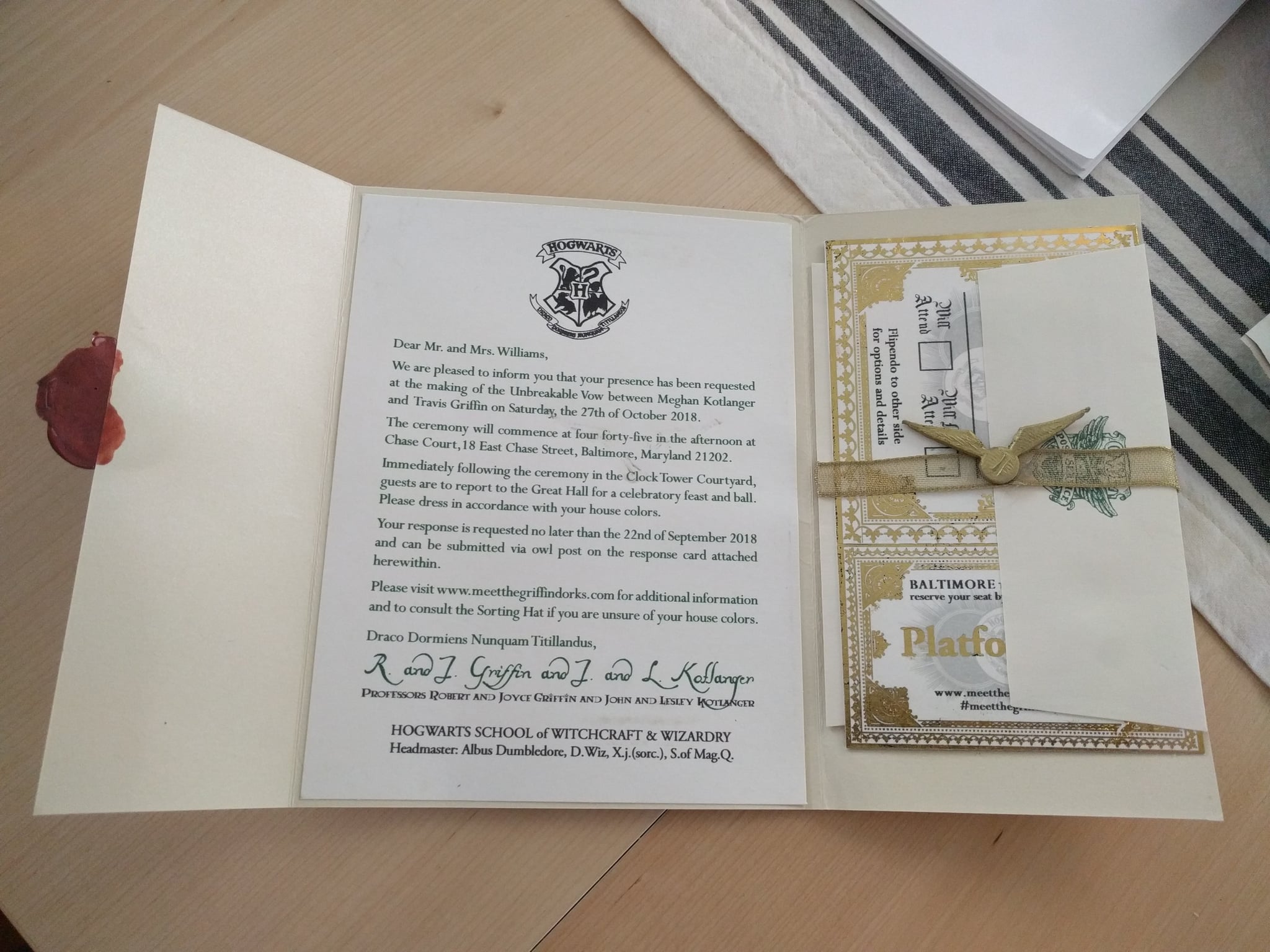 Guests (who were urged to arrive via Floo Network) were asked to show their Hogwarts pride by wearing their house colors to the ceremony, and a link to a "Mandatory Sorting Hat Quiz" was provided on the couple's wedding site for anyone who was still torn between their magical allegiances. Personalized LED wands were even provided for each guest to practice their charms and accio parts of the Great Feast their way — including an assortment of Dragon Deviled Eggs, Golden Snitches, "Firewhiskey," and Amortentia from a large cauldron. Short of delivering their wedding invites via owl, the couple managed to squeeze almost every Harry Potter detail imaginable into their special day.
The happy couple's Unbreakable Vows were officiated by none other than Professor Dumbledore himself (or, for muggles, Meghan's uncle Scott), who had the entire wedding party crying from laughter during the ceremony when he lost his wizard hat not one, but three times. And the reception afterwards was just as enjoyable, with mini Herbology, Potions, and Divination classrooms set up for guests who preferred studying to dancing (aka the Hermiones) and Triwizard Tournament games set up in the library (Room of Requirement).
Unlike Bill Weasley and Fleur Delacour's wedding — which was unexpectedly invaded by a swarm of Death Eaters — Meghan and Travis's wedding was all pumpkin juice and smiles as guests kissed (plastic) singing toads, indulged in pumpkin pasties, and got their Yule Ball on to the tunes of DJ Potter (aka DJ Riddikulus). One of the night's hits even included DJ Potter's own personal mix "99 Problems, but a Snitch Ain't One."
The wedding, which ended at 9 3/4 o'clock, was a truly magical occasion. And the newly married "gryffindorks" also followed up with a Harry Potter-themed honeymoon! Meghan and Travis trekked all over Europe — including Germany, Poland, Belgium, Switzerland, France, and London. "Our fantastic bookends involved attending our very first LARP at the College of Wizardry in Poland – seriously one of the most wonderful and fulfilling experiences of our lives – and seeing Harry Potter and the Cursed Child in London," Meghan said.
For more info on planning your own wedding in the wizarding world, check out Meghan and Travis's wedding site — created by the bride herself — and take a look at these photos for more details on their Unbreakable Vow wedding.