Things to Know About LGBTQ Weddings
5 Things Your LGBTQ+ Friends Want You to Know About Their Weddings but Are Too Polite to Tell You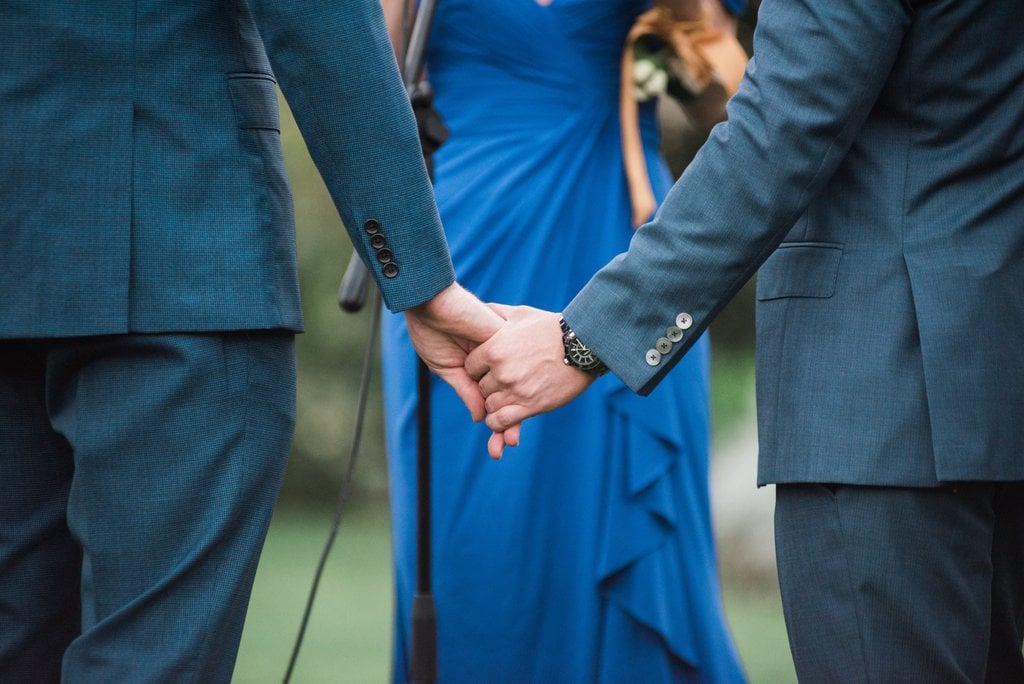 We're all equal on this earth, whether we're brown, white, red, lesbian, pansexual, cisgender, bisexual, queer, or even Republican (that last one's a choice though). Completely. Yes! And hallelujah for marriage equality. This month, as we're celebrating the second anniversary of the federal passage of the national right to legal marriage for same-sex couples, I thought it'd be good to point out ways in which we're still faced with challenges in the wedding industry. Even though it feels so good to shout "love wins!," that doesn't mean we've quite won the war on discrimination, homophobia, and transphobia.
I often hear from well-meaning hetero folks that gay weddings are the same as straight weddings . . . but they're not! And that's OK. It's good to celebrate our differences rather than try to assimilate just for the sake of not feeling different. So how are we different when LGBTQ+ couples get married?
Let's Start With the Obvious
At LGBTQ+ weddings, one or both of the partners in the couple identify as LGBTQ+. So this means it's not the societal expectation of one cisgender heterosexual woman marrying one cisgender heterosexual man. The people exchanging vows are different. The ceremony and reception are equal but different from the typical straight ceremony and reception.
Approaching Vendors Is Hard
It's heartbreaking to call a wedding vendor and ask them about working with you on your wedding only to find out that they're not down with your wedding just because you're queer. Whether they say it outright or just pause uncomfortably when you mention you're gay, it's difficult. And that process repeats itself over and over while you summon up the courage to call vendors you found on the prettiest of wedding websites. That is, until you come to equallywed.com, which is where you'll find the most equality-minded wedding vendors who are committed to not only working with LGBTQ+ couples but actually want to celebrate their unions. I've done the hard work for couples. I've toured resorts where they tell me they're open to hosting same-sex weddings but only on the adult side where kids can't see. It's bullsh*t. Straight people don't have to worry about this. Ever.
Families Can Suck
I know families are troublesome for all orientations and identities. Completely. However, when you're LGBTQ+, chances are high that there will be at least one phobic person in either your family or your partner's. Which poses a major challenge when you're planning one of the most meaningful days of your life thus far and you probably either want your entire family to be there or you don't know how to break it to them that your jackass cousin isn't welcome at your wedding. Either way, it makes an already challenging process much more difficult. Sometimes the adults will be accepting, but they won't want their kids to come because they'll be exposed to people living and loving as their authentic selves, and that could be tragic.
Jokes
Hey, you who asked my wife if she'd finally be wearing a dress after more than 30 years of solely dressing in men's clothing. No, she would not. She did not. She wore a handsome white suit for our Spring garden wedding. And thanks for attempting to undermine our day with your heteronormative and misogynistic assumptions. And you who chuckle and ask which one of the grooms will be tossing the bouquet? It's crass, homophobic, and we're done with that. Moving on . . .
Legalities and Such
We have federal marriage protection. Again, hooray. But in many states we can still be fired from our jobs if our homophobic or transphobic employer finds out we got married to someone they don't agree with. And we can also still be kicked out of apartments or rental homes the same way. Though we have the right to have our marriages legally recognized, we are still not safe in every way. When I was interviewing couples for my new book Equally Wed: The Ultimate Guide to Planning Your LGBTQ+ Wedding, I heard from a couple who'd been booed at the beach during their postnuptials photography session with their wedding party. Photographers have asked the editorial team at equallywed.com how to scout out safe places for photo shoots. Men who want to wear a veil or attach a lovely train to their suit are snubbed at bridal boutiques. Some states are even trying to pass laws that give them extra protection to discriminate against us. We have to worry about traveling during our honeymoons and whether or not we could be harmed or arrested just for holding hands when walking down the streets of a Caribbean island. I don't see any of my straight friends struggling with this.
So, no, our weddings aren't the same. We've got a ton of challenges, and saying our weddings are the same is erasure and a dismissal of what we endure just to love proudly and live our lives out loud. But of course, we'd do all of this and more to be with the one we love. So while it shouldn't have to be this way and we're working for change, it's all totally worth it. Cheers!
Kirsten Palladino is an award-winning editor and writer, as well as the author of the forthcoming wedding planning book for LGBTQ couples, Equally Wed. She's the co-founder and editorial director of equallywed.com, the world's leading digital LGBTQ wedding magazine. She blogs about trauma recovery at foragedwellness.com. Palladino has been profiled on CNN and in The New York Times. Her work has appeared in Entrepreneur magazine, ARTNews magazine, Art & Antiques magazine, The Knot, Executive Traveler magazine, the Huffington Post, and more. Palladino has an open door communications policy on Twitter at @kirstenop and Facebook at fb.com/kirstenpalladino.