33 Funny Halloween Costumes For Women
As POPSUGAR editors, we independently select and write about stuff we love and think you'll like too. If you buy a product we have recommended, we may receive affiliate commission, which in turn supports our work.
We'd argue that there are four main types of Halloween costumes: scary Halloween costumes, cute Halloween costumes, sexy Halloween costumes, and funny Halloween costumes. And in our opinion, funny Halloween costume ideas are some of the hardest to do well. It's easy to cross the line from funny into cheesy or cliché, after all. Plus, with a funny Halloween costume, you run the risk of spending half your night explaining the joke to confused trick-or-treaters or party-goers. You want a hilarious Halloween costume, not a confusing one.
Still, the allure of a funny Halloween costume can be hard to resist. So, we rounded up 33 truly funny Halloween costume ideas. Sure, everyone's sense of humor is different, but within this list of funny Halloween costumes for women, there are definitely at least a handful that will make you crack a smile. We rounded up hilarious Halloween costumes that you can buy at the store, ones you can DIY, and ones that are as simple as pulling on a t-shirt. And if your taste runs a little juvenile, we added in a couple of especially silly Halloween costumes, too. Hey, if it garners a few laughs, we're all for it.
— Additional reporting by Haley Lyndes, Lauren Harano, Maggie Ryan, and Mirel Zaman
01
Funny Halloween Costume Idea: Sexy Ghosts
Put a funny twist on the traditional ghost costume with this creative look. Cut out two holes for your eyes in a sheet and wear a bikini or bra and panty set on top. Done, done, and done!
02
Funny Halloween Costume Idea: Rachel and Monica
This fabulous "Friends" duo is the cutest costume of them all. All you need to do is wear wedding dresses or fluffy white dresses, sit back, and sip a beer.
03
Funny Halloween Costume Idea: Helga Pataki
"Hey Arnold!" character Helga Pataki is relatable as hell, and she's also totally easy to recreate with a pink jumper, matching pink bow, and pigtails. You're also just not doing Halloween right if you don't give yourself Helga's signature unibrow.
04
Funny Halloween Costume Idea: Tina Belcher
It's not too hard to dress up as this "Bob's Burgers" character. All you need is a blue shirt, navy blue skirt, high white socks, glasses, and a small hair clip. Your work here is done.
05
Funny Halloween Costume Idea: "Ace Ventura: Pet Detective"
Great for a throwback costume. Get ready for a wild adventure when you wear this Ace Ventura costume. Throw on a quirky and colorful button-up shirt over a white tank top, style your hair to match Ace's crazy flow, and use a pet — or stuffed animal — as the perfect accessory.
06
Funny Halloween Costume Idea: Toni and Candace From "Portlandia"
Crack everyone up when you dress up as these "Portlandia" characters. Think: lots of patterned clothing and books.
07
Funny Halloween Costume Idea: Mary and Magda
It doesn't get much better than this hysterical movie costume, from the classic "There's Something About Mary." Whether you're being Mary or Magda, you'll need wild outfits, crazy hair, and a sense of adventure.
08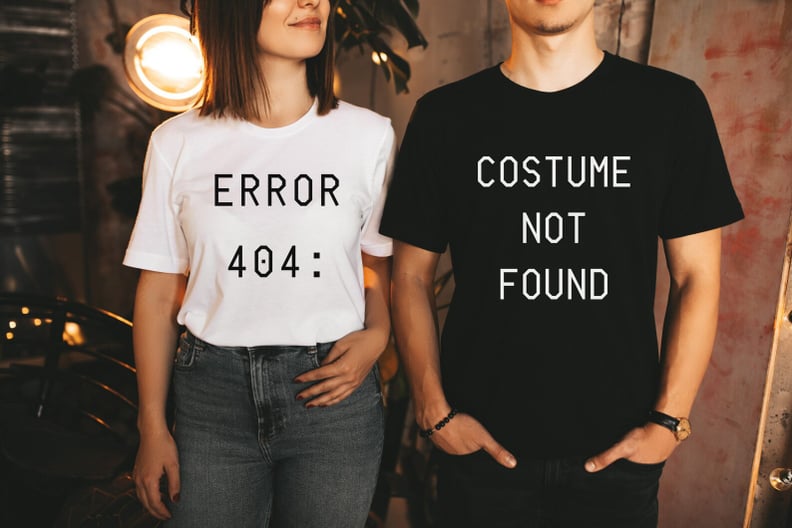 Funny Halloween Costume Idea: Costume Not Found
We get that the "no-costume costume" is a little controversial, but we personally love it. You can DIY a replica of these shirts (and make it a couples costume or not), or take the easy route and pick up the Error 404 Shirts ($28) on Etsy.
09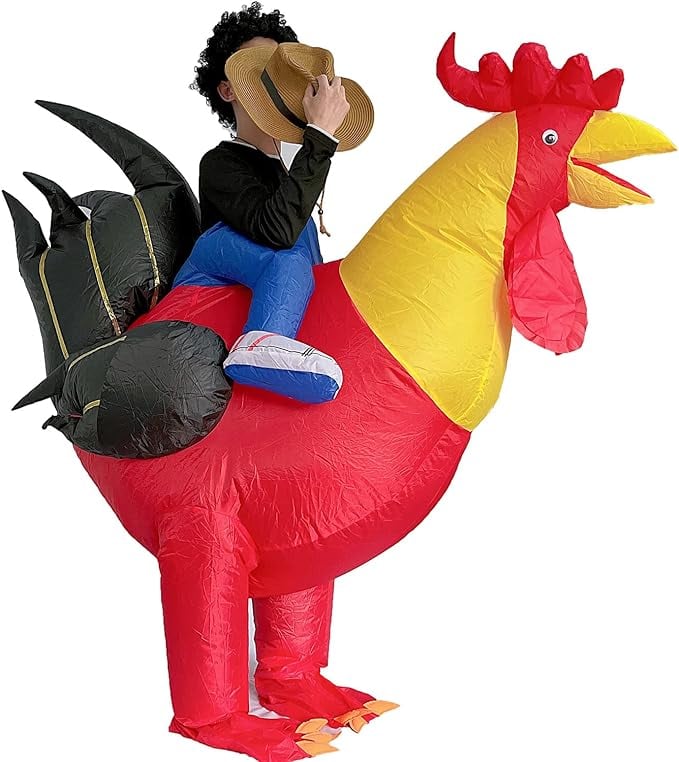 Funny Halloween Costume Idea: A Noble Steed
This Erstume Inflatable Rooster Costume ($30, originally $37) is just good old-fashioned fun. We especially like that you can wear a sweatshirt or regular T-shirt up top and stay comfy and cozy all night, even while winning the costume contest.
10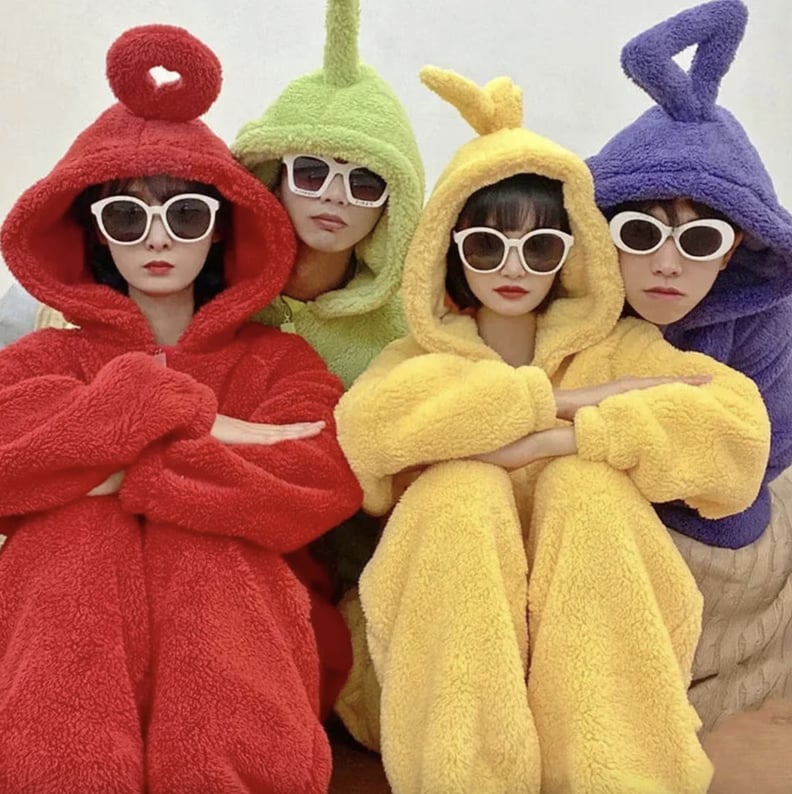 Funny Halloween Costume Idea: Trendy Teletubbies
To be fair, the "trendy" addition is totally optional. But these fleecy Teletubbies Costumes ($35, originally $44 each) look so comfortable, and they're inherently silly. Put on some round glasses and your poker face and you'll have people giggling all night.
11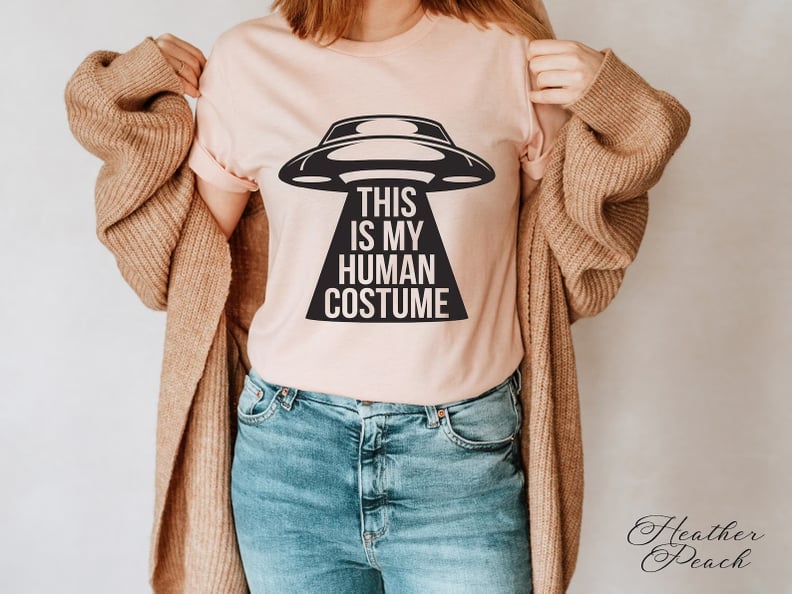 Funny Halloween Costume Idea: Human Costume
Another cheeky "costume" that takes the work out of Halloween for you, this Human Costume Shirt ($21) keeps it simple. If you want to take it to another level, consider painting a sliver of your stomach green, so when someone asks you what you're dressed up as, you can say, "a human," and pull up your T-shirt to reveal your true alien form.
12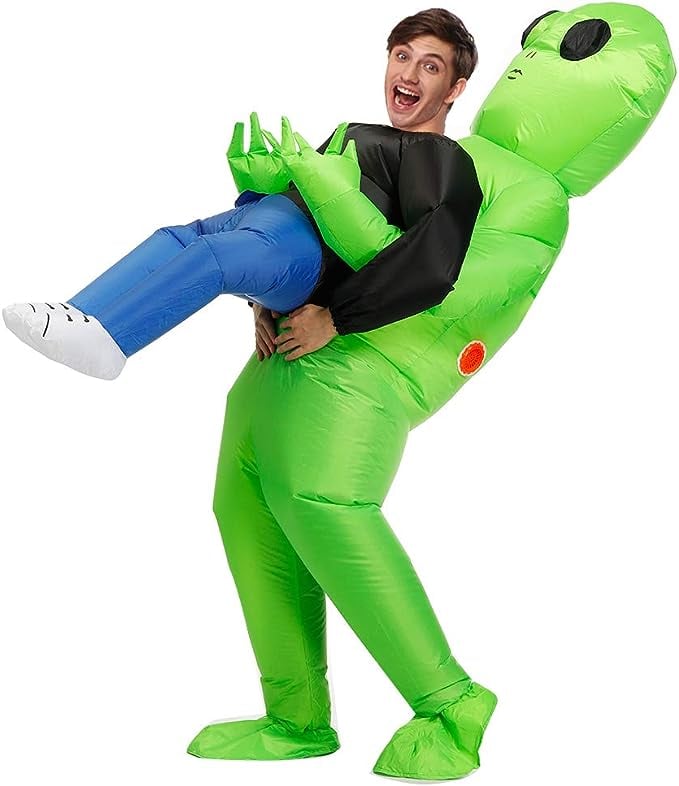 Funny Halloween Costume Idea: Alien Abduction
13
Funny Halloween Costume Idea: A Shrimp on the Barbie
Cute, creative, and ideal for any anyone with a sense of humor, dressing up as a shrimp on the "barbie" will win you applause for the rest of the year. Find a Barbie shirt, make your own, or don your best Barbiecore, and keep your eyes peeled for a shrimp hat. You are ready to take on the holiday!
14
Funny Halloween Costume Idea: Hot Dog Stand
Calling all dog lovers! If you want to dress up with your furry friend this Halloween, being a hot dog stand is about as good as it gets. Dress up your pup in a hot dog costume, and get as creative as you want with your own costume. We recommend carrying the appropriate condiments and a hot dog sign.
15
Funny Halloween Costume Idea: Thing 1 and Thing 2
How cute is this costume? Match your pup this Halloween by dressing as Thing 1 and Thing 2. A blue wig, orange outfits, and the Thing 1 and Thing 2 signs are all you need.
16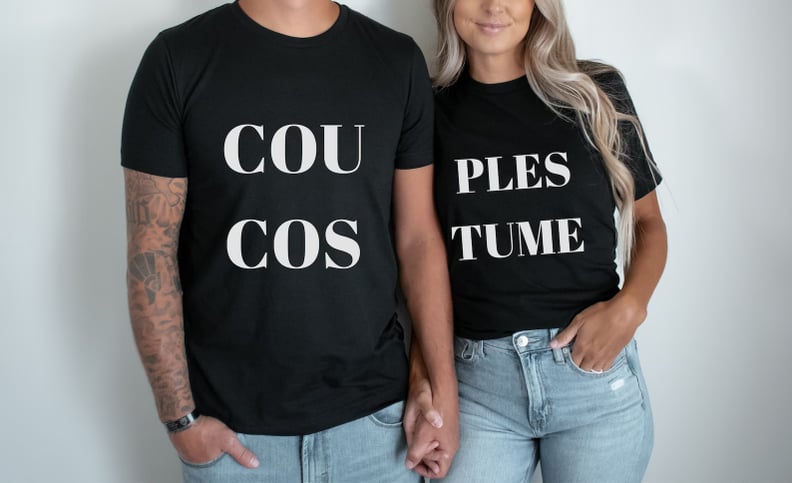 Funny Halloween Costume Idea: Couples Costume
These simple Couples Costume Halloween T-Shirts ($28) are surprisingly clever. When you're not with your partner, you'll get plenty of "what are you supposed to be"s. Pull them to your side, and they'll get it right away.
17
Funny Halloween Costume Idea: Plant Lady
You've heard of a cat lady, but what if you're a plant lady? A messy 'do and a plant-printed outfit are all you need for this look. Just don't bring your favorite plants.
18
Funny Halloween Costume Idea: Party Animal
Dress up as any animal you please and top it with a party hat or rave-wear for an instantly clever costume.

19
Funny Halloween Costume Idea: Eye Candy
Chances are you have some candy lying around your house, and if you pick up a black apron, you can glue it all on there with some googly eyes to complete the look.
20
Funny Halloween Costume Idea: News Flash
Everyone needs a news flash every once in a while. Cover a dress in newspaper, layer it with a long jacket, and no one will know who you are (until you "flash" them, of course).
21
Funny Halloween Costume Idea: One-Night Stand
It's safe to say everyone will get a laugh out of this costume. Put a cardboard cutout on your shoulders, and drape a sheet over it. Then add your must-have bedside essentials.
22
Funny Halloween Costume Idea: Insta-Gram
Instagram just got a whole new meaning! Put a funny spin on the social media app by dressing up as a grandma and pasting the logo to your shirt. Everyone will be sure to "like" it.
23
Funny Halloween Costume Idea: Miss Universe
Step aside, Priyanka Chopra — you, too, can be Miss Universe for the night. Use anything from a little black dress to a trash bag for your universe, and decorate it with an array of colorful planets (with bonus points for scientific accuracy).
24
Funny Halloween Costume Idea: Catfish
This is what modern-day Halloween costumes look like. Make a cardboard cutout of your favorite (or least favorite) dating app, dress in head-to-toe black, add cat ears and fish scales, and you're a catfish!
25
Funny Halloween Costume Idea: Misbehavior and Misdirection
Who wants to be Miss America when you can be Misbehavior and Misdirection instead? Put on a formal dress and crown, and make a sash with the corresponding name. Just add props to make this costume complete!
26
Funny Halloween Costume Idea: First Base
Only take things as far as first base on Halloween with the help of this costume. Dress up as a baseball player and put kiss marks wherever you please.
27
Funny Halloween Costume Idea: Dumbledora the Explorer
Combine your love of "Harry Potter" and children's cartoons by adding a wand and beard to colorful clothing. Pack some spell books in your backpack!
28
Funny Halloween Costume Idea: Fantasy Baseball
Pretty easy to put together, this unexpected costume will have people asking you what you are — and then laughing when they get it.
29
Funny Halloween Costume Idea: Dunkin' Donuts
Your best athletic wear and an inflatable pool float — you can make the doughnut yourself, if you have time — take this costume from funny to punny.
30
Funny Halloween Costume Idea: Seal of Approval
If people are dying for your approval, you might as well give them the seal. This costume is a mix of clever and cute, so have some fun with it.
31
Funny Halloween Costume Idea: A Blessing in Disguise
Dressing up as a blessing in disguise is a blessed costume idea. Find a mask and a name tag, and you're ready to go.
32
Funny Halloween Costume Idea: Old Fart
How do you look at this and not laugh? You can definitely make this yourself if you're crafty, and the addition of some good makeup, a gray wig, and glasses take it to the next level.
33
Funny Halloween Costume Idea: Pig in a Blanket
Here's another easy one: pick up a pig nose and some ears, and wrap yourself in a cozy blanket. The bonus is that you'll be comfortable and warm!