18 Group of 3 Halloween Costume Ideas
We love a group costume on Halloween. It opens up the door to a whole world of opportunities; you can go as a band or the cast of trending TV show like "The Summer I Turned Pretty"! Group costumes that would be hard to understand if you donned them solo make sense when you have a little more context, in the form of a couple of buddies. And group of three Halloween costumes are especially fun. It's not so many people that they're hard to wrangle, but enough that you can have as fun getting ready as you will on the big night itself.
Between you and your two friends, you probably already have some fantastic ideas. But if you're having trouble settling on one, we rounded up 18 ideas for group costumes for three to inspire you. These three-people halloween costumes range from store-bought to DIY-able, and they're pulled from pop culture, food culture, and more. You and your crew are sure to find a three-people Halloween costume that everyone loves, and that inspire a lot of laughs at your Halloween get-together.
If we have one pro tip for anyone who's considering group costume ideas for three people, though, it's this: share the Halloween costume, but don't share the Halloween candy.
— Additional reporting by Lauren Harano and Mirel Zaman
01
Group Costumes For 3: Powerpuff Girls
We'll start with a classic. If you've got two friends, you've probably considered dressing up as the Powerpuff Girls. Do it! Even if you need to recruit wigs to nail the brunette, redhead, and blonde vibe, it's well worth it.
02
Group Costumes For 3: Big Bird, Bert, and Ernie
Any of the "Sesame Street" gang will do, and you'll be sure to inspire fond memories among your fellow party-goers.
03
Group Costumes For 3: Sushi
A great option to DIY, and a costume that can work for bigger groups too. All you need is a white shirt, a pillow with a fishy-hued pillowcase, and a strip of dark green fabric. Add in some chopsticks and carry around a bottle of soy sauce, and you're good to go.
04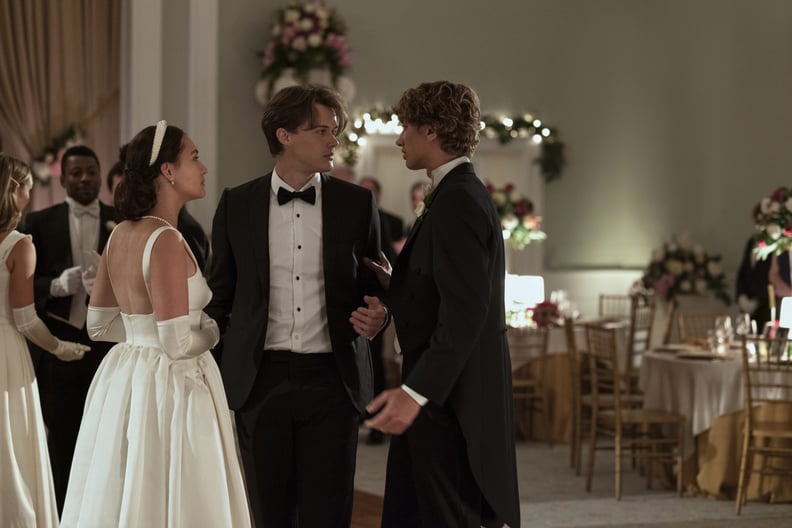 Group Costumes For 3: Belly, Jeremiah, and Conrad
If you're going to go as the cast of "The Summer I Turned Pretty," why not do the deb scene. You'll just have to figure out who gets to wear tuxes, and who gets to wear the gorgeous white gown.
05
Group Costumes For 3: Jem and the Holograms
These characters from the show "Jem" may fall into the "if you know, you know" category — but that's part of the reason we love it.
06
Group Costumes For 3: Green Army Men From "Toy Story"
It doesn't even matter if no one realizes this is from "Toy Story" — these army men costumes are super impressive.
07
Group Costumes For 3: The Incredibles
You may not be able to pull off the super powers, but you can definitely pull off the one piece.
08
Group Costumes For 3: Pink Ladies
Calling all "Grease" fans! This is an easy option for a group of three to pull together, and it's fun — who doesn't love a rebellious trio?
09
Group Costumes For 3: Woody, Jessie, and Buzz Lightyear
"Toy Story" is one of those films that will never get old, providing years and Halloween costumes. You can go for the classic trio of Woody, Jessie, and Buzz Lightyear, or mix it up with Hamm or the arcade aliens.
10
Group Costumes For 3: Harris, Hubert, and Hamish From "Brave"
For friends who love a good wig, this "Brave"-themed outfit is for you. We also love the addition of comfy and walkable Uggs.
11
Group Costumes For 3: Captain Hook, Peter Pan, and Tinkerbell
With the "Peter Pan & Wendy" movie out, it's the perfect time to dress up as a trio from the movie — or from any of the characters from any of the Peter Pan movies.
12
Group Costumes For 3: Haunted Mansion Characters
Play around with white face paint and spooky accessories for this character-based Halloween costume idea.
13
Group Costumes For 3: Cinderella, Drizella, and Anastasia
You can have fun really getting into character with this Halloween costume.
14
Group Costumes For 3: Cinderella, Princess Aurora, and Sleeping Beauty
Sometimes, you just want to wear a gorgeous ball gown. And this Halloween costume gives you the perfect reason to do so.
15
Group Costumes For 3: Flora, Fauna, and Merryweather From "Sleeping Beauty"
For fans of the original "Sleeping Beauty," these color-coded trio is a perfect costume that's not too hard to pull together.
16
Group Costumes For 3: Black Cats
This is a classic, and a great option if you're looking for a DIY Halloween costume for women. A black outfit and some cat ears, and you're good to go. Amp it up by using eyeliner to paint on whiskers and a cat nose.
17
Group Costumes For 3: Alice in Wonderland
There are so many costumes that can be inspired from "Alice In Wonderland," from Alice herself to the Cheshire Cat.
18
Group Costumes For 3: Mermaids
You can pick up generic mermaid tails, like the Fin Fun Fantasy Mermaid Tail ($46), or lean into a more "The Little Mermaid" themed trio costume by dressing up as Ariel, Ursula, and a fish.