My Wedding Cost Under $5,000 — Here's How We Did It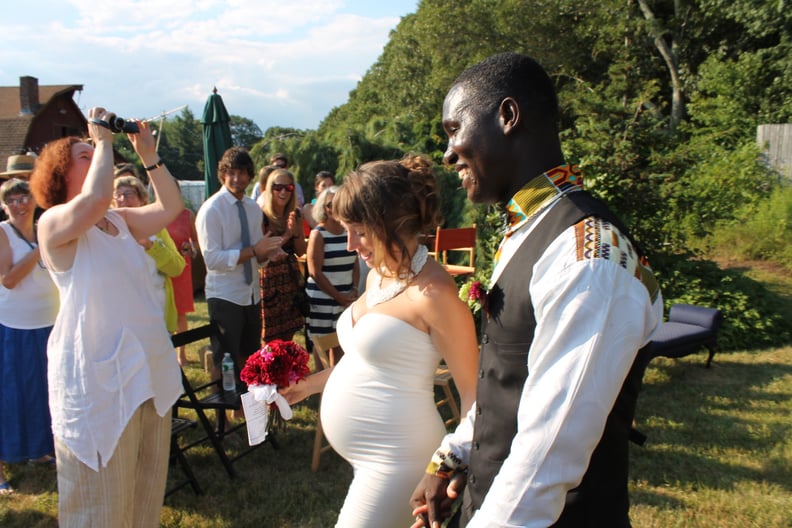 Jacquelene Amoquandoh
Jacquelene Amoquandoh
I've had a folder with clippings from wedding books and magazines since I can remember. As the daughter of two florists, growing up on a flower farm surrounded by weddings, I wanted the whole shebang . . . I thought. Until I grew, watching friends drown in wedding planning and not even enjoying the day because they were just so stressed and spent an absolute fortune — $10,000, $20,000, $30,000 — it just wasn't for me. I tend to compare every large purchase I make with where I could fly to and what epic vacation I could take for that kind of money, so even spending the small amount we did made me twitch.
My husband and I first married in a teeny-tiny chapel that only fit five; us, my mom and dad, and our minister. It was perfect. We read Ruth 1:16 to each other and cried tears of happiness. My mother, a talented floral designer, made me a beautiful halo and a bouquet that I tossed to her. My dad bought us a cake at a local grocery store that we cut in the trunk of his car. We spent the evening at a local spa drinking Champagne and swimming in the heated pool. Months later, we wanted to share our love with more of our friends and family but we still wanted it to be an intimate affair. It cost us a bit more than this first ceremony but we still managed to keep it cheap. I had two rules: I didn't want everyone working their butts off to DIY and I didn't want to spend more than $5,000. Here is how we did it.
1. We had it at our family farm.
OK, so you may not have a farm with lush green grass to hold your wedding, but I bet you have a friend or a family member or a friend of a friend of a family member who has a backyard that can be transformed. Pick a season with the least amount of rainfall and the best weather. Spend some money on carnival lights to create a canopy of light, dance barefoot on the grass (the best dance floor), and be grateful you saved a buttload on probably the most expensive wedding item: the location. My husband and I had an open-air wedding using standing umbrellas for shade, blankets for seating like a picnic, and, after an attempt to build a dance floor out of wood pallets, kicked off our shoes and danced in the grass.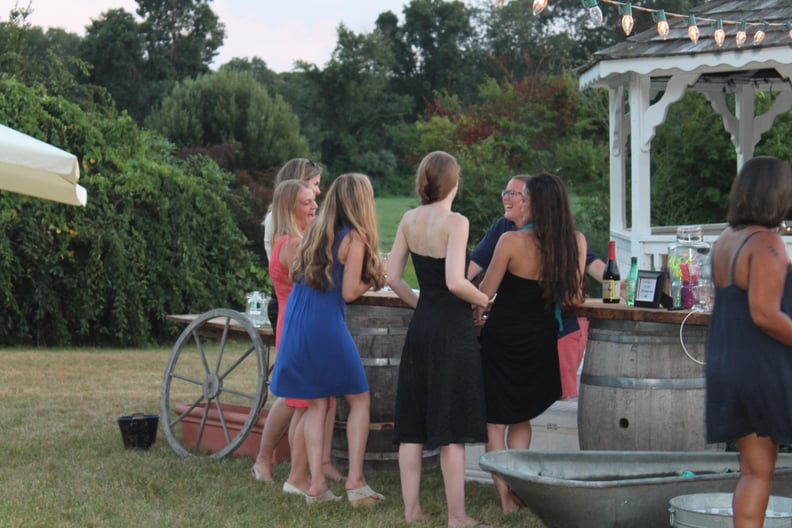 2. We got creative with dessert.
I would like to say that before doughnuts became the new cupcakes, I had doughnuts at my wedding. It wasn't to be trendy, honestly; it was cheap. And doughnuts are delicious. We bought about 80 doughnuts from a local bakery for our 40 guests (because duh, you double the doughnut-to-people ratio) and spent $40 on dessert! We had a family friend build a stand with wooden dowels to stack the doughnuts and they were the biggest hit! No need to spend a fortune on a cake that will sit in the freezer for 10 years until you throw it out.
3. We let Spotify spin our tunes.
So yeah, we had to ask my brother to make sure to monitor the music while we danced the night away, but it required only a few skipped songs and shuffles and cost us our free trial with Spotify. I spent months prewedding making a playlist that would have us dancing and laughing through the night. Most consisted of West African hip-life (my husband is from Ghana), and that music coupled with his killer dance moves had everyone on the floor — I mean, grass. There was a tiny hiccup as my friend played the wrong song for me to walk down the aisle, but I gave him a shout and he changed it up. Cool and casual.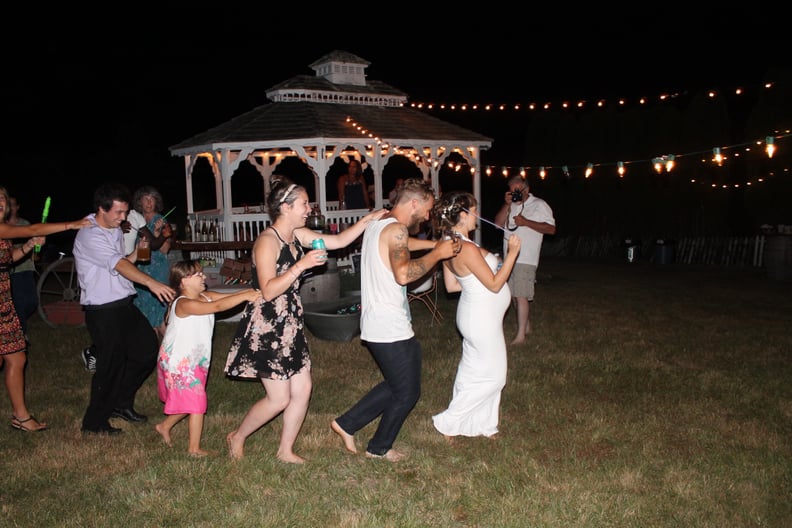 4. We kept the guest list down.
Fifty people. That was all I invited. It was hard for my husband to swallow this one as, in his culture, like ours, weddings are a huge celebration. Ours was surely a celebration, just more intimate. It was just more meaningful for me to keep it small. I got to see everyone and talk to everyone, and it kept all of the other costs down. The people I invited, nearest and dearest to me, were the people I knew wouldn't mind sitting on a blanket using a wooden wine box as a table, camping in a tent postwedding, and grabbing their own beer from our old antique bathtub-turned-cooler.
5. We focused our spending on what we found important.
Every one of you will want to focus your money in a different place. For some, maybe it is music and a DJ; for some, it is the bar; and others, the food. I wanted to be sure that my friends and family were enjoying themselves and not working their butts off, so we found a local caterer who could do a simple display of food and also provide three staff members to help clean, keep things moving, and man the food station. We had a kale salad, poached salmon, and a beautiful display of fruits, cheeses, and breads. We also ordered food from a Ghanaian restaurant so we could share my husband's culture. They delivered it and the staff we had on hand helped us out also. The key was that we only hired them for about two hours. Good food doesn't take long to devour.
6. Our friends were our photographers.
Selfies and hashtags all day. I made sure to have a few friends that were camera-savvy bring their cameras and asked them to focus in specific areas. It didn't give them too much to do; it was just a way to make sure the most important moments were captured. But honestly, some of my favorite photos are the candid moments caught on friends' phones. I do not regret not having spent two hours with a photographer while the rest of the party was . . . partying.
Your wedding day is a special day, but it doesn't have to be a stressful event to plan and it really doesn't have to cost you the same as a down-payment on a house. You can still have the day you dream of by thinking a bit out of the box and cutting costs in some places, focusing it on others. Another key ingredient is to try and listen to yourself and not what everyone else thinks you need and should have at your wedding. You do you! Congrats!