Issa Rae and Louis Diame's Wedding in the South of France Was So Stunning, We're Taking Notes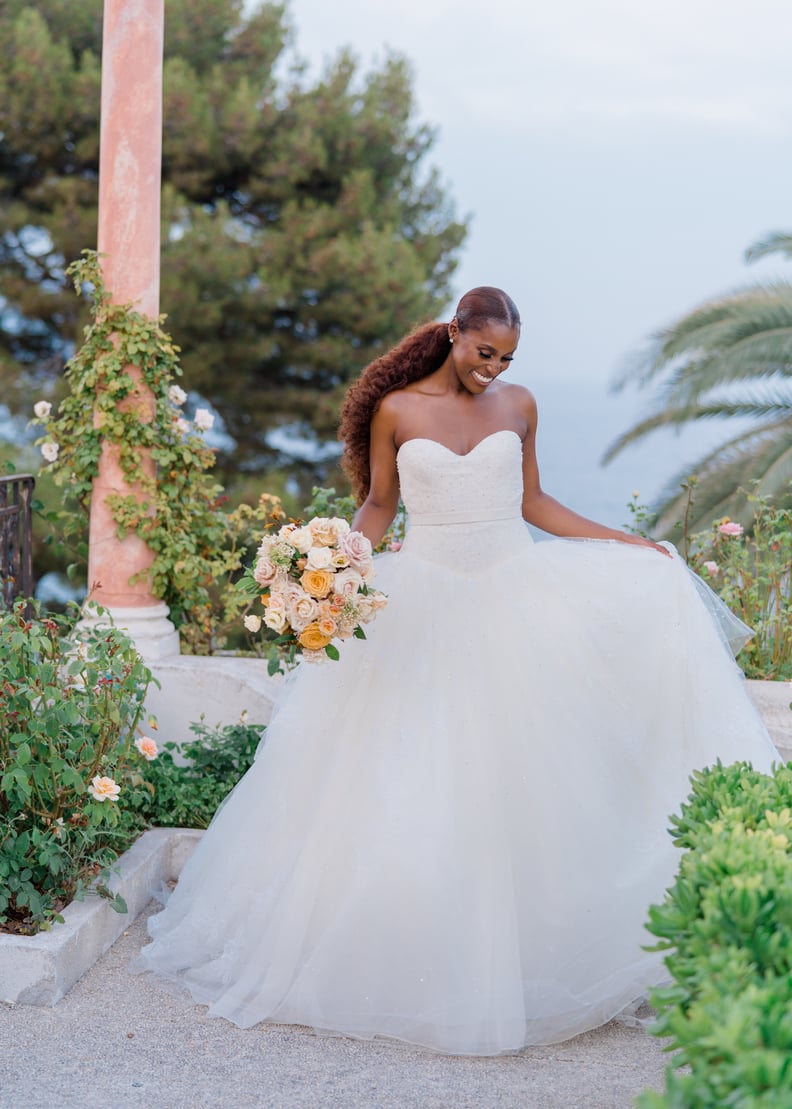 Lauren Fair
While Insecure writer, producer, and star Issa Rae is known to be hush-hush about her personal life, her lavish wedding in the South of France to banking professional Louis Diame certainly caught our eye. The actress stunned in not one but two custom Vera Wang Haute numbers, and her mirrored platform shoes and tulle skirt were a combination out of a fairy tale. Long-time partner Louis Diame also put his most fashionable foot forward, wearing a luxe red Dolce & Gabbana suit with a jacquard lapel and a bow tie — you see what we mean when we say the couple's wedding caught our attention?
To no surprise, Rae has kept further details about her big day under wraps, but the few pictures we've seen of her "impromptu wedding shoot" were enough to get us talking — just look at their venue! The Villa Ephrussi de Rothschild is a breathtaking seaside villa located at Saint-Jean-Cap-Ferrat on the French Riviera, and it's the ultimate dream wedding location. Take a little inspiration from the triple threat herself and have a look at Rae and Diame's gorgeous wedding day, ahead.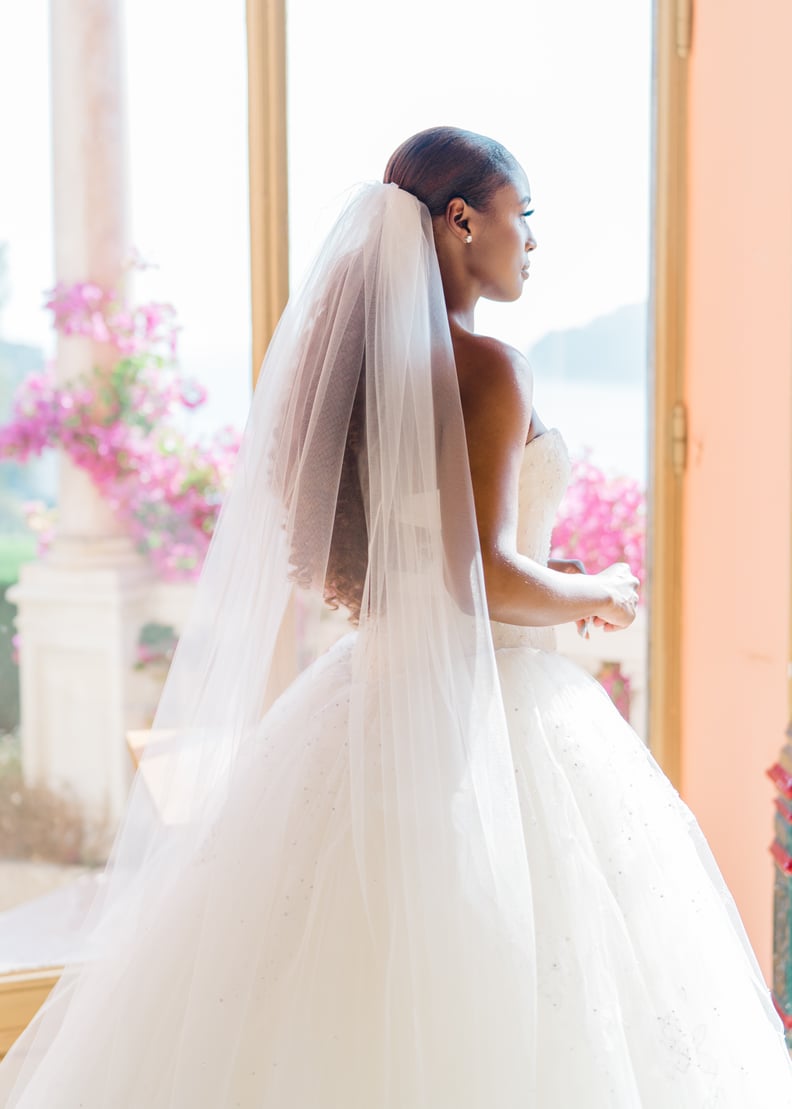 Try Out a Chapel-Length Veil
Issa Rae showed off a three-foot long chapel-length wedding veil, which was perfect for her Cinderella-esque dress and formal venue. Sometimes you just need to channel your inner princess!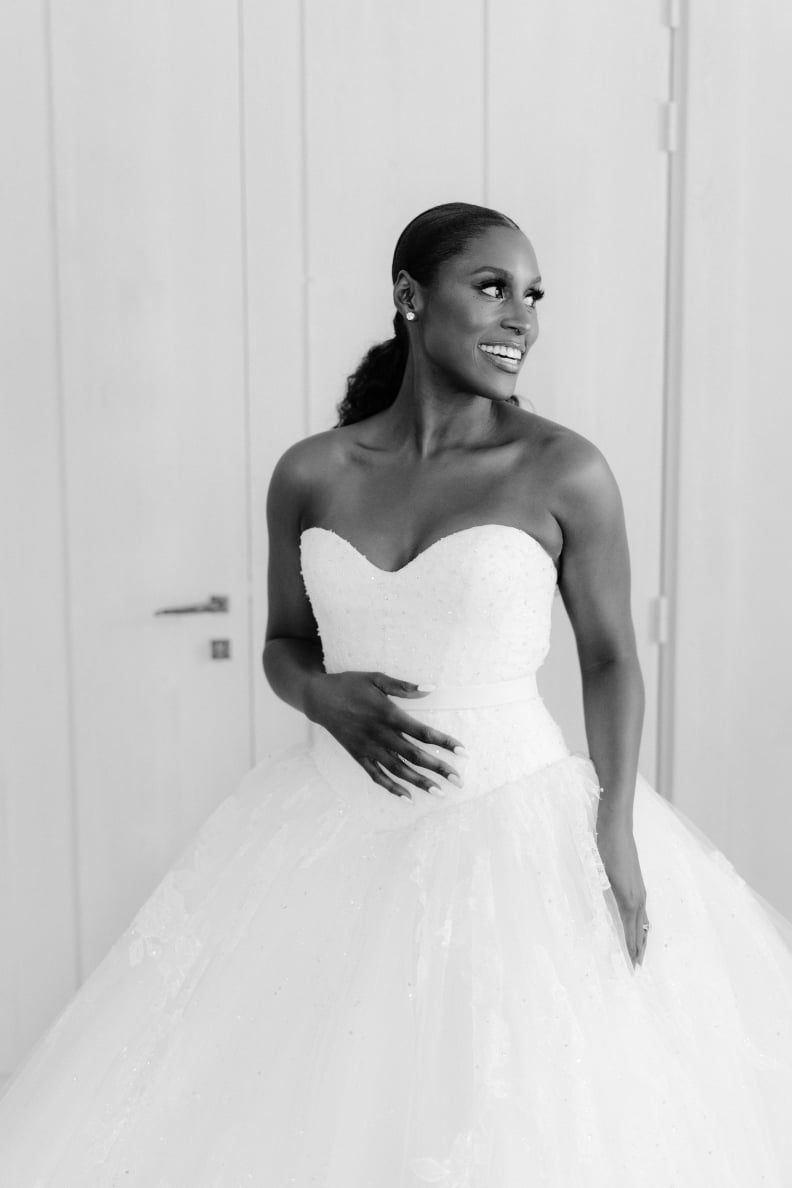 When It Comes to the Dress, It's All in the Details
Rae wowed in a custom Vera Wang Haute wedding gown with a sweetheart neckline and hand-sewn crystals across the Chantilly lace bodice. Even a classic shape can pack a punch with the right details.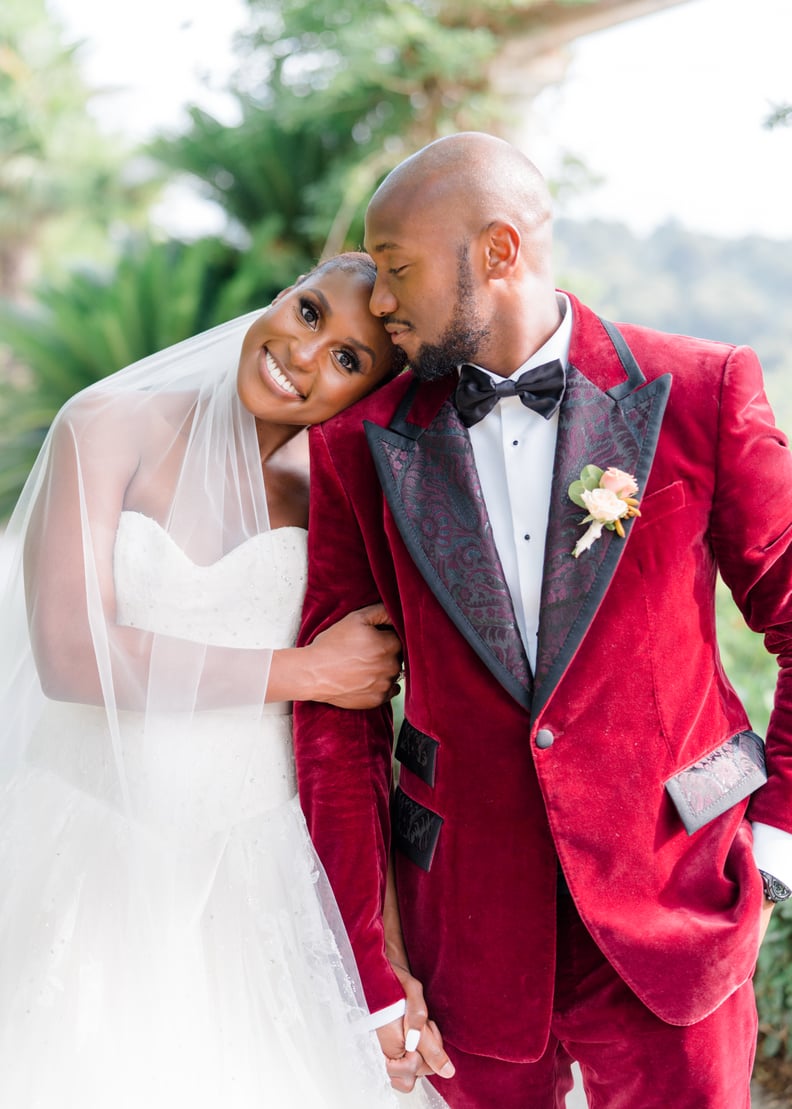 Don't Be Afraid to Make Bold Fashion Moves
Rae's husband made a fashion statement in a vibrant red Dolce & Gabbana suit, which is so much cooler than a traditional black tux. This is a fun way to incorporate bold color in your wedding.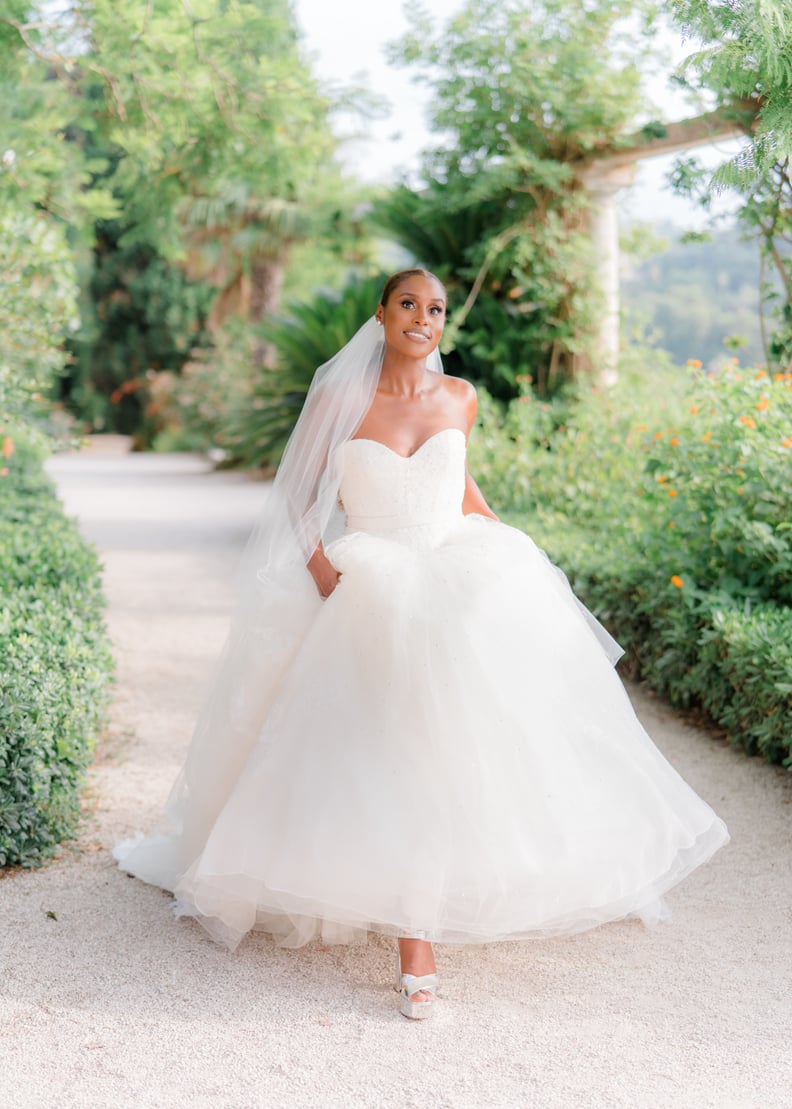 The Shoes Are Everything
Rae rocked mirrored platform shoes that made her look like a modern-day princess among the breathtaking French countryside. A little glam can go a long way!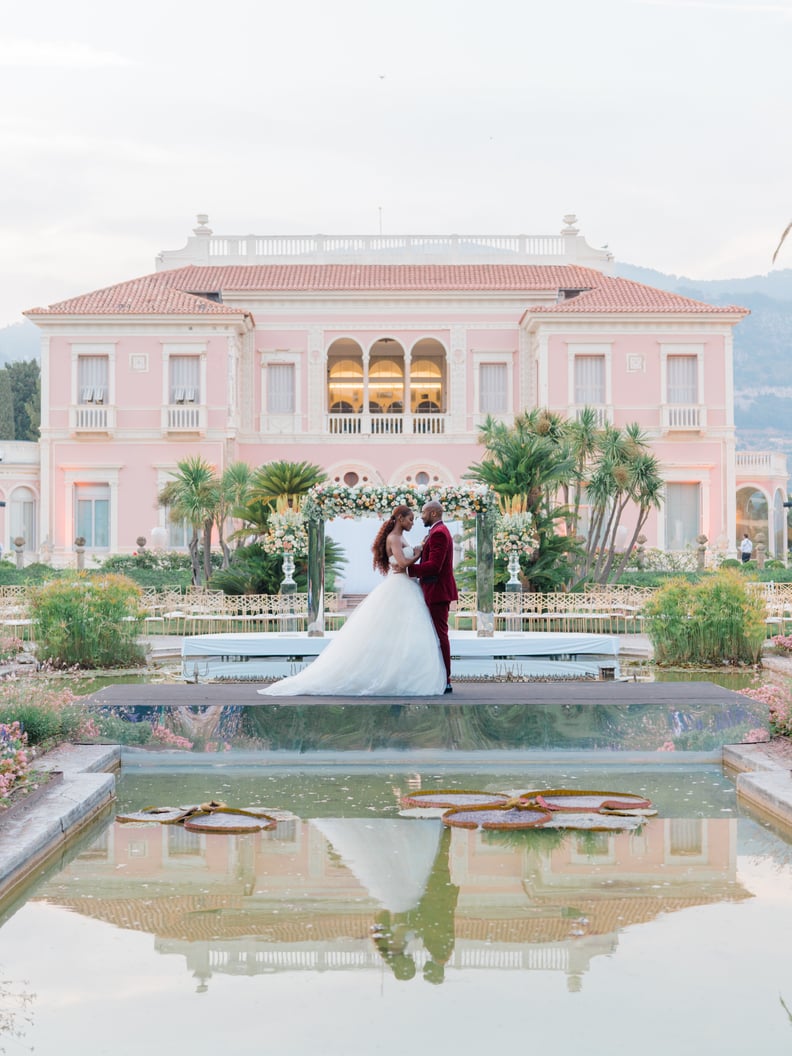 Find Your Fairytale Destination
Rae and Diame's wedding in the South of France was extravagant and charming at the same time. The setting included vast mountains, a lush green landscape, candy-colored buildings, and even a gorgeous pool!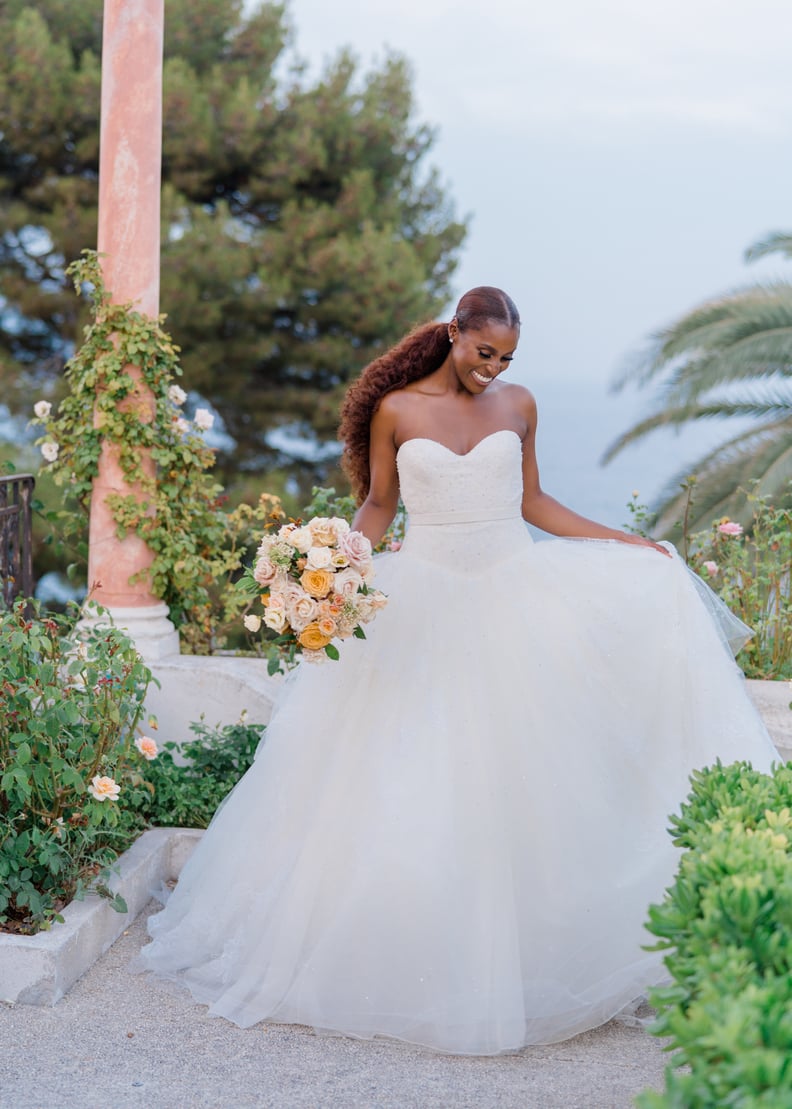 A Bouquet of Roses Can Be Both Timeless and Fresh
Rae's bouquet was filled with peach- and yellow-hued roses in varying sizes, adding a subtle pop of color to her stunning ball-gown look. The mix of roses give this bouquet a much more modern feel than a standard bouquet of cookie-cutter roses.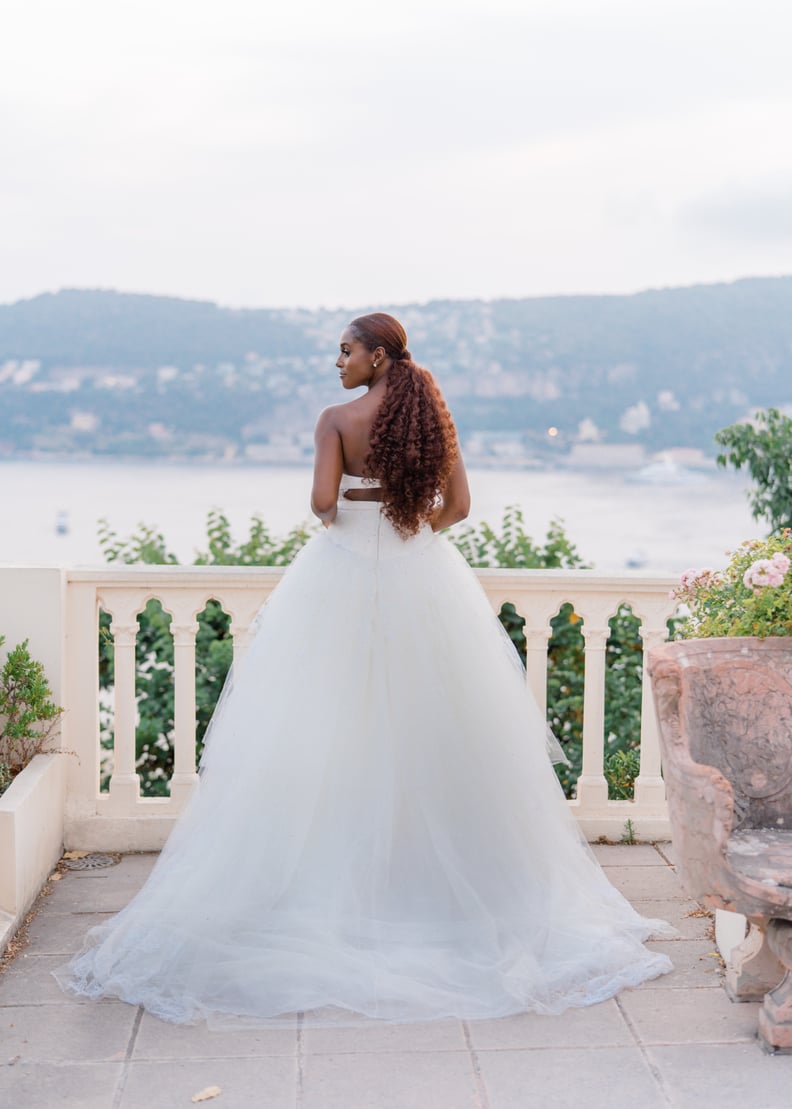 Find an Unexpected Way to Make Your Look "You"
As Rae stands overlooking the French Riviera, you can notice the modern cutout in the back of her dress. It's a design detail popular among 2021 brides, and definitely helps to offset the feminine appeal of a princess ball gown. And how about that low ponytail? Magnifique!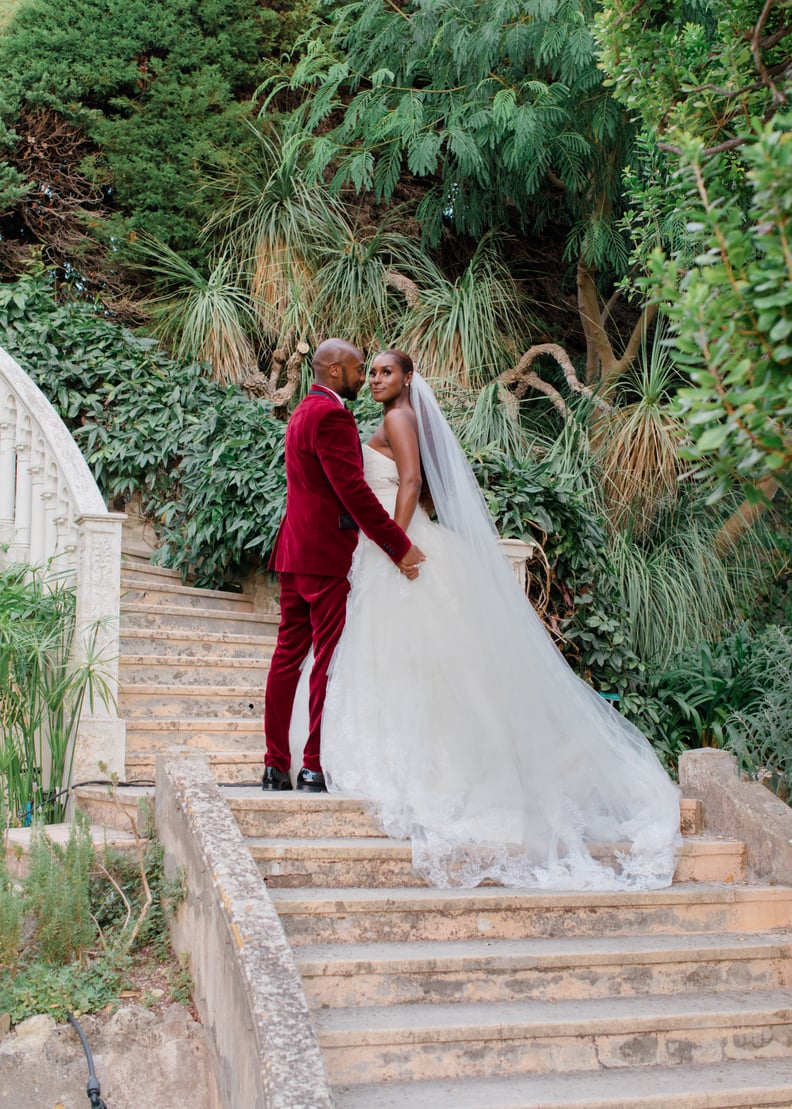 Utilize the Lush Greens of Nature in Your Color Scheme
The shades of greenery at Rae and Diame's venue elevates the pair's gorgeous wedding photos, making their red and white attire pop. It's also a stunning backdrop to the subtle, pastel color scheme of their florals and bridesmaid dresses.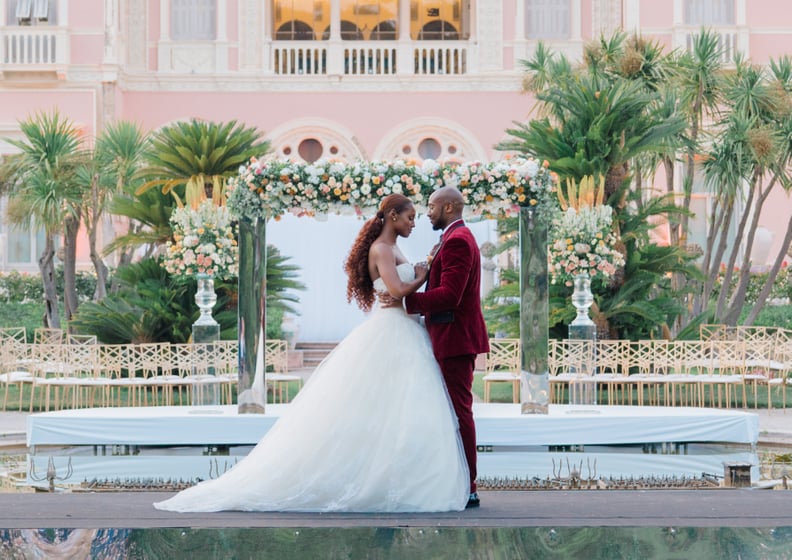 Don't Let Your Decor Compete With Your Setting
Rae and Diame's ceremony setup perfectly complemented their venue without taking away from its natural beauty and ornate architecture. The mirrored wedding arch is not only a sleek twist on tradition, it literally reflects the beauty surrounding it.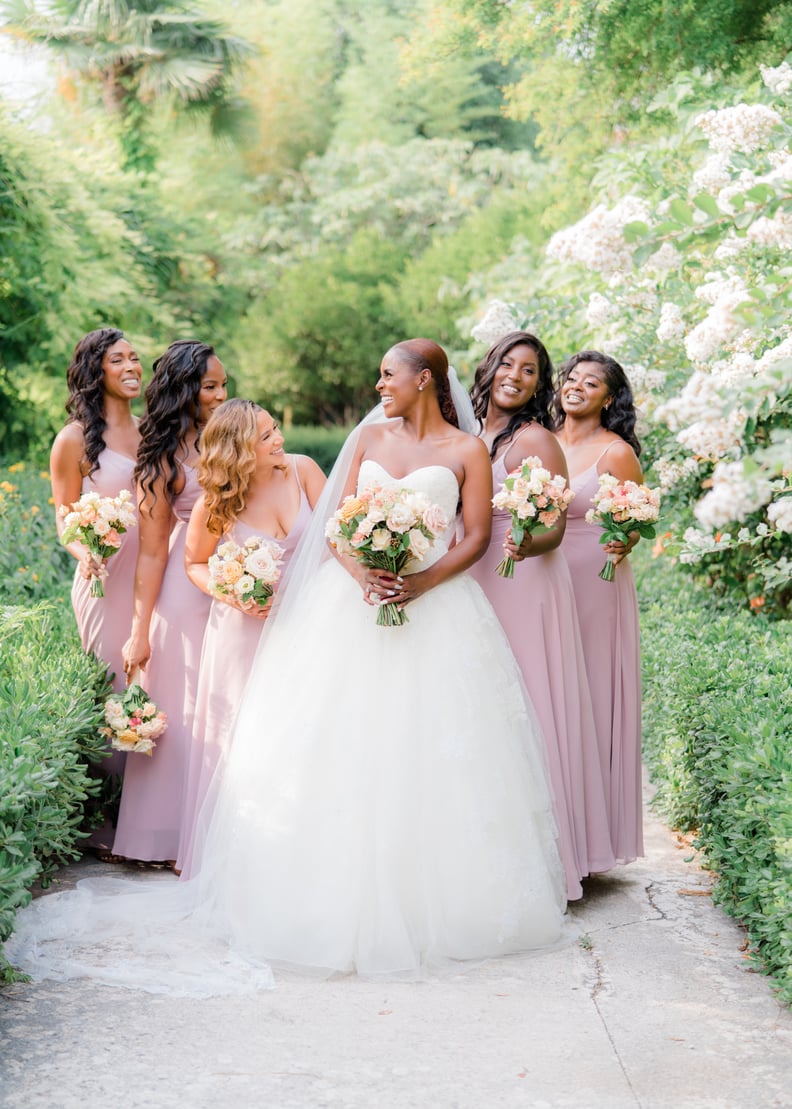 Give Your Bridesmaids a Dress They'll Feel (and Look) Good In
Rae went with pale pink dresses for her bridesmaids, in a simple (yet sexy) silhouette. Your bridesmaids don't want to be constricted in a stuffy gown on the dance floor — give them something they'll feel hot in!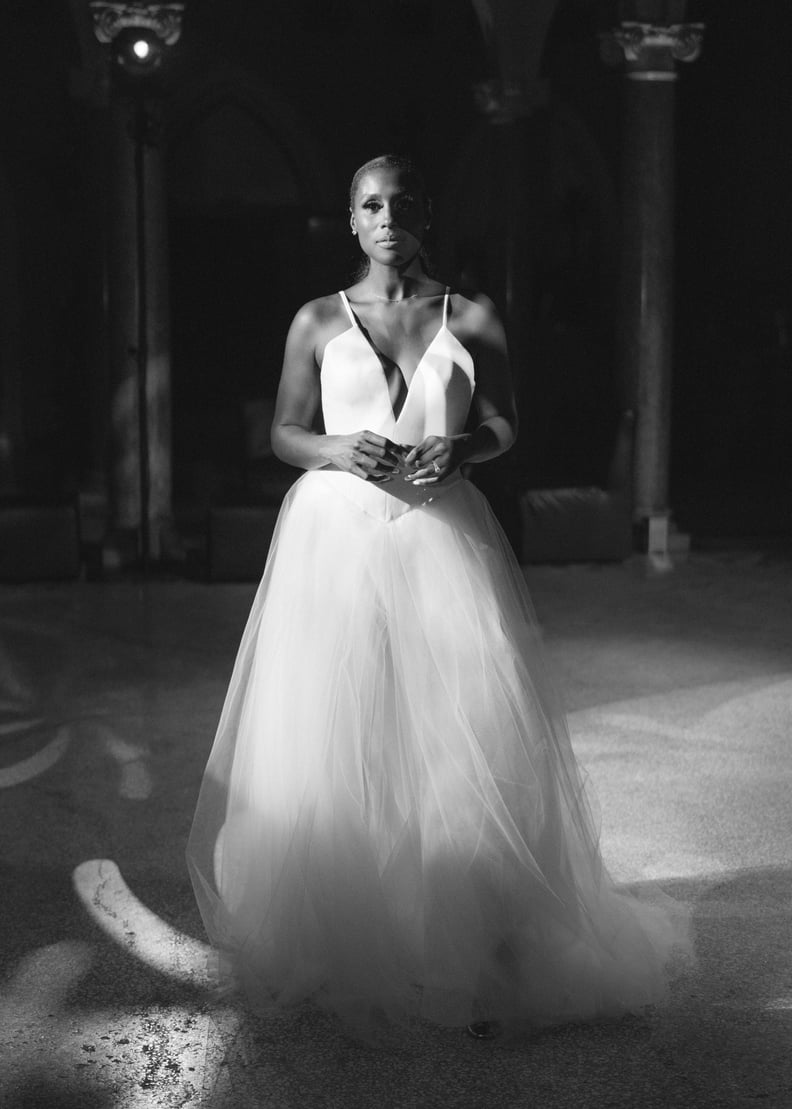 Add a Surprise Finale
Rae changed into another custom Vera Wang Haute stunner for the reception. The plunging neckline and layered tulle skirt give this a sexy, party-ready vibe.