Sexting Examples and Sexting Ideas
11 Women Share the Hottest Sexts They've Ever Received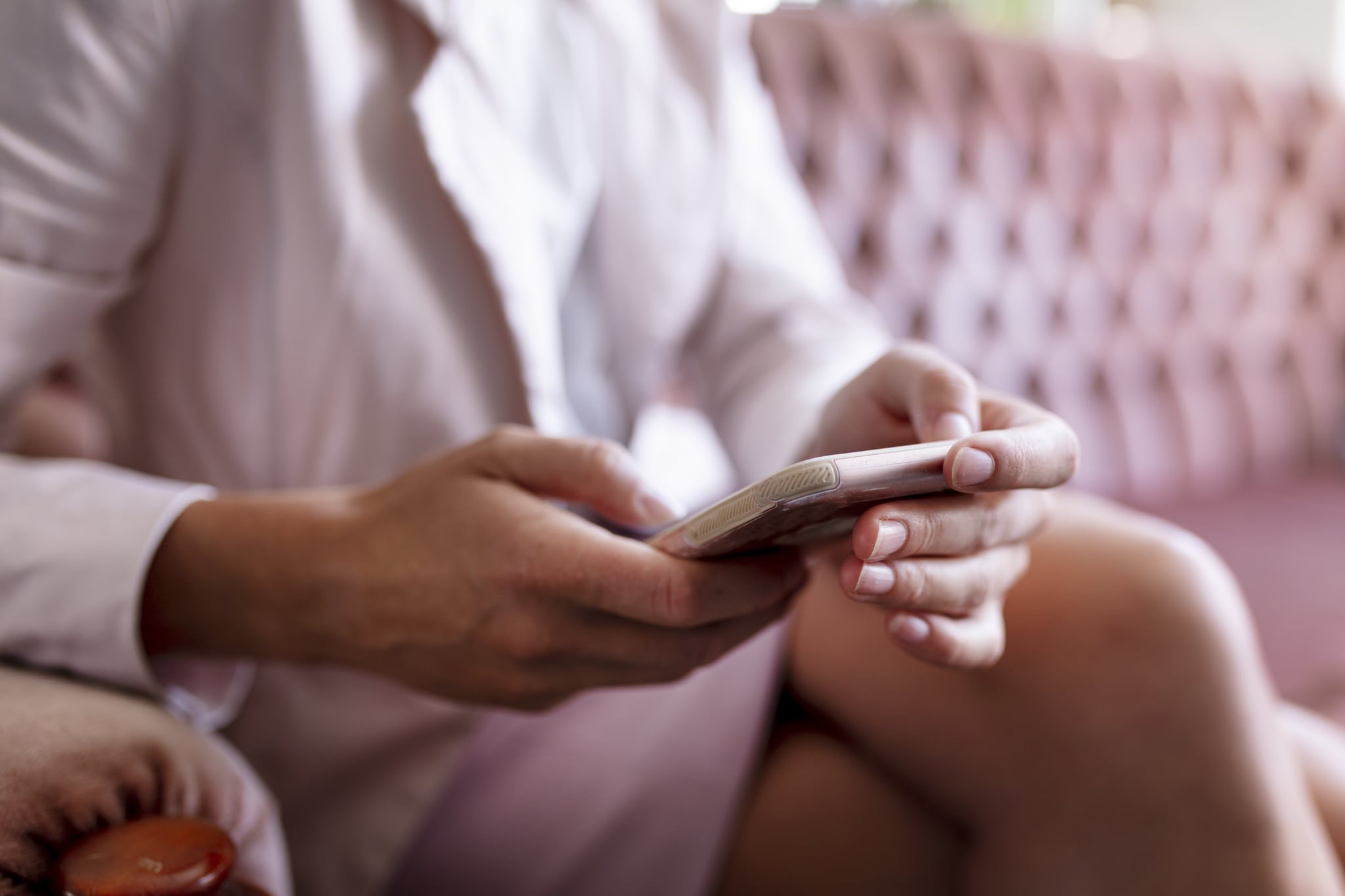 Sexting is one of the hottest, most accessible ways to connect with someone. Not only can you use it as a form of foreplay prior to having sex, but you can also use it to introduce the idea of new fantasies and sex positions with your partner. Plus, sexting doesn't discriminate; it's for everyone, regardless of someone's sexual orientation or relationship status.
While deciding you want to sext is the fun part, knowing how to sext isn't so simple. Especially when it comes to sexting a new partner or someone you haven't had sex with, since you don't know what they're into or what type of sex they enjoy.
First things first: no matter who you're sexting, the most important thing to establish before you start is consent. This means you should refrain from sending unsolicited nude photos or messages without the other person agreeing beforehand.
Once consent is established, you can start crafting your sexts. And though that part may sound intimidating, know that there's no right or wrong way to sext. So long as you and your partner feel comfortable with how the conversation escalates, that's what is important.
If you need some inspiration though, we've got you. Below, you'll find real sexting examples between consenting adults. Feel free to copy and paste as you see fit for your own conversations — we won't tell.
Sexting Example 1: Go Into Detail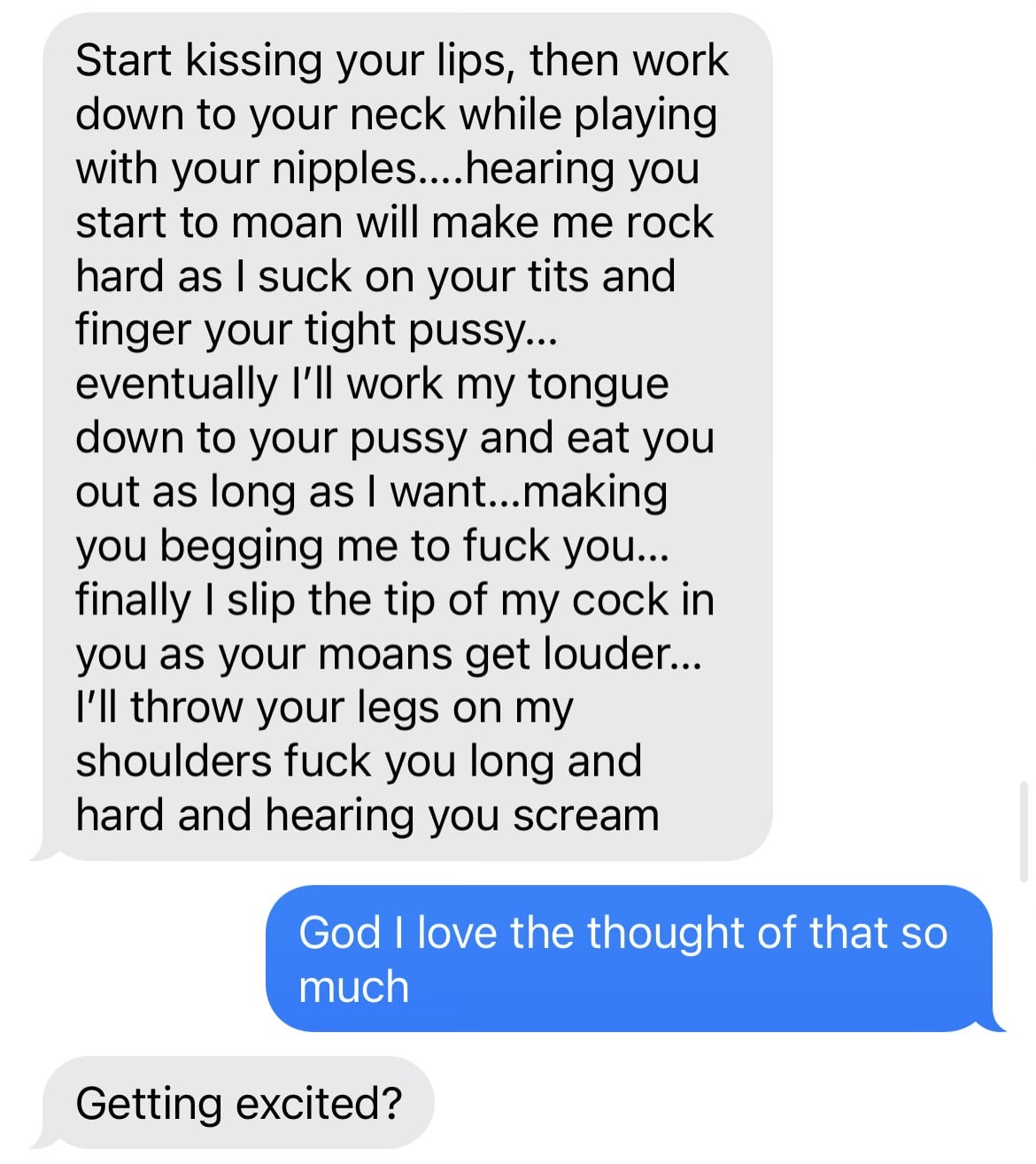 Some people prefer to send short quick sentences while sexting, others prefer long paragraphs that feel like you're reading an erotic novel. If you prefer the latter, this example is great.
Partner 1: Start kissing your lips, then work down to your neck while playing with your nipples...hearing you start to moan will make me rock hard as I suck on your tits and finger your tight p*ssy... eventually I'll work my tongue down to your p*ssy and eat you out as long as I want...making you begging me to f*ck you...finally I slip the tip of my c*ck in you as your moans get louder...I'll throw your legs on my shoulders fuck you long and hard and hearing you scream.
Partner 2: God I love the thought of that so much.
Partner 1: Getting excited?
Sexting Example 2: Ask for Consent
This example shows how to check-in with your partner throughout your sexting conversation to make sure everything is OK. All it takes is a "Should I keep going?" to ask for consent.
Partner 1: Well when I woke up from my nap earlier, I was thinking about kissing you nice and slow...moving down to your neck...and then your perfect nipples...down to your navel...and slowly further down...rubbing my tongue up and down and side to side around your clit.
Partner 1: Hope that isn't too much...
Partner 2: Nope not at all.
Partner 2: I'm horny. 🙃
Partner 2: Perfect nipples? You can't be thinking about me then lol.
Partner 1: I love your nipples.
Partner 1: Should I stop or keep going? Ha.
Partner 2: Oh by all means please continue.
Partner 1: Then I'm gonna flip you over and do the same thing to your ass with my tongue...
Sexting Example 3: Suggest a Fantasy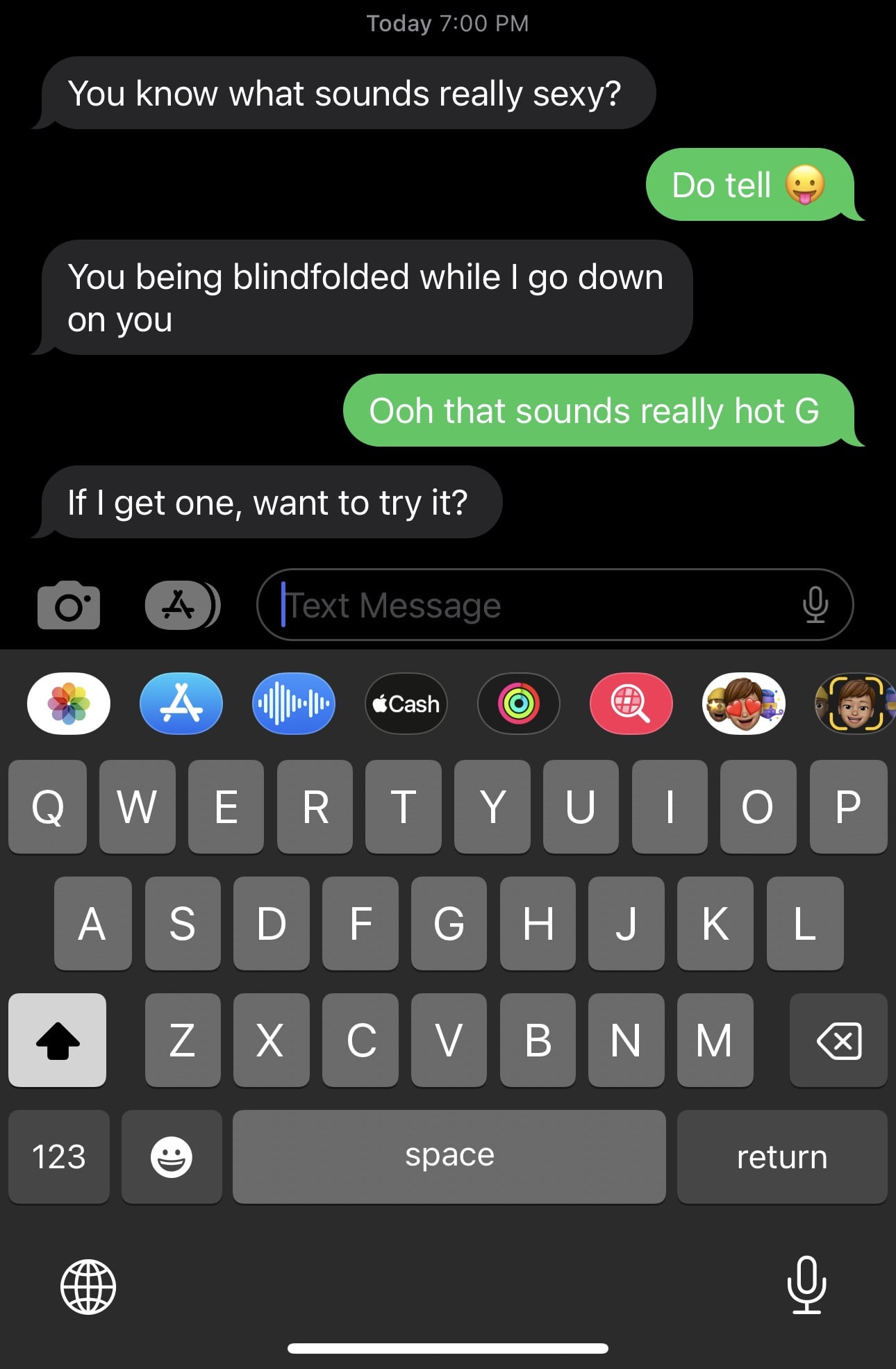 Sexting is a great opportunity to introduce a new fantasy. The following conversation gives a great example on how you can use sexting to see if your partner would be into it or not.
Partner 1: You know what sounds really sexy?
Partner 2: Do tell. 😛
Partner 1: You being blindfolded while I go down on you.
Partner 2: Ooh that sounds really hot.
Partner 1: If I get one, want to try it?
Sexting Example 4: Get Descriptive
This horny description is an example of the easiest way to sext; just describe what you would want to do to the person if they happened to be in the same room as you. (Note: the below sexts are inspired by a real conversation.)

Partner 1: I'd love to bend you over 😍 I want you to feel every inch of me as I rub your clit.
Partner 2: That sounds incredible baby.
Partner 1: I wish you could feel me inside of you. I want you to ask me for more. 🙈
Partner 2: I'm so turned on thinking about that. 😩
Partner 2: I want you in my mouth.
Partner 1: I wish I could see you masturbating.
Sexting Example 5: Make Your Intentions Clear
If you want to see your partner in something special during sex, bringing it up during your sexting session is a pretty low-stakes way to gauge how they would feel about it. (Note: the below sexts are inspired by a real conversation.)
Partner 1: Wow, you made me lose my breath.
Partner 2: I can't wait to see you again. Are you going to wear something sexy the next time I see you?
Partner 1: Yes, I have a lot of lingerie at home that I'd love to wear for you.
Partner 2: I bet you look so stunning in it. Can't wait to see it.
Sexting Example 6: Keep It Simple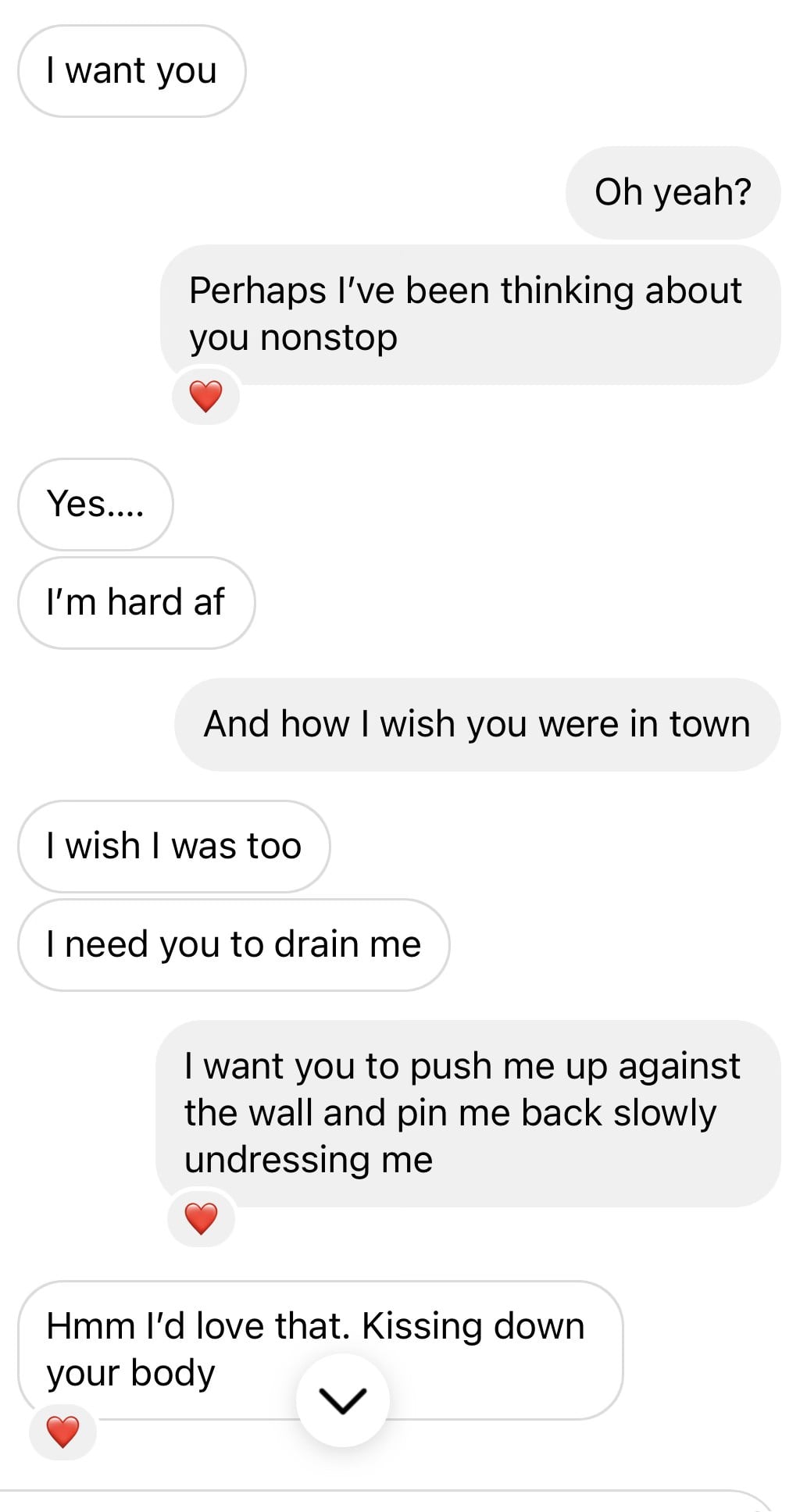 If you find yourself unsure of what to say, sometimes starting with an easy "I want you" goes a long way and gets the point across.
Partner 1: I want you.
Partner 2: Oh yeah?
Partner 2: Perhaps I've been thinking about you nonstop.
Partner 1: Yes...
Partner 1: I'm hard af.
Partner 2: And how I wish you were in town.
Partner 1: I wish I was too.
Partner 1: I need you to drain me.
Partner 2: I want you to push me up against the wall and pin me back slowly undressing me.
Partner 1: Hmm I'd love that. Kissing down your body.
Sexting Example 7: Be Explicit
Here is yet another session of two consenting adults going back and forth on what they'd like to sexily do to each other with lots, and lots, and lots of description. The more horny details, the better.
Partner 1: After I finish tasting you...I'm going to slowly make my way back up to your lips...and tease the outside of your tight wet p*ssy with the head of my c*ck..until you can't stand it anymore and grab my hips to thrust me deep inside you...
Partner 2: Mmm yes please.
Partner 2: I want you to tease me so much I'm dripping wet in anticipation waiting to have you fill me up so deep pounding me hard while I moan as you go inside me.
Partner 1: I can't wait to fill you up with so much of my warm cum that I've been saving up for you.
Sexting Example 8: Check-In With Your Partner
For a different way to sext, instead of describing what you'd want to do to your partner, you can check in with them after a sexual experience, as seen here. Use the time to ask them what they liked about the experience, and what they would want to continue doing.
Partner 1: How're you feeling after last night baby?
Partner 2: I had so much fun devouring your p*ssy. You're everything.
Partner 1: I can't stop thinking about it.
Partner 1: What was your favorite part?
Partner 2: Hearing you moan when I had you in doggy. So ducking hot.
Partner 2: F*cking lol.
Partner 1: Yeah? You liked that baby?
Sexting Example 9: Get a Temperature Check
Sexting is a great place to introduce some of your kinks. If you happen to be into something kinky (like, say, wanting yourself or your partner to be naked all day), telling your partner about it will help you gauge their interest.
Partner 1: God the pre cum is so hot.
Partner 2: Well you have me very turned on.
Partner 1: Oh yeah?
Partner 1: How bad do you want me?
Partner 2: I want you so fucking badly. I just want to have you in any way I want.
Partner 2: Make you stay naked all day for me to use whenever I want.
Partner 1: Oh fuck yes.
Partner 1: I want multiple rounds all day long.
Partner 2: Ask and ye shall receive.
Sexting Example 10: Lead Your Partner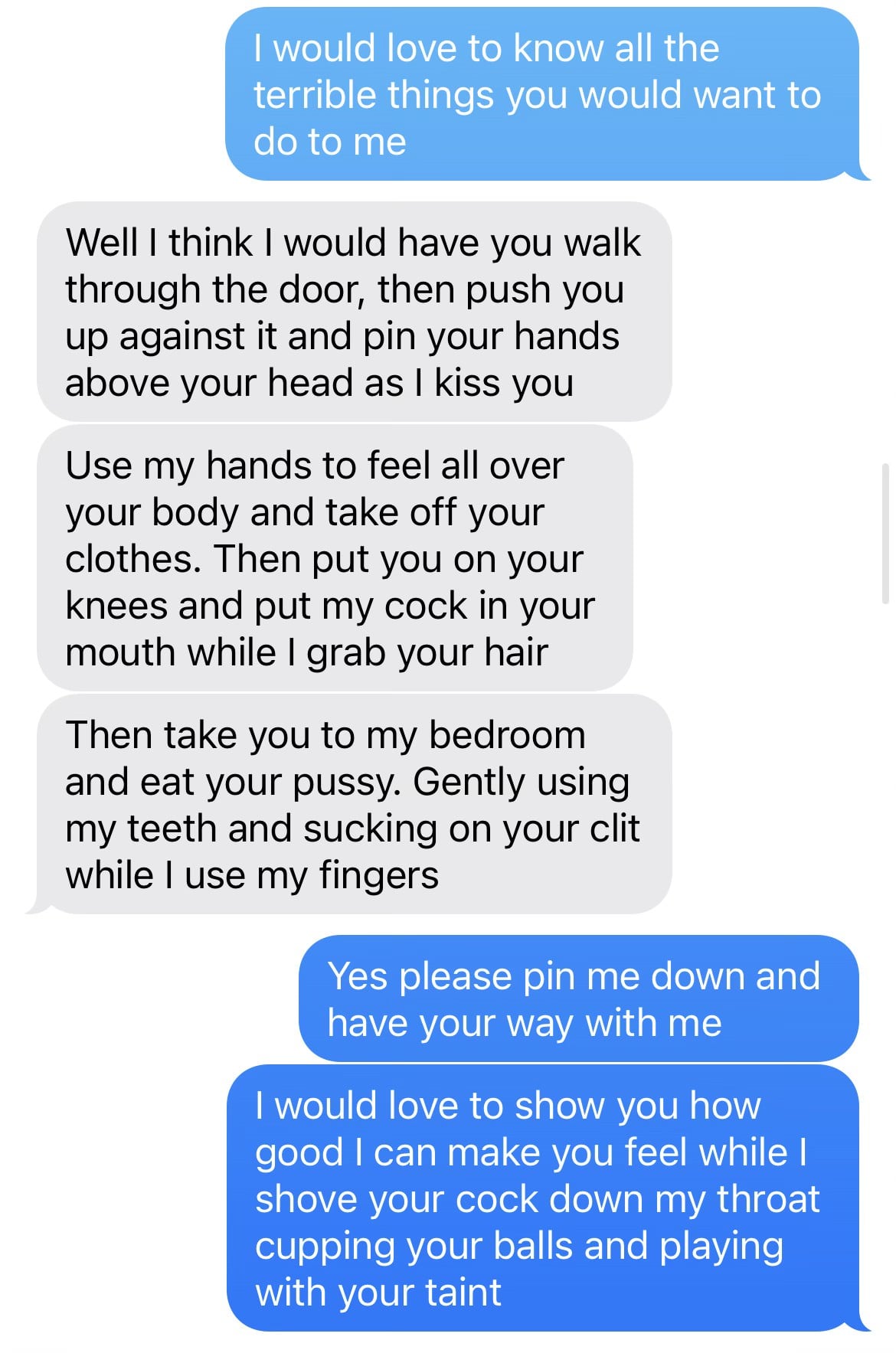 If you're still unsure how to sext, a great way to get the conversation rolling is by prompting your partner. Just as this sexter did, say something like, "What would you want to do to me right now if we were in the same room?"
Partner 1: I would love to know all the terrible things you would want to do to me.
Partner 2: Well I think I would have you walk through the door, then push you up against it and pin your hands above your head as I kiss you.
Partner 2: Use my hands to feel all over your body and take off your clothes. Then put you on your knees and put my c*ck in your mouth while I grab your hair.
Partner 2: Then take you to my bedroom and eat your p*ssy. Gently using my teeth and sucking on your clit while I use my fingers.
Partner 1: Yes please pin me down and have your way with me.
Partner 1: I would love to show you how good I can make you feel while I shove your c*ck down my throat cupping your balls and playing with your taint.
Sexting Example 11: Set the Expectation
You can also use your sexting session to set the expectation for the next time you see each other. If the expectation is that you two will go multiple rounds with each other, then by all means, let them know.
Partner 1: I want to have you in every position. Slow and fast and deep.
Partner 2: I will spread my legs so wide for you.
Partner 2: I want you multiple times as much as possible, have you out of breath.
Partner 1: I wish I had my face in between your legs right now.
Partner 2: You would be tasting my sweet cum right now.
Partner 1: I hope your fingers are in your p*ssy right now.
Partner 1: Where do you want me to cum?
Partner 2: All over my big tits.
Partner 1: And if you were here right now you could feel how hard I am right now.