Michael Jordan's Statement on Trump Response to Steph Curry
Michael Jordan Doesn't Believe Anyone Who Protests Should Be "Demonized or Ostracized"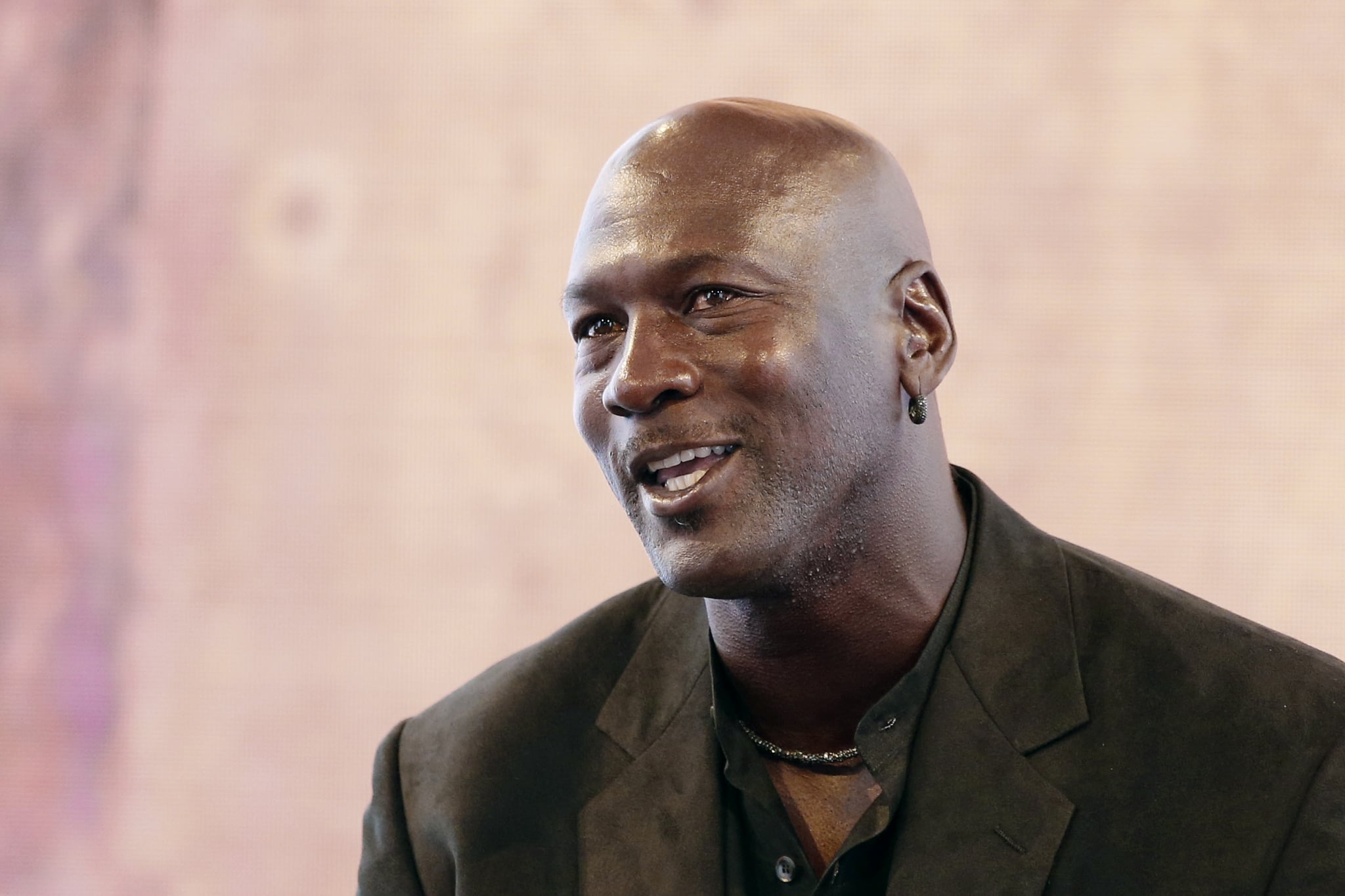 President Donald Trump has unintentionally started a movement to defend sports players and their rights to protest and freedom of speech. During a rally on Sept. 22, the president indirectly spoke out against former San Francisco 49ers quarterback Colin Kaepernick (and other players) for taking a knee during the national anthem, calling him a "son of a b*tch." Trump then doubled down on that sentiment in two different tweets on Sept. 23. And in classic Trump style, the president isn't only fighting with NFL players; he's also under fire for withdrawing the Golden State Warriors' invitation to the White House. This came after the team's star player, Stephen Curry, said he would not visit the White House.
Trump's moves have elicited a vast response from sports players, with many football players taking a knee during games on Sept. 24 and others locking arms in defiance. The latest person to issue a statement includes former NBA player and current Charlotte Hornets owner Michael Jordan, who stated that Trump's comments "create more division" and that those who protest "should not be demonized or ostracized."
Jordan, who's previously spoken about other social issues — such as the shooting of Keith Lamont Scott in 2016 — issued the concise statement to The Charlotte Observer on Sept. 24. It said:

One of the fundamental rights this country is founded on was freedom of speech, and we have a long tradition of nonviolent, peaceful protest. Those who exercise the right to peacefully express themselves should not be demonized or ostracized. At a time of increasing divisiveness and hate in this country, we should be looking for ways to work together and support each other and not create more division. I support Commissioner Adam Silver, the NBA, its players and all those who wish to exercise their right to free speech.
The former NBA player's comments echo NBA Commissioner Adam Silver's statement on Sept. 23. Silver expressed his disappointment that the Golden State Warriors wouldn't visit the White House. However, Silver said he was proud of NBA players "for taking an active role in their communities and continuing to speak out on critically important issues." The commissioner is not alone; several NBA players, including Cleveland Cavaliers player LeBron James, spoke out about Trump's tweet to withdraw the Warriors' invitation. Ayesha Curry, Stephen Curry's wife, also used the moment to ask people to donate to Mexico earthquake relief funds.
Trump, on the other hand, is now trying to twist Kaepernick's original message of taking a knee, which was a response to the mistreatment of minorities in 2016. The president is now peddling a narrative that taking a knee is a form of disrespect to the flag and the country's soldiers and veterans who fight for this country.
The issue of kneeling has nothing to do with race. It is about respect for our Country, Flag and National Anthem. NFL must respect this!

— Donald J. Trump (@realDonaldTrump) September 25, 2017
September 25, 2017
Instead of focusing his efforts on life-and death issues that require the immediate attention of our commander-in-chief, like the humanitarian crisis occurring in Puerto Rico, a US territory, the president is choosing to continue his tirade against the NFL and people who are simply exercising their American right to protest.