Puerto Rico Blackout April 2018
Over 6 Months After Hurricane Maria, Once Again, All of Puerto Rico Is Without Power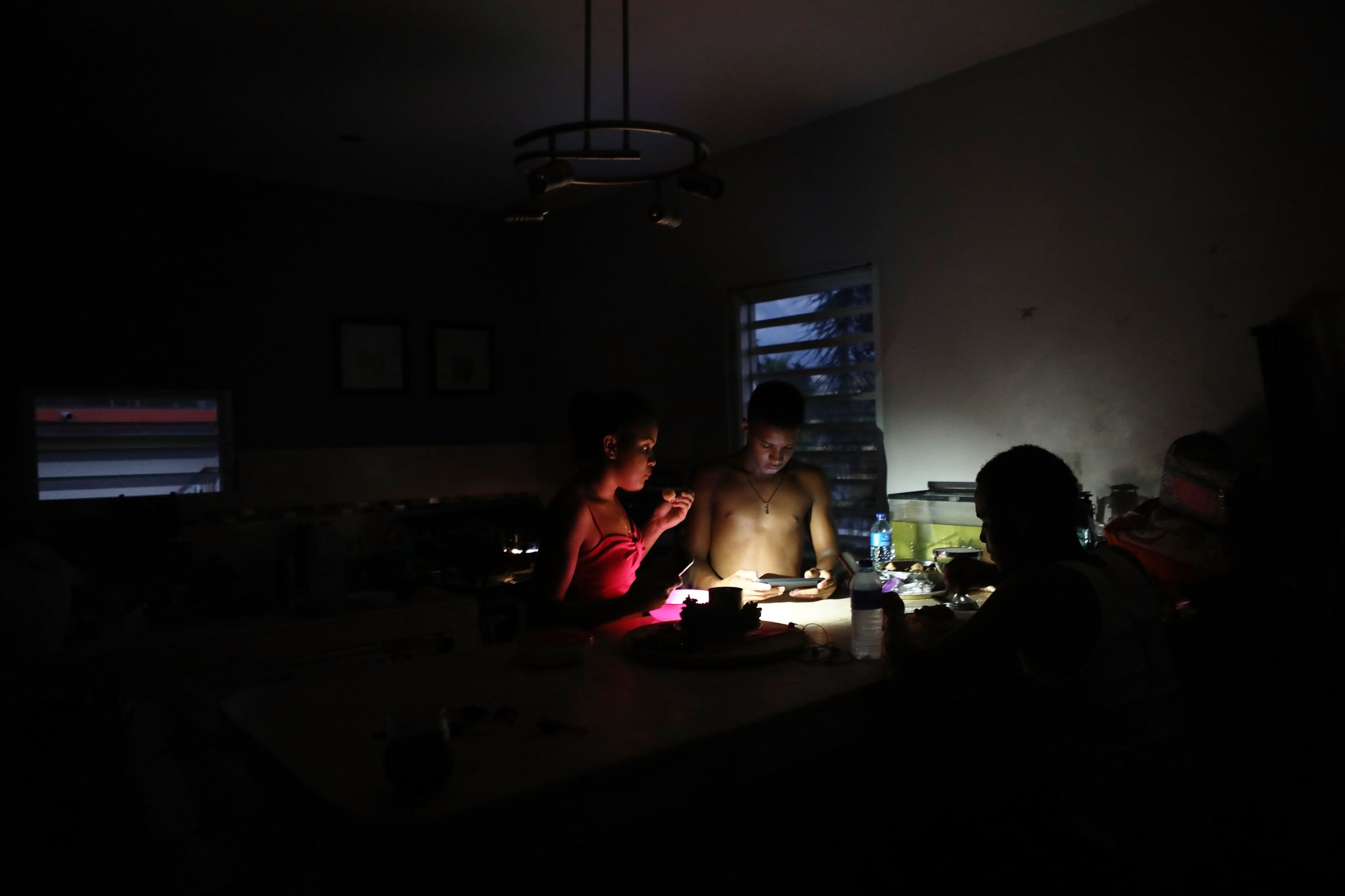 Puerto Rico is currently without power. Again.
As the over 3 million residents of the island try to understand just how it is that this situation unfolded, officials have announced that the island could be without energy for 24 to 36 hours. This outage comes days after an outage occurred on April 12 following a downed tree hitting a power line, knocking out service to nearly a third of the island and illustrating how fragile its power system is.
The problem of electricity is one of the biggest examples of the country's helplessness in the aftermath of Hurricane Maria. As San Juan Mayor Carmen Cruz noted on Twitter on April 18, the collapse of the electrical system brings the island "back to September 20th," the day the devastating storm hit.
The entire electrical system in Puerto Rico collapses AGAIN! Back to September 20th. @DavidBegnaud @leylasantiago @maddow @stephencolbertr

— Carmen Yulín Cruz (@CarmenYulinCruz) April 18, 2018
The current blackout adds to more than 3.4 billion hours of electricity lost on the island. The outage is the worst in US history, and the second worst worldwide after the Philippines's loss of 6.1 billion hours in 2013 following Typhoon Haiyan. Energy issues on the island play into an ongoing, extended saga of fixing island power that includes dramatic turns such as local companies going bankrupt and a tiny Montana-based company somehow winning a bid to handle recovery.
After over half a year since the disaster, the Caribbean country and American commonwealth has been beset by issues related to a lack of aid. Some residents are traveling 12 hours for treatments like dialysis while others in remote parts of the island are sleeping in classrooms until aid arrives, resulting in closed schools and stalled lives. Due to the stagnating recovery of health care, a stable death toll has been impossible to tally but is estimated to be more than a thousand.
The country has recently received $18.5 billion for recovery efforts from the Department of Housing and Urban Development — the largest disaster recovery grant from the department, a sum that could be used openly to assist in areas from infrastructure to housing — but the crisis in Puerto Rico has been seen as largely ignored by President Donald Trump, who spent more of his attention on Texas's recovery in light of Hurricane Harvey. As Mayor Cruz has said in recent appearances, Trump has "turned his back on the Puerto Rican people."
Although beset with issues, Puerto Rico has time and again continued to show abundant resilience in the face of ongoing turmoil. For an example of this, look no further than Puerto Rican baseball, a sport striving to keep life on the island normal. The sport has been such a ray of light that, despite wide blackouts, games will continue in the capital. As Mayor Cruz says, "Nothing will stop us."