Roy Moore Spokesperson Anderson Cooper Interview
To Understand America's Broken Psyche, Just Look to Roy Moore's Spokesperson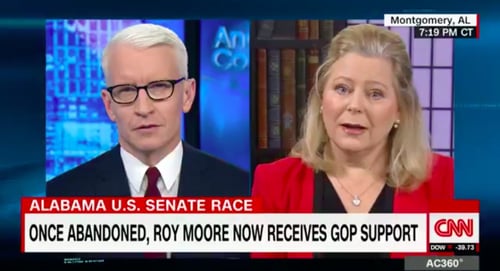 On the Dec. 6 broadcast of Anderson Cooper 360º, the CNN journalist went head to head with a new character in the ongoing Roy Moore saga: Janet Porter, a spokesperson for the Alabama Republican running for Senate, and a self-described "pro-life, pro-family" conservative activist.
The interview featured many a brow-raising moment, in which Porter jumped through political, religious, and intellectual hoops to justify Moore's behaviors and legitimacy. First, the spokesperson questioned the intentions of Moore's accusers, choosing to believe the Senate candidate over the many women who have leveled sexual harassment and assault accusations against him. "When we talk about believing the women," Porter began. "Ask (Duke lacrosse players) if they believe every woman who makes an accusation."
Roy Moore campaign spokeswoman cites Duke lacrosse rape case in defense of the Alabama Senate candidate: "Ask (Duke lacrosse players) if they believe every women who makes an accusation," says Janet Porter https://t.co/7NIoJaibIf pic.twitter.com/AflKMTug01

— Anderson Cooper 360° (@AC360) December 7, 2017
Connecting Moore's accusers to the divisive college rape case of 2006 is deeply problematic. That case ended in the rape charges against several student athletes being dropped because the court questioned the credibility of the sexual assault claims. Comparing Moore's story upholds a dangerous belief that those coming forward to claim misconduct are often lying, when, according to The New York Times, only 5 to 7 percent of sexual assault reports are false.
Cooper then asked Porter about Moore's suspension from his Alabama Chief Justice role after he advised state judges to deny same sex marriage rights despite the Supreme Court's 2015 ruling. Porter response highlighted what she called a "culture war going on" in the state. "He was exercising his religious liberty," Porter explained. "He was following the sworn oath of upholding the Constitution . . . That's why we want to send him to the Senate, because he doesn't care about his job more than he cares about the principles or the Constitution."
"You can repeat allegations over and over again, but it doesn't make them true," says Janet Porter, Roy Moore campaign spokeswoman https://t.co/5BF7d8HDR9

— Anderson Cooper 360° (@AC360) December 7, 2017
Cooper then pressed Porter on Moore's claim that the judges who suspended him were "radical homosexuals and transgendered people" and his repeated claims that his accusers are not telling the truth. "What we're looking at is an innocent man," Porter said of Moore. "Let me tell you what's at stake here: this is ground zero for religious liberty. This is ground zero for life."
Porter's comments offered a brief peek into the minds of those who are propping up and standing by figures like Moore: ample evidence of any wrongdoings are worth overlooking as long as a person like Moore promises to uphold conservative, "traditional" values in government. It's hypocritical, illogical, and kind of hard to wrap your brain around. Porter's behavior echoes a 2016 PRRI/Brookings poll, which found that a majority of white evangelicals are willing to support an elected official who behaves immorally as long as they "behave ethically and fulfill their duties in their public and professional life."
This seems to be precisely the case with Moore, as many Alabama pastors are standing by the candidate. Porter offers a window into this talking-out-both-sides-of-the-mouth behavior, offering an extreme, problematic understanding of why both President Trump another amoral match for evangelicals — and the RNC have stood by the hypocritical candidate.