Texas Lawmakers Fight Over Sanctuary City Bill
Texas's Anti-Sanctuary City Bill Sparks a Physical Showdown Between Lawmakers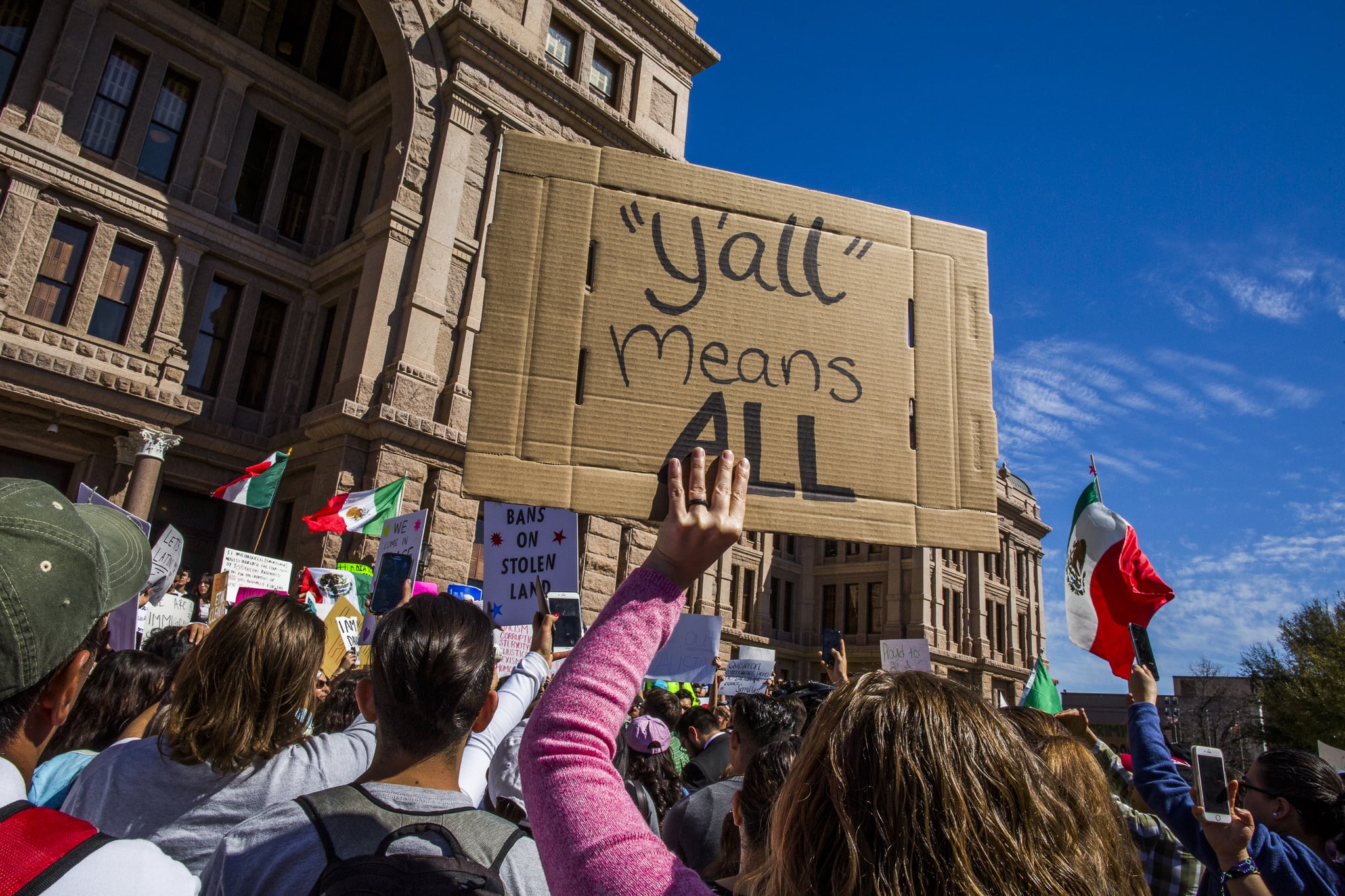 The Texas legislature has grown increasingly tense since its congressional Republican majority began approving bills that severely encroach on citizens' rights. Following the passage of Senate Bill 4 (SB 4), one of the harshest anti-immigration laws in the country, protesters descended upon the capitol building in Austin on May 29 — the last day lawmakers would convene before recess. According to onlookers and a journalist from The Texas Tribune, lawmakers got into a shoving match after a Republican proponent of SB 4 indicated he had called immigration officers on the demonstrators.
A statement regarding today. pic.twitter.com/M0BcBXa43P

— Matt Rinaldi (@MattRinaldiTX) May 29, 2017
By most accounts, Matt Rinaldi allegedly sparked the scuffle when he told his Hispanic colleagues that he had called ICE on protesters he suspected were undocumented immigrants. In a statement, Rinaldi alleged that Democratic Representative Poncho Nevarez "threatened" his life on the House floor and accused another Democratic representative, Ramon Romero, of "physically assaulting him."
Both Nevarez and Romero deny Rinaldi's version of events. According to Justin Rodriguez, another Democratic lawmaker who witnessed the incident, he heard Rinaldi threaten to "put a bullet" in one of his colleagues' heads. Rinaldi didn't deny Rodriguez's claim, but he asserted that he would "shoot him in self-defense."
My full statement on today's "scuffle" below. You can read more it here - https://t.co/TJSByQvfPE #txlege pic.twitter.com/y835ovp17I

— Ramon Romero Jr. (@RepRamonRomero) May 29, 2017
He's a liar and hateful man. Got no use for him. God bless him. https://t.co/te13An7gwm

— Poncho Nevárez (@poncho_nevarez) May 29, 2017
Romero and Neveraz contend that while they had a heated discussion on the House floor, at no point did either of the lawmakers attack Rinaldi. In an interview with The Texas Tribune, Romero explained that he "put his hands on Rinaldi and asked him to take his argument outside the House chamber."
It's evident that the state's "show me your papers" law is contentious among the Texas legislature and, for the most part, encourages identity profiling; the fact that Rinaldi looked at the protesters and concluded that they were undocumented proves such a point. "Matt Rinaldi looked into the gallery and saw Hispanic people and automatically assumed they were undocumented," Romero reiterated while speaking with The Tribune. "He racially profiled every single person that was in the gallery today. He created the scenario that so many of us fear."