What Did Melania Trump Wear to the First State of the Union?
The Mixed Messages Melania Trump's Winter-White Pantsuit Sent at the State of the Union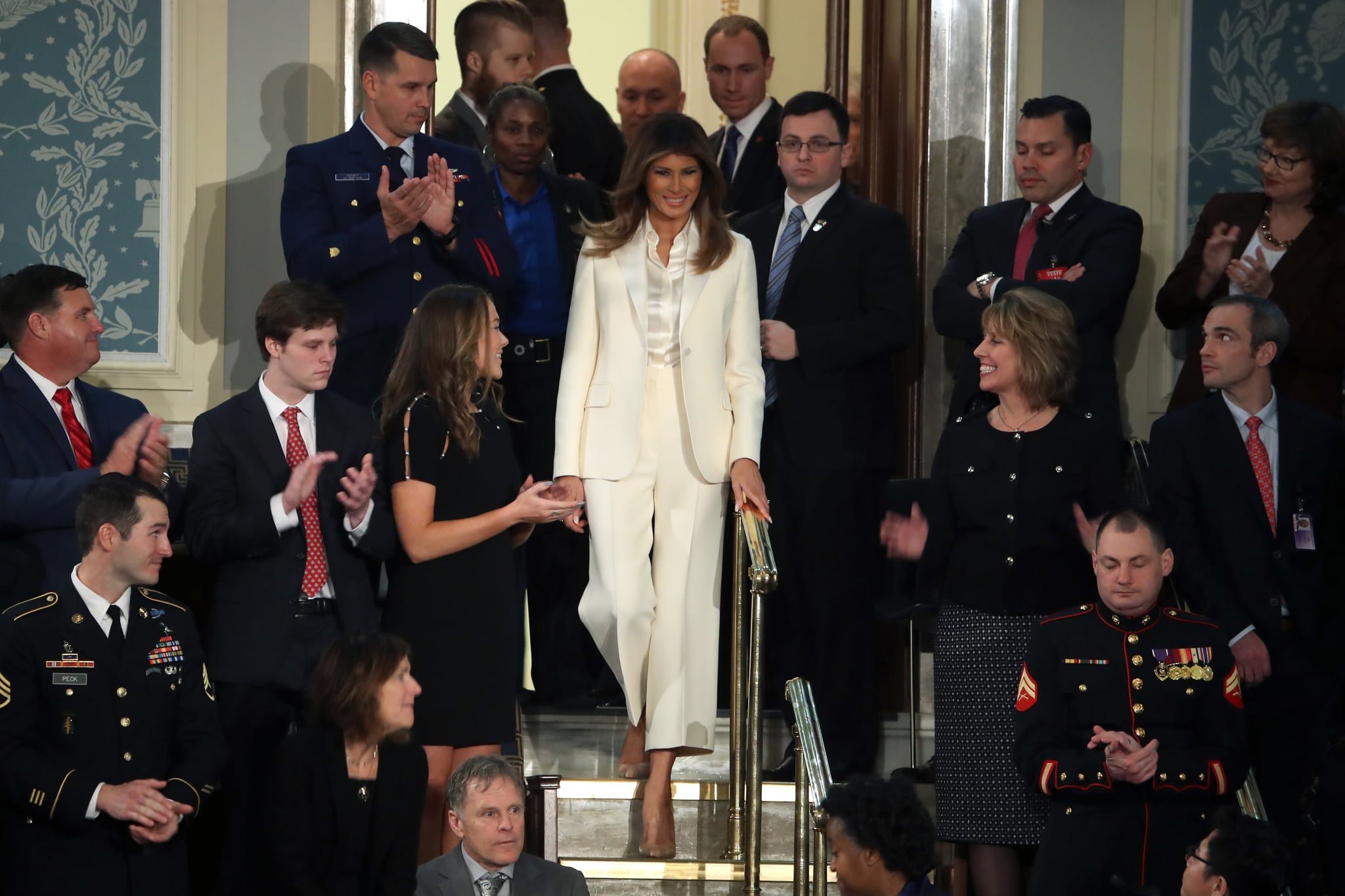 Melania Trump broke with tradition by traveling separately from her husband to his first State of the Union address on Jan. 30, making her entrance even more notable. When she did show up in the chamber of the US House of Representatives, descending the stairs to a standing ovation — before the president himself — her choice of attire immediately caught my attention.
In recent weeks, a flood of stories about Trump's alleged affair with porn actor Stormy Daniels have dominated headlines, launching yet another flood of news stories reporting that his wife is livid with him. (She did abruptly cancel her plans to travel with the president on his trip to Davos, Switzerland, last week.) Even the most straight-laced political reporters and commentators I watched on CNN ahead of the State of the Union's broadcast discussed reports of strained relations between the Trumps, albeit rather awkwardly.
Even apart from that context, the Winter-white pantsuit by Dior, which Melania Trump paired with a white Dolce & Gabbana silk top, was a remarkably interesting and bold choice for her. The first lady usually favors extremely feminine looks: pencil skirts, pussy-bow blouses, and waist-nipping dresses. Of course, she didn't trade in her signature stiletto heels at the SOTU, despite the comparatively androgynous wardrobe choice.
I wondered if the neutral, pure tone was a kind of silently forceful rebuttal. After all, a number of Democratic women wore black to the State of the Union in protest of her husband, part of an effort to call attention to the numerous allegations of sexual harassment and assault that have followed him for decades. Was the first lady sending them a pointed message via pantsuit? Or could there possibly be something more subversive at play? Could the suiting actually be a nod, in solidarity, to the shade of the suffragettes? Notably, suffragette white is the same shade that a number of women lawmakers wore to Trump's first congressional address, in a move of solidarity and resistance to his presidency. It's also the color that Hillary Clinton wore to Trump's inauguration. Cream isn't quite white, of course, but it's damn close.
The first lady has rarely spoken publicly during her husband's presidency, leaving many to speculate about her opinions and her life inside the walls of 1600 Pennsylvania Avenue. So while it may seem trivializing to infer much about her inner life based on how she chooses to dress, it's one of the few outward indicators we have as to how she might be thinking or feeling. After all, as the lawmakers clad in black and Time's Up pins proved at tonight's address, clothing does send a message. The first lady, after decades in the public eye, certainly understands that. But what message, exactly, the first lady may have meant to send with her pantsuit is up for interpretation; after all, we'll certainly never hear it from her.
Image Source: Getty / Alex Wong