Meet Levi Draheim, a 13-Year-Old Suing the US Government Over Climate Change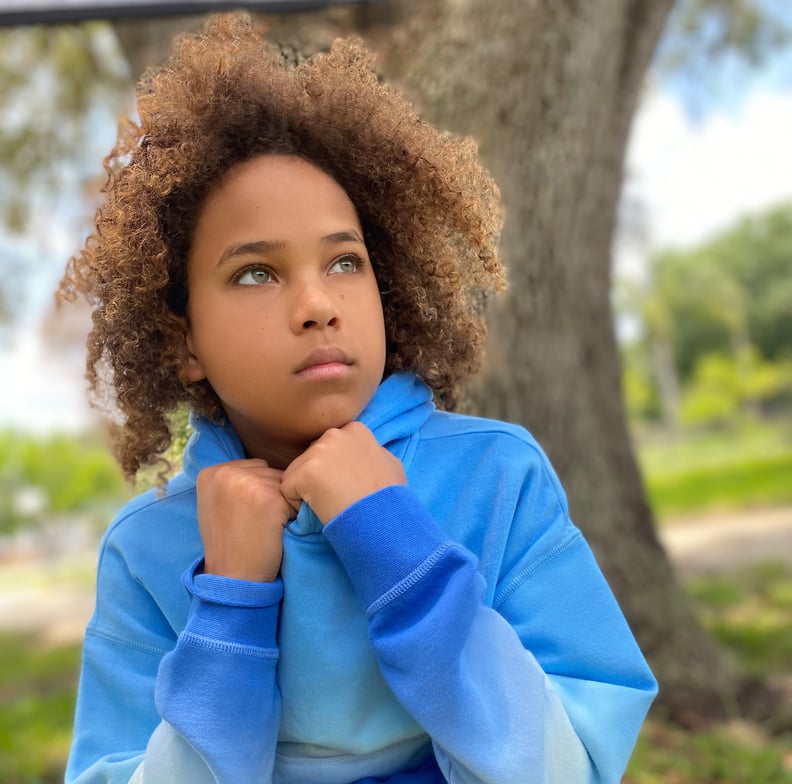 Courtesy of Gap
Courtesy of Gap
Like many 13-year-olds, Levi Draheim loves to play outside. He enjoys learning about animals and exploring the shores of his hometown in Satellite Beach, FL. Unlike most kids his age, however, he's suing the US government over climate change, along with 20 other youth plaintiffs.
Draheim is worried about the future — for himself, for his loved ones, and for the place he calls home — and that's why he joined the Juliana Plaintiffs as the group's youngest member to demand action from the top level of our nation's government. The case met a roadblock earlier this year when a federal court dismissed the group's case, but in a recent conversation with POPSUGAR, Draheim assured us he's not finished fighting.
The plaintiffs, in partnership with Our Children's Trust, will continue to appeal their case and Draheim will continue to raise his voice, hoping others will do the same. Now, Draheim has also partnered with Gap for the brand's "Be the Future" campaign with the goal of inspiring other young people to make a difference in their own communities. Check out our conversation below.
POPSUGAR: What inspired you to get involved in environmental activism?
Levi Draheim: I was inspired to get into environmental activism because I have always been the type of kid who loves the outdoors — going to the beach, swimming, learning about animals, birds and plants, camping — that kind of thing. Being out in nature made me want to protect the environment because it is under threat from climate change. I also worry about my future and know that in order for me to continue enjoying nature, I need to take action to protect it.
PS: I know the Juliana v. United States lawsuit ruling in January was a slight setback. How do you plan to continue fighting for climate change?
LD: For the lawsuit, Our Children's Trust is planning on continuing with appeals and other legal tactics until we win. We aren't going to give up because of a setback; we have had many in the past but keep on fighting. Meanwhile, I am going to continue to speak on panels, do interviews, and talk to people about climate change. I will keep doing the day-to-day things to help the environment such as reducing water use, recycling, minimizing electricity use, eating a vegan diet, and right now we are also doing a lot of gardening!
PS: Your family recently welcomed a new baby — congratulations! Does having a younger sibling help motivate your activism?
LD: Having a little sister (Juniper Rue) motivates my activism because I have someone else to protect. Climate change has gotten worse in MY lifetime and I'm only 13, so I don't want it to keep getting worse for my baby sister, too. I don't want her to have to experience worsening climate change.
PS: Why is it important for young people to speak up today?

"We need to take action on our own if the adults and people in power aren't going to do anything about it."
LD: It is important for young people to speak up during this time because adults haven't done enough to protect our future and our lives. We need to take action on our own if the adults and people in power aren't going to do anything about it. I think that it is great that Gap has recognized that climate action is important and is helping share the message of youth activists who have been doing the work to fight climate change.
PS: Do you have any advice for other teens looking to make a change in their community?
LD: First, figure out what your passion is (animals, the beach, clean water, etc.), and then find a youth organization either in your area or online and join in. Find out from them how you can get involved and things that are going on in your own community to help with. Joining with other young people gives more voices to the issue, which means you are more likely to be heard and make real changes. It is also more fun to work with others!
PS: What do you think adults could learn from young activists right now?
LD: Adults can learn that we don't care that some adults think we are too young to be activists — we will fight for what matters most to us. We do care about our future and will stand up for our beliefs. We know what we are doing is right. Hopefully adults will see that there are young people spending a lot of their time and energy working on protecting their future. Maybe that will show adults that they can help us and take actions as well.
PS: What other young people (activists, actors, etc.) inspire you?
LD: I am inspired by all of the other plaintiffs on my lawsuit and all of the things they are doing. I'm inspired by all of the young people around the world who are fighting climate change — there are so many. I like that we support each other in our work, too.
I'm happy to be partnering with Gap because they are using their power and voice to show how hard kids like me are working for change. I hope that we can inspire others to take action. Together we can all make a difference!
PS: What gives you hope for the future?
LD: What gives me hope for the future is that there are so many young people out there taking action. More and more young people are learning about climate change and want to help make a difference because we have realized how important it is for our future.