Homemade Dog Treat
Your Pup Will Beg For More of This Homemade Apple Crisp Dog Treat
All pet parents want to indulge their best friends with yummy treats, and this recipe is sure to do the trick. We have dog owner and editor of Petguide.com Amy Tokic's homemade apple crisp dog treat recipe, which originally appeared on The Honest Kitchen.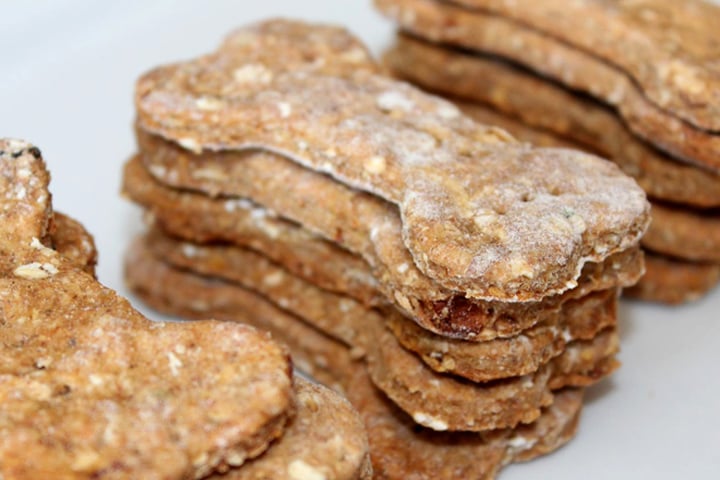 There are so many reasons why I love baking my own dog treats.
One of the reasons is that I get to satisfy my love of baking without eating the entire finished product; but the main motive for making homemade dog treats is that I know exactly what's going in them. I want Oscar to eat wholesome ingredients, fresh from the grocery store. There are no preservatives and no ingredients I can't pronounce in my recipes.
Apple Crisp Dog Treat Recipe
Amy Tokic of The Honest Kitchen
Notes
This recipe includes The Honest Kitchen Force dog food. Apples are a good source of vitamins A and C and fiber (please make sure that the seeds, which contain cyanide, are removed before adding the grated apple to the mix). Oatmeal contains soluble fiber that is beneficial for dogs that have problems with bowel irregularity. Eggs are a great source of digestible protein, riboflavin, and selenium. Small amounts of cinnamon can help ease nausea and gas, and cinnamon has been used to boost energy, circulation, digestion, and brain health.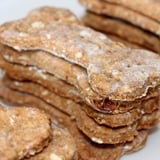 Ingredients
1/4 cup Honest Kitchen Force dehydrated dog food (with Free Range Chicken)
3 cups whole-wheat flour
1/2 cup rolled oats
1 teaspoon cinnamon
1 apple, grated
1 egg
2 tablespoons olive oil
1/2 cup water
Directions
Preheat oven to 325°F. Line cookie sheets with parchment paper.
In a large bowl, combine dog food, flour, rolled oats, cinnamon, grated apple, egg, and oil. Mix well.
Add water to make a stiff dough. Place on a lightly floured surface and knead well.
Roll out the dough to 1/4- to 1/2-inch thickness. Cut using a cookie cutter and place on baking sheet.
Bake for 30 minutes. Cool on racks and store in an air-tight container to refrigerate or freeze.
Information
Category

Pet Treats, Dog Food

Cuisine

North American