30 Inspiring Arm Quote Tattoos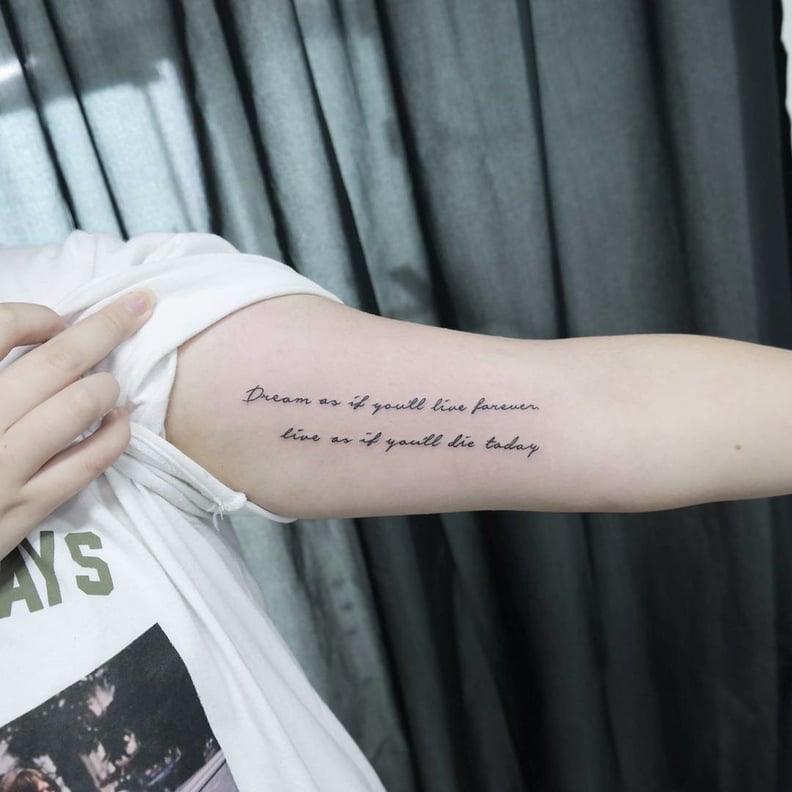 When you have a personal mantra permanently etched onto your body, you'll never forget to follow it. The arm is a particularly great canvas for quote tattoos because of its length and visibility. It's like writing reminders to yourself except they'll stay with you forever. We looked to Instagram for inspirational ink and were immediately convinced to get one ourselves. See 30 ideas that might even give you a new perspective on life.
02
"Where one thing falls, another grows."
04
"There is no fear for the one whose thought is not confused."
05
"Give, even if you only have a little."
06
"Dream as if you'll live forever, live as if you'll die today."
12
"To love oneself is the beginning of a life long romance."
15
"Those who are afraid to fall will never fly."
16
"Don't dream your life, live your dream."
19
"Let's do our best rather than be the best."
22
"Never tell yourself you should be someone else."
25
"The greatest thing you'll ever learn, is just to love and be loved in return."
26
"Be yourself. Don't change for anyone."
27
"Carpe diem."
This translates to "seize the day."
29
"Enjoy the little things."
30
"Breathe, keep calm, smile."
31