Brew Perfect At-Home Iced Coffee Right in a Travel Thermos, Thanks to This Cool Device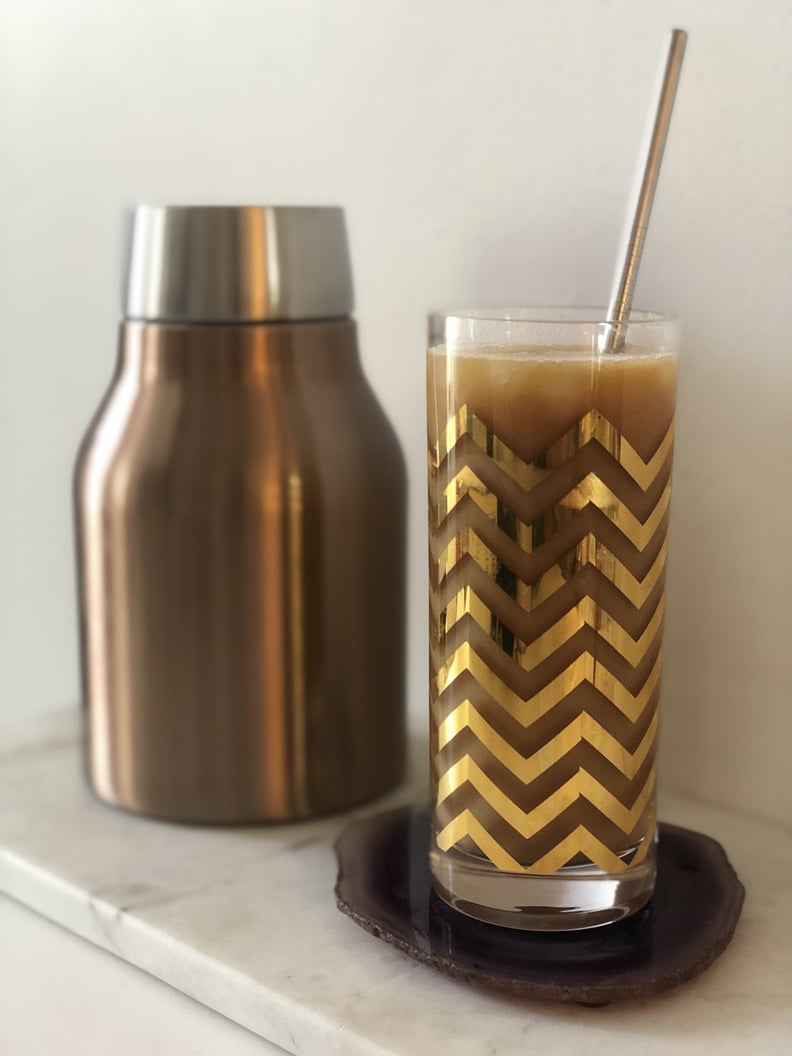 POPSUGAR Photography | Morgan Ashley Parker
POPSUGAR Photography | Morgan Ashley Parker
As POPSUGAR editors, we independently select and write about stuff we love and think you'll like too. If you buy a product we have recommended, we may receive affiliate commission, which in turn supports our work.
Rain or shine or snow or sleet, my mornings always start with iced coffee. When commuting to an office, I had a routine stop to grab one on my way in . . . even if it meant clutching the cup wrapped in a napkin in my gloved hand the whole way. Since working from home, I've tested five different iced-coffee makers and pretty much every concentrate I could find at the grocery store. While I was able to find a bottled version that I would stock up on monthly, none of the options to DIY were worth it in time and results . . . until I recently tried the Asobu Cold Brew Coffee Maker.

Not only did it solve my biggest complaints with other machines, it's incredibly convenient to use, and under $40, too. Find out exactly why it's my new caffeine soulmate ahead.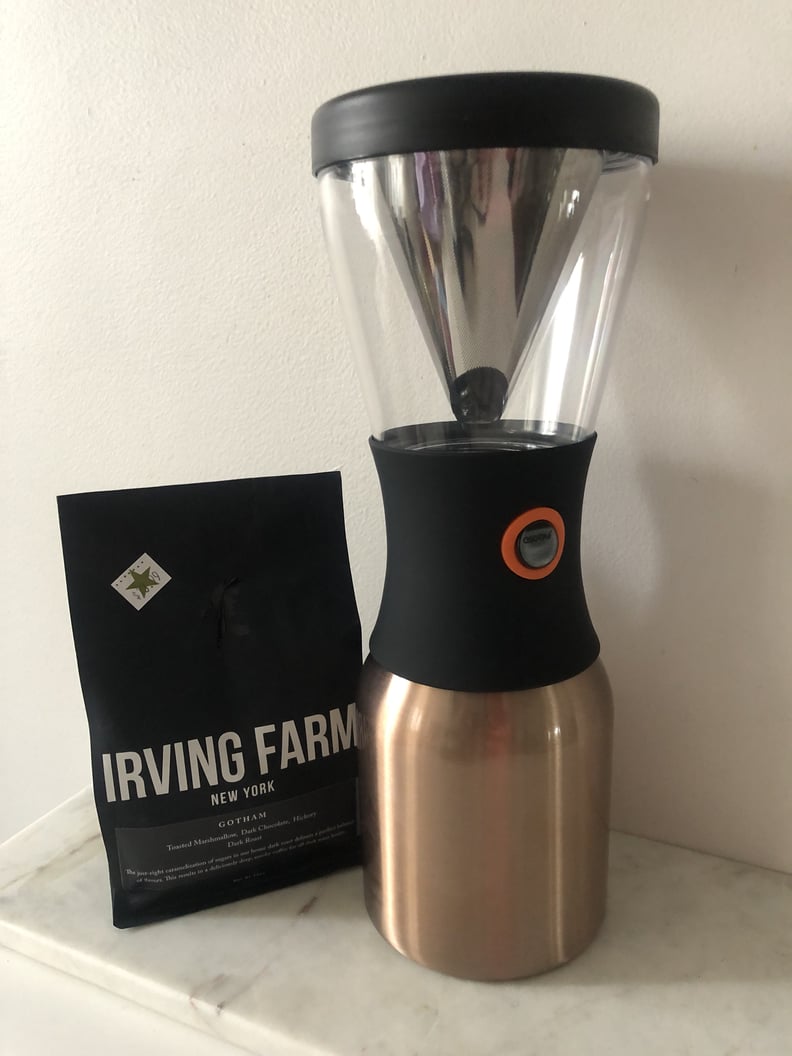 How to Use the Asobu Cold Brew Coffee Maker
To make this, all you do is add a scoop of coffee grounds to the infuser at the top and then pour filtered water on top in a circular motion. The directions recommend doing those steps in small batches three times until the basket and brewer are both full, no paper filters necessary. I love that the infuser has very small holes so coarse grounds can't sneak through (which was a problem I always had with my cold-brew french press device).

After letting it steep for 12-24 hours (right on the countertop, no fridge needed!), just press a button and the coffee drains from the top into the thermos down below. It makes around 30 ounces of coffee, which works out to about 5-6 servings for me, once ice and milk are added to the 40-ounce container. Plus, since it brews directly into a metal thermos that stays sealed airtight in the fridge, you can also easily just take it to the park or back to the office — leaving a midmorning refill at your fingertips with no extra travel cup needed.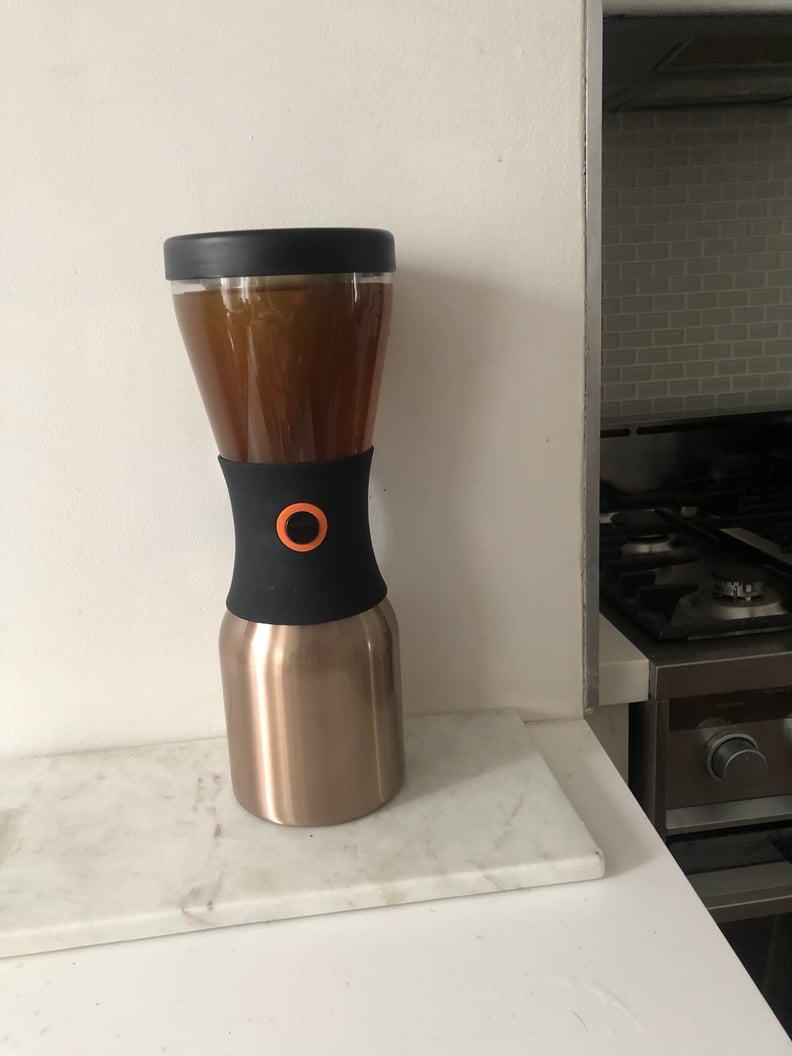 The Asobu Cold Brew Coffee Maker at the Start of the Brewing Process
You'll see the coffee hasn't yet seeped into the water, so the color is fairly light.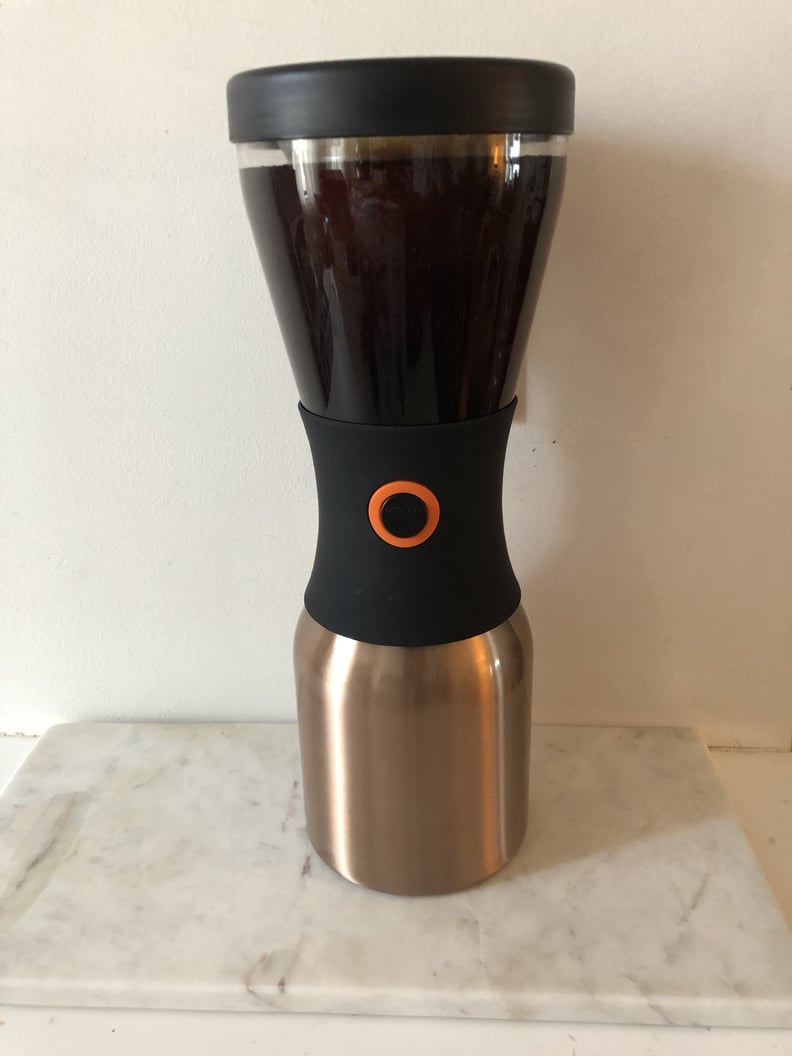 The Asobu Cold Brew Coffee Maker 24 Hours Later
By the next day, the brew is the color you'd expect from black iced coffee.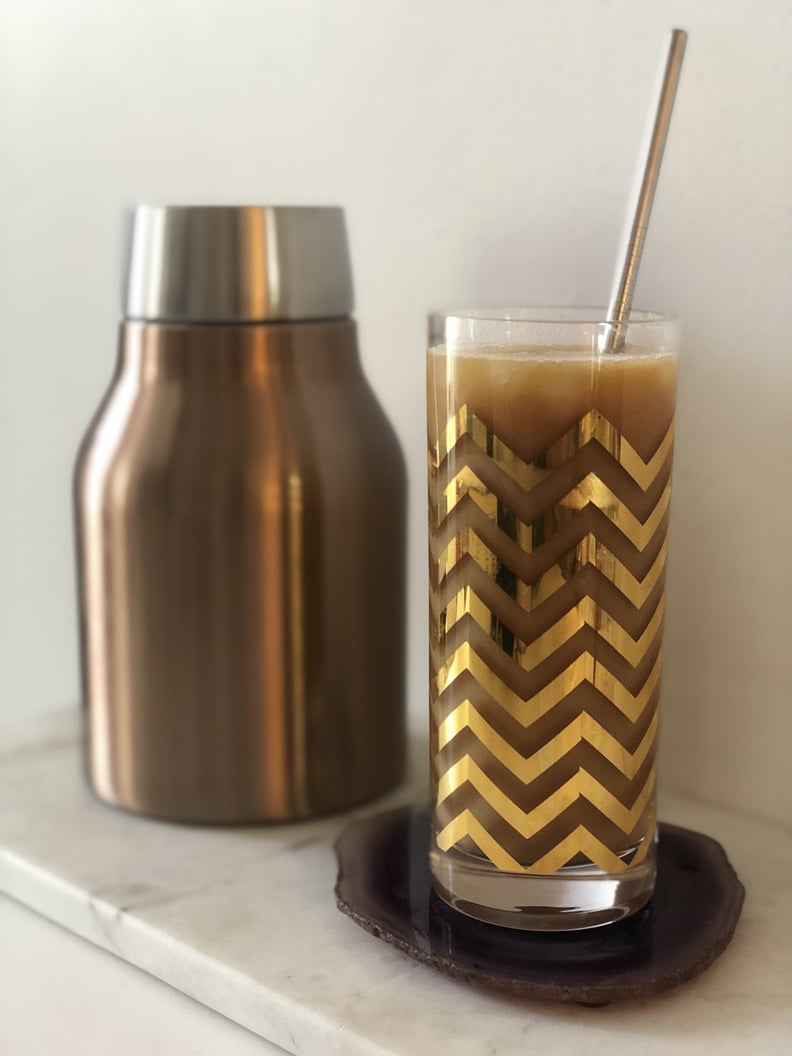 Why I Love the Asobu Cold Brew Coffee Maker
My favorite part about this Asobu brewer is that the process can take place right on the countertop, which I can't wait to test out once I'm traveling in a hotel with a tiny fridge (as all I'd need is ice from the machine to make my coffee cold).

I also had fun experimenting to find the exact perfect ratio. I like my brew fairly strong (with lots of ice), so I add a bit more than the actual directions suggest and let it steep for the full 24 hours. However, even when I added the suggested amount or cut the brewing process short, it was so much better tasting than the watered-down iced coffee that one of my cold-brew drip-makers offered up. (And, while I've not tried it, I've heard it's possible to add hot water on top to brew tea here as well.)

Not only does this take up less space than a traditional coffee maker, it looks cool sitting out on my countertop, and the thermos will be so useful once I'm spending more time outdoors in warmer months. I'm not saying I'll never go back to the actual cafe, but I know this will be getting a lot of use in my household this summer.

Ahead, check out the four colors available to see which one fits in best in your iced-coffee-loving home, too.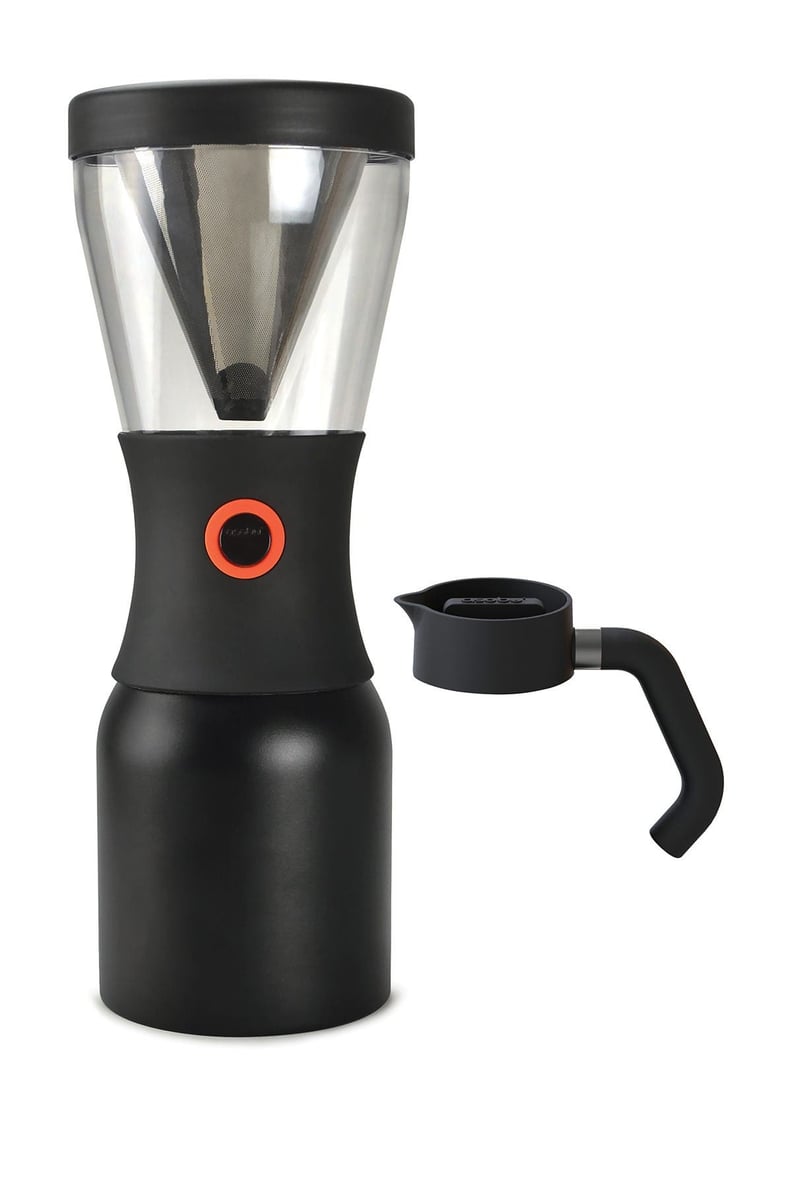 Asobu Cold Brew Coffee Maker With Portable Carafe and Pouring Handle (Black)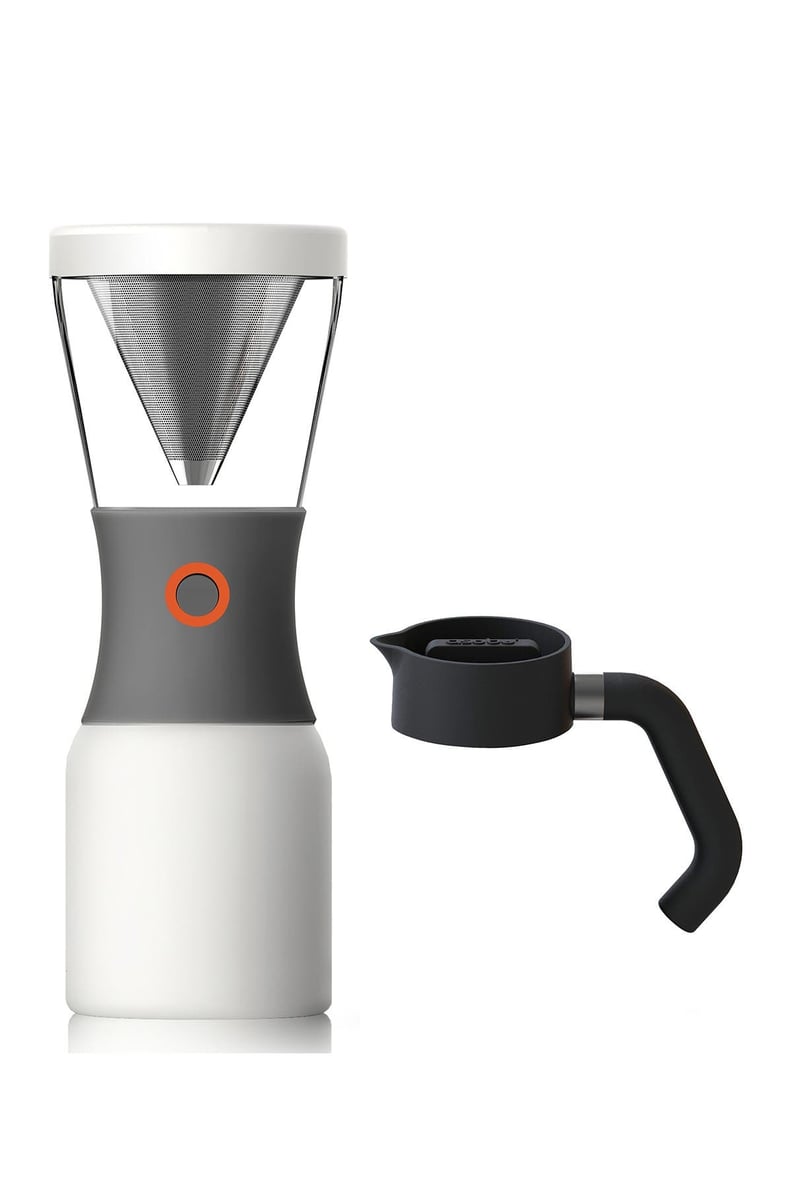 Asobu Cold Brew Coffee Maker With Portable Carafe and Pouring Handle (White)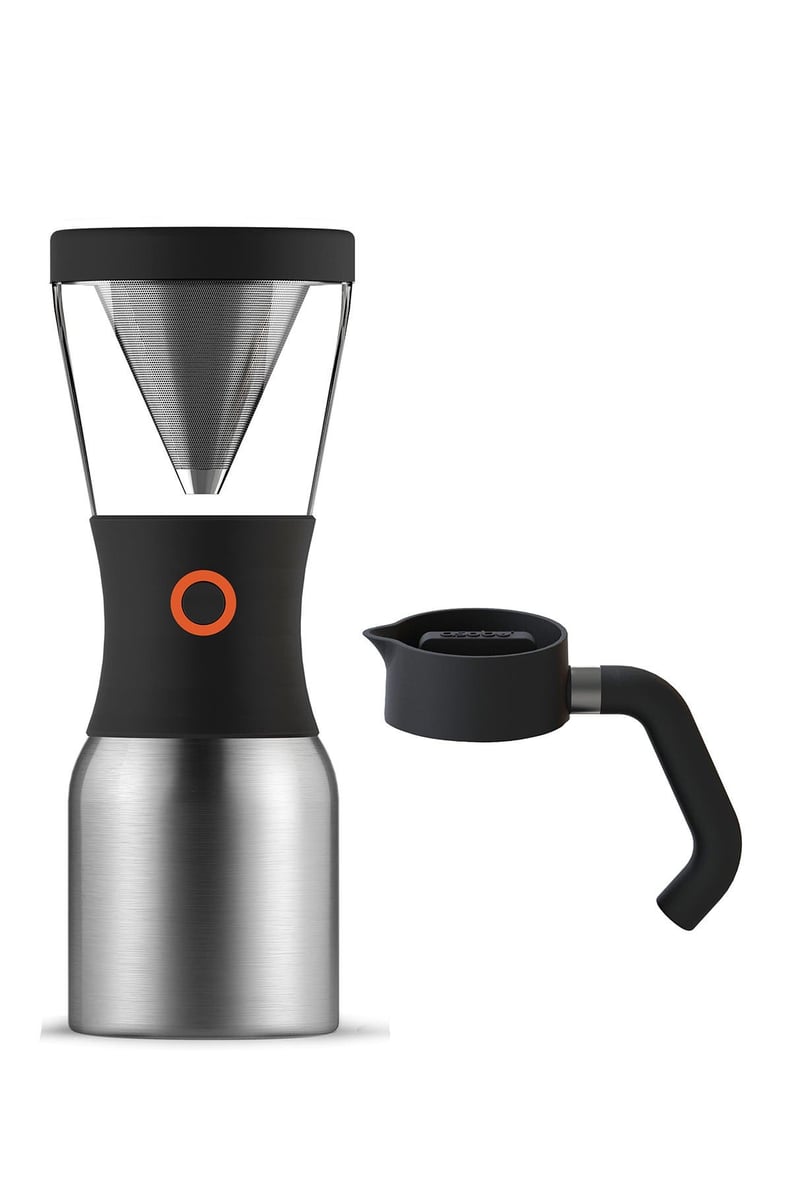 Asobu Cold Brew Coffee Maker With Portable Carafe and Pouring Handle (Silver)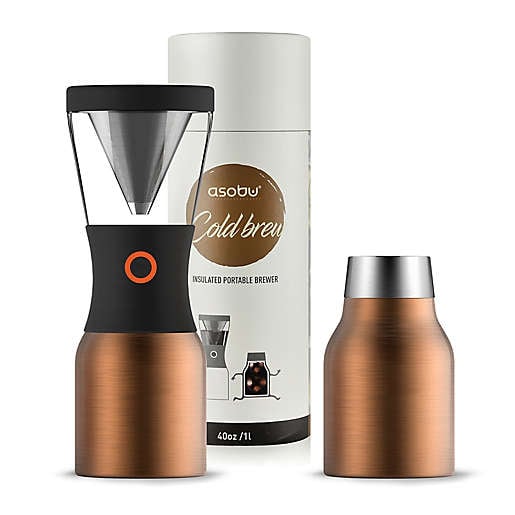 Asobu Cold Brew Coffee Maker With Portable Carafe (Copper)