12 Jewelry Organizers That Are Essential For Avid Travelers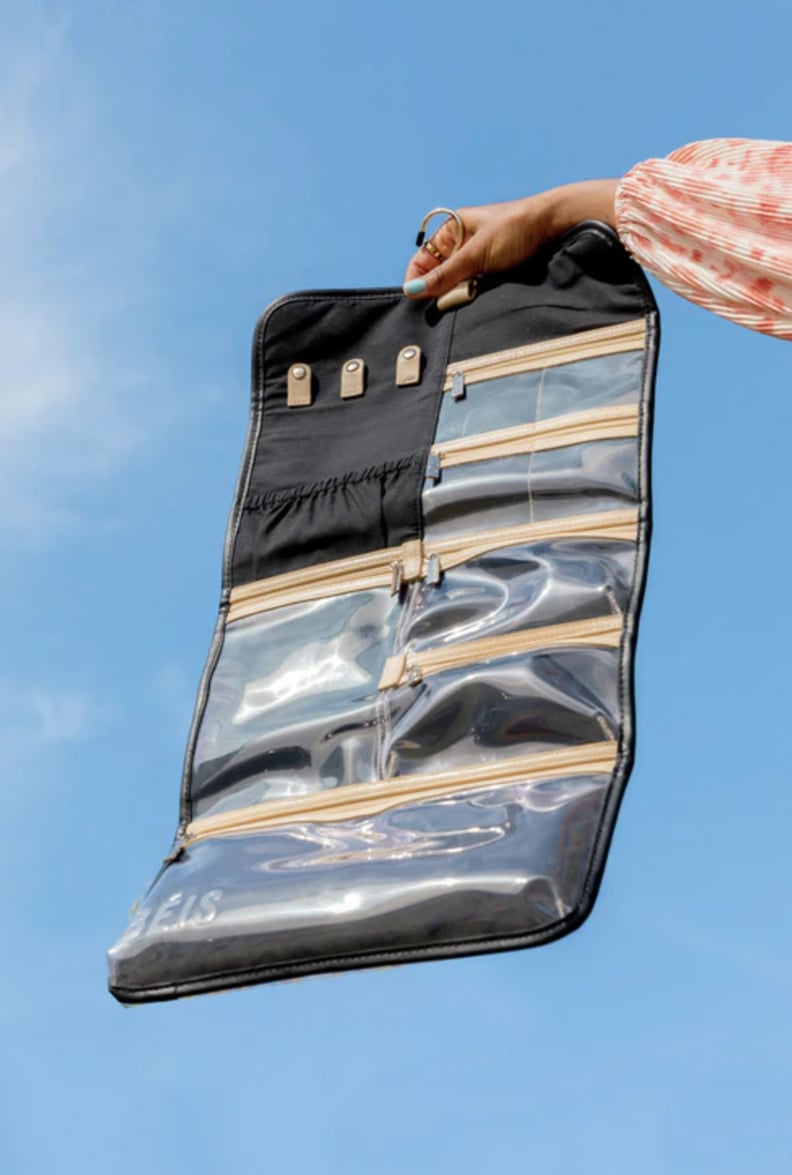 Calpak
As POPSUGAR editors, we independently select and write about stuff we love and think you'll like too. If you buy a product we have recommended, we may receive affiliate commission, which in turn supports our work.
After several years of avoiding airports and any extensive flying, I'm anticipating a pretty busy season of holiday travel. Evidently, at least according to travel forecasters, so are a lot of other Americans. As any frequent flyer or true road tripper will tell you, having quality luggage and travel organizers can make all the difference between a good vacation and a truly great one.
It's for this reason that I recently decided to invest in a jewelry travel case to help me keep all of my favorite baubles protected, organized, and untangled — even while I'm on the go. The jewelry organizer has proven to be such a worthwhile splurge, and (even better!) it also fits seamlessly into my suitcase thanks to its compact design.
If you too are a fashionista preparing for what might be one of the busiest holiday travel seasons in recent memory, you could definitely benefit from having a jewelry travel organizer of your own. And fortunately, with the help of brands like Calpak, Mejuri, Away, Cuyana, Béis, and more, it's easier than ever to shop out a quality jewelry travel case online — regardless of your accessory preferences or budget. From travel jewelry rolls to leather accessory organizers, we've rounded up a few of the most stylish jewelry travel cases below. Shop our picks ahead and enjoy your next trip with peace of mind knowing that your most precious jewelry pieces are safely organized.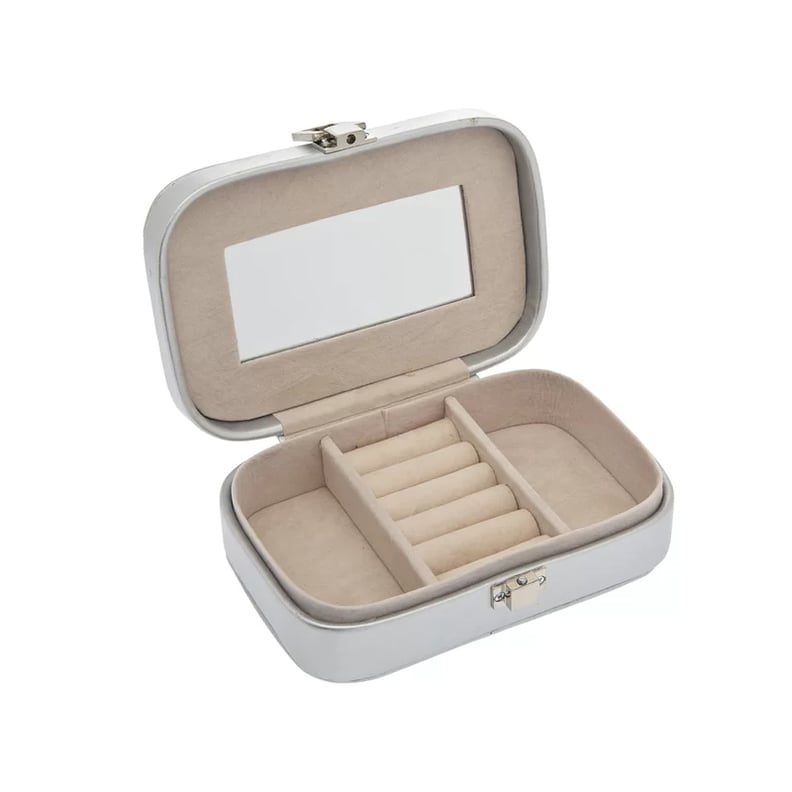 Most Affordable Jewelry Travel Case: It's the Little Things Jewelry Travel Case
Fortunately shopping out a quality and practical jewelry organizer doesn't have to come at a hefty cost. This It's the Little Things Jewelry Travel Case ($12, originally $29) is incredibly affordable (we love that under-$20 price tag), and it still boasts plenty of interior folds and compartments to house your most precious jewels.
Best Travel Jewelry Roll: Béis The Hanging Jewelry Case
If you're notorious for being an over-packer (hi!), this Béis The Hanging Jewelry Case ($48) is perfect for you. With its rolled design, the product seamlessly folds up all of your accessories into a single, protective piece. Thanks to its compact frame, you can easily squeeze it into your suitcase without having it take up too much space.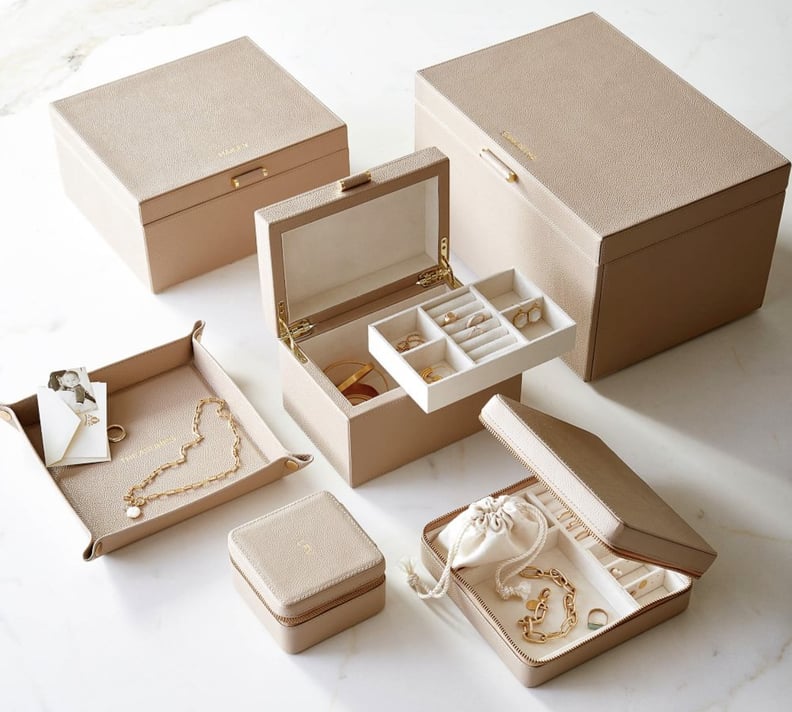 Best Jewelry Travel Case Set: Pottery Barn Quinn Leather Jewelry Storage
Perfect for the jewelry-obsessed fashionista, this Pottery Barn Quinn Leather Jewelry Storage ($39, originally $50) is available to stock up on in a variety of sizes and builds — allowing you to purchase a full set rather than just one individual organizer. No more having to choose which jewels you're taking on your next holiday away!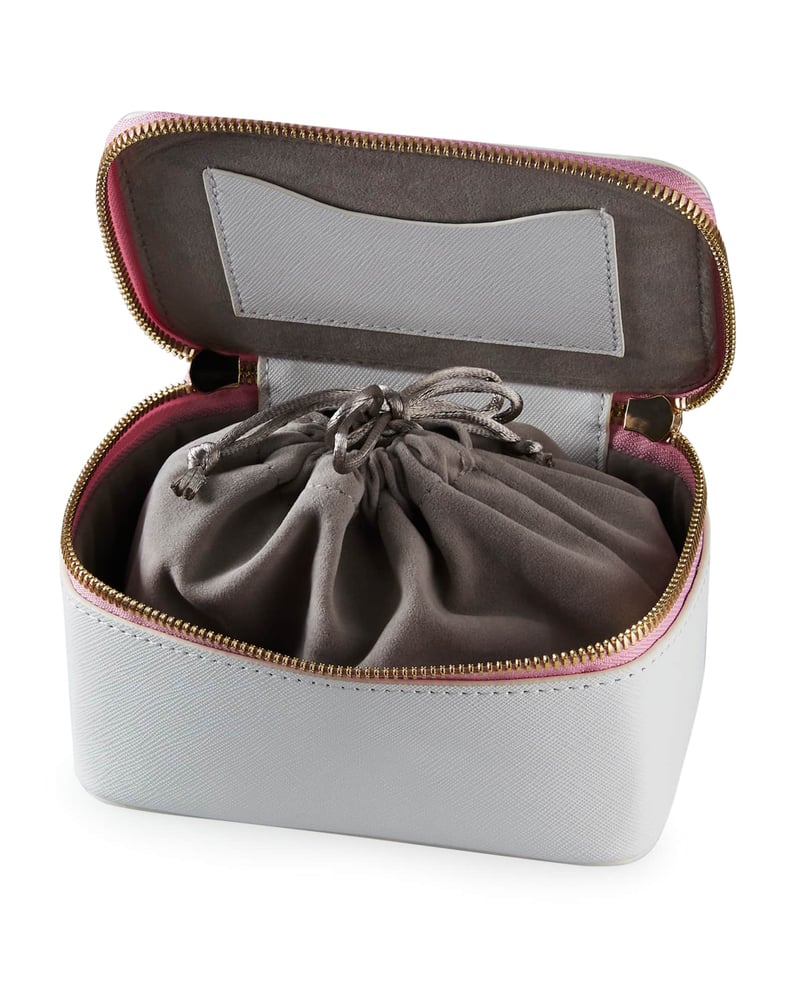 Most Protective Jewelry Travel Case: Truffle Privacy Jewelry Case
If you're checking a bag or suitcase, it's likely your jewelry might get pretty tangled or disorganized after being thrown around by airport attendants and staffers (it happens!). But this Truffle Privacy Jewelry Case ($37, originally $75) will ensure your baubles are extra protected, courtesy of the product's felted drawstring pouch.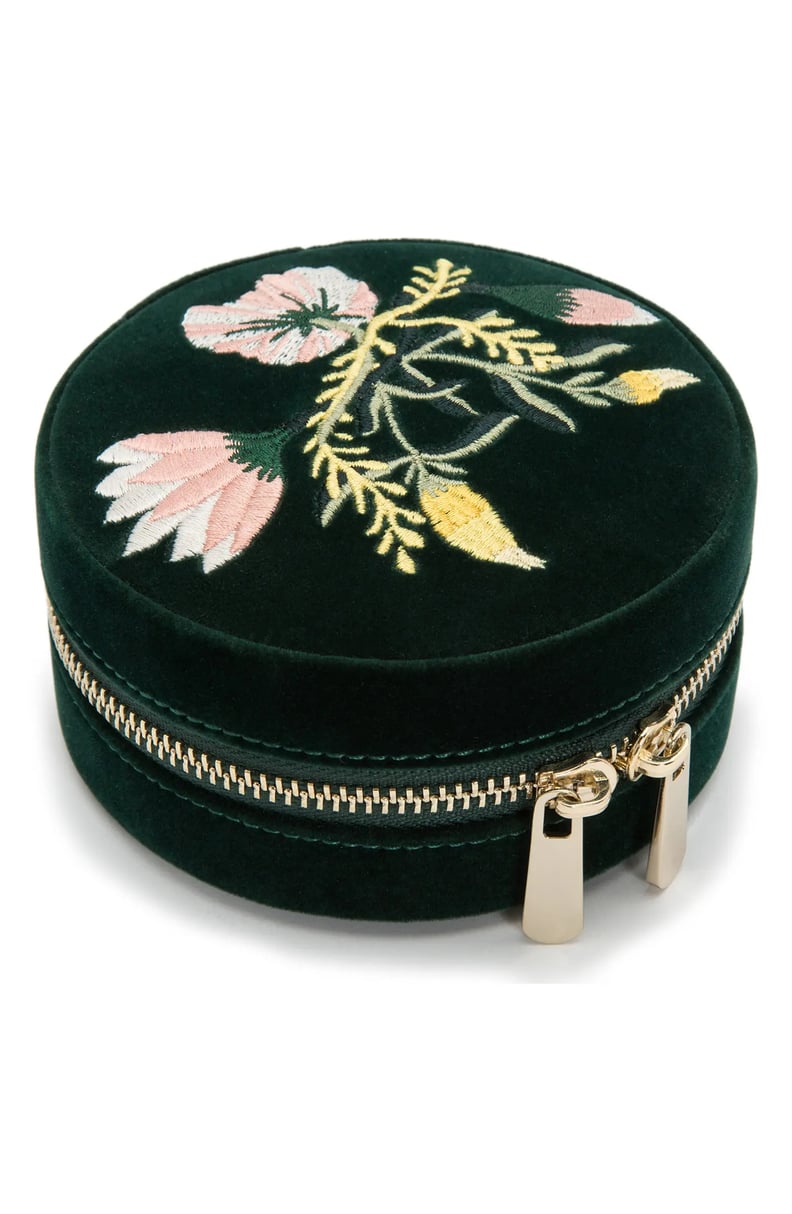 Most Unique Jewelry Travel Case: Wolf Zoe Round Travel Case
The best jewelry travel case is one that's both stylish and practical — because, yes, you actually can have both. We love the vintage flair of this Wolf Zoe Round Travel Case ($125), which is wrapped in a darling floral embroidery. The nostalgic product is so timeless, it looks like something you could have found in your grandmother's closet.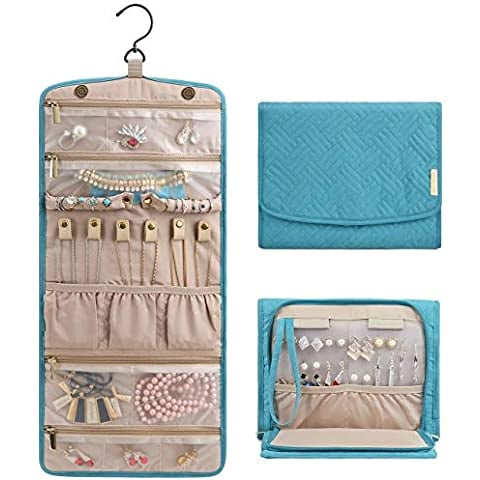 Best Hanging Jewelry Travel Case: BagSmart Velvet Hanging Jewelry Organizer
OK, this BagSmart Velvet Hanging Jewelry Organizer ($22, originally $30) is seriously so cool and practical. From earrings to necklaces and rings, this travel case can seamlessly hold it all. Plus, once you've arrived to your destination, you can simply hang it up in your closet and enjoy the ease of picking out the jewels you'll wear each day on your trip.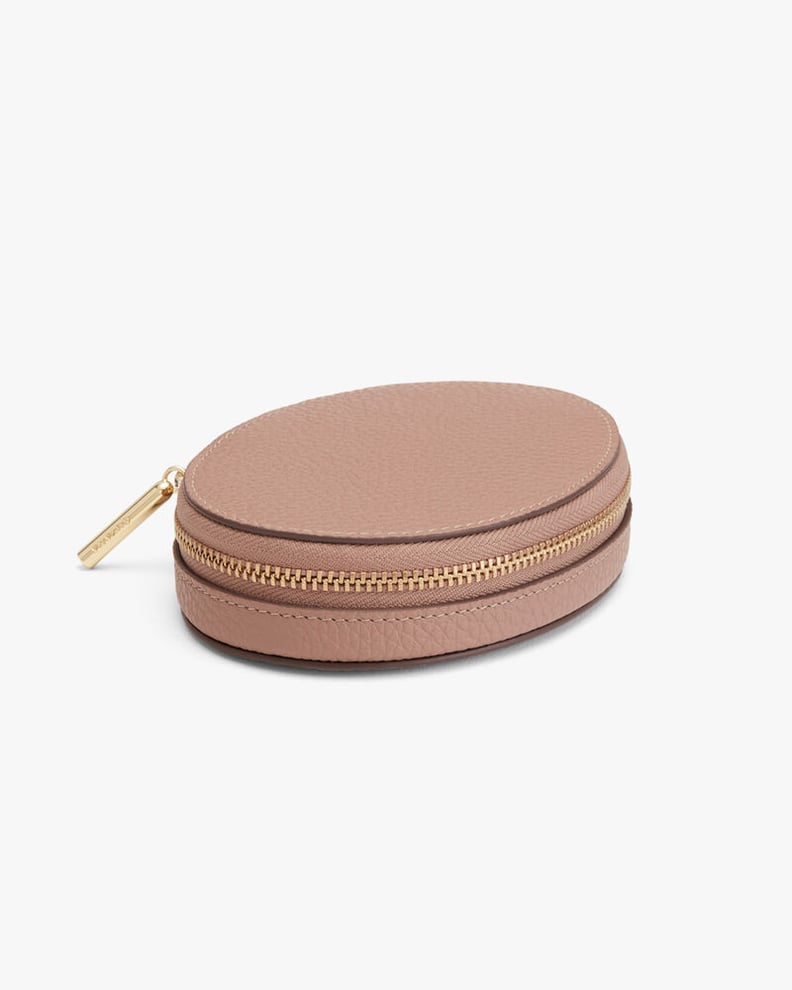 Best Round Jewelry Travel Case: Cuyana Travel Jewelry Case
It simply doesn't get more stylish than this Cuyana Travel Jewelry Case ($98) — which is available to shop in two other colors, including ecru and black. Crafted from a pebbled Italian leather, the organizer is made from the finest materials — ensuring this travel case will be a staple in your suitcase for the long term.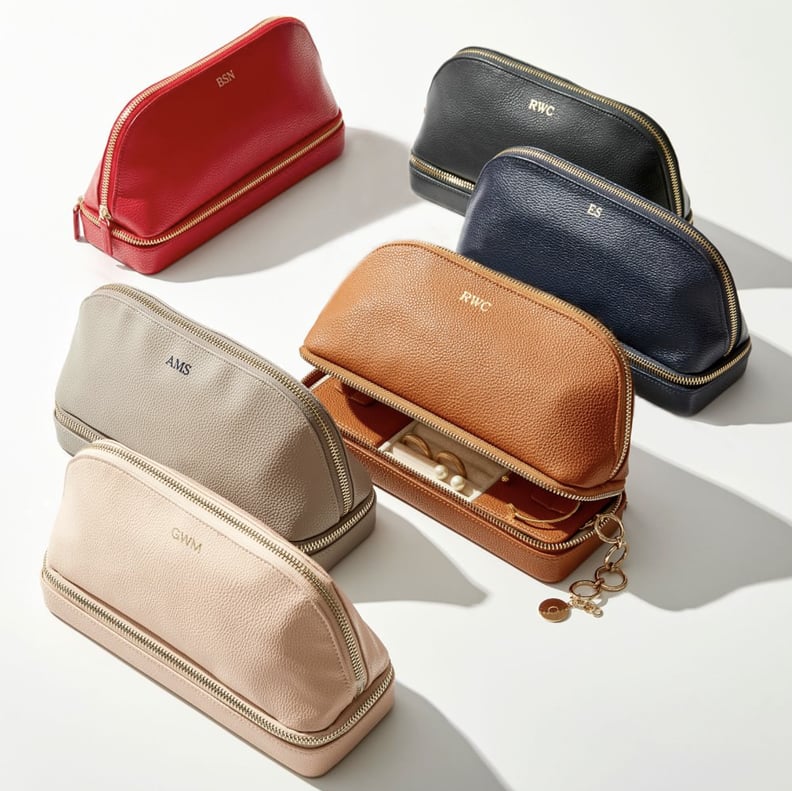 Most Versatile Jewelry Travel Case: Mark and Graham Dual Travel Organizer
We love a product that can solve multiple problems or concerns, all in one singular style. That's the case with this Mark and Graham Dual Travel Organizer ($90), which has a two-part organizer — one for cosmetics and toiletries, and one for your precious jewelry pieces.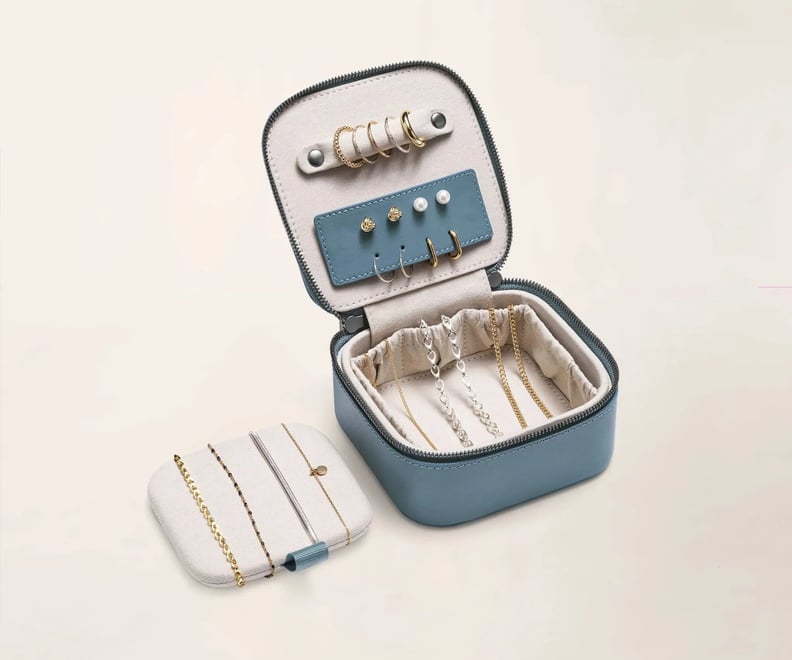 Best Jewelry Travel Case For Necklaces: Away Travel Jewelry Box
If you're hoping to shop out something deeper that boasts plenty of interior space — especially for large baubles like watches, chunky rings, and more — then this Away Travel Jewelry Box ($85) is sure to make such a worthwhile investment. It's available in four fresh colors. Plus, it has multiple organizational compartments that are spaced all throughout.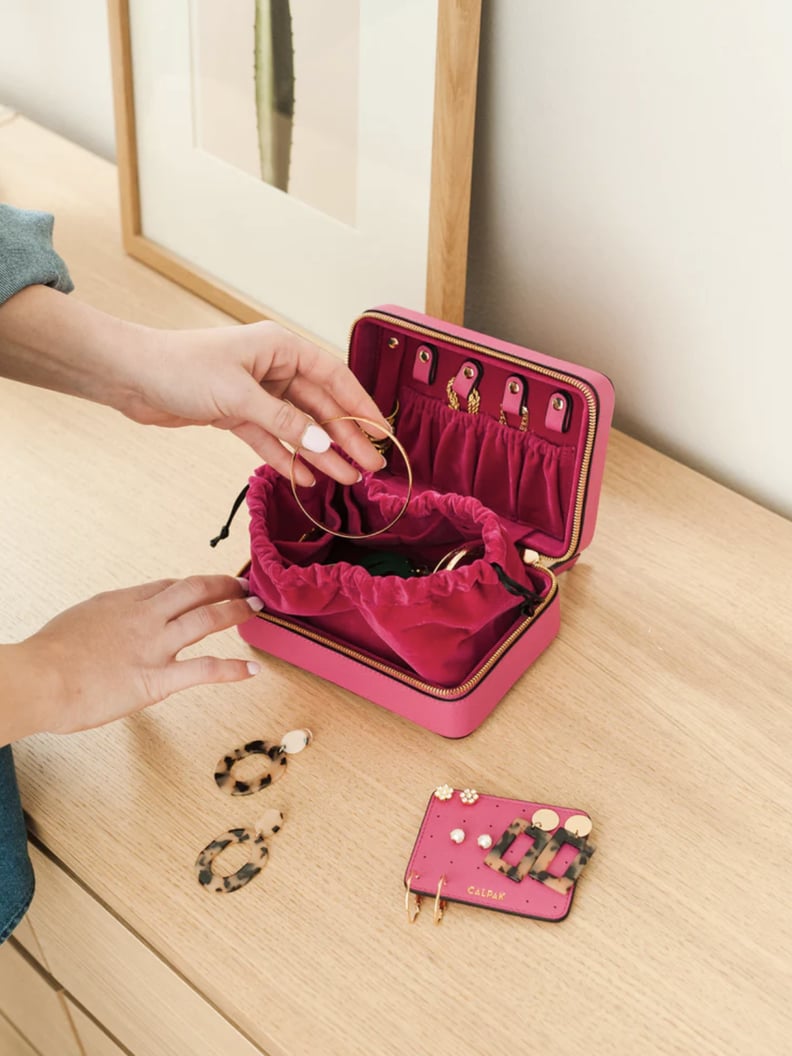 Most Stylish Jewelry Travel Case: Calpak Jewelry Case
Honestly, I already have a jewelry organizer of my own — but I'm tempted to buy this Calpak Jewelry Case ($98) too, simply because it's that cute. The product is available in over five colors (though I'm already sold on this Barbiecore-inspired piece). Plus, the large drawstring pocket helps to ensures everything stays in place.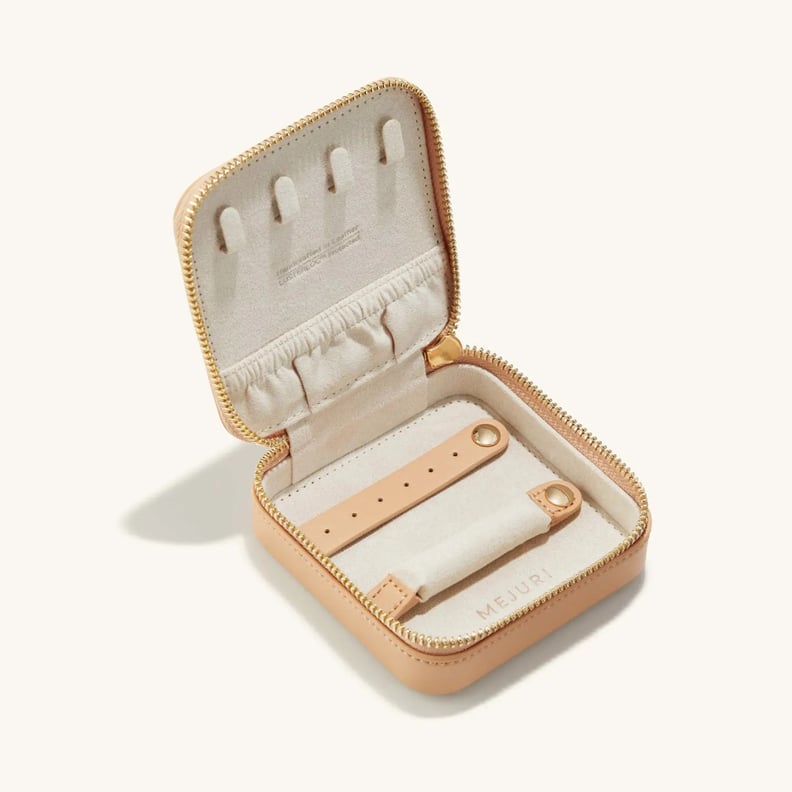 Best Jewelry Travel Case For Earrings: Mejuri Travel Case
In theory, this Mejuri Travel Case ($78) is built to hold all of your most essential jewelry — from rings to necklaces and beyond. But the travel jewelry case is especially great for this with several pairs of earrings, as it features leather accents and six holes that help to keep the dainty pieces in place.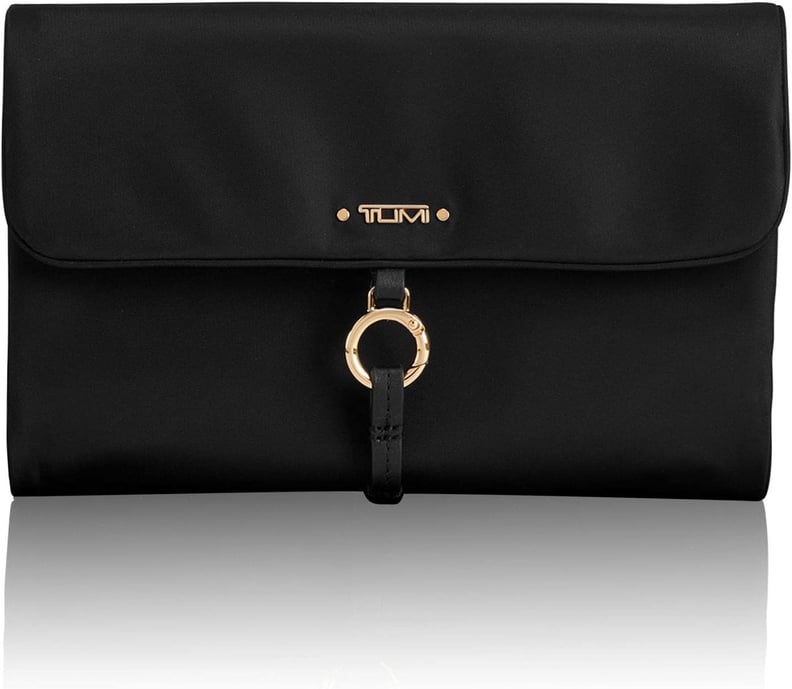 Best Small Jewelry Travel Case: Tumi Voyageur Ennis Jewelry Organizer
This Tumi Voyageur Ennis Jewelry Organizer ($145) is small but mighty — no, seriously! The foldable pouch has it all: a transparent zip pocket, multiple snap pockets, a ring roll, and even a leather earring-holder strap. Plus, with its nylon composition, it's super sleek and easy to keep clean.