I've Racked Up a Lot of Air Miles, and These Are My Hands-Down Favorite Suitcases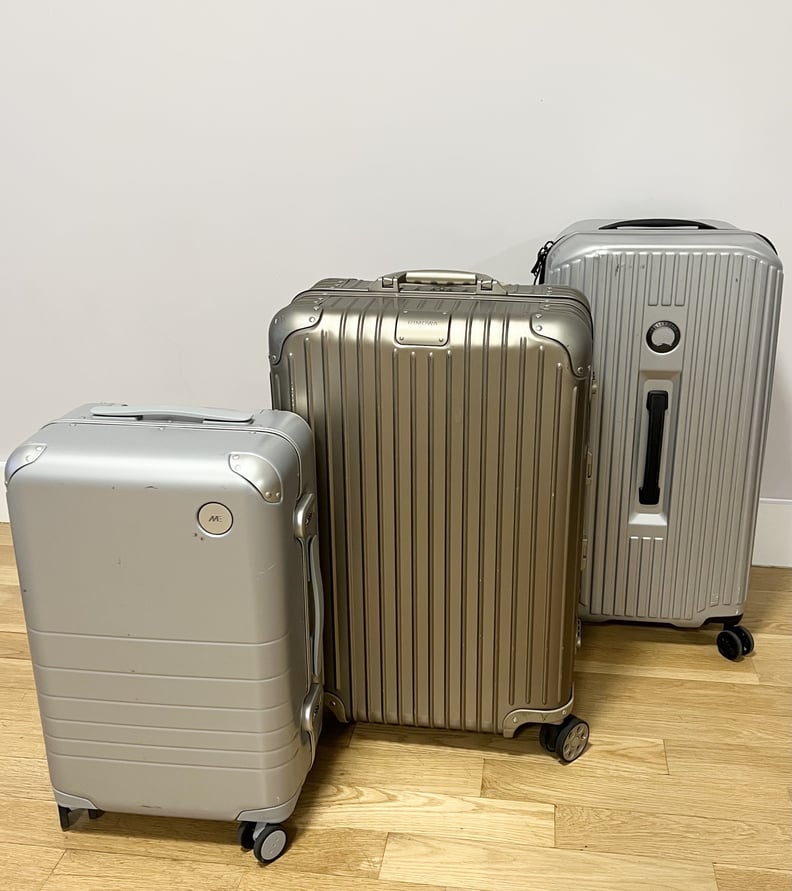 POPSUGAR Photography | Krista Jones
POPSUGAR Photography | Krista Jones
As POPSUGAR editors, we independently select and write about stuff we love and think you'll like too. If you buy a product we have recommended, we may receive affiliate commission, which in turn supports our work.
In the last decade, I've racked up more air miles than I can truly count. While I've only traveled safely on occasion over the last two years, it hasn't stopped me from loving travel products. There's something to be said about being on the road and having the perfect accessories with you to hold all your necessities. As a professional shopper and self-proclaimed travel pro, the question I field the most is, "What's the best suitcase?"
Most people feel pretty strongly about their favorite piece of luggage, and so do I, because when you're away from home, you need something reliable and durable, and because I love aesthetics, something that's stylish, too. Ahead, I curated my three favorite choices, and spoiler alert: they're all winners. Each one of my top picks has its own unique features for different types of trips. Keep reading to shop, check out the specs, and find the one that you love most.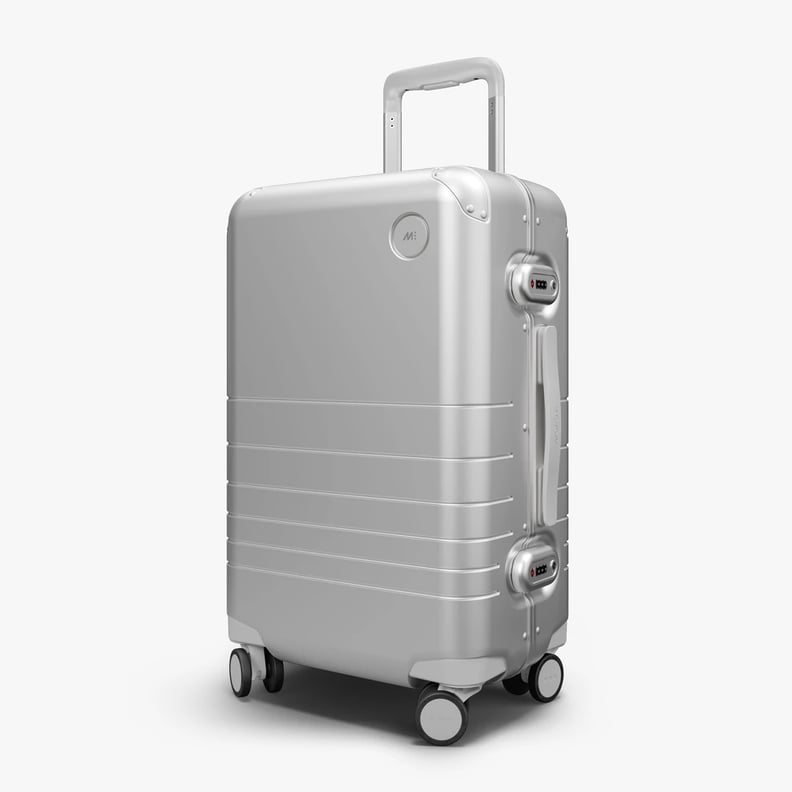 A Lightweight Carry-On: Monos Hybrid Carry-On Suitcase
The Case: Monos Hybrid Carry-On Suitcase ($325)
The Features: The 22-inch carry-on weights eight pounds and is great for taking on a plane. It holds the perfect amount of stuff for a two- to five-day trip. Not only do I love its sleek look, but it's lightweight and easy for me to lift up and put in an overhead bin. Made with anodized aluminum, it's a durable choice that has been able to withstand many plane and car rides with just a few scratches. I love the nonzipper opening that features TSA-approved locks.
Why I Love It: My favorite thing about this bag is its inside features. One side zips and has a mesh pocket on the outside, and the other side has compression straps that help me get in as much clothes as I possibly can. These truly handy features help me pack more efficiently every time.
Who It's Good For: The hybrid bag is a great choice for someone who wants a midrange-price carry-on. If you often go on short trips and like to fly light, this is your match.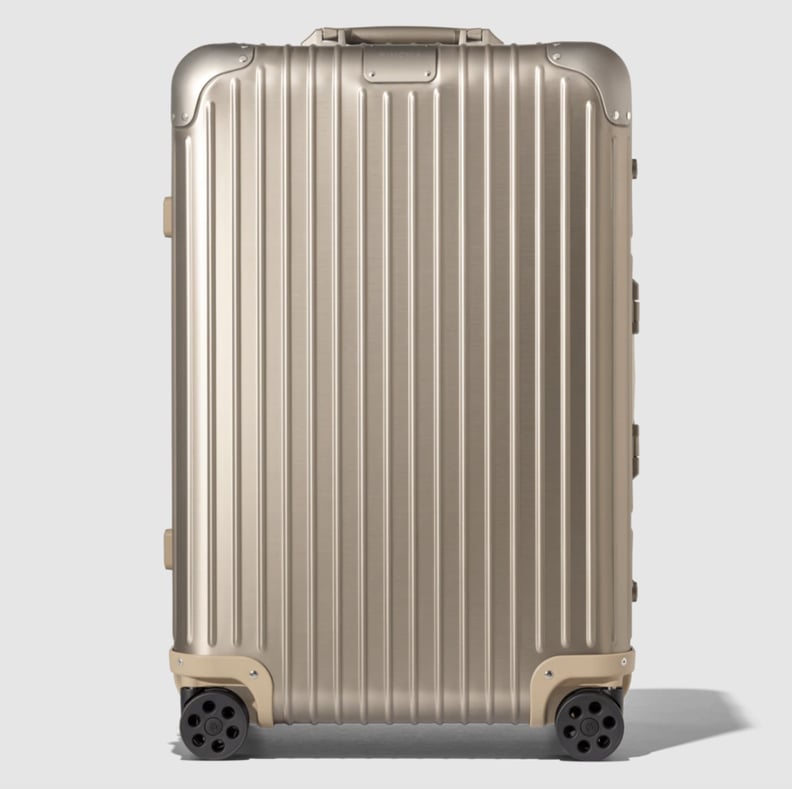 A Long-Lasting Checked Bag: Rimowa Original Check-In M Aluminium Suitcase
The Case: Rimowa Original Check-In M Aluminium Suitcase ($1,320)
The Features: The 26-inch bag weighs in at just under 12 pounds. It features sturdy locks that make it feel like a safe, and smooth wheels that roll easily — not even a chip on the sidewalk can stop them. You can remove them and then just place them on top when you're buckled in, and secure your clothes with a slight compression feature. The flex divider on the inside is a unique design that really stood out to me.
Why I love It: You can't talk about luggage without bringing up Rimowa. The classic German brand is known for its timeless aluminum cases that look and feel like pure luxury. They go far beyond looks, as the quality is just unbeatable. Made to last, the design is one of the most lightweight in this size range, leaving you plenty of weight to pack up your bag. I truly just love this suitcase because of its sheer quality. The price tag is high, but it's an investment piece you can count on having in your arsenal for at least a decade. For me, I would rather invest than replace.
Who It's Good For: Rimowa is a great buy for the person who wants quality or is a frequent flyer. While I love the medium case for longer trips, the brand's popular carry-on is also an undeniable winner.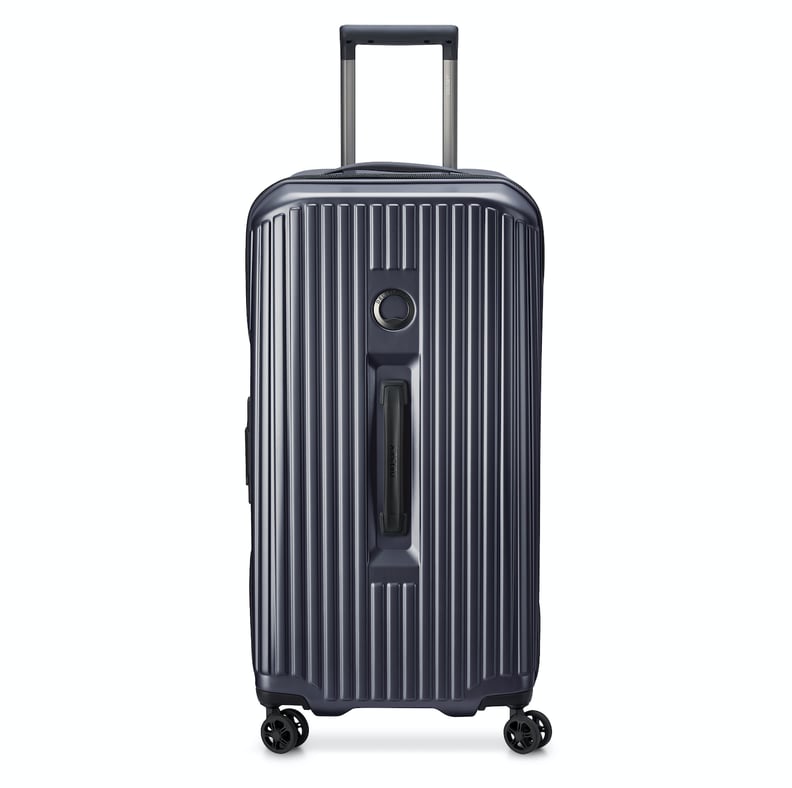 For Long Distances: Delsey Paris Securitime Zip Trunk
The Case: Delsey Paris Securitime Zip Trunk ($310)
The Features: This trunk silhouette is 26 inches, but its unique design offers deep storage space. The polycarbonate outer layer is also lightweight, and comes in just under 11 pounds. It has plenty of room for clothes, shoes, and just about anything you can think of. The zipper is extremely durable and doesn't feel like it'll break over time or split (which I often find in zip suitcases). Plus, it has an expandable zip, just in case I buy too much on my trip and need to bring more stuff home.
Why I love It: This is my favorite suitcase for a long trip visiting home, or a big work trip. The trunk shape makes it easy for me to pack a ton of clothes, and do it in a neat way that's convenient to live out of for a longer period of time. While the bottom section is large and great for clothing, the top sectional has a closed-off zipper where I keep my shoes, so I can keep it sanitary. It feels less wide when I'm wheeling it around the airport or streets, making it easy to tote around.
Who It's Good For: A classic trunk shape is great for the long-distance traveler. I used this suitcase when I moved apartments, too, and it was extremely handy. It's a great buy for a medium-size bag.